Bronx Zoo Holiday Lights Take Visitors on an After-Dark Safari This Season
11/30/21
- By
Jody Mercier
The Bronx Zoo's glittering Holiday Lights have returned for another season of winter magic. While most of the zoo animals huddled in hibernation or winter holding, the zoo's grounds come to life this season with a series of sparkling, larger-than-life lantern safaris and plenty more seasonal thrills that makes this a fun destination on a cold winter's night.
If you can't make it to the Bronx Zoo Holiday Lights, consider a visit to one of these other seasonal light shows in city limits, and find more holiday fun in our Guide to the Holidays in NYC.
Subscribe to our newsletters to get stories like this delivered directly to your inbox.
As the sun goes down, the lights come on, illuminating acres of the zoo. Visitors delight in the light show at Astor Court, where a towering tree comes to life with a music-and-light show, while costumed characters and stilt walkers wander about greeting guests and posing for photos.
A special holiday train whisks visitors around the grounds and stunning projections shine brightly onto the Zoo Center's facade, creating a magical scene.
RELATED: Brooklyn Botanic Garden Shines Brightly With Lightscape

Come nose-to-nose with life-like lanterns during the Bronx Zoo's Holiday Lights.
The lantern safaris are spaced out along the zoo's paths and divided much like the zoo itself, with animals from different regions grouped together. You'll venture to different parts of the world as you walk the safari trails through Africa, Asia, Latin America, North America, and even take a deep dive into the ocean.

The Forest of Color glows brightly with larger-than-life interpretations of nature's beauty.
We delighted in the new addition: Forest of Color, which featured 21 brilliantly colored lanterns meant to display the beauty of nature's vibrant colors.
All told, there are 260 lanterns spread out across the Bronx Zoo Holiday Lights. If you visited in 2019 or 2020, take note: 79 lanterns are brand new this year, representing 30 different species.
Beyond the lanterns, we were delighted by the walk-through tunnel of lights leading to the Dancing Crane Plaza—it's the stuff of suburban drive-thru lore, and you can wander through on foot and snap selfies to your heart's content!
RELATED: Best Holiday Shows in NYC for Kids

Chain saws, drills, blowtorches, and supremely talented artist's craft masterpieces out of ice.
At Grizzly Corner, ice sculpting demonstrations transfixed the crowd—and they happen every Friday night with the exception of New Year's Eve. We saw an angelfish come to life and were astonished to learn the finishing touch is a blow torch, which helps bring the crystal clear details to life.
RELATED: 12 Must-Do Holiday Activities and Christmas Events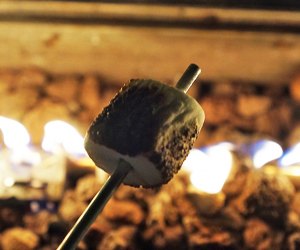 Kids and kids at heart have a hard time resisting the make-your-own s'mores stations at the Bronx Zoo Holiday Lights!
Of course, we didn't escape without a few holiday treats: The hot cocoa is free flowing, and you'll find other warming goodies like churros, plus traditional zoo food. The scene-stealer was, of course, the make-your-own s'mores station!
Rounding out the fun are carousel rides, Wildlife Theater performances, and one very cool lantern puppet.
RELATED: Best Holiday Train Shows in NYC

The Zoo Center is a canvas for light projections during the Bronx Zoo's Holiday Lights display.
Know Before You Go to the Bronx Zoo Holiday Lights
The Bronx Zoo Holiday Lights are open on Friday, Saturday, and Sunday nights through Sunday, January 9, 2022.
Advance, timed-entry, Holiday Lights-specific tickets are required; no tickets are sold on-site.
If you'd like to see the animals, book the 3pm entry; animal exhibits close at 4pm, and the Holiday Lights spring to life at 4:30pm.
Only the Bronx River and Southern Boulevard Gates are open during the Holiday Lights.
Wear comfortable shoes, as there is a lot of ground to cover.
Just like a regular visit, strollers are allowed.
Obviously, it gets chilly as the sun goes down, so layer up!
Hours for Holiday Lights are 4:30-9pm.
Tickets are $39.95 for adults, $24.95 for children, and $34.95 for seniors. Check the website to purchase tickets.
Originally published in 2019. Photos by the author
Places featured in this article:
Click Here to Sign Up!
i