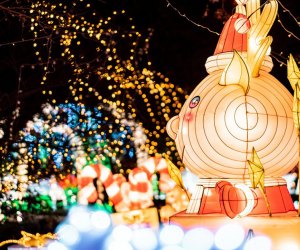 Holiday Lanterns and Light Shows in NYC for 2021
New York City really knows how to light it up for the holidays. Aside from all the residential light displays and tree lightings, holiday lantern shows and seasonal Christmas lights sparkle across the city. From the Brooklyn Botanical Garden's new Lightscape display to the Holiday Lights at the Bronx Zoo, the city sure does shine during the Christmas season. This year, there's even a duo of outdoor holiday lantern shows in Queens and on Staten Island, offering the perfect festive destination for Christmas 2021.
So, read on for all the details you need to get your glow on this holiday season and bookmark our Christmas Fun Guide for more seasonal happenings.
Subscribe to our newsletters to get stories like this delivered directly to your inbox.
Reservations are required for these events, so plan your outings in advance, and be sure to click through to our listing for all the details, including address, time, and pricing.
OUR LATEST VIDEOS
A word to the wise, since lantern festivals take place outdoors and are best visited after sundown (when the lights really start to pop), be sure to bundle up and wear comfortable shoes. Because the terrain can be uneven or even muddy, consider leaving the stroller at home. Finally, don't forget to charge your phone—you'll want to take lots of pictures!
Friday, Saturdays, and Sundays, through Sunday, January 9, 2022
Children ages 3-12, $17; adults, $25-$30; FREE for children under 3
With hundreds of eye-popping illuminated lanterns spread over eight acres, this holiday light display is truly spectacular. Kids will love the themed displays, including exotic flowers, sea creatures, wild animals with moving heads, and oversized candy. Inspired by Chinese lantern festivals, the exhibit also features lanterns in the shapes of temples and symbols of the Chinese zodiac. We especially love the tunnels which shroud visitors in a cascade of LED lights.
Lightscape – Prospect Heights, Brooklyn
Select dates, Friday, November 19-Friday, January 7, 2022
Children ages 3-12, $18; adults, $34; FREE for children under 3
The Brooklyn Botanic Garden shines bright this year with this brand new illuminated light spectacular. Visitors make their way along a one-mile winding trail to view brilliant displays like the Fire Garden on the Lily Pool Terrace, the Cathedral of Light tunnel, and the Field of Light on the Cherry Esplanade. New site-specific light works created by Brooklyn artists will also be on view. Advance tickets are required and can be purchased here.
RELATED: Polar Express and Christmas Trains Near NYC in 2021

Animal lanterns and illuminated decorations light your visit through the Bronx Zoo this season. Photo by Jody Mercier
Fridays, Saturdays, and Sundays from Friday, November 19-Sunday, January 9, 2022
Children ages 3-12, $23; adults, $35; FREE for children under 3
The Bronx Zoo's Holiday Lights made a triumphant return in 2019 following a 10-year hiatus. Their reappearance, with green-certified lights, wildlife-themed lanterns, and LED displays proved to be a big hit. This year, 79 new lanterns representing 30 new animal species make their debut, and the Luminous Garden returns with tons of colorful characters, plus bright flowers, butterflies, and playful, illuminated puppets to interact with. Ice carving demos, a holiday train ride, and costumed characters add to the appeal. Timed-entry tickets and face masks are required.
RELATED: 20 Christmas Towns and Holiday Villages That Sparkle

The New York Botanical Garden lights up with plenty of holiday cheer and spectacular, twinkling lights. Photo courtesy of NYBG
NYBG Glow – Bronx Park, the Bronx
Select dates, Wednesday, November 24-Saturday, January 22, 2022
Children ages 2-12, $15; adults, $35; FREE for children under age 2
If you've already snagged tickets to the NYBG's popular annual train show, you can try to line up your visit with a stop at the garden's outdoor, 1.5-mile long, holiday light show. The Enid A. Haupt Conservatory is the sparkling centerpiece, acting as a canvas for brilliant shining lights, but festive displays are located throughout the garden. Enjoy ice sculptures and ice carving displays and more al fresco fun. Timed-entry tickets and face masks are required.
Thursdays through Sundays from Thursday, November 25-Saturday, January 8, 2022
Children ages 3-12, $17; adults, $25-$30; FREE for children under age 3
The Queens County Farm becomes an immersive experience of light at this brand new event from the organizers behind the aforementioned NYC Winter Lantern Festival. Handmade lanterns and twinkling holiday lights in the shape of flowers, tractors, and farm animals form a dazzling festive spectacle. Families can choose their own "wish lantern" from the field of lights, decorate it at the art table, and take it home as a keepsake. Register online in advance.
A version of this story was first published in 2019. It has been updated for 2021.