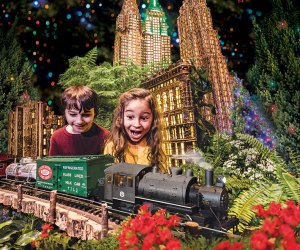 Best Holiday Train Shows in NYC for Kids: NYBG Train Show and Beyond
Trains are a way of life for most New Yorkers, but there's something particularly special about the little engines and cabooses that take center stage during the holiday season. The New York Botanical Garden's Holiday Train show is one of the best things to do with kids in New York City during the Christmas season, with electric model trains whizzing by more than 150 NYC landmarks made out of acorns, twigs, bark, berries, leaves, and other botanical bits and pieces. My family and I make it a point to go every year—it's truly a quintessential New York holiday experience. There's a reason it's on our list of the top 100 things to do with kids in NYC.
But the big NYBG display isn't the only holiday train show in town. Read on for more details on all the Christmas train shows the city has to offer this season (including the Botanical Garden's big spectacle). And for an extra special holiday treat, take the kids on a full-size Christmas train ride with these nearby Polar Express and Santa locomotives.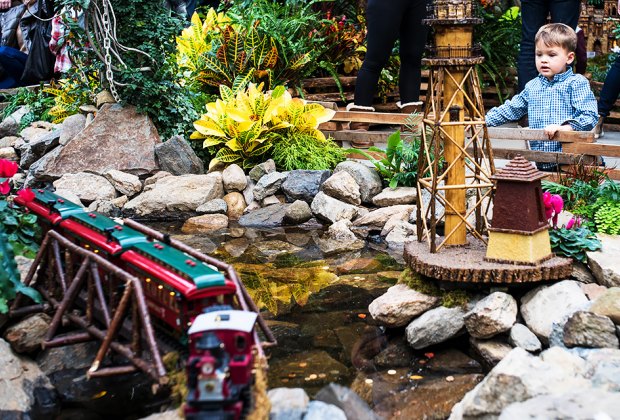 The New York Botanical Garden's Holiday Train Show is the largest and most elaborate in NYC. Photo courtesy of NYBG.
New York Botanical Garden's Holiday Train Show – Bronx Park
New York Botanical Garden, 2900 Southern Boulevard
Saturday, November 23–Monday, January 26, 2020
This train show is the city's tour de force, and this year, Central Park is the star of NYBG's 2019 loco-motivator. Belvedere Castle, the Dairy... all of the iconic landmarks are on display. Don't miss the Thomas & Friends holiday show, offered on weekends from January 4-26, and see our full preview of what's new at the train show this year. We suggest visiting early in the season and purchasing tickets online in advance—the garden gets crowded this time of year. (If you have infants or toddlers, take note: Strollers are not allowed in the train show.)
NY Transit Museum Holiday Train Show – Midtown East
New York Transit Museum Gallery Annex, Grand Central Terminal
Thursday, November 21–Sunday, February 23, 2020
The New York Transit Museum's Grand Central Terminal Gallery Annex sponsors a holiday train show each season. Trains from Lionel's Metro-North and Polar Express lines chug along the tracks, with vintage subway cars completing the tableau. Work in a visit here to give your kid a break following an afternoon of shopping in the Grand Central holiday market, or kill a few minutes before catching a train over the river and through the woods to grandmother's house for a holiday getaway. There's plenty to see and do at Grand Central for kids! FREE
RELATED: 21 Holiday Experiences Every NYC Kids Should Try at Least Once

Admire the 8-foot-long holiday train at Bryant Park's Winter Village. Photo courtesy of Bryant Park
Bryant Park Holiday Train Display – Midtown East
Fever-Tree Porch, Bryant Park
Friday, November 8–Friday, January 3, 2020
Every Christmas season, the Bank of America Winter Village in Bryant Park overflows with seasonal cheer, with a huge outdoor skating rink, holiday market, Santa visits, and special events. This year, the snack bar Southwest Porch (located, true to its name, at the southwest corner of Bryant Park) once again steps up its Christmas game with an 8-foot-long holiday train that features seven unique Christmas-themed cars, running atop the overhead pergola at the Fever-Tree Porch. It's FREE to admire, or stick around and order some snacks and drinks.

The New-York Historical Society is once again back with the popular Holiday Express Display. Photo by Drew Kristofik
Holiday Express at the New-York Historical Society — Upper West Side
New-York Historical Society, Central Park West at 76th St
Friday, November 1–Sunday, February 23, 2020
New-York Historical is back on track with its popular Holiday Express display, slightly reconfigured to celebrate the 100th birthday of Busytown author and illustrator Richard Scarry. The installation showcases artwork and graphics of Scarry's characters (like Huckle Cat and Lowly Worm) alongside Jerni Collection trains, buildings, figures and decor. The Society's extensive collection of model trains and decorative elements are on full display, and train models whiz along tracks in two glassed-in cases (one has a tunnel kids can crawl into and then pop up in the center of the display), as well as overhead.
Kids can hop on custom-made Busytown vehicle-themed benches for photo ops any time, drop by for special Scarry Story times on December 1 or 8, try a train craft and meet Huck Scarry (Richard Scarry's son) the weekend of December 14-15, or snuggle up for the Scarry version of The Night Before Christmas.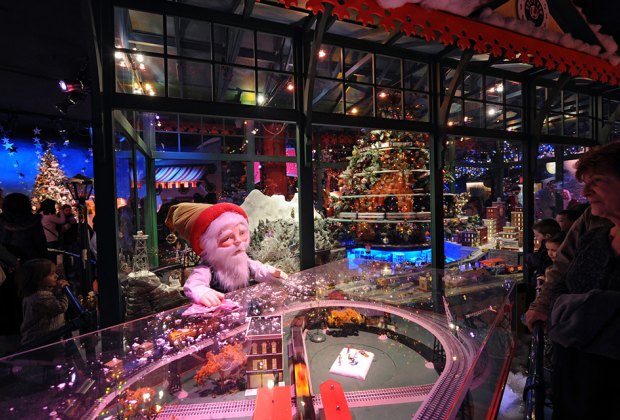 Macy's Santaland Lionel Train display sparkles with Christmas cheer. Photo courtesy of Macy's
Macy's SantaLand — Midtown West
151 West 34th Street, 8th Floor
Friday, November 29–Tuesday, December 24
Still not loco-ed out? Macy's SantaLand has a gorgeous Lionel Train display (serviced annually by a Lionel expert!), and it's free to ooh and ahh and watch it chug around the holiday decorations. Don't forget to reserve a time and date to chat with Santa, or maybe book a breakfast meeting with Saint Nick!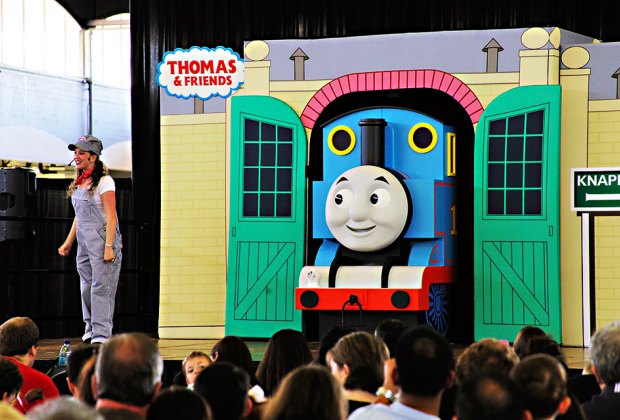 All Aboard with Thomas And Friends is an interactive sing-a-long adventure! Photo courtesy of NYBG
Train-Themed Seasonal Events
All Aboard with Thomas and Friends – Bronx Park
New York Botanical Garden, 2900 Southern Boulevard
Weekends, January 4–January 26, 2020
If you've got a Thomas fan in your house, this live-action mini-show, held at the New York Botanical Garden, is a must see. Thomas and Driver Sam lead a fun-filled, interactive, sing-along adventure as everyone's favorite blue engine learns the secret to making his garden grow. Included in the price of admission is a visit to the aforementioned Holiday Train Show onsite, giving you two thrilling train adventures for one price!
Train Operators Workshop – Downtown Brooklyn
New York Transit Museum, corner of Boerum Place and Schermerhorn Street
Weekends through December 29
Head to the fun-filled New York Transit Museum to try out some unbelievably realistic software that will make you feel as though you're behind the controls of a real-life subway car. Included in museum admission, this workshop is for train lovers ages 10+.
Holiday Nostalgia Train Rides — East Village to Harlem
Sundays, November 30–December 29
Every year, from Thanksgiving weekend through the month of December, the MTA and the New York Transit Museum roll out vintage subway trains decked in holiday finery. The Holiday Nostalgia Rides bring vintage R1-9 train cars from the 1930s back into regular service from the Second Avenue stop all the way up to 125th Street. Meanwhile aboveground, vintage buses from the 1950s and 1960s traverse 42nd Street. If your little one can't get enough of riding the subway or bus (ah, the sweet innocence of youth), this is a once-a-year treat that's well worth the trip.
This post, originally published in November 2009, is updated annually. Drew Kristofik contributed additional reporting.