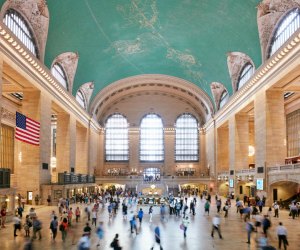 Not Just Trains: Best Things to Do with Kids at Grand Central
The typical New Yorker probably passes through Grand Central Terminal now and again, heading off on a family getaway, but there's plenty of fun inside the cavernous space to make the commuter hot spot the destination in itself.
Grand Central Terminal has tons to offer from dining to shopping and even seasonal toy train displays. Next time you are shuttling through the corridors, allow a little extra time to see for yourself what Grand Central has to offer you and your kids. Read on for our favorite ways to pass the time at this NYC institution.
Sign up for our FREE newsletters to get posts like this delivered to your inbox.
See the Trains
Let's start with the obvious. More than 750,000 daily commuters pass through the station, heading to/from communities in the Bronx, Westchester, and beyond. Tiny vehicle enthusiasts delight in seeing the trains chug to-and-fro on the station's 67 tracks. Head toward the north side of the terminal where you can walk the entire length of the platform watching them come and go.

The free Holiday Train Show at Grand Central is small, but a treat for kids. Photo courtesy of the New York Transit Museum
Play Conductor
Once kids have had their fill of watching the big trains, head to the New York Transit Museum's Gallery Annex & Store. Here you'll find rows and rows of subway-centric merchandise, so you can buy a T-shirt or replica subway car to rep the line you'll take home. There are also rotating micro museum displays. On a recent visit, we marveled at a model of the still-in-construction Hudson Yards and read up on the subway lines that run through Queens. Come November, the store mounts a holiday train display right at kids' eye level.
RELATED: Times Square with Kids: Beyond the Usual Tourist Spots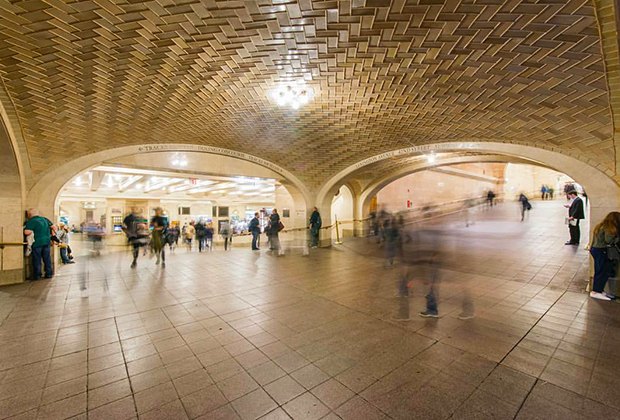 The cavernous passageways offer cool places to play. Photo courtesy of Grand Central

Get a Science Lesson
Ever hurried by and wondered what makes terminal-goers stand facing the corners just outside the Oyster Bar? Welcome to the "whispering wall." Give your kids a lesson on parabolic dishes and acoustics by having them stand at opposite corners of the arches and engaging in a whispering conversation into the wall. They'll be amazed to realize it sounds like their counterpart is standing right next to them and it's a cool trick to show to out-of-town visitors, too.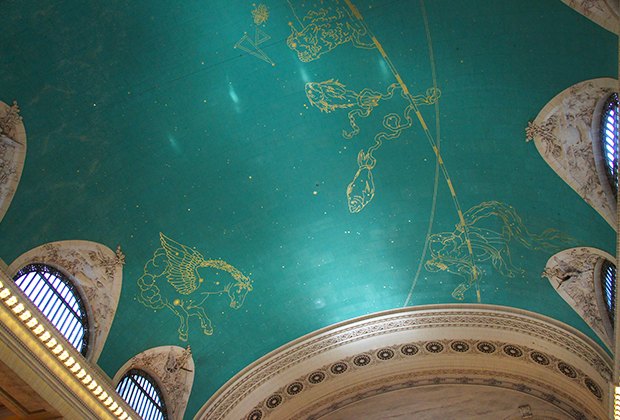 Look up for a free art show. Photo courtesy of Alastair Bennett

Peep Some Art
Who cares if you look like a rube glancing up at the fantastic astronomical mural painted on the ceiling of the Main Concourse? In 1994 the ceiling underwent massive restorations, returning it to its original glory, but if you look closely, you will see one tiny spot they left untouched. Though originally thought to be tarnished by the soot from the trains, the spot is actually remnants of nicotine from the bygone era when indoor smoking was allowed.
Take a Tour
If you're crazy about architecture, history, the city's hidden treasures, consider a tour. Prices range from $4.99 for an app downloaded to your phone, to $25 for a docent-led journey. You'll learn about the art and architecture of the beaux-arts landmark, and also the terminal's little-known secrets.
RELATED: Midtown Manhattan with Kids: 50 Top Things to Do and See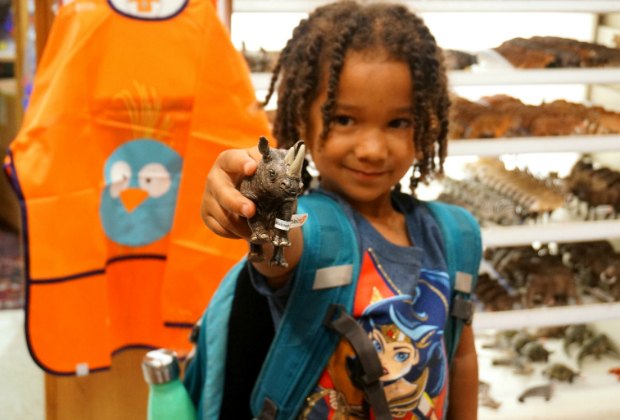 The Kidding Around Grand Central location is, of course, loaded with creative playthings.
Hit the Shops
Beyond the Transit Museum Shop and holiday market, there are more than 65 stores spread throughout the sprawling terminal. Some kid-friendly favorites: PiQ for quirky, colorful gifts; Kidding Around's outpost overflows with high-quality toys; and the Apple Store, if you have time to kill, as the screens are plentiful, loaded with kid-friendly games, and free!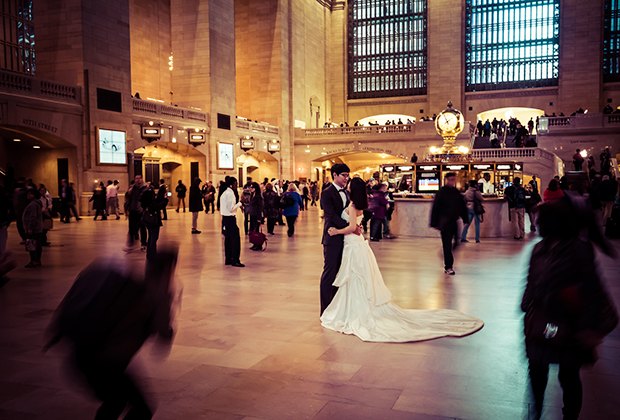 The transit hub is hands-down one of the best people-watching spots in the city. Photo courtesy of Richard Schneider

People Watch
NYC is a people-watching paradise. While your young kids may not appreciate the splendor of this past time, big kids and out-of-town guests might. We've seen full-on models mid-photo shoot in front of the iconic clock, happy couples taking wedding photos on the grand staircases, and many colorful characters dotting the passageways.
Pick up Dinner ...
Besides plenty of retail shops, food options abound here. Head to Grand Central Market to pick up specialty ingredients for your next meal. You'll find high-quality, local fare from the likes of Murray's Cheese, Eli Zabar's Bread and Pastry, Spices and Tease, Oren's Daily Roast, and more. More grab-and-go spots line the terminal, too!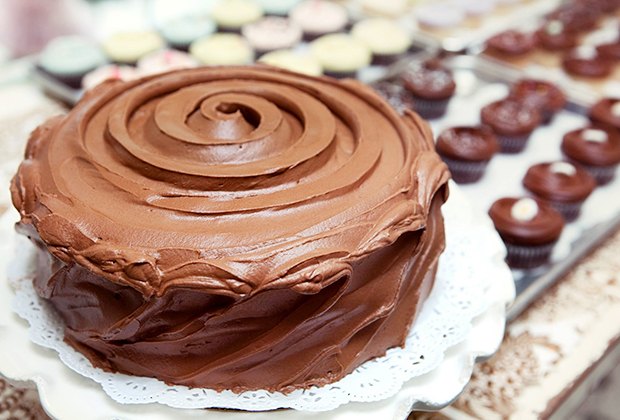 Scoop up treats at Magnolia Bakery and more spots. Photo courtesy the bakery
... Or Let Someone Else Cook
If you need to take a load off during your adventure, Grand Central Terminal offers a wide variety of spots from sit-down restaurants to sweet treats. The subterranean Dining Concourse evokes an old-NYC glamour. You'll find kid-friendly favorites here like Shake Shack and Magnolia Bakery, where curious sugar fiends can watch cake decorators work, and also sit-down, table-service spots like Prova Pizza Bar and the aforementioned Oyster Bar, which is perhaps more well-suited to your date night than family meal.
A final tip: Keep in mind that the passageways and corridors are packed during rush hour, so plan your visit accordingly. If you're looking for other kid-friendly places in the area, check out Grand Central Library located at 135 East 46th Street. It has a great children's room and offers special activities throughout the week. We've got tons of other great ideas for family-friendly destinations in Midtown East, too.
A previous version of this post was published on November 23, 2010, but it has since been updated.
Top photo by Frank English/courtesy of MTA
Grand Central Terminal
89 East 42nd Street
New York, NY 10017