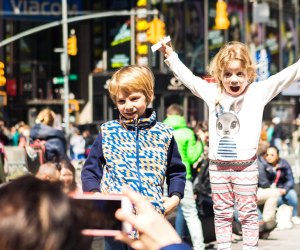 Times Square with Kids: What to Do Beyond the Usual Tourist Spots
New Yorkers often dismiss Times Square as too crowded, touristy, and overpriced, but if you look a little closer, there is plenty of kid fun to be found around this NYC hub—even for the most jaded urban dwellers.
We're not talking about the typical tourist attractions such as Madame Tussauds, the Hard Rock Cafe, and Ripley's Believe It Or Not, which do have plenty for kids to do. Instead, we've got the scoop on 15 cool, under-the-radar things to do with kids near Times Square whether you're killing time before a Broadway show, entertaining out-of-towners, or just find yourself in this NYC neighborhood.
Visiting NYC with kids? Check out more top attractions in our Visitor's Guide for Families.
Browse Midtown Comics
200 West 40th Street near Seventh Avenue
Initially, I was hesitant to enter this shop with my preschooler, but we were welcomed by all, and the staff was friendly and helpful. Located at the top of a narrow (and easy-to-miss) set of stairs, the Times Square location of this Manhattan comic book shop chain has a great selection of titles for young readers, including The Incredibles, Archie, and Tiny Titans. Comic books are pricier now than when I was younger and never seem to last long in the hands of preschoolers. So ask for "back issue blowouts;" old issues that go for as little as 50 cents.
RELATED: Best Kid Eats Near Times Square and Rockefeller Center

Playground by Tom Otterness. Photo by James Dee for TomOStudio
Hit up the local playgrounds
Believe it or not, there are a handful of playgrounds near Times Square. One favorite is on 42nd Street between 11th and 12th Avenues, where you'll find a play structure called Playground designed by artist Tom Otterness. Youngsters find this bronze reclining creature—with slides for legs—awe-inspiring. The spot also has benches, a small patch of grass, an enclosed dog run, and a toddler play area. This public park is tucked between the Silver Towers skyscrapers and can be hard to spot. Other popular neighborhood playgrounds include Hell's Kitchen Park on 10th Avenue between 47th and 48th Streets, and Manhattan Plaza's on 43rd Street near Ninth Avenue. The Hudson Yards playground is farther south, but if you hop on the 7 train for one stop you can check out this special romping spot.
Romp in the megastores
We wrote an entire post about NYC stores where you can play indoors for free. Two of our top picks are in Times Square. M&M's World, at 48th Street, is a chocolate lovers' paradise, with M&M's furniture, a 17-foot-tall Miss Green M&M's Statue of Liberty and plenty of candy. The Disney Store at 45th Street also has interactive elements, including magic mirrors with animated characters and a small theater area where kids can screen their favorite Disney clips.
RELATED: Best Broadway Shows for NYC Kids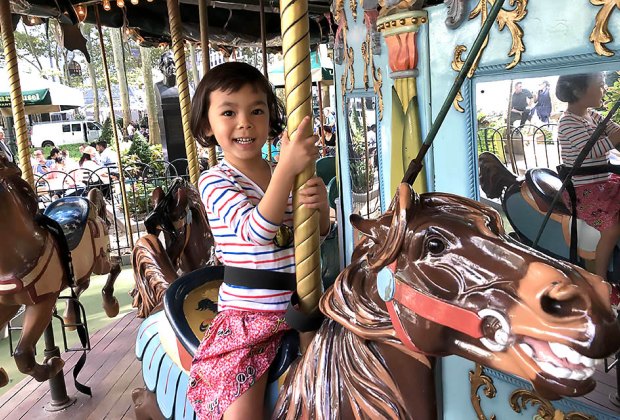 Take a spin on Le Carrousel at Bryant Park. Photo by Janet Bloom
Explore Bryant Park
40th to 42nd Streets between Fifth and Sixth Avenues
There is so much to recommend at this green space, even if it is lacking a playground. There's the lovely European-style merry-go-round, Le Carrousel, which is open year-round and costs $3 per ride. Nearby is the Reading Room, an outdoor space stocked with well-worn children's books and kid-sized tables and chairs. The park frequently hosts family performances, including its summertime story time and Le Carrousel Magique series. Other popular series include the HBO Bryant Park Summer Film Festival and Broadway in Bryant Park. Take a moment to check out the Art Cart, a spot with free art supplies that welcomes you and the kids can get creative in the park. We also love the seasonal Bryant Park Games kiosk where you can settle in and play an old favorite (Candy Land, anyone?) or try something new from its library of more than 50 titles. While not specifically targeted at families, many offerings are great for kids. In late fall and winter, you'll find a free ice skating rink at Winter Village at Bryant Park, and around the holidays the annual market sets up shop. Plus there are spectacular bathrooms. Tables and chairs dot the park, so bring your own picnic or grab a meal at one of the nearby food trucks or restaurants bordering the park. There's a Whole Foods across the street with plenty of grab-and-go options, too.
Go bowling
There are three swanky bowling alleys in the Times Square area. Frames Bowling Lounge is in the Port Authority Bus Terminal, Lucky Strike is on 42nd Street and 12th Avenue, and Bowlmor is on 44th Street between Broadway and Eighth Avenue. None are cheap and all cater more to adults than kids. However, Bowlmor is the most family friendly and has incredible decor.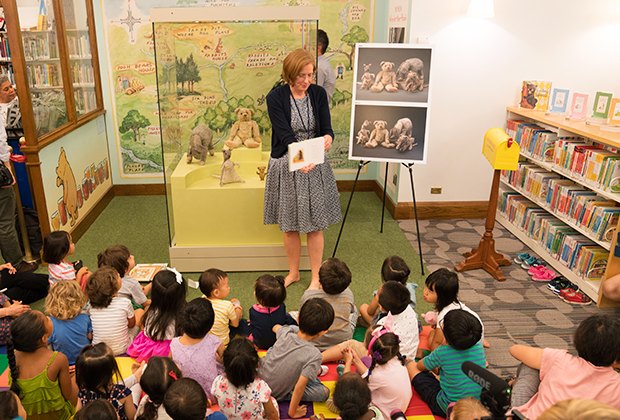 See the real Winnie the Pooh and stay for storytime at the Children's Center at 42nd Street. Photo courtesy of the library
Visit the main branch of the New York Public Library
42nd Street and Fifth Avenue
A visit to any library makes for great FREE entertainment. But the main branch of NYPL boasts extra-special attractions, including Patience and Fortitude, a pair of stoic marble lions guarding the entrance; the awesome flight of stairs leading up to the ornate Beaux-Arts building and the Children's Center at 42nd Street, which is home to more than 50,000 books, hundreds of DVDs and CDs, and the original Winnie the Pooh. The center frequently hosts family events and performances. Check the schedule to see what's happening before you visit, or our Events Calendar for other nearby happenings.
Get musical with a Broadway Walking Tour
George M. Cohan Statue at 46th Street and Broadway
Perfect for Broadway buffs, the Inside Broadway Walking Tour takes you into the heart of the Theater District with aspiring stars leading the way. Hear the stories of the great artists that have played on these stages; and learn the secret history that transpired backstage.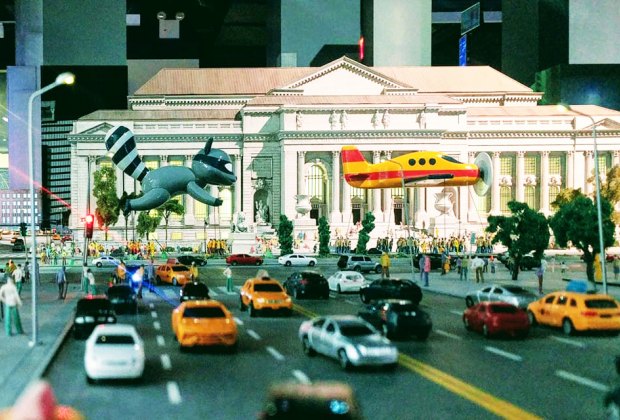 Explore Times Square in miniature at Gulliver's Gate. Photo courtesy of Gulliver's Gate
Go micro at Gulliver's Gate
216 West 44th Street
Take a trip around the world without leaving the city by visiting this attraction, where you can get up close to some of the world's most famous landmarks all in miniature form. In fact, the attraction features more than 300 scenes worldwide, all built in exquisite detail. You can spend hours taking in all the details Gulliver's Gate has managed to squeeze into the tiny scenes. The opening vignette is inspired by our own Big Apple, and, though not an exact replica, there are plenty of familiar spots to point out.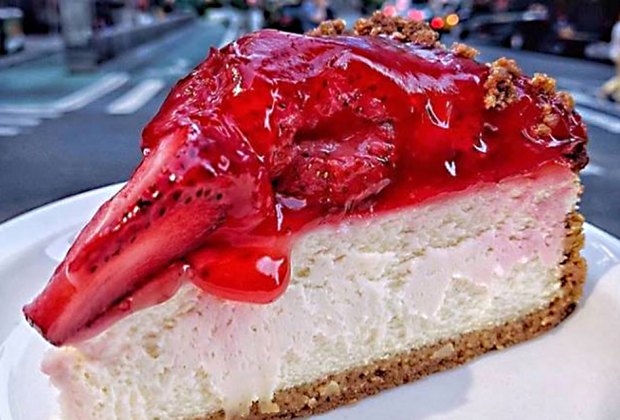 Kids will love the experience of eating at Junior's. Photo courtesy of the restaurant
Eat at Junior's
45th Street between Seventh and Eighth Avenues
If you must have an indoor sit-down meal, try the Times Square location of this famous Brooklyn restaurant, one of our favorite family-friendly Times Square restaurants. The legendary cheesecake is great, but so are the potato pancakes, burgers, brisket, and even the salads. The wait can be long, and reservations aren't accepted for small parties. If you just need a snack, hit Junior's bakery next door, which sells desserts and has limited outdoor seating.
Walk the deck of the mind-blowing Intrepid—it's worth the walk to the west side! Photo courtesy of the museum
Climb aboard The Intrepid
Pier 86, West 46th Street at 12th Avenue
The Intrepid Sea, Air, and Space Museum is like no other Manhattan museum. Military history buffs will be awed by the stories this World War II-era aircraft carrier tells. The ship—a National Historic Landmark—survived multiple kamikaze attacks and a torpedo strike, then went on to serve in the Cold War, Vietnam War, and as a recovery vessel during the space race. It's one of only four places where you can get close to one of NASA's retired space shuttles, as the Enterprise is housed on the flight deck in its own pavilion. There are more than two dozen other restored historical aircraft to check out as well as a Concorde jet, submarine, and multiple decks full of artifacts.

Mummenschanz's Re:Play at New Victory Theater. Photos courtesy of Mummenschanz Foundation
Get cultured at the New Victory Theater
229 West 42nd Street between Seventh and Eighth Avenues
Broadway show tickets are so expensive that most families can't afford to do it often. Tickets for productions at the New Victory Theater start at $17. Not all offerings are for little kids; the New Vic offers shows for all age ranges—circus, neo-vaudeville, dance, and more traditional page-to-stage adaptations. It also hosts related performance workshops.
RELATED: Fun Things to Do at Rockefeller Center (Besides the Tree)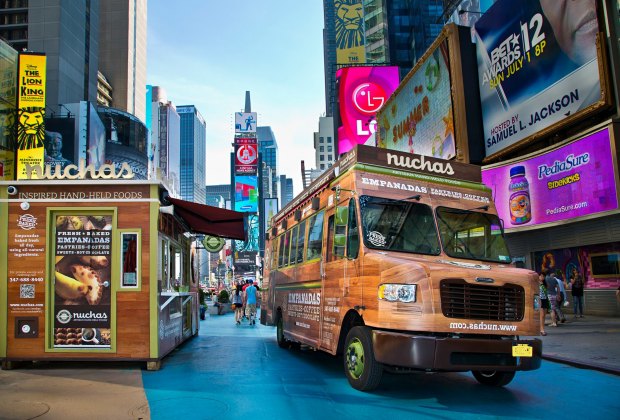 Pick up a tasty and kid-friendly empanada at Nuchas then nab a table at the Times Square Pedestrian Plaza. Photo courtesy of Nuchas
Have an urban picnic
People regularly ask us to recommend cheap, kid-friendly places to eat in NYC, especially near popular destinations such as Times Square. One great way to avoid overpaying is to have a picnic, assuming the weather cooperates. Grab something to go at Amy's Bread and enjoy it in the Times Square pedestrian plaza, on the red steps of the TKTS booth, or in the plentiful chairs dotting the plazas. Several food trucks have set up shop along the pedestrian areas of the Square, including Nuchas, which serves $4 empanadas (vegetarian and meat options available).
Game out at Dave & Buster's
234 West 42nd Street between Seventh and Eighth Avenues
Dave and Buster's is not always the most family-friendly scene—its bar tends to cater to the after-work crowd—but if you go with children during the day, things are more manageable. Classic games like Frogger, Pac-Man, and Skeeball join new obsessions like Fruit Ninja. Plus, kids win tickets that can be redeemed for trinkets and prizes.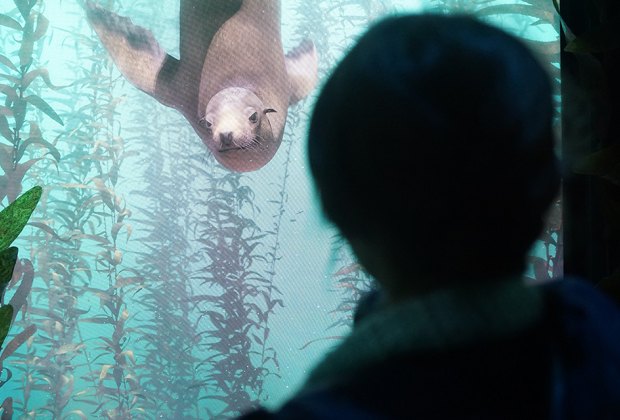 The sea lions will charm visitors with their tricks and grins at the National Geographic Encounter: Ocean Odyssey. Photo by Jody Mercier
Take a deep dive into a virtual ocean
A digital ocean experience that both tourists and locals love, complete with faux sea lions, a coral reef, and sharks, National Geographic Encounter: Ocean Odyssey uses a host of technology (plus award-winning designers) to create a multi-room experience that visitors can travel through for a glimpse of deep sea life.
Get in on all the pop-ups
Big-name brands, like the Disney Store, often host interactive marketing events that draw big crowds. For example, look for "augmented reality ads," with an interactive billboard in which you stand in a spot and see yourself projected. (Kids always get a kick out of seeing themselves on a massive screen.) Visit the NYE Wishing Wall during the month of December to add your wish for the New Year to a piece of paper that will rain down as confetti on New Year's Eve. Visit Times Square's official website for a list of all upcoming special events.
More Tips for Seeing Times Square with Kids
The Naked Cowboy isn't the only "celebrity" you'll run into; Mickey and Minnie, Elmo, Cookie Monster, and other kids' characters (as well as topless, painted women in warmer months) line the streets hoping for tips in exchange for pictures. The characters now have limited space to roam after a series of altercations, so it's a bit easier to avoid them than in years past.
When possible, avoid walking on Broadway or Seventh Avenue as those streets are always crowded. Eighth Avenue is better, but your best bet is to navigate the pedestrian alleys between Broadway and Eighth Avenues, such as Shubert Alley between 44th and 45th Streets; and the walkway at the Marriott Hotel between 45th and 46th Streets. You'll find similar walkways between 47th and 48th, 48th and 49th, and 50th and 51st Streets.
Leave the stroller at home if possible. It's hard enough to navigate a packed street without worrying about rolling into tourists.
This article, first published in December 2011, has been updated for 2019. Katie Nave Freeman contributed additional reporting.