Krispy Kreme Debuts Times Square Mega Shop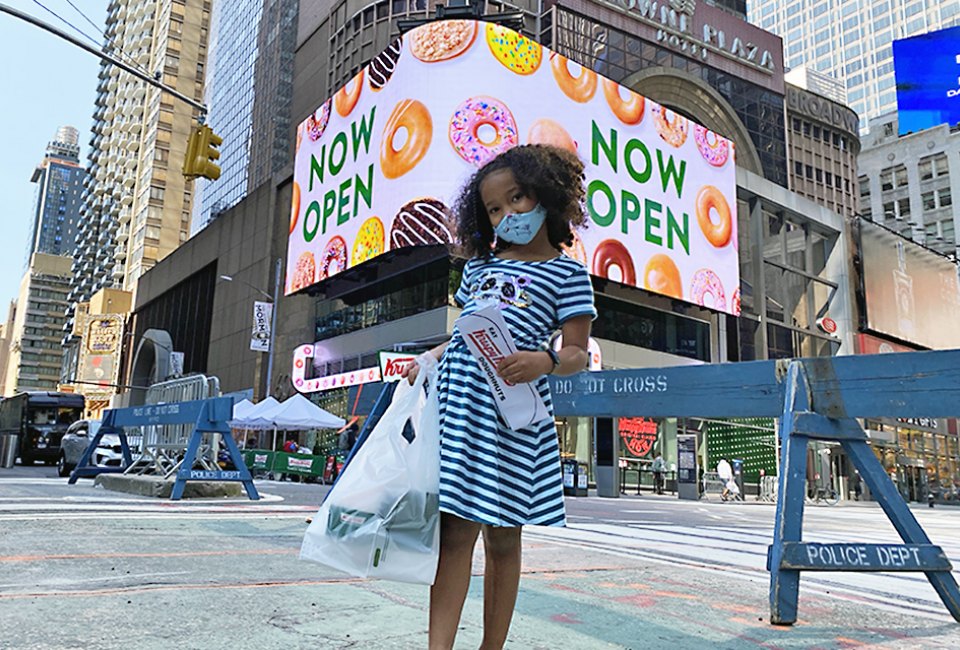 9/22/20
- By
Jody Mercier
The city that never sleeps has a sweet new way to fuel its 24-hour appetite: The long-anticipated Krispy Kreme flagship debuted in Times Square last week. The shop brings with it the hope of a "hot-now" doughnut at any time, day or night, plus stadium-style seating where visitors can (eventually) enjoy a front-row view of the doughnut-making magic.
Read on for all the details on this new family-friendly Times Square attraction.

The Krispy Kreme case is filled with flavors beyond the well-known glaze. Photo courtesy of Krispy Kreme
Located at the corner of West 48th Street and Broadway, the 4,500-square-foot shop can crank out 380 dozen donuts an hour, and the donut assembly line is a sweet sight to behold. Guests can gaze through a round window to peek at bakers working their magic with the dough before moving along the line and watching countless doughnuts make their way down a conveyor belt headed for the glaze waterfall. From there, freshly baked donuts climb a spiral conveyor belt to cool a bit before landing in the case to await purchase by hungry patrons.
The iconic "hot-now" light leaves its glowing mark on the ever-illuminated intersection, standing 15-feet-tall and weighing 8,000 pounds.

The Big Apple doughnut is an indulgent treat at $10.99 per pastry.
Aside from Krispy Kreme's trademark glazed doughnuts, the Times Square shop is home to an exclusive Big Apple doughnut, filled with an apple-flavored cream, dipped in a shiny red mirror glaze and decorated with a royal icing leaf and a salted pretzel stem. This extra special treat comes with a price tag befitting the (usually) tourist-filled neighborhood it calls home. It's $10.99 for a single doughnut, which elicits a cheer from the shop workers every time it's ordered, plus a pretty cool keepsake doughnut box all its own.
While indoor dining is still under a COVID-induced moratorium, guests can look forward to taking their seats (and a selfie) in the Krispy Kreme dozens box and gaping at the glazed waterfall as they enjoy their treats soon. For now, there's a tented outside area on 48th Street, or you can take your box further south to enjoy your goodies on the Broadway pedestrian plaza as we did.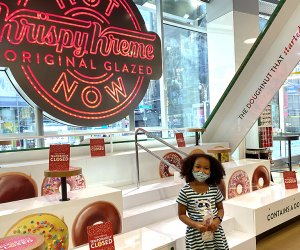 Pose for a picture with the stadium-style seating made to look like a freshly packed box of doughnuts before you leave!
For now, Krispy Kreme is making it easier for visitors to get inside the shop, allowing them to reserve a time to visit the flagship store in advance. A 24-hour walk-up window allows for curbside ordering and picking up preorders, which can be purchased online at the website or via Krispy Kreme's app.
Krispy Kreme Times Square cooks up hot doughnuts 24 hours a day for pickup at its curbside window; the interior shop is open daily from 8am-10pm.
Unless otherwise noted, all photos by the author
Places featured in this article:
---
Krispy Kreme Times Square

Sign up for our free
newsletters.
Mommy Poppins is a family activity website that helps people find things to do with kids.
©
2023
MommyPoppins. All Rights Reserved.
mp-prod4-v4.32.99
We use cookies and other data collection technologies to provide the best experience for our customers.
Learn More