Interactive Puppetsburg Show at Brooklyn Greens
Brooklyn Greens
Submerge: NYC Marine Science Festival
Hudson River Park Pier 84

Cirque-tacular presents 'The Art of Circus'
BMCC Tribeca Performing Arts Center
Hudson Yards Is Home to Midtown's Latest Playground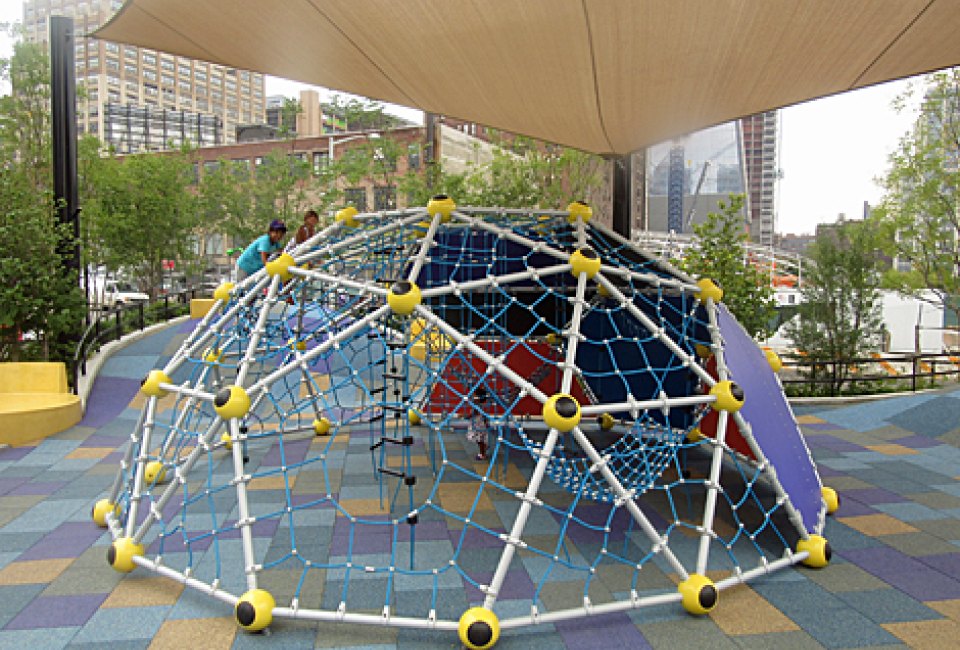 8/24/15
- By
Jody Mercier
Kids on Manhattan's West Side just gained a brand-new jungle gym. The playground sprung up earlier this month near the ongoing Hudson Yards redevelopment project, which is transforming a 28-acre section of Midtown West into shiny new high-rise offices, high-end shops, residences, hotels, restaurants and a public school, as well as access to the 7-train extension when completed. The development is expected to create 14 acres of open space, including multiple green spaces. The newly opened neighborhood park, which houses the newest NYC playground, is a city park operated by the Hudson Yards/Hell's Kitchen Alliance.
We've tested out the new playground, which includes a cool canopy for fending off the summer heat, so read on for our review of this new kid-friendly green space and jungle gym.
The Hudson Yards project runs west of Eighth Avenue, bumping up against the Javits Center to the north and running south to 30th Street. You'll find the newly opened park between 10th and 11th Avenues and 34th and 36th Streets.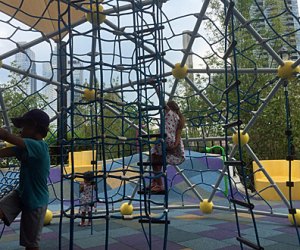 Kids go inside the climbing dome.
The centerpiece of the playground is a giant climbing dome that's reminiscent of those old-school metal structures parents might recall from their youth. But this is no plain-Jane jungle gym. It's jam-packed with a challenging series of ropes for climbing, lounging and generally monkeying around. The floor surface below is cushy underfoot and made into a colorful checkerboard.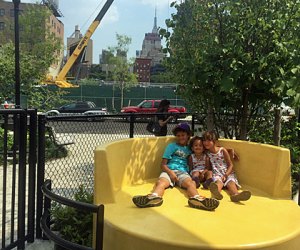 Artful benches provide stylish resting spots.
A series of cheerful, funky benches dot the perimeter offering another place to lounge or climb around. There are no swings or slides, but several of those popular oversized "talk tubes" let kids play telephone back and forth. A canopy covers the main play area, guarding the structure and its visitors against the sun's strongest rays. Freshly planted landscaping looks like it will provide shade along the edges, too. Bathrooms can be found at the kiosks in the northeast corner of the park. A single baby-changing station is located in each.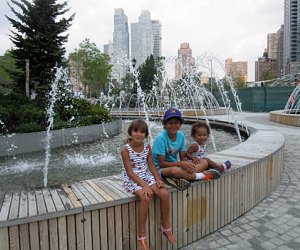 Fountains help visitors cool off and drown out construction noise.
The park is broken into unique sections by block. The area between 34th and 35th Streets greets visitors with a trio of fountains. The thundering cascades of water almost drown out the noise from the ongoing construction, and the kids enjoyed the light spray of water. Each fountain is surrounded by benches, though the park doesn't seem short on seating. A separate bleacher-like area offers additional spots to rest, while an assortment of tables and chairs throughout the park made for perfect break options. A secondary No. 7 train entrance is still cordoned off here, too.

The Hudson Yards/Hell's Kitchen Alliance will help to bring entertainment and events to the public space, including a grand-opening kickoff in the coming weeks that will include kid-friendly performers, face-painting and other activities. A second-phase of construction that will extend the park up to West 39th Street will include additional kid play structures, an Alliance representative tells us.

More neighborhood green spaces are planned, too. The ambitious Hudson Yards development is expected to include an almost 5-acre "public square" that will be surrounded by gardens built over the city's rail yards, completed by 2018.

If you plan to visit the park, consider exploring nearby neighborhood gems or heading to the High Line's newest section.
Places featured in this article:
---
Hudson Yards Park and Boulevard

Sign up for our free
newsletters.
Mommy Poppins is a family activity website that helps people find things to do with kids.
©
2023
MommyPoppins. All Rights Reserved.
mp-prod4-v4.32.99
Click Here to Sign Up!