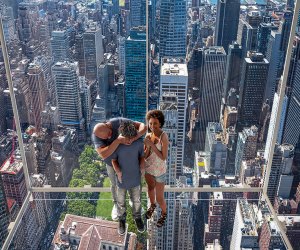 Get a Sneak Peek at the Glass-Enclosed Observation Deck Coming to Midtown This Fall
NYC has no shortage of sky-high observation decks, but much like the city's collection of skyscrapers, there always seems to be room for one more, and the developers of One Vanderbilt have some daring details in store for the city's newest soaring attraction, Summit One Vanderbilt, which opens this fall.
Set to launch on Thursday, October 21, Summit One Vanderbilt seeks to stand out from its neighbors with a thrilling design, including an all-glass elevator that travels up the building facade to a height of 1,210 feet, top-notch culinary experiences, and even an immersive art installation.
Read on for details on the development, and if you can't wait until October to take in soaring city views, consider visiting the highest outdoor observation deck in the Western Hemisphere, the classic Empire State Building, the soaring One World Observatory, or the Top of the Rock right now.
Summit One Vanderbilt occupies four floors of the brand new One Vanderbilt tower, which tops out at 1,401 feet tall, and sits next door to Grand Central Station. The tower's observation deck occupies 65,000 square feet, ranging in height from 1,063 feet to 1,210 feet.
Beyond the glass elevators, dubbed Ascent, thrill-seekers can step out into Levitation, a glass-enclosed skybox that juts out, allowing visitors to look straight down onto Madison Avenue.
Foodies can appreciate the observation deck's offerings, all developed by Danny Meyer's Union Square Hospitality Group, including multiple bars (including one outdoors), an all-day cafe, and elevated snack bars.
RELATED: Grand Central Terminal with Kids: Things to Do and Tips for Navigating the Station

Summit One Vanderbilt occupies four floors of the One Vanderbilt tower.
Kenzo Digital Immersive has signed on to program an immersive art installation for the space, the details of which will be released this summer.
Rounding out the experience are seating areas to enjoy the views that extend to all five boroughs and beyond, plus the world's highest urban alpine meadow.
Tickets for the observation deck go on sale later this summer, and you can pre-register for early access on the website.
Renderings courtesy of SL Green