Edge Welcomes Visitors to Western Hemisphere's Highest Open-Air Observation Deck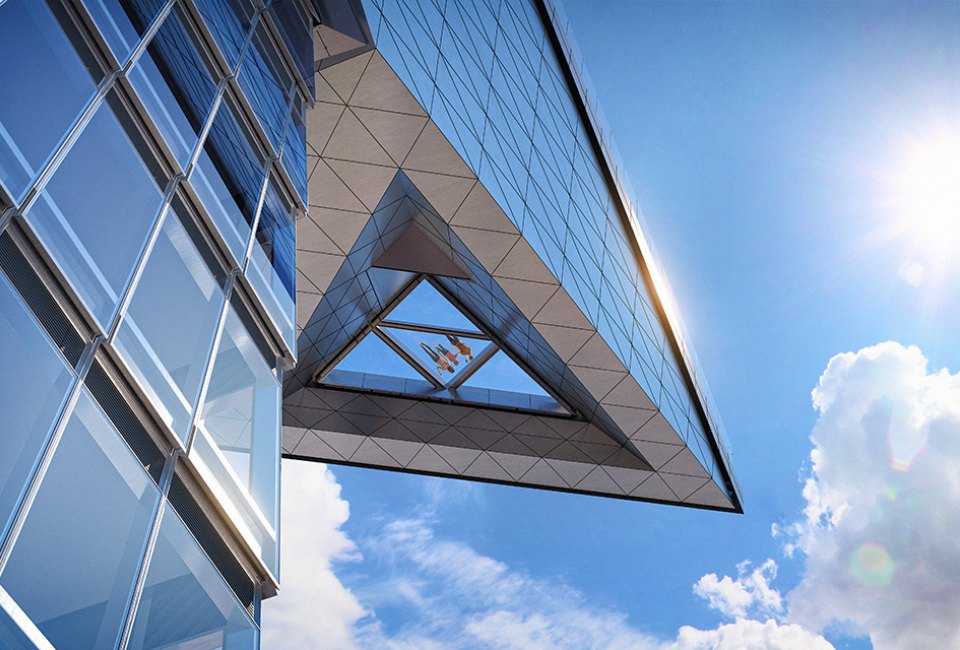 9/3/20
- By
Jody Mercier
Daring New Yorkers have a brand new observation deck to take in sweeping city views: Edge had a short-lived debut way back in March, before shutting down with the rest of the city, but the attraction in Hudson Yards has reopened and is ready to welcome visitors.
Even before its debut, the highest open-air observation deck in the Western Hemisphere made its mark on the city skyline. One glance at the towering skyscrapers of the new neighborhood, and you can't miss it—it's the triangular platform jutting out 100 stories high from 30 Hudson Yards.
Read on for details on our visit to the new attraction, and learn what sets it apart from the city's other sky-high observation decks at the Empire State Building, One World Observatory, and Top of the Rock.
Subscribe to our FREE newsletters to get stories like this delivered to your inbox.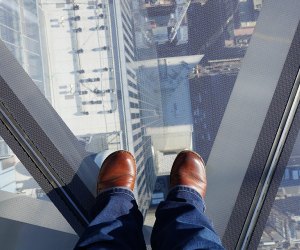 Are you daring enough to step out on the clear, glass floor and gaze down to the city streets?
The Edge experience begins long before you arrive at its sky-high observation deck. Visitors enter through the fourth floor of The Shops and Restaurants at Hudson Yards and embark on a journey that takes you from Hudson Yards' roots as a train yard to its present construction boom and future home to thousands of New Yorkers, plus a destination neighborhood for arts, culture, and dining.
Before you step foot in the elevator, which whisks you 100 floors high in a mere 52 seconds, you'll see a presentation on the changing face of New York, profiling eight neighborhoods that have aided NYC's renaissance. It's no surprise the final neighborhood is the one you find yourself standing in.
Lest you forget the neighborhood's history, the next exhibit profiles how Hudson Yards manages to exist as a teeming neighborhood built atop a working train yard. You'll walk through a room of faux caissons that demonstrate the stilt-like structures that make this possible. Kids (and Insta-fans) can appreciate the video-powered effects. A hallway with subway cars rushing by you on each side takes you to the busy train yard below before you're greeted with exhibits about the environmental sustainability of the development, including one demonstrating how its buildings collect rainwater for re-use.
While you might glean some cool new facts or a postable photo, the exhibits serve as a nice distraction from the fact you're wandering through a long queue to reach the pair of elevators to the top.
RELATED: Empire State Building With Kids: Five Reasons to Visit This NYC Landmark

From its vantage point on Midtown's perimeter, Edge offers stunning views, especially after dark. Photo courtesy of Related-Oxford
Once you hit the elevators and enjoy a video-presentation during your ride, you reach the 100th floor, and the real treat begins. Enjoy 360-degree views that stretch as far as 80 miles to the horizon. The Edge's position towering over the Hudson River gives you unobstructed views of the busy waterway below and Jersey beyond. I particularly loved looking east across 34th Street to see the Empire State Building and imagine this is a great spot to take in the Empire State Building's light shows in the evenings!
The Edge's outdoor observation deck has some daring features that make it alternately terrifying and fascinating, depending on how you feel about heights. Angled glass panels provide a barely-there barrier and are spaced with just enough room between them to allow a smartphone camera to snap photos unobstructed by the glass or its glare.
At the Eastern Point, a single person can perch in the corner, leaning out over the glass, surrounded by sky and city views—and that's far from the most terrifying vantage point. No, indeed, the scariest spot at Edge is the Glass Floor, a triangular portion of the observation deck where the flooring has been replaced by multi-layered glass, allowing viewers to gaze straight down at the city streets 100 floors below. Though heights are not among my fears, I had trouble stepping very far out into this portion of the platform.
RELATED: NYC Museums Reopen With Admission Deals and New Exhibitions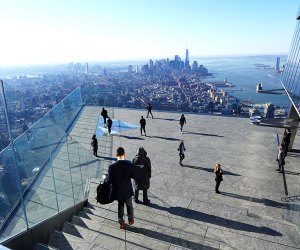 The Skyline Steps live up to their name, offering bleacher-like seating on which to perch as you take in the view of Lower Manhattan.
My favorite spot, undoubtedly, was the view from atop the Skyline Steps. Taking in the view from here, the glass barriers all but disappear. There's plenty of bleacher-like seating to sit back and enjoy the view.
While the outdoor observation deck is situated on the southeastern corner of the building, you can enjoy more views inside, looking straight up the Hudson to the GWB and beyond.
RELATED: 25 Outdoor Adventures to Enjoy in NYC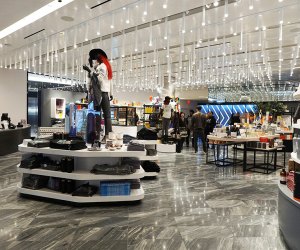 Be warned: You'll exit through the gift shop!
Know Before You Go
Edge is now open daily from noon-8pm.
Tickets are available online. Regular price is $38, everyone receives a $2 discount for purchasing online, and New Yorkers can save an additional $2. Children under age 5 are admitted for FREE.
Strollers are allowed but must be folded in the elevators and escalators.
If you're booking several top attractions in New York City and looking to save money, consider purchasing a Go City Explorer Pass, which includes discounted admission to the Edge, the Statue of Liberty, the American Museum of Natural History, and more.
​Unless noted, all photos by author.
Disclosure: We may earn a small commission if you click through our link and make a purchase. This revenue helps us maintain this site, so thank you for supporting us.
Places featured in this article:
Click Here to Sign Up!
i