25 Outdoor Adventures for NYC Kids to Enjoy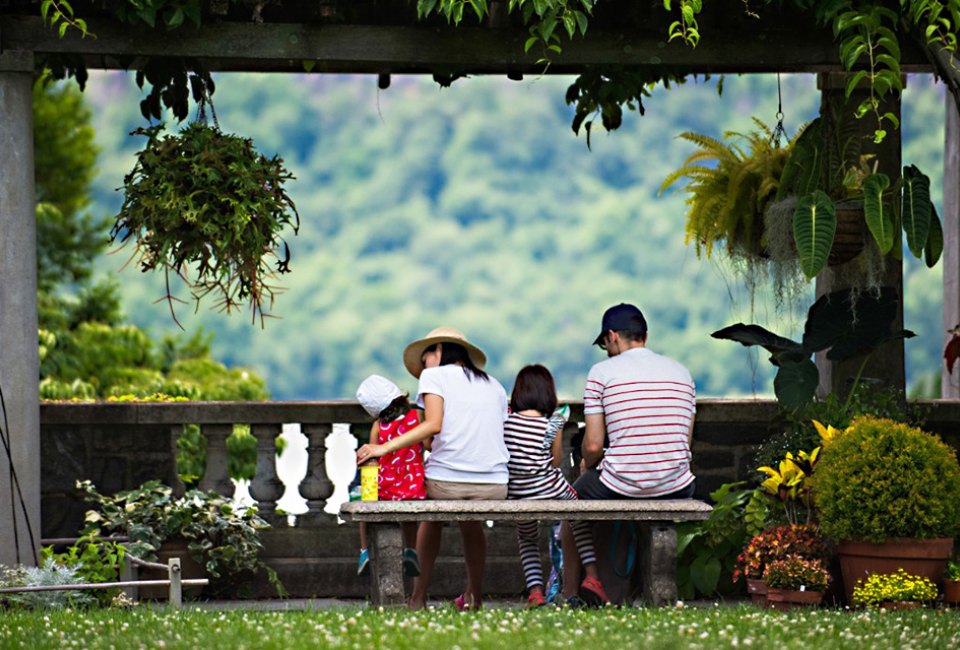 7/17/20
- By
Mariko Zapf
One of the main reasons we're willing to deal with the challenges of raising kids in NYC (the crazy rent, the stressful school searches, the closets for apartments) is our easy access to enriching cultural activities like world-class theater and spectacular museums. But, when it's time for some good old-fashioned outdoor fun, New York can be equally enriching. The city offers a range of bucolic parks and outdoor destinations where kids can get busy playing outside, all without leaving the five boroughs.
From fishing to hiking to exploring off-the-beaten-path parks, here are 25 outdoor activities for your summer 2020 staycation. Some are FREE, most are accessible by public transportation, and we guarantee that they are all tons of fun.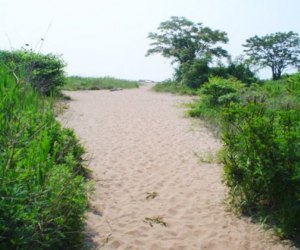 For a beach hike, head to Great Kills Park on Staten Island. Photo courtesy of the park
Outdoor Adventures in NYC Parks
1. Go hiking! There are plenty of hiking trails across the five boroughs. Staten Island's Wolfe's Pond Park is stunning, especially during fall foliage season. Prospect Park has numerous hiking trails, plus family-friendly activities that will have you planting, conserving, and exploring. For city-dwelling beach lovers, Rockaway Beach boasts dune hikes with spectacular views, and Marine Park is a great place to spot birds and other animals.
2. Try bouldering. Inwood Hill Park is a fantastic place to hike, bike, camp, or boulder with the whole family. This tranquil NYC spot is a great place to escape the hustle and bustle of city life.
3. Explore the High Bridge. There's been lots of talk about building a new pedestrian bridge into the city lately, but we love this uptown gem, which connects Upper Manhattan to the Bronx. The High Bridge was built as part of the aqueduct system in the mid-19th century, but today has been transformed into an elevated walkway with gorgeous views of Upper Manhattan, the Harlem River, and the city skyline to the south.
RELATED: NYC's Top Parks & Playgrounds Guide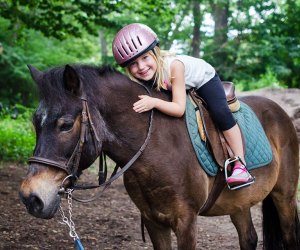 Enjoy a horseback ride in Prospect Park with a new friend. Photo courtesy of NYC Parks
4. Go horseback riding. Prospect Park has historically been a destination for horseback riding in NYC. The nearby Kensington Stables offers trail rides on a 3.5-mile bridle path with experienced guides who will gladly answer your questions about the green space. Weather permitting, the facility offers rides by appointment every day of the year. Horseback riding lessons are offered at other NYC sites, too.
5. Hop on a bike. With dedicated bike paths all over town, Citi Bikes available on practically every corner, and neighborhood rental shops, NYC is more cycling-friendly than ever. Governors Island is a great biking destination for kids as the isle is 100% car-free. You can bring your own bike or rent one onsite. Bonus: FREE Bike Mornings allow visitors to borrow a cycle for an hour each weekday morning for free.
6. Discover history. Clay Pit Ponds State Park Preserve on Staten Island is well worth the trek. It's got exceptional hiking and gorgeous views, but what makes this park unique is its history. My family and I have learned about the Leni Lenape Indians and the Free Blacks of Sandy Ground who once lived here. It's fascinating stuff and accessible for school-age kids.
RELATED: 100 Things to Do in New York State with Kids Before They Grow Up

It's hard to believe Freshkills Park's wide-open green space is in NYC! Photo courtesy of NYC Parks
7. Explore a landfill-turned-park. My kids still have a hard time believing Staten Island's beautiful (but unfinished) Freshkills Park was once the world's largest landfill. We visit to hike, see how it's progressing, and learn how its designers are undoing some of the site's environmental damage.
8. Fly a kite. Technically, you're not supposed to fly a kite just anywhere; the NYC Parks Department says it should be done in designated areas...and then doesn't name any. Safest bets are beaches, Long Meadow in Prospect Park, and Central Park's North Meadow and Great Lawn.
RELATED: What's Open Now in NYC For Kids: Museums, Zoos, Play Spaces, and More

Hop on bikes with the family and explore Central Park. ​Photo by Suzy Q
9. Discover a new-to-you corner of Central Park. Though in-person tours are on a pandemic-induced hiatus, visitors can download a self-guided tour to learn about the park's history. We're partial to exploring the less crowded northern edge, but we've covered all 843 acres of the green space, and visited all the playgrounds!
10. Go foraging. Skip the farmers market and go searching for food in the wild! Take the kids on one of Wildman Steve Brill's foraging tours where families can learn to look for edible foods right here in NYC!
RELATED: NYC's Best Beaches Reopen for Summer 2020 Swimming

Walk the trails and learn about the life and impact of Shirley Chisholm at the state park named after her. Photo by Suzy Q
11. Get to know Shirley Chisholm. The political pioneer—and the first African American congresswoman and first woman to run for president—is honored by the city's newest state park, which bears her name. There's plenty to love at this Brooklyn green space, including biking trails, stunning public art, and city views to match.
12. Go camping. Family camping at Floyd Bennett Field is one of Brooklyn's best-kept secrets, but it's shuttered for summer 2020. If you must camp within the city limits this summer, the only option is glamping on Governors Island, and that can be pricey. We have rounded up several nearby camping opportunities outside the city that are well worth the trip!
RELATED: 15 Swimming Pools Reopening for Summer 2020

Cool down at the new water feature at Pier 2 in Brooklyn Bridge Park. Photo by Ros Muggeridge
13. Visit the Brooklyn waterfront. Brooklyn Bridge Park is one of our favorite places to play, and it's got tons of kid-friendly amenities and ultra-cool playgrounds, but we're also very excited to check out the brand new addition to the park at the Pier 2 Uplands, which just opened to the public.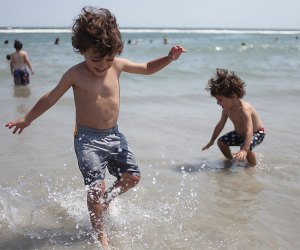 Hit up one of many stunning beaches in NYC. Photo by Matt Nighswander
Outdoor Adventures Along the NYC Shores
14. Head to the beach. With the exception of Manhattan, there are beaches in every borough. Before the swimming season starts (or after it closes), take a stroll to pick up shells and seaglass, or watch the wildlife.
15. Look for whales and dolphins. Yes, right here in NYC! There are a number of tours not far from the city. Even better: Try the American Princess Cruises, which depart from Sheepshead Bay, Brooklyn's Pier 3 during the 2020 season.
16. Catch a ferry. There's nothing like a little time on the water to clear your head, and the NYC Ferry makes it easier than ever to explore these fun on-shore destinations, all for the price of a subway swipe. If you really want to go all-in with the boat theme, the Circle Line sets sail again July 20.
RELATED: Petting Zoos Near NYC Where Kids Can See Farm Animals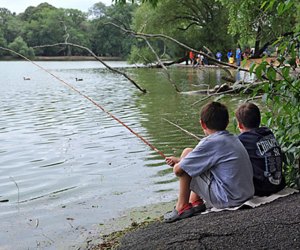 Go fishing in Prospect Park. Photo by Paul Martinka for NYC Parks
17. Go fishing. Opportunities to fish in NYC abound. While many of the ranger-led and guided in-person programs are on hiatus, you can drop a line on your own. Visit the Parks Department for details on fishing spots and regulations. Note: All fishing in NYC parks is catch and release. If you're looking to fish on the open water, take the kids to Sheepshead Bay for a ride on the Sea Queen VII.
18. Hop in a canoe. Explore the infamous Gowanus Canal by canoe with the Gowanus Dredgers Canoe Club. Kids who are old enough to sit still in a canoe are welcome, as long as they are accompanied by a parent.
19. Go surfing. Rockaway Beach in Queens is the sole shore in the five boroughs where it's is allowed, and only at designated locations. The area is exploding with surf shops and lessons for kids of all ages. We are partial to Locals Surf School and New York Surf School.
RELATED: Pier 2 Uplands Debuts at Brooklyn Bridge Park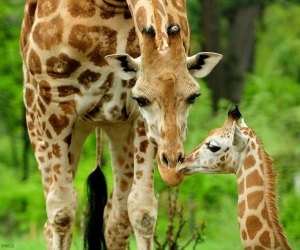 Spend time with wildlife at the Bronx Zoo. Photo by Julie Larsen Maher/WCS
Nature-Inspired Outdoor Fun in NYC
20. Spot more wild things. The reopening of Bronx Zoo and its sister parks means there are plenty of wild animals awaiting your visit to our favorite zoos and aquariums. Before you head out, make sure you book your tickets in advance, and pack your masks and plenty of hand sanitizer.
21. Connect with wildlife. Grab your binoculars and tour the Jamaica Bay Wildlife Refuge, where you can expect to see beautiful birds and butterflies. There are more than 325 species of birds and more than 50 different butterflies to spot. If you're lucky, you might spot one of the more than 100 different species of fish, too.
22. See a salt marsh. The Brooklyn Salt Marsh at Marine Park is spread over 530 acres of grasslands and houses egrets, red-winged blackbirds, and more making for incredible bird-watching. The Alley Pond Environmental Center in Queens is all about preservation, education, and community. While it's closed to the public, it is offering plenty of virtual programming. Alley Pond Park itself is open for recreation and exploration with its picturesque forests, meadows, ponds, and fresh and saltwater marshes.
23. Get farming. There are kid-friendly urban farms scattered across the city. You can also get up close with animals at one of these nearby petting zoos.
24. Go bird-watching. The NYC Audubon offers tons of resources to get you started, including a whole page dedicated to beginners. If your kids don't have the patience for live birding, consider a sidewalk hike through Harlem to see how many of the Audubon Mural Project paintings you can spot. There are more than 100 works to see and a goal to paint 314 before the project's completion.
25. Stop and smell the flowers. Although the New York Botanical Garden is the biggest and best-known flower spot in the Bronx, the borough is also home to the gorgeous Wave Hill, a public garden and cultural center. Situated along the Hudson River, it boasts stunning views, gorgeous plants, and flowers, and hosts frequent programs for kids. Both of these natural wonders are planning to reopen during Phase 4.
A version of this article was first published in 2015; it is updated annually. Louise Finnell and Katie Nave Freeman contributed additional reporting.
Click Here to Sign Up!
i