The Adventures of Tortoise & Hare The Next Generation
The Sheen Center

The Very Hungry Caterpillar Show
DR2 Theatre

NYC Easter Brunch Cruise 2023
Event Cruises NYC
Sign up for our free newsletters.
Inwood Hill Park: History, Hiking, Bouldering and Overnight Camping for NYC Kids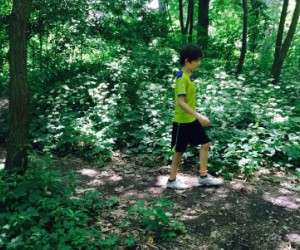 6/17/15
- By
Mariko Zapf
When my Brooklyn family needs to get away from the hustle and bustle of NYC, we don't leave town; we head straight for Inwood Hill Park in Upper Manhattan, where we spend the day picnicking, hiking and bouldering. You name the outdoor activity and this awesome park probably offers it. You can even go camping here!
While exploring the park is a fun-filled activity at any time of year, the opportunity to sleep under the stars (in a tent, actually) is only offered in the summer. The Parks Department family camping lottery takes place today, Wednesday, June 17 (don't worry if you miss it—there will be other sessions this season), and my kids are teeming with excitement at the thought of being selected. If overnight camping is a little more adventure than you're ready to take on, Inwood Hill Park offers lots of other activities for all ages, including family drumming and capoeira, a Brazilian art form fusing dance, martial arts and music.
Inwood Hill Park is a nearly 200-acre, largely unlandscaped wonderland located at the northern tip of Manhattan. Exotic wildflowers, 100-year-old trees, bald eagles—this city forest is simply beautiful. It's also steeped in history: Inwood Hill Park was shaped by glaciers, inhabited by the Lenape Native Americans and even offers evidence of the Revolutionary War!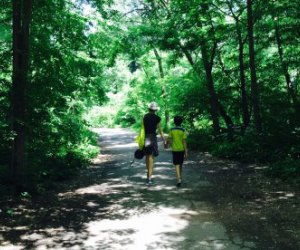 Nature enthusiast (me) with her history buff (my son).
Our time spent here usually consists of the kids running the hiking trails, while my husband and I meander behind. My son became an avid bird-watcher in second grade (thanks to an inspiring teacher), and this city oasis has many species to spot. That's one of the things we love about this park—there's always something new to explore. Case in point: on our most recent visit, we met another hiker pondering an enormous hole in a rock wall that we later learned had been formed by a passing glacier. He had been coming to the park for a decade and was still making new discoveries—a new one to us as well.
Another first my adventurous family hopes to experience is Inwood Hill Park at night. The NYC Parks Department opens a 24-hour lottery Wednesday, June 17 for the chance to camp overnight with the Urban Park Rangers on Friday, June 26. Tents and professional guidance are provided, and the goal is to bond without technology. There are 30 spots available, but don't worry if you miss the deadline or aren't selected this time around as there are more campouts taking place this summer. Find additional details about the lottery and other family camping programs on the Parks Department's website.

Bouldering opportunities abound in Inwood Hill Park.
If camping isn't your thing, Inwood Hill Park has loads of other awesome family activities coming up this summer. Catch one of several Shakespeare performances, or try free West African dance and drumming lessons. You can find a complete list of events on the Parks Department's calendar.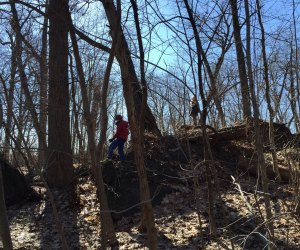 The park is lovely year-round.
My family's other top things to do in Inwood Hill Park are bouldering and walking beneath the Henry Hudson Bridge—we can't do either in our local Prospect Park. Within Inwood Hill Park, there are various locations with massive rock walls that have nooks and crannies just perfect for giving little feet leverage. As long as it hasn't rained, our kids can scramble up these rock walls, though parents should take note that very little ones might have difficulty. We also love emerging from the northern-most hiking path and finding ourselves beneath the Henry Hudson Bridge. The views of the bridge and the Hudson River are beautiful, and the kids find it especially magical.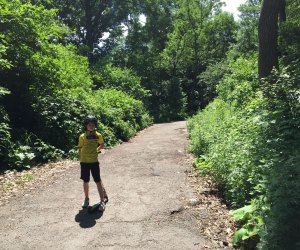 Getting lost in the beauty of Inwood Hill Park.

What we've realized over the years of visiting this gem is that the history buff in our family (my 9-year-old son) is as impressed as the nature enthusiast (me, age 45). Both of us have our fingers crossed that we get picked for this year's campout!
For more great seasonal activities, check out our Summer Fun Guide.