Things to Do in Inwood Hill Park & Isham Park with Kids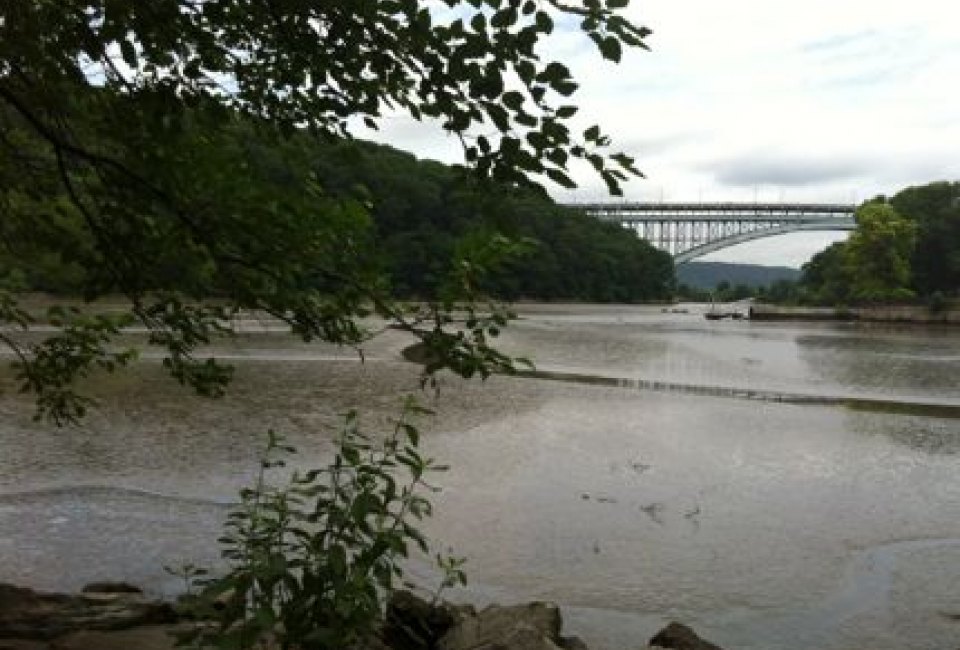 7/23/13
- By
Sarah G
There are lots of fun things to do with kids in Inwood. But two of the neighborhood's biggest family attractions are adjacent green spaces Inwood Hill Park and Isham Park. Perched at the very top of Manhattan and separated by Seaman Avenue, they are true urban oases featuring 216 acres of thick forests, manicured lawns, sports fields, playgrounds, stunning views of the Harlem and Hudson Rivers, hills and lots of history.

The larger, amenity-filled Inwood Hill Park hosts bigger crowds, especially on weekends, while hilly Isham Park has more low-key charms like a pastoral lawn and a pretty garden. Both spots saw action during the American Revolution, and Inwood Hill Park is reportedly where Native Americans sold Manhattan to Peter Minuit.

We continue our month-long focus on Inwood with a look at all of the things to do in Inwood Hill Park and Isham Park, including places to play, picnic and learn about their incredible history.
Inwood Hill Park
Dyckman Street to the Harlem River, between the Hudson River and Payson/Seaman Avenues and Indian Road
The 196-acre Inwood Hill Park features the largest stretch of natural forest left on the island of Manhattan as well as one of NYC's last natural saltwater marshes. Hilly, wooded and largely unlandscaped, the park was home to several 19th-century summer estates before becoming a city park in the 1920s. Long before that, members of the Lenape tribe enjoyed the spot's organic bounty, and easy access to the Harlem and Hudson Rivers. Today, you can still find traces of their community in the rocky hillside caves. With playgrounds, busy ball courts, lots of history and ever-important bathrooms, Inwood Hill Park is a great place for families to explore.

Romp in a playground There are three playgrounds, Emerson Playground, Payson Playground and the Native American-themed Indian Road Playground, which was recently renovated thanks in large part to the hardworking Friends of Indian Road Playground. Out of the three, it is the most state-of-the-art with interesting equipment including sprinklers, climbing structures, swings and a large sand area.

Get your game on Pick a sport, any sport, chances are you can play it in Inwood Hill Park. There are baseball and soccer fields; handball, tennis and basketball courts; hiking trails, roller hockey and even a kayak launch.

See where history was made Near the 218th Street entrance you'll find Shorakkopoch Rock, which marks where Peter Minuit reportedly purchased the isle of Manhattan from the Lenape in 1626 for approximately $24. The greatest real estate deal in NYC history!

Commune with nature Although the Inwood Hill Nature Center is still closed due to damage sustained during Hurricane Sandy, the Parks Department continues to host free educational events in the park including canoeing, family camping and birding with the Urban Park Rangers.

Get moving There are also lots of no-cost exercise and movements classes in the park like tai chi mornings, evening yoga and family capoeira.

Bird-watch at the mudflat The park's salt marsh overflows with urban nature and wildlife, especially birds like herons, egrets and belted kingfishers. In the distance, the grey Henry Hudson Memorial Bridge spans the waterway.

Marvel at the views Inwood Hill Park is bordered by the Harlem and Hudson Rivers, so it's got clear views of the waterfront, and New Jersey and Marble Hill beyond.

Freak out for fun Every Halloween since 2004, the neighborhood has hosted the Inwood Hill Park Haunted House and Forest in the park. Since it was housed in the currently closed Nature Center, it may not happen this year so check the official site for updates.

Isham Park
Isham Street between Seaman Avenue and Broadway
At just 20 acres, Isham Park is significantly smaller and quieter than neighboring Inwood Hill Park. But it's still a sweet spot of green hillside featuring pretty lawns, old trees and a public garden. Gifted to the city in the early 1900s by the Isham (pronounced eye-sham) family, this park is kept clean and green thanks to lots of local volunteers and the Parks Department. Since it sits atop a hill, be prepared to climb some stairs.

Get your green on Stop and smell the flowers in the picturesque Bruce Reynolds Memorial Garden, which is open on weekends from 10am to 5pm April through October.

Spot the ginkgo The giant Chinese Maidenhair ginkgo tree near the 212th Street and Broadway entrance is rumored to have been planted by William B. Isham circa 1885.

Play geologist The park is known for its marble outcroppings, large rock formations near the Isham Street and Seaman Avenue corner. Although collecting rock samples is illegal in all city parks, aspiring geologists should definitely bring a magnifying glass.

Pack a picnic There's a main grassy lawn for lounging and eating.

Get involved Check the Volunteers for Isham Park blog for special events and activities, or to assist with maintenance.

Read all of our posts about things to do with kids in Inwood.
Places featured in this article: