Glamping at Collective Governors Island: A Luxurious Urban Retreat
7/22/21
- By
Diana Kim
Governors Island is one of my family's favorite New York destinations. Located a mere 800 yards from Manhattan in New York Harbor, you feel like you're in a different world devoid of cars and traffic. It's one of New York's most unique green spaces with a variety of activities, entertainment, food, and art exhibits, and now, it's not just a daytime destination, thanks to Collective Governors Island, a full-service glamping resort with stunning views of Lower Manhattan, the Statue of Liberty, and New York Harbor.
Forget make-shift tents, sleeping bags, and canned food synonymous with old-school camping. At Collective Governors Island, you're welcomed with upscale accommodations, plush beds, spa-like amenities, and artisanal meals and snacks. I recently "glamped" with my family, and we had an amazing time at this urban escape—despite hurricane-like weather.
Read on for more details and what you need to know about glamping on Governors Island.
Subscribe to our newsletters to get stories like this delivered directly to your inbox.
Lodging Options at Collective Governors Island
Operated by Collective Retreats, an "experiential travel company," glamping lets you experience Governors Island in a whole new way. There are several types of accommodations to choose from. Summit and Journey Tents are more rustic and similar to traditional-style tents but with comfortable bedding, air-conditioning, coffee bars, and outdoor living spaces. If you've got kids, the Journey Family tent lets you pair an adjacent tent that fits up to two kids.
RELATED: Camp Rockaway Brings Family-Friendly Glamping to Riis Beach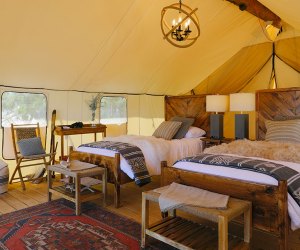 Collective Governors Island elevates the camping experience with sturdy tents, luxurious bedding, and indoor plumbing.
My family and I opted to stay in an Outlook Shelter, a stand-alone, fully enclosed structure that's a cross between an upscale hotel room and a steel trailer. These rooms also feature high-end amenities, spa-like bathrooms, king-size beds, and private terraces. We were able to add on a twin-size bed for our 5 year old. The bed was supremely comfortable, and we slept through the heavy thunderstorms that passed through the night. There is Wi-Fi throughout the campground.
RELATED: Governors Island in 2021: Best Things To Do With Kids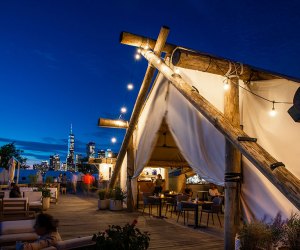 Collective Governors Island is close to the city but also a world away.
No matter which lodging option you choose, you'll have amazing views of the Statute of Liberty, New York Harbor, and the Manhattan and New Jersey skylines. Depending on the type of accommodation and time of the year, prices range from $250-$750 per night. Make sure to book reservations early as they book up rather quickly during the peak summer season. In general, Collective Governors Island season runs concurrently with Governors Island's public season.
RELATED: 12 Pocono Cabin Rentals with Big Perks for Families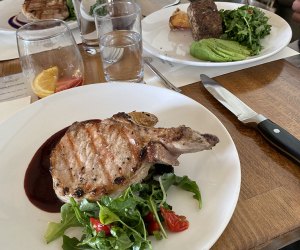 Three Peaks Lodge offers an elevated, seasonal menu with an open kitchen that makes you feel like you're enjoying a chef's table experience. Photo by Jody Mercier
Where to Eat at Collective Governors Island
The camp has an on-site restaurant, Three Peaks Lodge, which offers a chef's tasting menu and a la carte options. The focus is on fresh, farm-to-island fare, grilled to order. For dinner, we had grilled romaine salad, grilled chicken, and pork chops, plus a delicious berry dessert—they offer a rotating cobbler of the day—that my son couldn't get enough of. The restaurant is also open to non-guests who can book a reservation online to dine at the resort.
A sweet treat for overnighters: Guests can visit the S'mores Pantry Station around the main campfire. The bar stays open until the last guest retires.
Come morning, Collective Governors Island delivers a complimentary breakfast to each tent with a selection of pastries, yogurt, cheese, and meats. Everything was fresh and delicious. Collective Retreats also offers various culinary experiences, from cooking classes to lessons in oyster shucking and mixology.
RELATED: Family-Friendly Campgrounds Near NYC for Summer 2021 Camping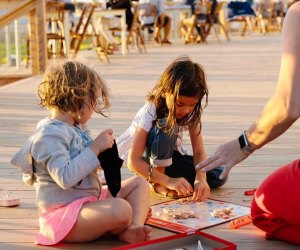 Enjoy family playtime at Collective Retreats or on the expansive public park surrounding it.
Fun Things To Do at Collective Governors Island
In addition to culinary experiences, there are also a slew of other activities you can enjoy as a guest, like yoga, outdoor movie screenings, and live entertainment. But you'll want to venture off the camp's grounds to explore the rest of the island and enjoy all it offers.
My family's favorite activity is to rent a surrey and ride around the whole island to see everything. My kids particularly love Slide Hill, the adventure course, and relaxing in the hammocks. Remember to be back at the campsite by 6pm when the island closes to the public. If you're camping overnight during the week, it feels like you have the whole island to yourself.

Follow the signs to fun at Collective Governors Island. Photo by author
How to Get to Collective Governors Island
The campsite is located on the western end of Governors Island. Public ferries run daily from Lower Manhattan. On weekends, visitors can catch the ferry from Brooklyn Bridge Park's Pier 6 or Atlantic Basin Red Hook, too. Ferry schedules can be found online. Reservations are required and cost $3 for adults; they're FREE for children under 12. Collective Retreats also provides guests with complimentary use of its private water taxi to and from the island if you want to skip the public boat.
When you're en route, you can text the front desk, and someone will pick you up in a golf cart from the ferry terminal on Governors Island to take to the campsite. The concierge desk was super helpful and made sure every part of our stay was comfortable, and we had everything we needed.
Unless noted, all photos courtesy of Collective Governors Island
Places featured in this article:
---
Collective Governors Island
Click Here to Sign Up!
i