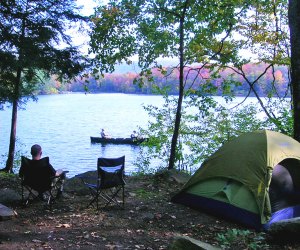 12 Great Family Friendly Campgrounds Near NYC
Planning a family camping trip may seem challenging for New Yorkers because it often requires plenty of equipment, including a car. But, actually, your next camping adventure might be easier than you think. There are plenty of family-friendly campgrounds nearby that offer extra fun amenities to make camping fun and easier for kids and families.
No car? No problem? You can go camping in NYC and some other campsites are accessible via public transportation. If you don't have your own camping gear, there are campgrounds that provide nearly everything you need to have an amazing camping experience.
Camping is a great experience for kids, and, although there are a number of deluxe campgrounds offering fancy perks from wi-fi to heated swimming pools, many camping sites are low-tech, so they allow families time to unplug and reconnect with one another. Plus, tent camping is an affordable alternative to a hotel. Remember, some of these favorites book up early!


My family and I are camping enthusiasts. In fact, our basement storage unit in NYC is packed with tents and backpacks and my son has been sleeping outside since age 2. If you don't have camping equipment, read our review of Tentrr, which provides tent camping sites with all the equipment you need.
We plan an extended camping trip every year, and we recently enjoyed amazing trips to Letchworth State Park and the Adirondacks, but those are trips that often require a week of summer vacation, not just a long weekend. Consider these nearby campgrounds for a quicker trip.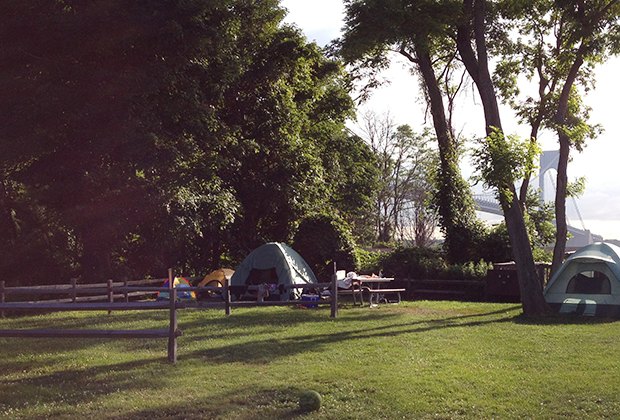 The Staten Island Fort Wadsworth campsite offers views of the Verrazano-Narrows Bridge and a short commute. Photo by Kathy Garofalo/courtesy of Gateway National Park.
Camping in New York City
Fort Wadsworth — Staten Island
You may already know about the Urban Park Rangers free family camping program, but did you know families can pitch a tent at one of seven rustic camping spots at this national park?
Campers at Fort Wadsworth in Gateway National Recreation Area can enjoy fantastic views of Manhattan, the Verrazano-Narrows Bridge, and Lady Liberty from their tent camping sites. The park also offers beaches for swimming and fishing, birding, playgrounds, and tours of the Revolutionary War-era fort. Note: there is usually only cold water available in the onsite showers.
In true NYC style, the park is accessible via mass transit. Just hop on the bus from the Staten Island Ferry. The campsite is open from late May through late September, and booking opens about a month in advance. Be sure to call the campsite directly to make a booking: 718-354-4655.
Floyd Bennett Field — Marine Park
Also in Gateway National Recreation Area, Floyd Bennett Field's campsite is larger than Fort Wadsworth's with 32 tent sites and 9 RV sites. The park offers more amenities, too, including a camp store, fishing, hiking, biking (you can rent at Aviator Sports and Event Center), swimming, birding, archery, and ranger-led programs for kids.
Take the subway to a public bus or park your car on the street nearby. It's a great option for urban families who want to give camping a try without a large travel commitment. Check out our full review of this campsite.
Also in NYC: For more car-free and equipment free camping options, read our reviews of glamping on Governors Island and Camp Rockaway.
New York State Camping Sites
Little Pond Campground — Andes
This is my family's favorite place to camp. On the western side of the Catskills, Little Pond, as the name implies, is small, but offers a 13-acre pond, ranger programs, a swimming beach, kayaks, canoes, and rowboats to rent. The area is famous for its fishing, including the popular trout spot, Beaverkill River, right outside the park, but junior anglers can drop a line right into the pond. The camping sites are wooded, allowing for some privacy, and many are even right on the pond. Families with kids who can carry their own weight can choose a remote, no-cars-allowed site and pack or canoe in their gear. There is also a small camp store, diner, and grocery store in town for last-minute essentials.

Mongaup Pond Campground — Livingston Manor
In northeastern Sullivan County, not too far from the famous Roscoe Diner, this large New York State Park campground sits on the largest body of water in the Catskills, so there's plenty of water fun to be had. Swimming, boating, and fishing are just a couple of activities to enjoy.
On my family's visit a few years ago we found kids running or biking from site to site, making it feel like a suburban street in the middle of the woods. My son made plenty of new friends during our stay. The park offers fantastic ranger-led nature programs for children and plenty of hiking trails.
The best part is perhaps the ice cream truck that drives around the campground twice daily, selling anything you may have forgotten and fun extras such as glow sticks and soda. The Catskill Fish Hatchery is right outside the park for a nice diversion, if needed.
RELATED: 7 Favorite Upstate New York Getaways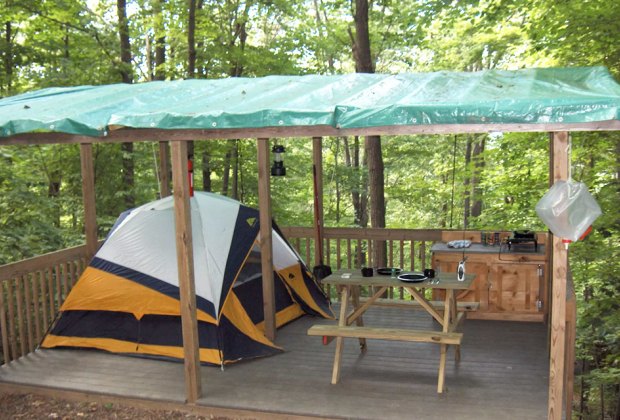 The hike-in-only Malouf's Mountain Sunset Campground is ideal for first-timers. Photo courtesy of the campsite.
Malouf's Mountain Sunset Campground — Beacon
I read about this hike-in-only camping site in Beacon on Mommy Poppins Westchester and have since put it on my family's outdoor bucket list. Malouf's Mountain Sunset Campground is a perfect camping site for both first-time urbanites and seasoned campers.
You can get to the area any way you like, but if you don't have a car, the proprietor will collect you and your gear at the Beacon train station, drop you on the trail to the campground, then bring your gear.
The sites are platformed and stocked with a kitchen box, table, and everything else you might need for roughing it. All you need to do is pop up your tent and start to have fun. You can even order ingredients for all your meals in advance and have them waiting for you when you arrive, or you can order prepared meals from a local restaurant, both for an extra fee. For a more rustic experience, opt for a primitive site that is completely DIY.
New York City North/Newburgh KOA — Plattekill
An hour and a half by car from New York City and also accessible by train to Beacon, this campground is a great spot for art lovers as it's close to both Storm King sculpture park and DIA: Beacon. This camping site boasts all the amenities, including a snack bar, coffee shop, and wine store. You won't have any trouble keeping kids entertained here as there are activities galore, including two swimming pools (open during peak season), basketball, bike rentals, fire truck rides, and a jumping pillow. If you go in the fall, there's apple picking, too.
RELATED: 100 Top Things to Do in New York State with Kids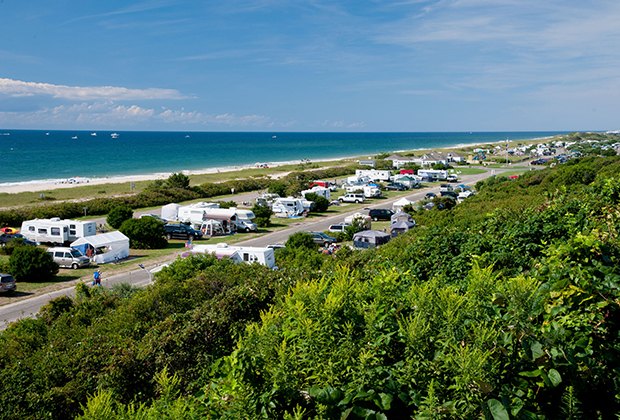 Camping at Hither Hills is an inexpensive way to visit Montauk. Photo by John Williams/courtesy of NYS Parks.
Long Island Campgrounds
Hither Hills State Park — Montauk
Want to head out to Montauk but not shell out a month's rent on a hotel? Book a spot at Hither Hills State Park. This grassy, open campground is mere minutes from Montauk's famous sand and surf, where you can enjoy fishing, paddle boarding, and surfing. On the other side of the camp is a lake if you need a break from the ocean. The park also offers playgrounds, walking trails, and ranger-led programs. The sites do not have cooking options and there are no barbecue grills or fire pits, so plan accordingly or head into town to dine out. Spots at Hither Hills book quickly; plan as far ahead as you can.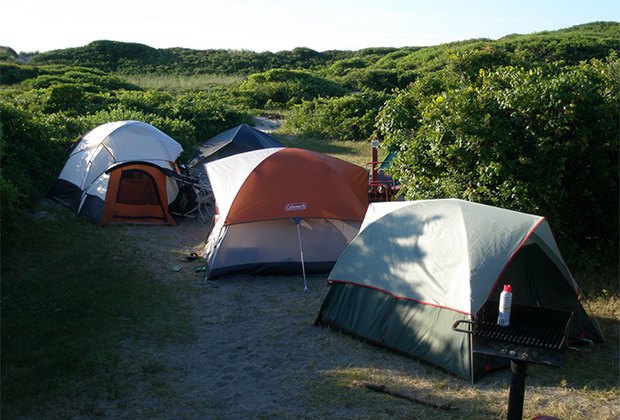 Camp near the ocean at Fire Island's Watch Hill. Photo by Kevin Farley via Flickr.
Watch Hill Campground — Fire Island
Years ago, getting a reservation at Fire Island's coveted Watch Hill campground was by lottery only. Today, you can book a spot online, but with only 26 sites, families must plan well in advance. Campsites here are sandy and bare but steps from the ocean and the rest of the national seashore's amenities, which include a snack bar, full-fledged restaurant, and general store. This is another car-free destination—you must arrive by boat, like elsewhere on Fire Island. If you have your own boat you can park it at the dock while camping. Otherwise, take a ferry from Patchogue (accessible via the Long Island Rail Road) to the Watch Hill terminal and hoof it to the campground. It is about a 20-minute walk from the dock.
Find more great Long Island campgrounds.
New Jersey Camping Sites
High Point State Park — Sussex
Camp at the highest point in the Garden State at the aptly named High Point State Park, in the Skylands region. The park offers cabins and 50 tent sites and is a great spot to kick off a hiking trip with more than 50 miles of groomed trails in the park, including parts of the Appalachian Trail. The view from the summit is amazing with a 360-degree panorama of New York, Pennsylvania, and New Jersey. A war veterans memorial sits at the top, reachable by car or foot.
Stephens State Park — Hackettstown
The Musconetcong River runs through this small park on the edge of Allamuchy Mountain State Park. Families can pitch a tent along the river but few of the campsites are actually waterfront. One cool feature: Check out the remnants of the locks from the circa-1831 Morris Canal that was inside the park's borders at the time. There are plenty of other activities here, too, including fishing, hiking, mountain biking, and boating.
Pleasant Acres Farm Campground — Sussex
Located on a working farm, this campsite is great for animal lovers. Kids can milk cows, chase pigs, and pet goats. This site is equipped with all the modern amenities, and for those who aren't quite tent-ready, there are even cabin and cottage options. There's also an Olympic-size swimming pool and plenty of activities to keep kids occupied, including miniature golf and horse-drawn hayrides.
Find more NJ family campgrounds.
Camp Sites in Pennsylvania
Dingmans Campground — Dingmans Ferry
This was the site of my now 11-year-old son's first camping trip, when he was just a tot. Camping here is easy for new parents or first-timers. It has a camp store, where you can buy simple meals and get respite from the weather. Both were particularly useful when we arrived in the pouring rain and needed to feed our toddler. Dingmans Campground is a privately run facility on the Pennsylvania side of Delaware Water Gap National Park with more than 100 sites, some along the river. It's a popular spot for paddlers due to easy access to the river. You can rent a canoe or kayak nearby and hit the water on your own or opt for one of the canoe trips led by the campground. Call 570-828-1551.
Find more Pennsylvania family campgrounds.

Things to Know Before You Go Camping
Advance reservations are a must. The best sites in a park can book up a year in advance for summer camping.
State-run facilities tend to be rustic and situated in state parks, while privately run campgrounds usually offer amenities that include pools, electricity, stores, and entertainment.
Many campsites close in mid-October and stay shuttered through the winter.
Some parks offer rustic cabins, yurts, and teepees as accommodations for longer trips or for families who don't want to rough it.
Firewood restrictions are in place at many camps so don't bring your own without checking first. You can purchase wood on site or from a local dealer.
Most camps have showers and bathhouses with flush toilets. Some more primitive spots may have outhouses. Check before you book.
Bears are common in some of these areas. Heed any warnings from park rangers.
Bring bug spray, and be sure to check yourself and your kids for ticks daily.
Contact the campground to find out if you can bring your pet with you.
Basic List of Equipment for Family Camping
A tent. For the best experience, set it up before the trip to make sure you know how to do it when you arrive.
A sleeping bag or bed roll for each person. You can bring an air mattress with sheets and blankets if you prefer. Mats to cushion the ground provide warmth, too.
Flashlights, lanterns, and propane fuel are nice to have. You can buy rechargeable LED lanterns: They aren't the brightest, but they are tent-friendly and can charge your devices in a pinch.
Pack for rain. Even if you don't use what you bring, it's better to be safe than sorry.
Food. Keep it cold in a cooler and store it in your car to avoid pests.
Beverages. Milk boxes are perfect since they don't need refrigeration until opened.
If you don't want to grill for every meal, bring a portable propane stove, with fuel, pots and pans, and utensils for cooking.
Charcoal and matches for the grill.
Mess kits or paper plates, cups, and plastic silverware.
Leave the toys and iPads at home. Instead bring crayons and paper for nature rubbings, binoculars, magnifying glass, card games, glow sticks, beach stuff, a bike, and a fishing pole.
This article first published in May 2010 but has since been updated.