Car-Free Weekend Getaways From NYC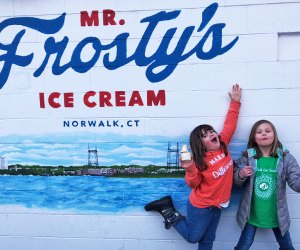 4/16/21
- By
Diana Kim
One of the best things about living in New York City is that a car-free lifestyle is completely possible. With different modes of transportation at your fingertips, you can get around without ever having to worry about where to park, even if you want to get away from the city for a few days. To that end, we've rounded up one dozen car-free weekend getaways.
You can reach these fun, family-friendly destinations—ranging from beaches to amusement parks and iconic cultural institutions—via subway, train, bus, ferry, or cab. Find more great day trips and getaways in our Family Travel Guide.
Editor's note: While we are trying to promote safer activities that occur outdoors or with social distancing guidelines in place, please keep your family and others safe by always wearing a mask and practicing social distancing. Please do not travel if you are sick, and consult all local travel requirements and restrictions ahead of booking.
How to get there: Board a Metro-North Train from Grand Central for the 1.5-hour ride north.
The town of Beacon makes for a superb family-friendly New York getaway at just about an hour from downtown White Plains. This Dutchess County town features an artsy, bustling downtown—mostly centered along Main Street, home to many different shops, restaurants, and boutique hotels. There's something for all ages to enjoy. Don't forget to check out Dia Beacon, the large-scale post-modern art museum, a short walk from the train station.
How to get there: Board the Metro-North Train from Grand Central for the 1 hour, 25-minute ride north.
A historic hamlet just north of Westchester County, Cold Spring offers small-town fun close enough to reach via train. The town's Main Street is just a 3-minute walk from the train station. Shop for antiques, unique toys, and games, and dine at one of the town's many kid-friendly restaurants. Head southwest on Main Street and take a right on West Street for the self-proclaimed "world's best homemade ice cream" at Moo Moo's Creamery while taking in the breathtaking, unobstructed views of the Hudson River. Hail a cab and make your way to Boscobel House & Gardens, just a mile and a half away, to stroll its peaceful grounds and enjoy one of its many family-friendly events.
RELATED: Family-Friendly Hotels for a New York Staycation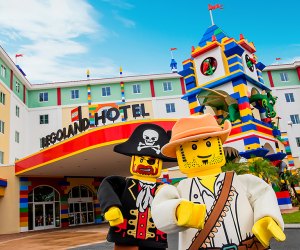 Legoland New York's new hotel is seemingly built from the iconic bricks. photo courtesy of the resort
How to get there: Legoland is partnering with Short Line/Coach USA to provide direct transportation to the resort from Port Authority Bus Terminal.
While we don't yet know when the Legoland Resort will open, it has been given the green light from the governor. The first theme park to open in the Northeast in four decades, Legoland is sure to be a hit with families. Brick fans young and old can book a room at the on-site, 250-room hotel with Lego-themed rooms and plenty of space to build with the iconic blocks. Breakfast is included daily, and every room has separate sleeping quarters for the kids. Choose themed rooms honoring your favorite Lego characters and enjoy in-room scavenger hunts, daily entertainment, and a heated pool.
How to get there: Board the Long Island Rail Road for the 3 hour, 15-minute ride. You'll need a cab to get you into the heart of town. You can catch the Hampton Jitney, which drops you in the center of town.
There are many things to do at this low-key seaside spot, including dining outdoors, sunning and swimming on the magnificent beach, and other seasonal fun. All of the big attractions are within walking distance, save for the Montauk Point Lighthouse, which is easily accessible via the town's shuttle bus. Go for the day or stay the weekend at one of Montauk's many family-friendly hotels. Be sure to book your room in advance as they fill up quickly, particularly in the summer.
RELATED: 25 Kid-Friendly Spring Day Trips for NYC Families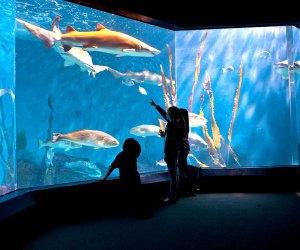 Norwalk's Maritime Aquarium is but one of the family-friendly destinations in the seaside town. Photo courtesy of the Aquarium
How to get there: Board the Metro-North Train from Grand Central for the 1 hour, 6-minute ride.
Another fun, easy train destination is Norwalk, Connecticut. You'll find plenty to do in this coastal town from our colleagues at Mommy Poppins Connecticut. One can't-miss destination is the Maritime Aquarium. Located just blocks from the train station, you can buy a discounted ticket from the MTA that includes your transportation, admission to the aquarium, and the IMAX. The cute SoNo area neighborhood is nearby and teeming with shopping and dining destinations.
How to get there: Board the Metro-North train for the 50-minute ride. A combo ticket offers discounted admission, and buses take you from the station to the park's entrance.
If a day trip is all you desire, this Westchester County gem—set to reopen in May—is an awesome amusement park. There's a huge Kiddyland with more than 20 rides for little ones. But Playland isn't just for little kids—there are also rides for the entire family. This family hot spot features a lot more than rides: there's a beach, miniature golf course, and a museum.
RELATED: 20 All-Inclusive Resorts We Can't Wait to Visit Again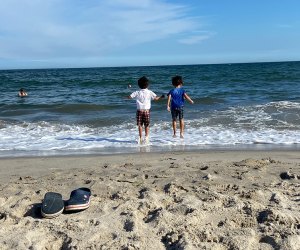 The Rockaways offer seaside fun without having to leave the city. Photo by Sara Marentette
How to get there: Take the A train to Far Rockaway or hop on the Rockaway Ferry.
Rockaway's beautiful beaches have soft sand and strong Atlantic Ocean waves. In fact, it's the only shore in NYC where you're allowed to surf. There's also a great boardwalk, playground, and restaurants. Make it a staycation by booking a room at the newly opened Rockaway Hotel, five minutes from the beach. Another option for a weekend trip? Consider glamping at Camp Rockaway.
8. Sandy Hook – Atlantic Highlands, New Jersey
How to get there: Enjoy a 40-minute Seastreak ferry ride from Midtown East, plus a quick shuttle or bike ride to the beach.
The closest of all the Jersey Shore beaches, a day at Sandy Hook's pristine beach offers families swimming, surf fishing (during non-swimming hours), bike trails, bird-watching, and historic attractions like the Sandy Hook Lighthouse one of the oldest in the United States.
RELATED: Family Day Trips and Weekend Getaways Guide for NYC Families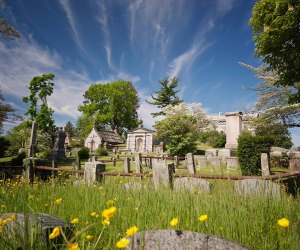 The Sleepy Hollow Cemetery is filled with local lore and history. Photo courtesy of the cemetery
How to get there: Board the Metro-North train for the 1-hour ride to Philipse Manor or Tarrytown; take a cab from the station to Sleepy Hollow.
Sleepy Hollow is the birthplace of the Headless Horseman and an iconic New York rivertown where you'll find history, art, culture, and nature. Visit the Sleepy Hollow Cemetery, where Washington Irving is buried along with other notable figures. Tour the Old Dutch Church, the inspiration for the tale of the Headless Horseman. To stretch your legs, head over to the nearby Rockefeller State Park Preserve, which is one of my favorite state parks to stroll through. Other places to visit include the Sleepy Hollow Lighthouse and Beekman Avenue to explore shops, galleries, restaurants, and coffee shops.
How to get there: Board the Long Island Rail Road for the 2 hour, 25-minute ride to Riverhead.
There is much to do in this North Fork town—and indeed all along Long Island's East End. One of our favorite family-friendly destinations is Splish Splash. This water park is beloved for many reasons. It's incredibly clean and compact, so you can do all of the rides in one day. There are thrilling attractions for older kids and special little-kid areas with small slides and gentle rides. It opens for the season on Saturday, May 29. While you're in the area, be sure to visit the Long Island Aquarium and see more domesticated animals at Garden of Eve Farm. There are tons of hotels nearby, plus beautiful state parks.
RELATED: The Best Family-Friendly Beaches on Long Island

Storm King Art Center is a destination in its own right, but there's plenty to explore nearby.
How to get there: Board the Metro-North train from Grand Central for the 1.5-hour ride to Beacon, then take a weekend-only shuttle to Storm King. Coach USA also provides bus service to Storm King, and combo tickets can be purchased on the Storm King site.
While this fantastic 500-acre outdoor sculpture museum is day trip worthy in its own right, there's plenty to see nearby to make it a weekend-long getaway. Stroll Storm King's open fields, rolling hills, valleys, and woodlands dotted to see more than 100 engaging sculptures. Enjoy a picnic on the grounds or rent adult-size bikes on-site to explore. When you've had your fill, head back to Beacon and book an overnight at the Roundhouse. Save time during your trip to visit the Hudson Highlands Nature Museum and one of our favorite playgrounds in Grasshopper Grove.
How to get there: Board a Metro-North train from Grand Central for the 50-minute train ride.
A quick jaunt on the Metro-North to Tarrytown, and you're rewarded with sweeping river views and a laid-back vibe that feels light years away from the bustling city. A 5-minute walk from the train lands you on the town's Main Street—home to several family-friendly restaurants, the dog-friendly Coffee Labs Roasters, and shopping—perfect for whiling away an afternoon. You'll find the Gothic Revival mansion and sprawling grounds of Lyndhurst nearby (It reopens for the season on Monday, May 3.), plus the Stone Barns Center for Food & Agriculture. Each is a 10-15 minute taxi ride from the train station.