Camp Rockaway Brings Family-Friendly Glamping to Riis Beach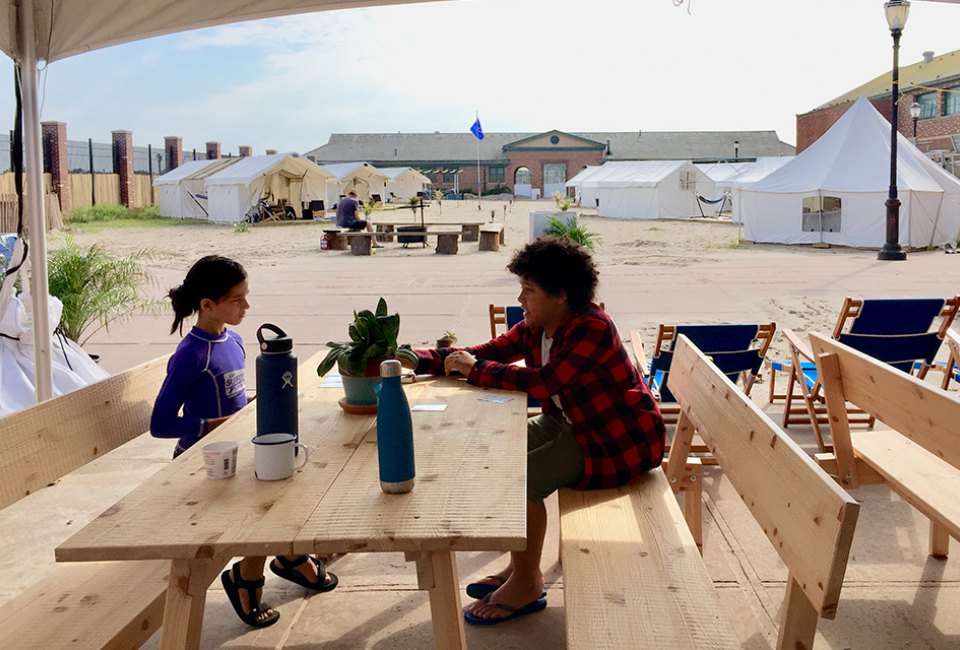 7/18/19
- By
Siobhan Adcock
If you love family camping, but don't love the thought of hauling all that gear (or even if you're not a huge fan of camping, but you sure do love the beach) good news: Camp Rockaway has returned for a third season of family-friendly glamping with a side of urban beach. Located in a sandy courtyard behind the historic Jacob Riis Bathhouse, Camp Rockaway offers families a chance to sleep over at at the beach, with comfy tents, queen-sized beds, and hot showers, all just steps from the waves. Read on for a peek inside the tent flaps.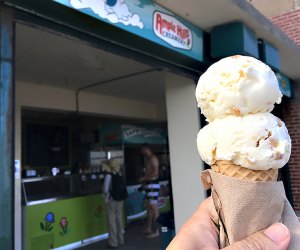 No need to pack up a cooler—just hit up the Riis Beach vendors for some tasty food.
The "People's Beach" at Jacob Riis is a NYC family favorite for its mellow vibe and slightly-less-crowded sand, especially compared to bustling Rockaway and Coney. It's easy to reach by car or by ferry (though true masochists can take the subway to a bus). But the real draw may be the food at the Riis Bazaar, so packed with great eating options—including barbecue, seafood, pizza, tacos, and Ample Hills Ice Cream—that you don't even need to pack a cooler for your beach day. For parents, "one less thing to pack for the beach" is a magical phrase on par with "expecto patronum."
The only thing better than a day at the beach filled with sun, sand, and tasty eats? A day at the beach with a sleepover. Camp Rockaway, now in its second season at Riis Beach, offers an appealing mix of basic creature comforts and stylish beach "glamping."
RELATED: Family-Friendly Campsites (With Extras for Kids!) Near NYC

Cozy up for the night in luxe Queen-size beds. Photo by the author
Solar-powered platform tents have queen-sized beds with plush mattresses and fancy linens, plus fans, lights, a storage locker, extra blankets, and even a place to charge your phone. Tents sleep two people with enough room to accommodate a child's twin-sized camp cot. Each platform houses a pair of tents, so a family of four or more can reserve two tents back-to-back, with colorful hammocks slung in between.
Picnic tables, a fire pit, board games, and plenty of hammocks and beach chairs are available in the campground's common area, where check-in can also be found. There are snacks and s'mores kits for sale, plus free ice water all day and complimentary coffee in the morning.
RELATED: Glamping Comes to Governors Island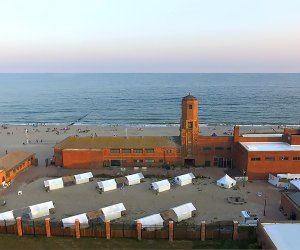 Accommodations at Camp Rockaway include furnished safari tents, a communal fire pit, a picnic area, camp store, hammocks and games.
The campground is small, but sheltered and well equipped. Bathrooms (located in a wing of the bathhouse) are shared, but immaculate when we visited, and frequently cleaned throughout the day. Close to the bathrooms, two solar-heated showers in private cabanas, complete with delicious-smelling soap, shampoo, and conditioner, offer a hot rinse after a long day of salt water and sand. Bath towels are provided, too.
Even if you're a longtime fan of Jacob Riis Beach, you might be pleasantly surprised (as we were) by all the fun stuff to eat, see, and do at the Bathhouse, which is about a five minute walk from Riis's famous semi-circular boardwalk and Bazaar. A tiny but fun game room, a volleyball court, and a playground are all just a few steps away. Ample Hills has an outpost at the Bathhouse, and there's also a raw bar, a coffee shop serving up bagels and smoothies, and a few other places to grab a bite. We ate some of the best burgers and fries we've ever had at Two Dudes, a beachside eatery operated out of a trailer just a short walk down the boardwalk from the campground.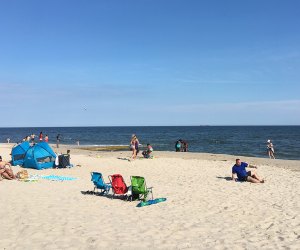 Be one of the first at the beach and stake out a prime spot. Photo by the author
A true "glamper" could arrive armed with only a bathing suit, sunscreen, and a toothbrush, and leave the rest to the amenities at Camp Rockaway, combined with the beach butler service at the Bathhouse. Lido Beach Butlers, located right outside the campground, will set up a cabana on the sand with cushioned beach loungers for $65 per day, or rent an umbrella, beach chairs, a cooler, and games for $5 to $15 per item per day. But if you bring your own beach gear, you can still be among the first to set up on the sand in the morning, and among the last of the beachgoers enjoying the magical sunset.
For a beachside adventure that's convenient and cool, Camp Rockaway is definitely worth the trip. But if you're looking for a quiet night of camping, with the sound of the waves shushing you to sleep, remember: Even here at the shore, you're still in the city. On weeknights you're likely to hear vehicles whirring over the Marine Parkway Bridge, and on weekends there will be the requisite bands of teenagers partying at the beach. (Tents are equipped with earplugs.)
Looking for a sunset adventure? As the crowds melt away with the end of the day, take a 20-minute hike down the boardwalk to Fort Tilden, and catch a view from the dunes of the sunset over the city.
RELATED: Where to Eat in the Rockaways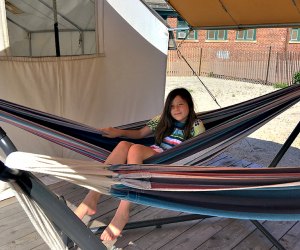 Chill in the hammocks on the campground. Photo by the author
Know Before You Go
Camp Rockaway operates from Memorial Day through mid-October. Tents are $249 per night and can be reserved online. Child cots are available to rent for $75 and include linens, a pillow, and a s'mores kit.
Each tent site includes two tents with one queen bed each. Towels and linens are provided, but bring your own beach towels.
Checkin is at 3pm and checkout is at 11am, but friendly staff are happy to help store belongings if you're sticking around for a day at the beach.
You're welcome to bring your own food, but the firepit is shared and there's no food storage on-site. See Camp Rockaway's information page for more.
Unless noted, photos courtesy of Camp Rockaway
Places featured in this article:
Click Here to Sign Up!
i