Best Beaches Near NYC: A Guide for Families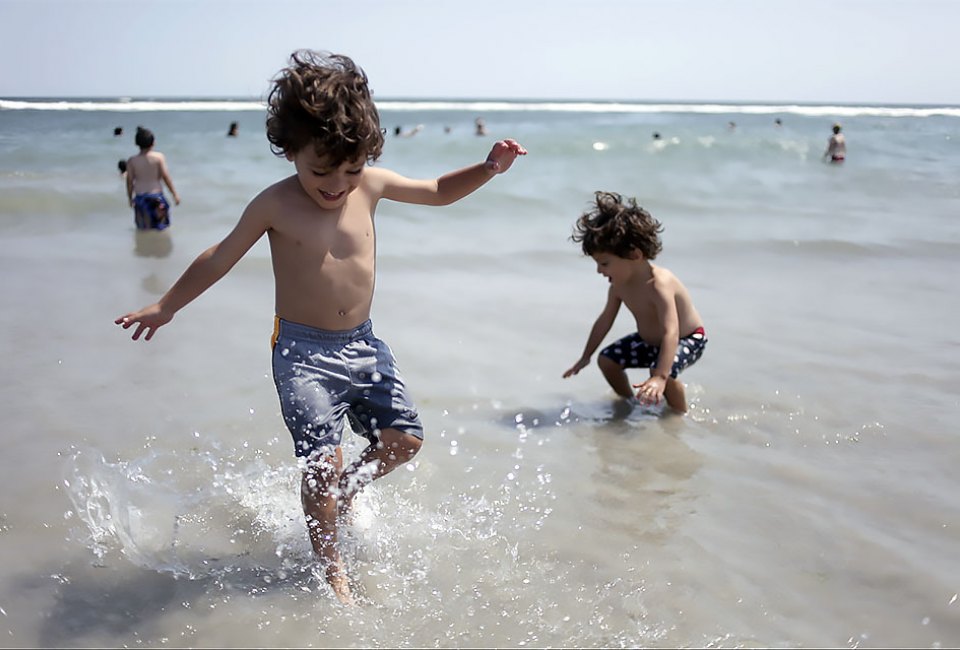 7/2/21
- By
Anna Fader
Summertime means beach time, and while there are lots of beaches near and even in NYC, some are more family-friendly than others. After packing up your gear and schlepping the kids by car, train, bus, or ferry, the last thing you want to find out is your chosen beach has no bathroom, or bathing suits are optional. Skip the guesswork with our roundup of eight easy-to-reach beaches for NYC families, including detailed info on attractions, food, bathrooms, and hidden costs. Most are within 2 hours of Manhattan by car and are easily accessible via public transportation as well, so you can plot a great daycation for your family.
Find more beach fun in our Beaches, Pools, and Water Playgrounds Guide, or check out these summer day trip ideas.
Subscribe to our newsletters to get stories like this delivered directly to your inbox.
New York City's beaches opened Memorial Day weekend, and lifeguards remain on duty through Sunday, September 12, 2021. The city prohibits swimming outside those times because lifeguards are not on duty. Long Island and other area beaches included here are generally open through Labor Day.
New York City Beaches
Coney Island, Brooklyn
The Scene: We doubt we need to sell you on the so-called "People's Playground." With boardwalk amusement parks, the New York Aquarium, and lots of glorious junk food just a stone's throw away, Coney Island may be the most kid-centric shore around, which is why it's always super crowded, loud, and for some, overwhelming. If you're looking for a quiet, relaxing day at the beach, try somewhere else, but if you want to get to a shore quickly and hang for a bit before hitting other attractions, this is the spot for you.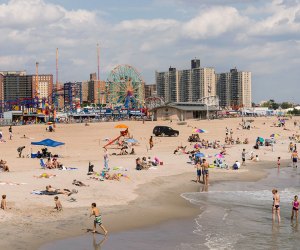 Step off the train, take a dip, and then hit the rides with the kids at Coney Island. Photo courtesy of NYCGo
Attractions and Bathrooms: Where do we begin? There are two full-fledged amusement parks, Luna Park and Deno's Wonder Wheel, featuring both mild and thrilling rides; the historic B&B Carousell; a brand new roller coaster; the New York Aquarium; and MCU Park, home of minor league baseball's Cyclones, who are named after the area's landmark roller coaster. There are six bathrooms, but take note, they're not the cleanest (bring baby wipes and hand sanitizer). Changing in them is not allowed. Avoid the wrath of the staff and change the kids on the beach.
Food: The options on the boardwalk are generally of the fast-food variety, with Nathan's Famous hot dogs the standout. If you want to sit down, grab delicious burgers and shakes at Tom's Brooklyn, or head inland for fabulous pizza at Totonno's. Check our local-approved roundup of the best family restaurants and eats in the area.
Cost: The beach is FREE, but bring money for all of its special attractions.
Boardwalk: Closed 1am-5am
Getting There: Street parking near the beach is metered and scarce, and commercial lots are pricey. Unless you have an aquarium membership, which comes with free parking, you're better off taking the D, F, N, or Q subways to Coney Island-Stillwell Avenue. The beach and amusement parks are across the street, so you can wheel the stroller right onto the boardwalk from the train.
Read more about the area in our Coney Island & Brighton Beach Kids Neighborhood Guide.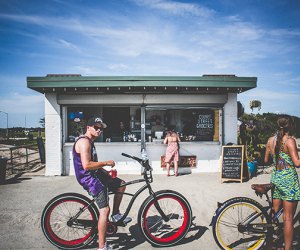 The great food and chill vibe have made Jacob Riis more popular in recent years. Photo by Dylan Johnson/courtesy of Riis Park Beach Bazaar
Jacob Riis Beach, Queens
The Scene: Nicknamed the "People's Beach," this shore just west of Rockaway is enjoying a resurgence thanks to its vibe (the Riis Park Beach Bazaar seriously raised its cool cred) and out-of-the-city feel. Expect lots of 20-somethings, along with families, many of whom pitch tents and stay the whole day.
Attractions and Bathrooms: Managed by the National Park Service, Jacob Riis is home to an Art Deco bathhouse that now houses the aforementioned Bazaar. There's also golf, ball courts, and great kite flying, thanks to the ocean breeze. As for bathrooms, there are two on the East Beach and one on the West—all fairly spacious and clean. Want to stay the night? Try glamping at nearby Fort Tilden via Camp Rockaway.
Food: The eats at the Bazaar are artisanal and expensive, but delicious. Think Ample Hills ice cream, homemade barbecue, and fresh seafood, plus alcohol. You can also rent beach chairs and umbrellas here, but there's a limited supply.
Cost: The beach is FREE, but there's a $20 parking fee if you drive.
Operating Hours: Daily 6am-10pm
Getting There: If you're a masochist, you can take the 2 subway train to the Q35 bus. For the rest of us, the ferry from downtown Manhattan's Pier 11 is the best option, though 2021 service has yet to start. You can also catch an NYC Ferry to a free shuttle bus or the aforementioned Q35.
RELATED: Best Water Parks for Families Near NYC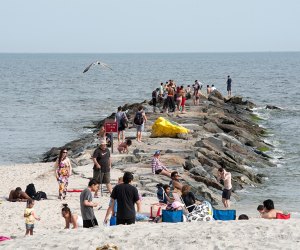 Rockaway Beach, accessible via the subway, is always popular with NYC families. Photo courtesy of NYCGo
Rockaway Beach, Queens
The Scene: Rockaway is the only place where you can surf in NYC, which means the waves are high and rough, and the undertow is powerful. If your kids are novice swimmers or more typically frequent the pool, you'll need to keep a sharp eye on them. (It's a good time to review some basic water safety tips and rules for kids and families.) It's been a slow recovery from Superstorm Sandy, but the concessions are open, and the sandy ocean beach makes it feel as if you've truly left the city behind. Although you'll see plenty of adults, Rockaway is definitely a family crowd; it doesn't get too loud or crazy. Radios are scattered throughout, but the beachfront is so long, you can always find a quiet spot.
Attractions and Bathrooms: There are eight playgrounds along Rockaway Beach, though the most impressive is Beach 30th Street, with amazing equipment and water features. If you want to try surfing, there are a handful of places to take lessons or rent boards. And there are no fewer than 10 bathrooms located along the boardwalk, so you're never far from the facilities.
Food: The food scene on the boardwalk is always exciting. There are four concession stands on the boardwalk, with the largest at Beach 97th Street. Grab standard beach fare like burgers and hot dogs, or try more adventurous eats such as jerk chicken, Venezuelan arepas, lobster rolls, and barbecue.
Cost: All of the beaches in Rockaway are FREE to enjoy.
Boardwalk: Closed 10pm-6am
Getting There: All you need is a MetroCard and a lot of time — bring activity books for the subway ride! Grab the A to Broad Channel, where you transfer to the S (shuttle), which stops at Beach 90th, 96th, 106th, and 116th Streets. Each stop is about a 10-minute walk to the shore. Got a car? There are free parking lots at Beach 11th, 15th, and 95th Streets.
Read more about the area in our Rockaway Kids Neighborhood Guide.
New Jersey Beaches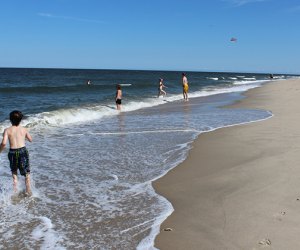 Sandy Hook's North Beach is gorgeous, though weekends attract crowds. Photo by Shinya Suzuki via Flickr
Sandy Hook, New Jersey
The Scene: Part of the Gateway National Recreation Area, Sandy Hook offers lots of activities beyond swimming for families, including biking, hiking, boating, fishing, birding, and even overnight camping. The beach gets very crowded on weekends, and parking lots often fill to capacity. So, arrive early or risk being turned away.
Attractions and Bathrooms: With seven miles of beaches, Sandy Hook is a great place to wander, with numerous walking trails. There are also six bathrooms. The National Recreation Area hosts lots of family-friendly activities, such as kayaking and concerts. Check the calendar for details.
Food: Sandy Hook now hosts food trucks in a few parking lots, but offerings are a bit limited. You are better off packing your lunch and snacks.
Cost: The beach is FREE, but there's a $20 fee for parking.
Operating Hours: Daily 6am-8pm
Summer 2021 Facilities Access: The Sandy Hook lighthouse and visitor center are currently closed due to the COVID-19 pandemic.
Getting There: Forego the car and take the ferry, since getting there is half the (laborious) fun of reaching the beach as an NYC resident. The Seastreak from Wall Street or Midtown East gets you there with a 40-minute ferry ride, but watch out for crowds on sunny weekends. Take the complimentary shuttle service between the landing and the beach and sink into that beach chair. You've earned it!
Asbury Park Beach, New Jersey
The Scene: Dubbed "Brooklyn on the Beach" by some, New Jersey's Asbury Park Beach is popular with New Yorkers looking for a family-friendly beach day. Those who remember Asbury Park in the 1980s might be surprised by how much it's changed: clean beaches, a boardwalk with an artsy vibe, plenty of food options, and most importantly, tons of entertainment for kids of all ages. The beach costs $9 on weekends and holidays, $6 on weekdays, but kids under 12 are FREE, and there's a playground right on the sand. Just be warned, the beach can get pretty crowded on weekends and holidays.
Attractions and Bathrooms: Head to Ocean Avenue between Second and Third Avenues for most of the kids' attractions. Asbury Splash Park, right on the boardwalk (though still unopened this season), is a favorite with the under-8 set. Just a short boardwalk block away is Asbury Eighteen mini-golf course. The area also boasts some offbeat activities for rainy days, including a glassblowing studio for kids and adults, and the Silverball Arcade, where you can play hundreds of vintage pinball and video games. Asbury Lanes, the iconic bowling alley and music venue, just reopened in 2018, too! There are plenty of bathrooms on the boardwalk, but lines can get long. Beach umbrellas are available to rent.
Food: There's no shortage of kid-friendly dining options, from mainstays like Pop's Garage and Langosta Lounge to more adventurous fare like Mogo Korean Fusion Tacos. For dessert, head to Eddie Confetti's for ice cream.
Cost: $9 weekends, $6 weekdays, kids under 12 are FREE. Purchase a badge using the Viply App, the beach office, or the 7th Avenue beach booth. Beach passes (badge or wristband) are required through Labor Day.
Getting There: NJ Transit from Penn Station to Asbury Park takes about an hour and a half, including a change at Long Branch, then it's still a bit of a walk to the beach, so you'll want to hail an Uber or Lyft if you're hauling kids and gear. You can get a seasonal round-trip ticket and badge deal from ticket machines in NJ Transit stations. By car, it's 45-60 minutes (without traffic) from the NYC metro area, but be warned, it can be hard to find parking. Book a hotel or Airbnb for the night to turn it into a quick family getaway.
Find more family-friendly Jersey Shore beaches.
Long Island Beaches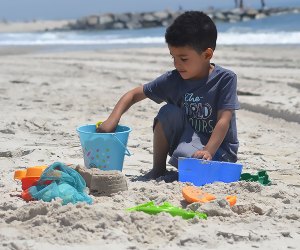 Play in the beautiful sand, then stroll along the pretty Long Beach boardwalk. Photo by Kimberly Chacon
Long Beach, Long Island
The Scene: Beloved for its famous boardwalk and soft, clean sand, Long Beach has been completely restored since it was decimated by Superstorm Sandy. You'll find locals and visitors alike strolling or riding their bikes along this 2-mile stretch of serenity. It's one of the prettiest beaches near NYC. Because of that, it can get crowded. However, it's less noisy than other local shores and definitely the quietest on the West End. Of course, weekends are another story. It can attract a party scene.
Attractions and Bathrooms: In addition to the boardwalk, you'll find lots of nearby playgrounds, 10 public restrooms (though they can be tricky to locate), and spots to rent umbrellas and chairs between National and Long Beach boulevards.
Food: There are many great restaurants in town, including pizza and burgers right on your way from the train to the sand. The beach concessions and food trucks were lackluster in the past, but more have been added this year. Packing a lunch and then having dinner out might be a good bet.
Cost: Unlike NYC beaches, access isn't free. Nonresident day passes cost $15 per person for everyone ages 13 and older. Purchase your pass at designated beach entrances or digitally.
Getting There: It's about one hour by car from Manhattan, but skip the traffic and parking stress by taking the Long Island Rail Road.
RELATED: 23 Best All-Inclusive Family Resorts in the US and Caribbean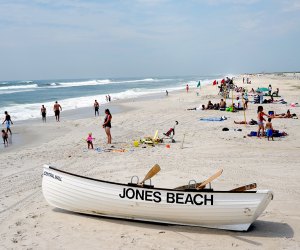 Jones Beach is a popular family beach. Photo courtesy of NYS Parks
Jones Beach State Park, Long Island
The scene: New York's most visited state park by far, Jones Beach occupies about 6½ miles of oceanfront in western Nassau County. It is easily accessible by car or public transportation, making it a preferred destination for weary city dwellers eager for sun, sand, and swimming in the ocean, bay, and pools.
Attractions and Bathrooms: There is something for just about everyone at Jones Beach, from miniature golf to swimming, boating, a playground, beach volleyball, softball, and tennis. Kids interested in the natural world will adore the Nature Center on the west end. Bathhouses and restrooms are plentiful in each of its seven parking fields.
Food: The state park boasts large concession stands at each parking field. If you prefer something more formal, check out the restaurants of Point Lookout or Island Park, near the entrances to the park.
Cost: Admission is $10 per car from Memorial Day weekend to Labor Day.
Getting there: By car from New York City, take the Meadowbrook or Wantagh State parkways south to the park entrance. The LIRR offers service to Freeport with a connecting bus to the park for $21.50 per person ages 12+ round trip, a $2 LIRR Family Fair is available for those aged 5-11; plan on 90 minutes each way from Penn Station.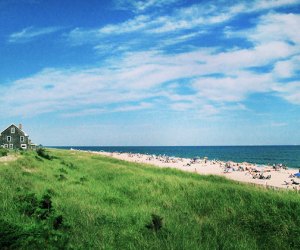 Locals know Ocean Beach as one of Fire Island's more family-friendly scenes. Photo by Taís Melillo via Flickr
Ocean Beach, Fire Island, Long Island
The Scene: Amid the summer hustle of the famous barrier island lies Ocean Beach, on the west end and flanked by Great South Bay and the Atlantic Ocean. Fewer than 300 people live in the community full time, but the population swells tenfold in the summer. Fire Island is known for its diversity of lifestyles and entertainment, but Ocean Beach is perhaps the most family-friendly of the dozen or so popular communities. Like most of Fire Island, it is car-free. Locals get around on foot or bike to small shops, galleries, restaurants, ice cream parlors, the movie house, and beaches. Hotels and inns are available for weekends or vacations. Fair warning, however: The beach is radio-, alcohol-, and food-free.
Attractions and Bathrooms: Warm ocean currents make the water inviting early in the summer and long into the fall. On the bay side, the village marina provides anchorage for boaters. Water sports opportunities, including swimming, fishing, surfing, boating, and windsurfing, are seemingly everywhere. Lifeguards are on duty from Memorial Day weekend to Labor Day, and the community hosts a summer camp for kids 3-13 and a CIT program for 14-year-olds. There are public restrooms in the village and a few conspicuously placed stations along the beach; newcomers should ask a lifeguard for locations.
Food: Options abound in the village, especially for those with a fondness for seafood. (No surprise there.) Locals enjoy breakfast at Rachel's Bakery, but allow time; it's quite popular. Town Pizza is a sought-after choice for a quick slice.
Cost: Beach access is FREE, but bring cash. There are very few ATMs in Ocean Beach.
Getting there: This is the tricky part. Fire Island is accessible by ferry or water taxi only. Currently, face coverings are required on all Fire Island ferries. The Long Island Rail Road's Montauk branch offers service from Penn Station, Jamaica, or Woodside to Bay Shore, where a taxi takes you to the ferry pier. The crossing takes about 40 minutes, making the total journey from Penn Station about two and a half hours.
Read about more family-friendly Long Island beaches.
Bonus
Despite a longer trip, the Hamptons offer world-class beaches, restaurants, and, of course, people watching. On summer weekends, the LIRR offers expedited service to the East End. Penn Station to Westhampton or Hampton Bays is a little longer than two hours, and cabs to the beaches are plentiful from the stations. There is no charge to walk onto the beach, and concession-stand food is available, but don't forget a cell phone to call a cab for pickup at the beach.
A version of this article first appeared in June 2019, but it has since been revised and updated.
t Click Here to Sign Up!