3 Days on the Jersey Shore with Kids: Ultimate Itinerary by a Local Mom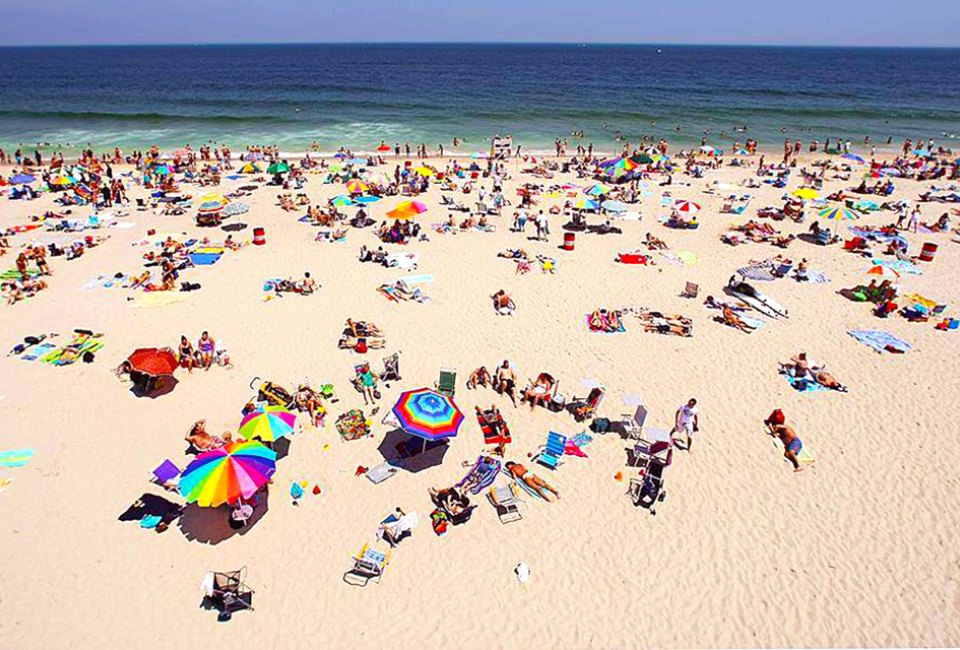 3/30/23
- By
Kaylynn Chiarello Ebner
Subscribe to our newsletters to get stories like this delivered directly to your inbox.



Point Pleasant Beach offers a perfect sampling of Jersey Shore fun. Photo courtesy of Point Pleasant Beach
Day 1: Things to Do in Point Pleasant with Kids
This quintessential beach town has all the makings of a picture-perfect beach day for families. Head to Exit 98 off the Parkway bright and early and stay until nightfall to take advantage of all there is to see and do.
Hit the Beach and Boardwalk
Get to Point Pleasant Beach first thing in the morning to pick a prime spot on the sand. Daily beach badges are $4-5 for kids 5-11 and $13-14 for adults (kids under 5 are FREE). You can also rent umbrellas and chairs.

When you're ready for a break from the sand, walk the mile-long boardwalk. It spans the coastline from the Manasquan Inlet to New Jersey Avenue. And of course, the walk includes Jenkinson's Boardwalk, which has arcades, carnival games, amusement park rides (perfect for toddlers through teens), a candy shop, a funhouse, and lots of snacks vendors (Think: popcorn, ice cream, and thick-cut Jersey Shore fries). Be sure to check out the special nighttime programming like movies and fireworks.
If you're looking for a quieter beach experience, try Spring Lake ($12 for those over 12), which has plenty of dining options on the boardwalk, or River Avenue (kids under 5 are FREE, and it's $20 for those 6-59 years old). There's a little playground on the beach, too. Or, if you have Fido along for the trip, try the Fisherman's Cove Conservation Area, which is about 10 minutes north of Point Pleasant and a great spot for sunbathing and fishing. It's dog-friendly, and tons of seashells wash up here for collecting and making the perfect summertime craft.
RELATED: Free Beaches in New Jersey: No-Cost Fun in the Sun

Hammer Surf School offers group and individual lessons for aspiring surfers. Photo courtesy of the school
Take a Surfing Lesson
Have an active kid who wants to ride the waves? There are several surf schools located in or near Point Pleasant. At the Hammer Surf School, three-hour group classes are available for kids 7-11 and teens 12-15. Students are broken up by experience level. You can try a private lesson, too. There are several locations for lessons, including Bay Head, Spring Lake, and Seaside Heights.
RELATED: Atlantic City With Kids: 20 Things To Do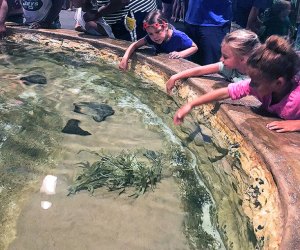 The interactive exhibits at Jenkinson's Aquarium let the kids get hands-on with marine life. Photo by Stephanie Forton
Visit Jenkinson's Aquarium
Jenkinson's is home to a great little aquarium on the boardwalk that's perfect for a rainy day activity or cooling off on a hot day. See Atlantic sharks, coral reefs, penguins, seals, and tons of fish. There's also a touch tank where you can get up close and personal with starfish and sting rays.
Go Antiquing
If you have tweens or teens who enjoy unique shopping experiences, check out the Point Pavilion Antique Centre. It has two floors of unique seasonal items, antiques, pop-culture finds, and collectibles.
Take a Sightseeing Cruise
For a lazy afternoon activity, set sail on a sightseeing cruise, where you'll depart from neighboring Brielle on a 1 1/2 hour river boat ride aboard The River Queen. See the beautiful waters and picturesque homes of the Manasquan River. Ticket prices are pretty reasonable at $16 for kids 12 and under and $32 for adults.
RELATED: 70 Things To Do with Kids at the Jersey Shore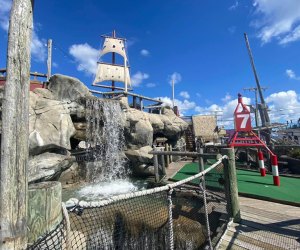 Play a round or two of mini golf at Castaway Cove. Photo courtesy of the venue
Mini-Golf and Ropes Course
Complete a fantastic Point Pleasant trip with a round or two of mini-golf under the stars. Castaway Cove (located next to the funhouse) has two different courses: one takes you through caves and past waterfalls, and the other has aerial views of waterfalls and plant life. And, Lighthouse Point, at the southernmost part of the boardwalk, has a beautiful set-up with a replica lighthouse.
Fun Food
If you're at the boardwalk, you can easily make a meal of pizza, cheesesteaks, chicken tenders, or hot dogs at any of the many grab-and-go counters. Or, for a memorable sit-down meal, try Boardwalk Bar and Grill, which has a rooftop patio with spectacular views of the ocean. Off the boardwalk, if you head west into the town of Point Pleasant, stop by Pat's Pizza, home of Pat's famous cheesesteaks. And, for table service, The Ark Pub & Eatery has a laid-back Shore vibe, serving local fish and veggies, award-winning burgers, and lots of different locally brewed beer.
RELATED: 30+ Things To Do in Cape May, NJ, with Kids

Island Beach State Park is a gem of a beach on the Jersey Shore. Photo by the author
Day 2: Things to Do in Island Beach and Seaside
On Day 2, why not travel a little south of Point Pleasant down Route 35 to Seaside Heights and Island Beach State Park? These spots have a lot to offer, whether you're looking for a classic Jersey Shore boardwalk experience or a little slice of heaven on a sandy nature reserve.
Island Beach for Hiking, Swimming, and Sunbathing
Island Beach is absolutely a New Jersey Shore gem with pristine beaches. The first two beaches have bathrooms and lifeguards on duty. Beyond the beaches, check the trail maps, and you'll find eight trails for hiking. Each one is less than a mile long. Lots of educational programs are offered at the Forked River Interpretive and Nature Center found 7 miles into the park. Look for the white house! There are also FREE daily family programs starting in June like a touch tank at Beach 1 (pre-registration required). Bonus: Admission is by the carload with discounts for NJ residents, making it perfect for larger groups.
RELATED: 35 Sprinkler Parks and Splash Pads in New Jersey

Red Fox lets you enjoy a quick, casual meal without abandoning your beach towel for too long. Photo courtesy of the restaurant
Lunch at Red Fox Beach Bar & Grill
Red Fox is a family-friendly casual outdoor spot located at Island Beach's first bathing area. It'll be great food and great times. Enjoy a delicious wrap, tacos, seafood, or a burger a stone's throw from the sand. There's a kids' menu with fish and chips, burgers, chicken tenders, and mozzarella sticks. Sip a cocktail or a cold beer to the sound of rolling waves in the background.
RELATED: Family Getaway to Wildwood, NJ

Enjoy big-time water park fun at Breakwater Beach on the Seaside Heights boardwalk. Photo courtesy of Breakwater Beach
Water Fun
For an afternoon of fun and unique water activities, head to Pedals and Paddles in nearby Barnegat Bay. Try an aqua trike (a three-wheeled bike that floats), pedal boats, or a stand-up paddle board. Or, rent a single or double kayak. Rentals run for 30 or 60 minutes. And, we hope 2023 brings the return of Jump Island, a floating trampoline on the water.
Or for a different kind of water adventure, try Breakwater Beach. Located across the street from Casino Pier, this is one of New Jersey's top water parks and has some fast water slides, a kids' play area, a wild river, a wave pool, and more. To save on admission, go for twilight tickets (after 3pm) or early-bird pricing (the first hour of opening in July and August). You can also get combo tix for Breakwater Beach and Casino Pier.
Seaside Heights Boardwalk
Seaside's popular Casino Pier has go-karts, an iconic Ferris wheel that's a sight to see at night, slides, a roller coaster, and scream-inducing rides where you'll soar over the ocean. Take a spin on the antique carousel; it's more than 100 years old! There's also a bunch of kiddie rides for the younger set. Casino Pier is also where you'll find Pirate's Island, a four-level adventure course with swinging bridges, a rope net, and a rope maze to climb through.
RELATED: Best Museums in Central and South Jersey

Long Branch offers a more relaxed beachgoing experience on the Jersey Shore. Photo by Rose Gordon Sala
Day 3: Things to Do in Long Branch Area with Kids
Head up the Parkway, and don't miss the Long Branch area. It's definitely less intense than other Jersey Shore regions, so you can relax and enjoy your final day on the beach.
Pier Village
This beautiful Long Branch beach has a quiet, upscale vibe. I love coming here because it's such a lovely set-up. There's plenty of parking in the decks and it feels less hectic than other boardwalks. The boardwalk has a candy shop, a high-end arcade called Boardwalk Fun 'N Games, clothing boutiques, eateries, and a cute carousel.
RELATED: 20 Jersey Spots for Cool Treats and Quick Eats

Do whatever you have to do to get a scoop at Jersey Shore sweet shop Coney Waffle! Photo courtesy of Coney Waffle
Save Room for Coney Waffle
You've never seen ice cream cones like these! Coney Waffle is famous for over-the-top, larger-than-life ice cream cones, shakes, and sundaes. We're talking shakes topped with mountains of cotton candy, full-sized candy canes, lollipops, and maybe an ice cream sandwich because, why not? Trust us; you won't know where to start with one of these babies.
RELATED: Inflatable Water Parks Around NJ to Cool Off

Tony's Place Playground is a destination-worthy spot on the Jersey Shore. Photo by Rose Gordon Sala
Tony's Place Playground at Seven Presidents Oceanfront Park
This is a beach playground worth traveling to. With a squishy surface underfoot and adorable ocean-themed play equipment, kids love spending time at this enormous playground. There are lots of things to climb on and over, and plenty of slides and swings—all a short walk from the beach.
Amy's Omelette House
For a fun breakfast or lunch, head to Amy's Omelette House. There's fun decor and soooo many options for omelets, pancakes, and sandwiches. There's definitely something for everyone here.
Enter to Win!