Island Beach State Park: A Haven for Nature-Loving Beachgoers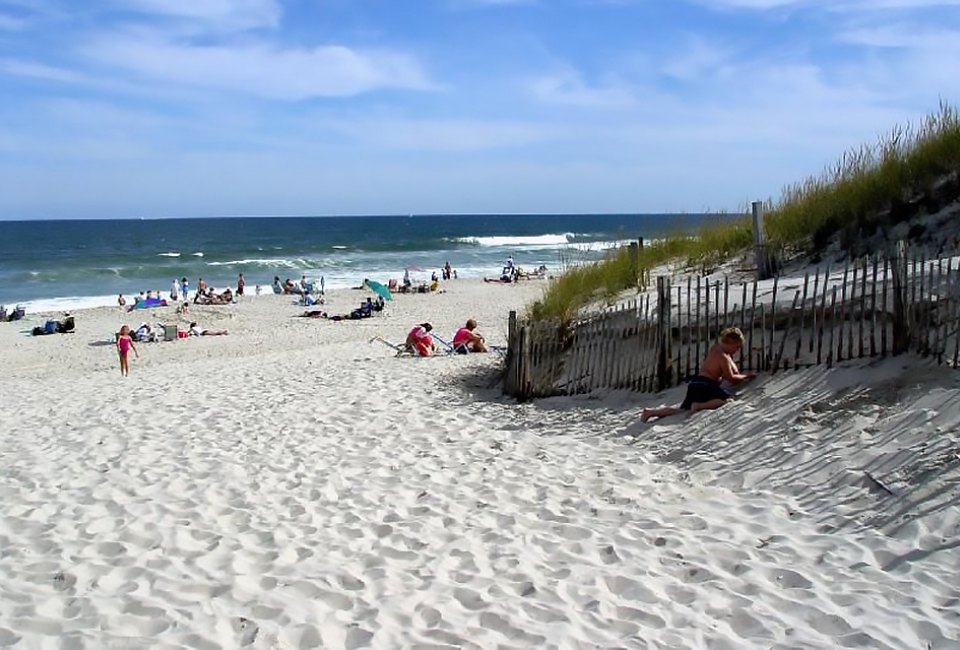 6/21/18
- By
Kaylynn Chiarello Ebner
There's more to the Jersey Shore than rides, salt water taffy, and (let's face it) crowds. Island Beach State Park (IBSP) may well be one of NJ most beautiful and unique beaches, drawing thousands of nature enthusiasts every year.
Though you'd get to Island Beach from the same Garden State Parkway exit as Seaside Heights, the two beaches are worlds apart. Ten-mile long Island Beach is situated between the Atlantic Ocean and Barnegat Bay and is one of the last few undeveloped barrier beaches on the North Atlantic Coast. From hiking to bike riding, and, of course, swimming, here are some things outdoorsy families will love about Island Beach.
Hit the Beach
IBSP's soft, white sand is clean and heavenly to enjoy in the warm weather. The best part? You'll almost never have to fight huge crowds like you do on other popular NJ beaches. We like parking by Bathing Areas 1 and 2 (closest areas to the entrance), where lifeguards are on duty in the summer season (10am–6pm daily). The Bathing Areas also have decent bathrooms and changing areas, as well as a small concessions stand for snacks and beach supplies.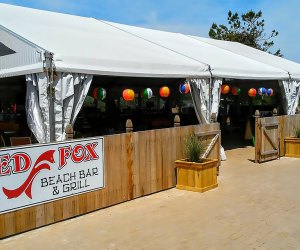 The Red Fox Beach Bar & Grill is a great casual place to eat after a long day at the beach. Photo courtesy of the restaurant
A hidden gem is the Red Fox Beach Bar & Grill, which opened by Bathing Area 1 in 2016. This cute little eatery features burgers, fish & chips, sandwiches, tacos, and more. There's often outdoor entertainment, too!
Lifeguards are also on duty at Fisherman's Walkway (Parking Area 7). Here, you'll find 1,000 feet of boardwalk leading from the parking lot to the beach, which is perfect for strollers and wheelchairs. In fact, beach wheelchairs are often available.
While you're on the beach, take the time to give the kids a quick nature lesson—many of the island's coastal dunes have remained untouched since Henry Hudson first described the NJ coastline in 1609.
RELATED: Best Jersey Shore Beaches from Sandy Hook to Cape May

The short trails, all under one mile, are the perfect length for hikes with kids. Photo by Garden State Hiker via Flickr
Take a (Kid-Friendly) Hike
The Island Beach State Park Discovery Trails System are short trails meant to let you see and learn about the 400+ species living on the barrier island. There are eight trails, each under one mile, that lead to the ocean or bay. Keep your eyes peeled for white snowy owls, foxes, osprey, butterflies, and other wildlife along the way. In late fall, you may even see a baby seal on the beach!
RELATED: Jersey Shore Boardwalks and Amusement Parks for Family Fun

Keep your eyes peeled for some amazing wildlife at Island Beach State Park. Photo courtesy of the Red Fox Beach Bar & Grill
Visit the Nature Center
About seven miles from the entrance are the Interpretive & Nature Centers. The Interpretive Center is home to the Emily DeCamp Herbarium Collection and the Osprey Cam, while the Nature Center has educational exhibits and some live animals. A 1929 Model A Ford converted into a beach buggy is a highlight of the display.
Beyond this, the Nature Center hosts some kids' summer programs like the Island Explorer's Wild Child (a weeklong adventure series for children ages 6-9). Also running this summer is the Everyday Island Explorers, where kids will learn about an animal found in the park, go on a field trip to find it in the wild, and do some crafts related to it. For tweens 10-12, there's the Junior Naturalists' Outdoor Adventure Series, which will teach kids about various park-related nature topics.
Keep your eye on the Nature Center calendar for surfing lessons (ages 8-17), Mommy & Me nature classes, Nature Toddlers programs (ages 3-5), kayaking tours (ages 14 and up), and Moonlight Hikes and bonfires.
More Outdoor Fun
Other fun outdoor activities include:
Watching the boats sail by at the marina.
Fishing for bluefish, striped bass, weakfish, and other fish.
Attending the Beach Plum Festival and Family Fun Day in September, sponsored by the Friends of Island Beach State Park.
Nearby Attractions
The Seaside Heights boardwalk is close by (basically on the way back to the Parkway), and perfect for an evening trip after a day at Island Beach. Get your fix of rides and boardwalk grub. There are also a few casual restaurants between the two beaches, like Surf Taco and the Saw Mill Tavern, which boasts jumbo pizza (seriously... you've got to see to believe!).
Bonus! IBSP is economical!
Pay by the carload for parking and admission to the beach. During prime season (Memorial Day – Labor Day), NJ families can expect to pay $10/car on the weekends and $6 on weekdays.
Places featured in this article:
---
Island Beach State Park
---
Red Fox Tiki Bar and Grill
Click Here to Sign Up!