Fun Family-Friendly Bike Rides in New Jersey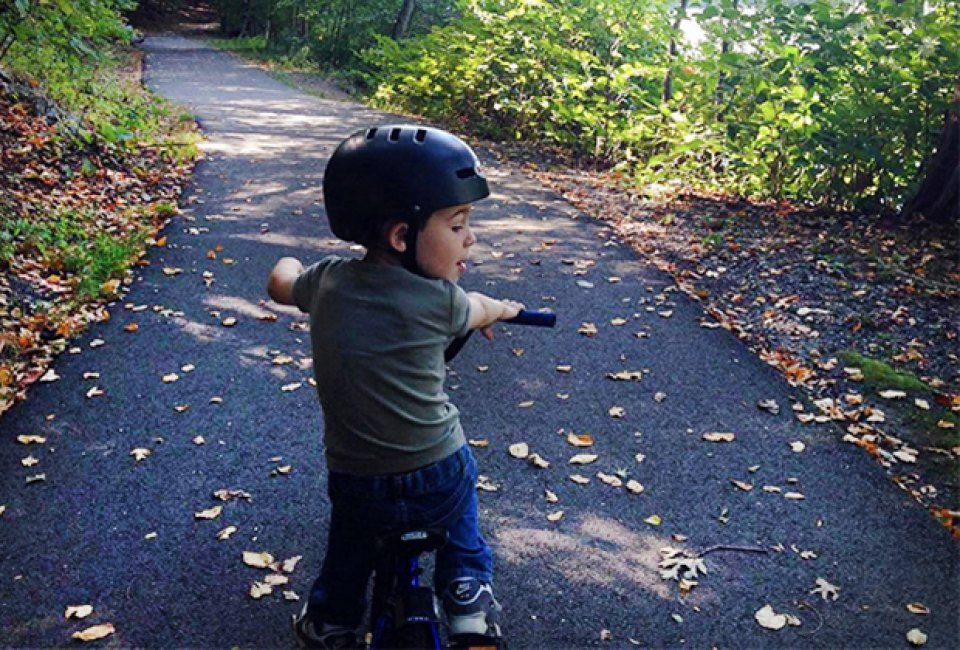 10/18/21
- By
Kaylynn Chiarello Ebner
Riding a bike is more than a childhood milestone. It develops a sense of balance, strengthens muscles, fosters an appreciation for the outdoors, and makes for wonderful family bonding time. Luckily for New Jersey families, there are tons of family-friendly bike paths throughout the state, from the Kittatinny Mountains to the Jersey Shore.
Read on for 15 family-friendly bike paths for a ride. If you prefer to travel on foot, check out these 12 easy hikes in NJ for families with small children.
Subscribe to our newsletters to get stories like this delivered directly to your inbox.
Bike Paths in Northern New Jersey
This popular park features five miles of paved trails. You can connect to the Patriots' Path (below) if you want to extend your ride, or stop at the playground located at the South Street end of the trails.
At around three miles, this trail is perfect for young riders. The trail follows the former Caldwell Branch railway on the old Erie-Lackawanna Railroad and meanders over a trestle that crosses the Peckman River.
RELATED: 16 Stroller Walks in New Jersey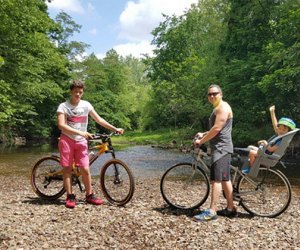 Stop for a break just off the bike path at Saddle River Park. Photo by Jose S. Jimenez via Instagram.
Crossing through six Bergen County towns, this bike path is approximately six miles in length. Also known as the Wild Duck Pond (Ridgewood), its easy course is extremely family-friendly.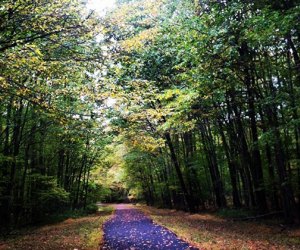 Patriots' Path is a scenic 30-mile bike path that meanders through northern New Jersey. Photo by Irene Candelaria via Instagram.
One-part history, one-part exercise, Patriots' Path is a 30-mile route that runs from East Hanover to Allamuchy Mountain State Park. Check the map for beginner trails, including a paved section near Speedwell Lake.
RELATED: Best Nature Centers in New Jersey To Visit With Kids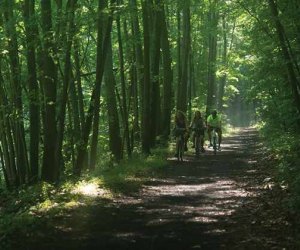 Mountain bike on the Paulinski Valley Trail. Photo courtesy of Sussex County
With more than eight miles of rugged mountain bike trails available, Kittatinny Valley State Park is a favorite of mountain bikers. The 27-mile Paulinskill Valley Trail, which starts in Sparta, runs through Sussex County's beautiful countryside.

Take a leisurely ride on the Middlesex Greenway. Photo courtesy of Middlesex County Office of Parks and Recreation
Where To Ride Bikes in Central New Jersey
This awesome 3.5-mile trail has 12 access points stretching from Metuchen to Woodbridge. The 10-foot wide path meanders near parks, shopping areas, and farmers markets. Note that some access points only have stairs to enter, so check the map if that's a concern.
Columbia Trail's off-road biking route travels through the woods along the Raritan River for 15 miles. The trail is mostly in shade, which makes it a comfortable trip on a warm day.
RELATED: Hikes in New Jersey With Waterfalls, Swimming Holes, and More Wet Places to Play

Duke Farms has paved and gravel roads for biking or strolling. Photo by the author
Twelve miles of paved and gravel lanes wind through the gorgeous grounds of Duke Farms, a historic estate featuring gardens and undeveloped natural habitats. It's an easy, relaxing ride with plenty of opportunities to stop and smell the roses. They also offer a bike-share program!
The historic towpath along the main canal from Trenton's Bakers Basin Road to New Brunswick has a natural surface for biking, making for a great family adventure.
RELATED: New Jersey Playgrounds Cool Enough for Big Kids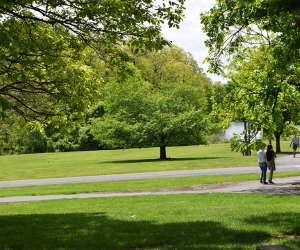 The paved paths at Colonial Park are perfect for riding with little ones. Photo by the author
The two miles of paved paths in this park are perfect for NJ families. Stop to enjoy the park's great playgrounds, mini golf, gardens, dog park, and paddleboats.
This beautiful park has 15 miles of trails in the heart of some famous Revolutionary War historical sites. Ride on the two-mile bike loop, or try walking the green trail, which connects to a pedestrian bridge that travels over the Delaware and Raritan Canal.
RELATED: Hit the Serene Columbia Trail for a Family-Friendly Hiking Adventure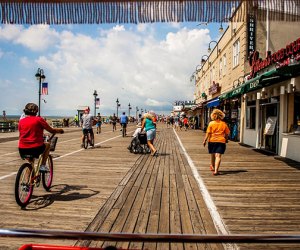 Take an oceanside ride on the Ocean City Boardwalk. Photo by LabyrinthX via Flickr.
Where To Go Bike Riding on the Jersey Shore
Bicycling on the boardwalk is limited during the summer months, but in most other seasons, cyclists are free to ride at any time of day. This 2.5-mile stretch of boardwalk offers stunning ocean views, plus easy access to shops and restaurants when you're ready to take a break.
The Sandy Hook bike path runs the length of the peninsula and features a picturesque lighthouse, military installations, and views of the bay and the beach. Its flat surface makes for a fun, easy ride.
Bike Paths in Southern New Jersey
Cooper River Park is huge, stretching through Pennsauken, Cherry Hill, Collingswood, and Haddon Township. There are two riverside bike paths: a 3.8-mile loop (Cuthbert to Route 130) and a 1.35-mile trail (Cuthbert to Grove Street). While you're at the park, enjoy mini golf, the sculpture garden, river fishing, and more.
The Pinelands is home to several popular bike paths. From flat, paved rides to bumpy off-roading trails, this area has many offerings for the cycling enthusiast. For a family-friendly bike ride, try the Pine Barrens River Ramble, an easy 42.6-mile loop with no hills that can be shortened to a more manageable length.
Looking for more? The New Jersey Department of Transportation (NJDOT) publishes several bicycle tour guides, including the Old Mine Road Ride in Sussex County and Essex County's Washington Rock and Roll Tour. These detailed guides are valuable resources if you want to explore the world through a cyclist's eyes.
Originally published 2012, this piece has since been updated.