16 Stroller Walks in New Jersey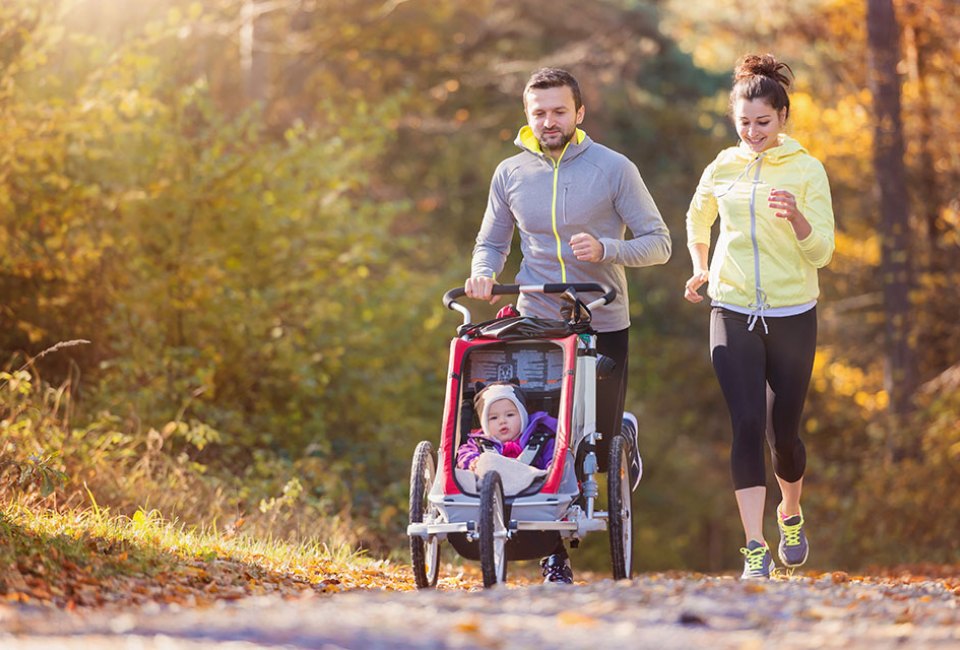 4/11/21
- By
Kaylynn Chiarello Ebner
When the mood is right, and the stars align, there's something about pushing your child in a stroller that clears the mind and puts a happy spring in your step. But even then, sometimes the old neighborhood route feels stale. Luckily for us Jersey dwellers, the Garden State is home to countless parks and easy hiking trails, many with paved paths that make for perfect stroller walks. There are waterfall hikes in northern NJ, excellent playgrounds with nearby paths, and gorgeous lakeside walks.
We've collected a list of some of our very favorite stroller walks throughout New Jersey, so fill up your water bottle, pack some snacks and get ready for a lovely stroll.
Editor's note: While we are trying to promote safer activities that occur outdoors or with social distancing guidelines in place, please keep your family and others safe by always wearing a mask and practicing social distancing. If you arrive at a venue that appears too crowded, try using the "nearby" search feature on our Event Calendar to find something else to do.
Stroller Walks in Northern New Jersey
This 2.1-mile paved path runs parallel to Boulevard and has a fun history to it. The path is an old trolley line route that once transported residents between Mountain Lakes and Boonton. Park in the lot at Boulevard and Lake Drive, and enjoy views of the beautiful homes and lakes in this area as you stroll.
In the spring, Branch Brook may well be one of NJ's prettiest parks. Try to visit in April to see the more than 5,000 cherry blossom trees in full bloom. There are ponds and streams, as well as picturesque bridges throughout the park. Start your walk at the park's Cherry BlossomWelcome Center.
RELATED: See Baby Animals at Petting Zoos and Family Farms in NJ

The paved pathway at Liberty State Park provides a decent walk and has stunning views to boot.
This is a perfect spot on a clear day. You and your little one will love Liberty Walk, a 2-mile waterfront promenade with incredible views of the Hudson River and Manhattan.
This 121-acre park has sections in Bloomfield and Montclair, but if you park in Lot 1, you can access the 1.2-mile asphalt walking path that's mostly level—though slightly hilly in parts. Pop into the playground or visit the rose garden for a little R&R among the 1,500 rose bushes.
You're going to want to keep this destination park on your radar for when your family is ready for a day trip. There's a zoo, a carousel, a mini-train ride, pony rides, and playgrounds. But, when you're looking for exercise, grab your stroller and hit the walking path that winds through the park. It's about 1.5 miles long and takes you by the Bergen County Zoological Park, the Washington Spring Garden, and the carousel.
RELATED: Worth the Drive: Destination Playgrounds in New Jersey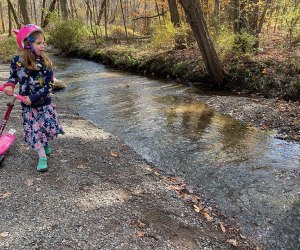 Strollers or scooters? Choose your mode of transportation at Loantaka Brook. Photo by Rose Gordon Sala
This popular trail features 8 miles of paved trails where you'll see wildflowers, birds, and other wildlife. There are several distinct areas of the park (Seaton Hackney Stables, South Street, Kitchell Pond, Loantaka Way, and the Helen Hartley Jenkins Woods), but many families start at South Street because of the playground. Or, start your journey on the trail that meanders by Loantaka Brook. Cross over the wooden bridge and see small fish in the water below. At the end of the trail, you'll find the Kitchell Road area with another pond. Check the park map to decide where to start.
This large park has about five distinct areas linked by a multi-use path with additional sidewalks that circle around. The full length of the path runs 6 miles from Ridgewood to Rochelle Park. Our favorite section is the Wild Duck Pond area in Ridgewood. Make three loops around the pond, and you've walked a mile. There's also a playground and bathrooms nearby. Dunkerhook in Paramus is another nice spot with a waterfall along the trail, footbridges, and a playground.
RELATED: 10 Favorite NJ Parks and Reservations with Fun for Kids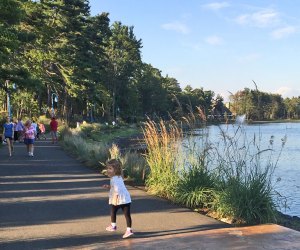 It's a smooth ride for stroller babies around the reservoir at the South Mountain Reservation. Photo by Rose Gordon Sala
There's tons to explore in this 2,000+ acre park, from the Turtle Back Zoo to mini golf to paddleboats. It's also got a great 1.7-mile walking path around the reservoir that makes for a serene stroll on any day. Stop by Regatta Playground for a little extra fun at this boat-themed playground.
This 53-acre park has a children's garden, playground, nature trails, a lake with a small waterfall, and paddleboats. The walking path has plenty of benches by the lake, so take a break and enjoy the sights and sounds of this beautiful park.
RELATED: 8 Jersey Shore Boardwalks to Explore in the Offseason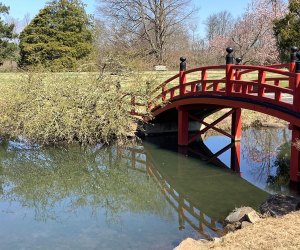 Wander the lush paths at Duke Farms.
Great Stroller Walks in Central Jersey
This sprawling private park is a Somerset County favorite. The beautifully kept grounds feature seemingly endless paved paths that are more or less flat and weave through beautiful lawns and gardens. See statues, wildlife, and even a manmade waterfall that flips on at certain times of the day. Hours are Tuesday through Saturday, from 8:30am-6pm. Saturday visitors must reserve a FREE entry pass. The cafe is open for outdoor seating and serves a variety of locally sourced and organic options.
This county park is truly a gem and the perfect spot for a picturesque stroller walk. Park in Lot B and join the 1.4-mile path catering to cyclists, walkers, and joggers as it passes by some beautiful ponds along the way. If your little one is old enough to stretch their legs, there's a great playground with smaller crawling/climbing structures and bucket swings, as well as a small spray park in the summer. There's a bathroom nearby, too. Keep this lovely park flagged for when your child is old enough to enjoy the nature trail, mini-golf course, paddleboats, and gardens.
RELATED: Outdoor Art Day Trips Near NYC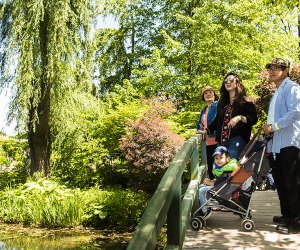 Take a family stroll through the Grounds for Sculpture. Photo by David Michael Howarth Photography
This private park and sculpture garden is a feast for the eyes. With ponds, sculptures, and larger-than-life statues, there's something special to see around every corner. Be sure to plan your walk in advance by buying a ticket for a reserved timeslot in advance.
Enter the Greenway, and you'll be transported to a serene corridor that is protected from the hustle and bustle of nearby streets by trees and elevated walkways. The 3.5-mile paved trail is 10 feet wide and perfect for strolling. There are several entrances and exits, but note that some are via stairs only. So, check the map for the ADA entrances to avoid the hassle of hauling your gear.
South Jersey Stroller Walks
This lovely park has an easy-to-stroll 1.7-mile loop trail that features a lake and an iconic lighthouse. Much of the trail is stroller-friendly, but beware: There are some sandy areas by the bunker.
This loop trail is perfect for families. It passes a playground, mini golf, and picnic areas. At nearly 4 miles, it's quite a long loop, so check the map to see where you want to start and end.
Leave your car in the Mansfield Community Park parking lot near the baseball fields and head to the trailhead at the back corner of the last ball field. You'll find a 2-mile paved trail (one way) that leads through woods and farmlands.
Unless noted, photos courtesy of the venues
Sign up for the Mommy Poppins Newsletter today!