8 Jersey Shore Boardwalks to Explore in the Offseason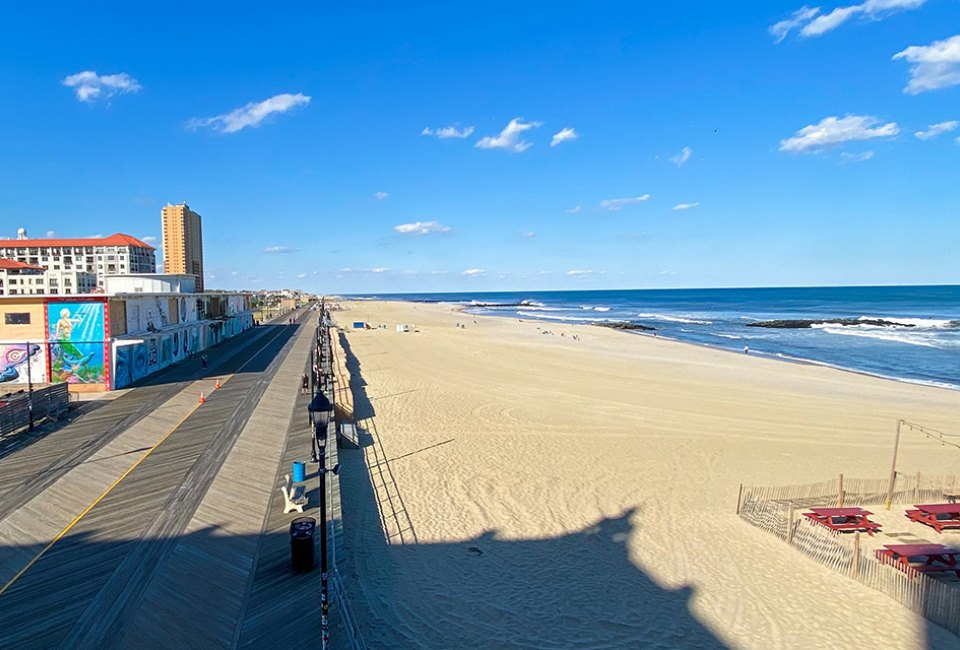 2/19/21
- By
Kaylynn Chiarello Ebner
Winters at the boardwalk are seriously underrated. You can zip down the Parkway, find parking without circling, stroll a crowd-free Jersey Shore boardwalk, and—best of all—jump to the head of the ice cream line.
So, where are the best spots for a crisp, offseason Jersey Shore adventure? We've rounded up eight local boardwalks where you can stretch your legs, grab a treat, and enjoy some family time. While wide-open spaces and the fresh sea breeze are nice, each of these spots boasts some family-friendly offseason perks making them worthy of a day trip.
Find more fun things to do in our Jersey Shore Family Guide.
Editor's note: While we are trying to promote safer activities that occur outdoors or with social distancing guidelines in place, please keep your family and others safe by always wearing a mask and practicing social distancing.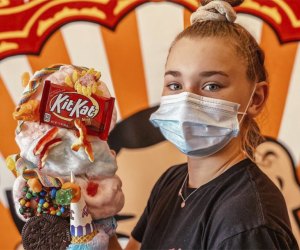 Coney Waffle Ice Cream is open daily year-round on the Asbury Park Boardwalk.
If you haven't been to Asbury Park Beach in the offseason before, give it a try! This up-and-coming beach town is perfect for grabbing a bite to eat or strolling the boardwalk from the old Asbury Park Convention Hall to the casino. Along the way, challenge your kids to a game of pinball at the recently reopened Silverball Retro Arcade, which is home to hundreds of classic pinball games. Make sure to point out the legendary music venue, The Stone Pony, and indulge in a ridiculously extravagant dessert from Coney Waffle Ice Cream.
Belmar has a nice, wide, mile-long boardwalk that's great for exercising. Head to Ocean Avenue, from First to Twentieth Avenues, to take in the sights. Nature lovers take note: If you're super lucky, you might spot the snowy owls that sometimes visit in winter months.
RELATED: 70 Things To Do With Kids at the Jersey Shore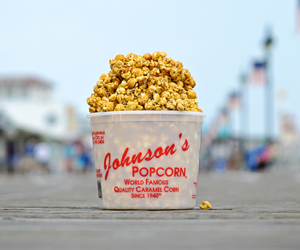 Grab a tub of famous popcorn at Johnson's Popcorn in Ocean City.
Ocean City has had a rough offseason, following a four-alarm fire, so it could use more than a little love. While many popular seasonal attractions are closed, a bunch of shops stay open, making it a nice spot to enjoy the beauty of the Jersey Shore in the winter. Grab a tub of popcorn at the 14th Street location of Johnson's Popcorn, and try its world-famous caramel corn for yourself. You can get your Skee Ball fix at JiLLy's Arcade (10 cents per game!), which is open year-round. JiLLy's Candy Factory is open daily, too, though it's currently undergoing renovations through Thursday, March 4.
Bundle up and check out another great beach playground, Tony's Place Playground at Seven Presidents Oceanfront Park in Long Branch, which has many fun features like enormous animal statues to climb on, a music-making area, and plenty of fun slides and swings. About a mile south of the park is Pier Village, an upscale spot where you can enjoy some eats, take a spin on the enclosed carousel (it's heated in the winter), and pick out your favorite treats at Sugar Pop Candy Bar or the Rocky Mountain Chocolate Factory. If you'd rather stay closer to Tony's Place, grab a bite to-go from Amy's Omelette House, which has an enormous list of pancakes, omelets, and other specialties to choose from.
If you're craving nothing more than fresh air and a peaceful walk along the beach, the Manasquan boardwalk beckons. This lovely spot offers a mile-long paved boardwalk, which is perfect for strollers. When you're done, grab some coastal-inspired grub at Surf Taco.
RELATED: 7 Great Jersey Shore Lighthouses to Visit With Kids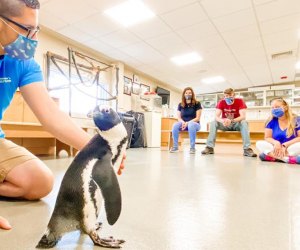 Jenkinson's Aquarium is open year-round for winter-time fun.
Jenkinson's Boardwalk is about a mile long, and it's a perfect spot to hit with the kids any time of the year. The rides might be closed, but the arcade and aquarium are open for year-round fun. Craving home-made fudge and saltwater taffy? The Sweet Shop is also open in the winter, so go ahead: Satisfy your sweet tooth.
Even in the winter, Seaside Heights delivers a day to remember. Saunter down the boardwalk, take in unobstructed views of the beach, and pop into Coin Castle (open weekends and holidays) or Lucky Leo's arcade to play games of luck and skill. There are three sweet shops right off the boardwalk: Berkeley Candy, Lucky Leo's (weekends only), and Van Holten's Chocolates & Sweet Shop.
Nearly all shops are closed November-March, but the 2-mile long Wildwoods boardwalk is open for a stroll. Hungry for something a little sweet? Try The Original Fudge Kitchen, which serves up homemade delectable treats like fudge and saltwater taffy. It's practically required you document the occasion with a photo in front of the iconic Wildwoods sign, too.
Photos courtesy of the venues
Click Here to Sign Up!
i