Ocean City: Family-Friendly Summer Fun on the Jersey Shore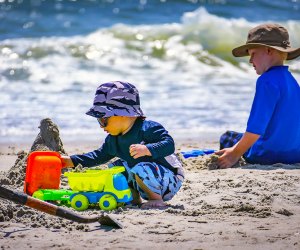 6/14/18
- By
Dore Duhaime
Summertime at the Jersey Shore means beach days and boardwalk rides, mini-golf and arcade games, topped off with fresh seafood dinners or pizza and ice cream. Shore towns from Sandy Hook to Cape May offer the best bets for family vacation fun, and Ocean City, a classic family beach destination at the southern shore, is one of our favorites.
Nicknamed America's Family Resort, Ocean City draws families from across New Jersey and Pennsylvania to enjoy its wide beaches, kid-centered boardwalk, and family events. Read on for details about visiting Ocean City with kids. And for more beach vacation ideas, check out our inside look at southern shore gems Wildwood and Cape May.
Recently named the "Happiest Seaside Town in America" by Coastal Living Magazine, Ocean City offers classic summer fun to New Jersey families. It's a dry town, which means no alcohol sales are allowed, so you'll have to bring your own bottles to dinner or drive inland for packaged goods. No liquor sales also means that Ocean City is not a magnet for prom groups or partying crowds, so family fun is the focus. In addition to the beaches and boards, there are playgrounds, water parks, and a nature preserve.

The main attraction: Ocean City's eight miles of white, sandy beach. Photo courtesy of the Port-O-Call Hotel
Beaches
The main attraction is Ocean City's eight miles of sandy beach. Beach access points are plentiful throughout the city; some have handicap accessible ramps, and restrooms are located at 1st Street, 6th Street, Music Pier, 11th Street, 12th Street, 34th Street Playground, and 58th Street Beach. OC Beach Patrol is on duty from late June through Labor Day, daily from 10am to 5pm on weekdays and 5:30pm on weekends.
Beach tags are required in season for everyone ages 12 and above; prices are $5 daily, $10 weekly, and $20 for the season. Parking rules are enforced with meters and parking lots serving downtown, plus the beach and boardwalk areas. Rates vary from $0.25 per hour in less populous areas to $1.50 per hour in beach zone municipal lots, and several dollars per hour in private lots.
RELATED: 70 Things To Do with Kids at the Jersey Shore

The boardwalk comes to life at night. Photo courtesy of Ocean City, NJ
Boardwalk
Stretching from 1st Street to 28th Street, Ocean City's iconic, 2.5-mile boardwalk is perfect for young families. Early morning bike rides on the boardwalk are fun for all ages, and a recently completed renovation means the boards between 5th and 12th Streets are brand-new. When the sun gets too hot, duck into an air-conditioned arcade for a few rounds of pinball or tee-up for a round of mini-golf. Souvenir shops abound, along with a huge variety of beach food, from French fries and lemonade to waffles and ice cream.

Gillian's Wonderland Pier boasts 30 classic amusement rides. Photo by Kevin Jarrett via Flickr
For pint-sized thrill seekers, Playland's Castaway Cove offers kids more than two dozen rides, including a couple of tame roller coasters and an assortment of kiddie rides perfect for the preschool set. A few blocks north on the boardwalk is Gillian's Wonderland Pier, whose 30 rides include such classics as the scrambler, giant Ferris wheel, log flume, rockin' musik express, tilt-a-whirl and bumper cars. Kiddie rides like the carousel, frog jump, fire engines, and crazy submarine, are all housed under a shady pavilion, so even scorching sun or drizzly days won't stop the fun.
Free Family Nights on the boardwalk provide entertainment every Thursday in July and August; the fun includes live music, magicians, performers, face painting, and even yo-yo demonstrations.
For red flag days when the surf is too rough, head to OC Waterpark. Located on the boardwalk between 7th and 8th Streets, OC Waterpark features a lazy river, mega slides, a kiddie pirate play area, rock climbing, and snack bar.
RELATED: Best Jersey Shore Beaches for Families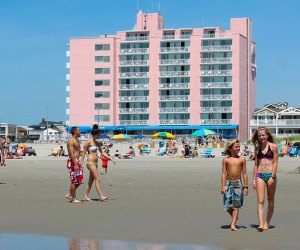 Port-O-Call is a lovely beachfront hotel that caters to families with children. Photo courtesy of the hotel
Where to Stay
Ocean City has a variety of accommodation options, from townhouses and beach bungalows to all-suite hotels and classic shore motels. Decide whether your family wants to stay near the action downtown, near the boardwalk, or in the quieter North End or South End, then take your pick among hotels, motels, condos, bed & breakfasts, and whole-house rentals.
Most hotels and rental properties require minimum stays during the peak summer season. Check out some options through VRBO or the Ocean City Chamber of Commerce. Popular hotels like the Biscayne Suites, Port-O-Call and the Flanders Hotel are often fully booked in advance, so plan ahead.
Great Eats
Because Ocean City is a dry town, all restaurants are family-friendly, and some allow you to BYOB. Most are casual, beachy restaurants, perfectly welcoming to fussy babies and restless toddlers. Don't miss family-owned Vittorio's on Asbury Avenue; Brown's Family Restaurant, Clancy's by the Sea, and Ike's Famous Crabcakes on the boardwalk; and the beloved Shore classic, Uncle Bill's Pancake House.
A visit to Ocean City isn't complete without a hot-from-the-oven, gooey cheese slice from Manco & Manco's famous boardwalk pizza on 9th Street and 12th Street. While you're waiting in line, kids can watch the cooks flip and twirl the dough before dousing it with sauce and sprinkling on the cheese and toppings. Other OC boardwalk treats not to miss are caramel corn from Johnson's Popcorn—you can smell it from blocks away—as well as salt water taffy, and of course, Kohr Brothers frozen custard.

Don't miss the boat parade and decorated bayfront homes during Night in Venice. Photo courtesy of Ocean City, NJ
Special Events
Ocean City locals and visitors celebrate a Night in Venice each July with a nighttime boat parade along the bayfront, and a weekend full of entertainment and parties. Boats decked out in lights and themed decorations sail from the Longport Bridge to Tennessee Avenue, and the parade route is lined with thousands of spectators for the nighttime show. Public viewing at the Bayside Center features live music, face painting, and concessions.
For even more family entertainment, the Ocean City Pops and Ocean City Children's Theater offer performances throughout the summer, including Beauty and the Beast and Junie B. Jones in 2018. Check the calendar for showtimes. Other family-fun events include hermit crab races and the annual baby parade.
The Downtown shopping area along Asbury Avenue, from 6th–14th Street, features surf shops, cafes, a book shop, clothing and gift stores, art galleries, and home goods.
Peek into the Seashell Museum to view thousands of species of unique shells, minerals, and fossils.
Nearby Fun
In addition to the beaches and boardwalks, Ocean City has many great playgrounds and ball fields, including the bigger playgrounds at 8th Street and 34th Street—the beloved Sandcastle Park. Further south is Corson's Inlet, a state park with boat ramps, saltwater fishing, and crabbing and hiking trails.
A short drive down the Garden State Parkway will bring you to the Cape May County Zoo, a free attraction that makes a great day trip.
Check out our highlights of the Jersey Shore's best boardwalks and amusement parks for more family fun.