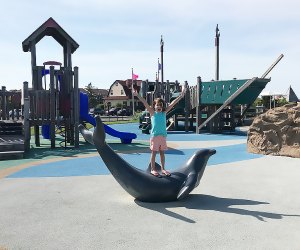 10 Great Beachfront Playgrounds in New Jersey
Put your kids in the swings and your feet in the sand at beachfront playgrounds along the Jersey Shore. The beaches of New Jersey are home to playgrounds that are like giant sandboxes, with colorful play structures and ocean views. Swing by some of these beachy-keen playgrounds on your next day trip or vacation to the shore.
Please note that some of these playgrounds may require fees for beach entrance during the summer months.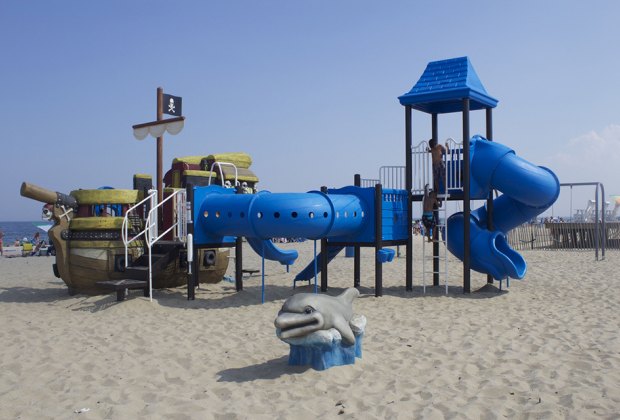 Pirates and beaches—the perfect playground combo. Photo courtesy of MRC Recreation
Belmar Pirate Playground – Belmar
Captain Hook would approve of this pirate ship climbing structure right on the beach. Built a few years back, this clean play area features various slides, tunnels, sea creature statues, and swings.
Tony's Place Playground – Long Branch
A few steps from the beach, this colorful, soft-bottomed play area boasts slides, tunnels, bridges, play houses, instruments, swings, and much more, all of which is accessible for children of all abilities. The surfaces are wheelchair-friendly, and all signage includes Braille. Permits are available for children with special needs and their families for free access all summer.
RELATED: Best Jersey Shore Beaches for Families, from Sandy Hook to Cape May

Take a break from the sun in the gazebo at the 33rd Avenue Playground in Longport. Photo courtesy of Borough of Longport
33rd Avenue Playground – Longport
The ideal oceanside playground, this one is grounded right in the sand. Kids will have a blast on the swings, slides, climbing wall, bridge, and a play car. Grown-ups will enjoy chilling out in the shady gazebo.
Rachel D'Avino Playground – Asbury Park
This dragonfly-themed playground was built in 2013 in honor of a teacher who was a victim of the Sandy Hook shootings, as part of the Sandy Ground playground projects. The purple structures are based in the sand and reflect the victim's love of dragonflies and her passion for working with special needs children. Ten of these Sandy Ground playgrounds are located on the Jersey Shore.
Benjamin Wheeler Playground – Ocean City
On your next Ocean City vacation, take a play break at Benjamin Wheeler Playground, another Sandy Ground Project. With proximity to the ocean, this playground is dedicated to a young Sandy Hook victim and features actual drawings by Benjamin. The fenced-in play area has a soft bottom over the sand, with slides, bridges, and climbing walls.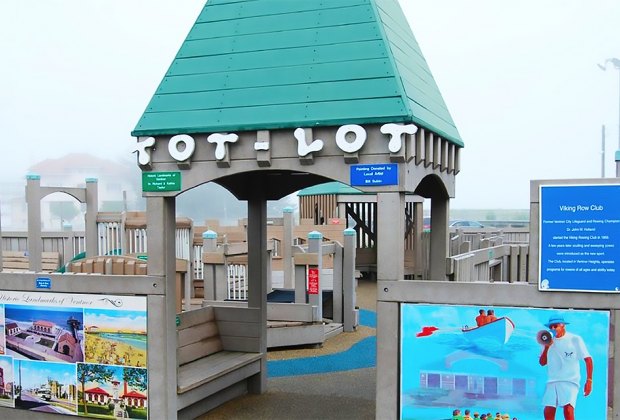 The C Sure Children's Park has a little Tot Lot that's perfect for beach babies. Photo courtesy of Holland
C Sure Children's Park – Ventnor City
A stone's throw away from the busy Atlantic City beaches lies the quieter Ventnor City Beach, where you'll find the C Sure Playground by the seashore. The wooden structures, on a padded ground, include bridges, castles, slides, and a sandbox with authentic beach sand.
Winward Beach Park – Brick
Located on the Metedaconk River Beach, this spacious, recently renovated playground features separate areas for 2–5-year-olds and 5–12-year-olds. The fenced-in park, over a soft bottom, consists of bridges, climbing walls, swings, a play forest, and lots of other creative structures.
RELATED: Best Water Playgrounds and Splash Pads in New Jersey

Swing in the sand at Bayview Playground. Photo by Rose Gordon Sala
Bayview Playground – Long Beach Island
With beautiful ocean views, Bayview Park is situated right on a quiet bay of LBI. Sand play, slides, climbers, and riding animals make for some fun playground time, plus the adjacent gazebos are home to summer concerts and events.

Scoop Taylor Park in Wildwood Crest features an enclosed play area with ocean views. Photo by Rose Gordon Sala
Scoop Taylor Park – Wildwood Crest
If the kids have a little vacation energy to burn, stop by this bustling playground on the free Wildwood Crest beach. The enclosed play area contains vibrant slides, tunnels, and climbing walls. Basketball and tennis courts round out the fun. Plus, there are public bathrooms.
RELATED: Family Getaway to Wildwood, NJ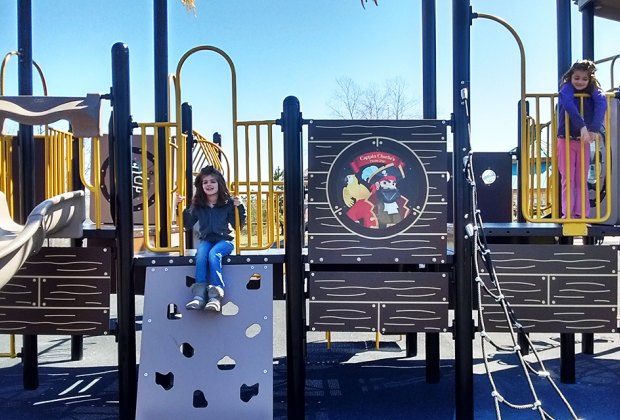 Pirate's Cove Playground is situated on a newly renovated waterfront park. Photo by the author
Pirate's Cove – Cliffwood Beach
A recent visit to my childhood hometown included a stop-by at this beautifully renovated waterfront park. With scenic views of the Raritan Bay, the waterfront park houses walking paths to the beach and an imaginative pirate ship playground. Kids can climb and slide from the huge ship, and go for a ride on the swings, all over a rubber bottom.
And a North Jersey bonus:
Newport Green Park – Jersey City
If you're looking for a playground-beach combo and don't want to deal with shore traffic, head up to Hudson County for this amazing urban playground. Situated on the Hudson River, the innovative playground features clean, modern climbers, swings slides, a splash pad, and best of all, a man-made mini-beach, all with a Manhattan backdrop.