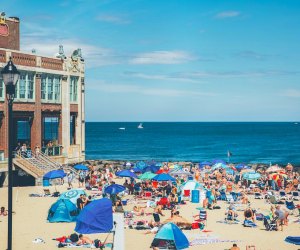 Best of Asbury Park Beach and Boardwalk for Kids and Families
Please note: The coronavirus pandemic may have affected operating seasons and hours for 2020. Please click through to each location to verify operating hours before visiting.
Asbury Park's current and continuing turnaround amazes anyone who remembers this New Jersey beach town's disrepair in the late 1980s. A stroll on today's Asbury Park beach and boardwalk reveals families, attractions, clean beaches, artwork, great food, and a free, city-supported playground—on the sand—halfway between Convention Hall and the old casino to the south. Asbury Park's shoreline now counts as one of the highlights of Monmouth County, and the Jersey Shore.
Read on for our top tips for visiting this Jersey beach with the kids, and if you're looking to rack up warm-weather memories, wander over to our Jersey Shore Guide for more beach and boardwalk fun.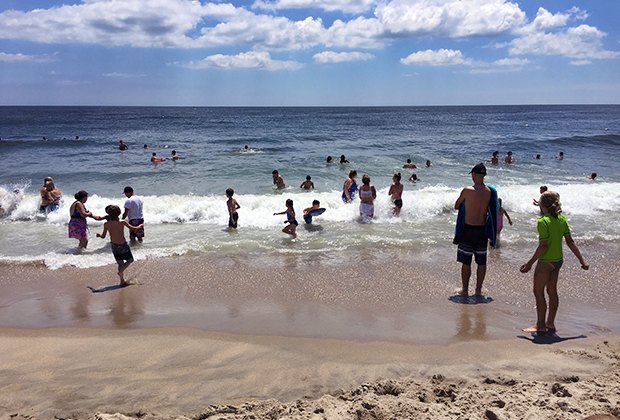 The beach remains the top attraction for most. Photo by Rose Gordon Sala.
The main attraction for kids? The beach! Now regularly lifeguarded and cleaner than it's been in years, the beach requires a badge ($7 weekends, $5 weekdays, kids under 12 are FREE) easily purchased at a parking meter or on the boardwalk. The beach is loaded with families, and can definitely get crowded with everyone packed in during high tide among the many umbrellas, tents, towels, and boom boxes. It's a bit of a scene! Like all beaches in the area, you can only swim in the designated lifeguard areas, and pay attention to the warning flags for rough surf.
As noted, there's a playground on the beach, but you don't need a badge for that—it's on the beach, but fenced in, with a tributary entrance off of one stairway to the beach. Public restrooms are plentiful along the boardwalk, though the lines increase throughout the day, and there are outdoor showers for getting the sand off, too. Umbrella rentals are available, too. Stake out your spot depending on which attractions (listed below) and eateries you'd like to try, but go for the middle if you want to hit most of the kid spots (Ocean Avenue between Second and Third Avenues). Note: If you're looking to avoid the boardwalk crowds, head south to Ocean Grove beach, but you might miss all the new amenities and quirks of Asbury!
Boardwalk Fun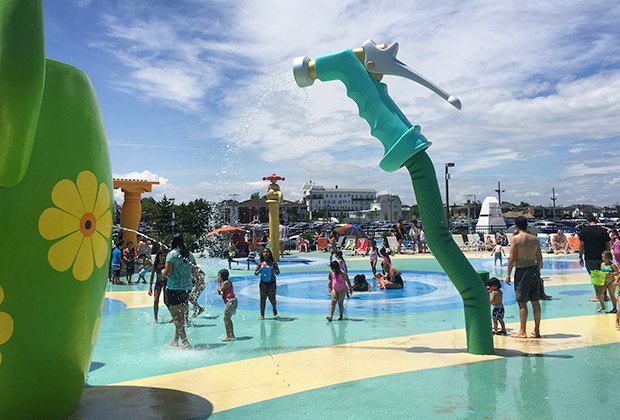 The Asbury Splash Park sits right on the boardwalk, so you can take a dip pre- or post-beach for a fee. Photo by Rose Gordon Sala.
Besides the beach?
The boardwalk
hosts a number of kid attractions. Drawn by the intermittent screams as a giant tipping tea cup drenches people, your kids 8 and under may make a beeline for the outdoor, seasonal
Asbury Splash Park
, which sits right on the boardwalk with beach (and street) views. There's also an oversize garden hose nozzle, and lounge chairs for parents to sit. At $9 for kids and $5 for adults, with a $20 family pass, make sure your kids really want to do this, and also call ahead or check its
Facebook page
for updates if this is your main destination—although open seven days a week beginning in mid-June (weekends only prior to that), it can close suddenly for repairs and weather.
Have a young golf enthusiast? Right next to Asbury Splash Park, Asbury Eighteen Mini-Golf offers one of the shore's better mini-golf courses, but we'll let you be the judge of that after playing on all the courses in our guide to NJ mini golf courses. A round of golf costs $6 for kids, $8 for adults.
RELATED: Best Jersey Shore Beaches for Families: Sandy Hook to Cape May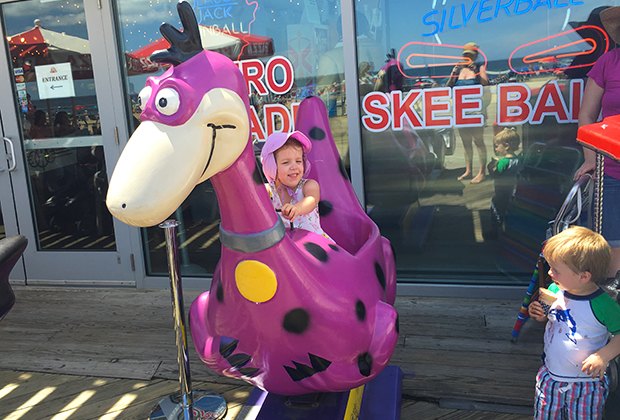 Play vintage video pinball, or just ride the purple dinosaur outside. Photo by Rose Gordon Sala.
Another attraction centrally located on the boardwalk, Silverball Arcade, works as a sudden rain go-to option, with a legit collection of throwback pinball machines, current games, and vintage video games. One hour is $12.50, but a half day pass is $15. They also serve a simple menu of snacks, so you never need to leave. Just outside the arcade you'll find small, quarter-operated rides for toddlers and preschoolers, including a small train, a purple dinosaur, and a pair of cars.
Kids can pick up shovels and other beach supplies at The Sand Castle on the boardwalk at Fourth Avenue. Note: Bring your bike if you like; there are bike corrals to lock it up, but bicycling is only allowed on the boardwalk in the early morning and late evening (10pm to 10am during peak season).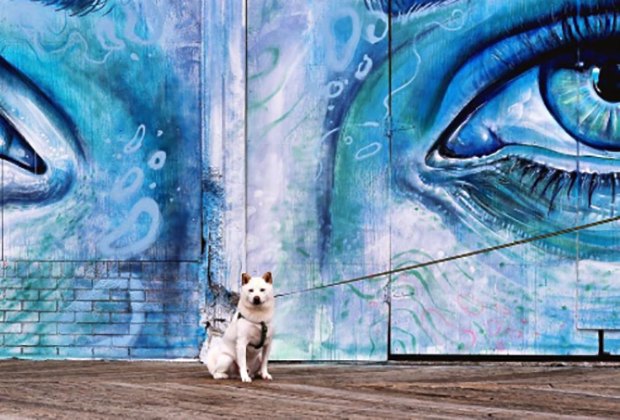 The ongoing Wooden Walls Mural Project has brought impressive art to the boardwalk.
Stroll the boardwalk and explore the old buildings to check out fantastic murals from local artists and others all part of the Wooden Walls Mural Project. You'll find them in the old Beaux Arts Casino and Carousel buildings, as well as the Grand Arcade, and just north the 1920s-era Conventional Hall along the walls and in the abandoned Sunset Pavilion—the latter two are all toward the north end of the beach—but also in spontaneous spots or just on the sides of buildings. Some are colorful, others moody. All add to the Asbury art-music vibe.
RELATED: Family Amusement and Water Parks Guide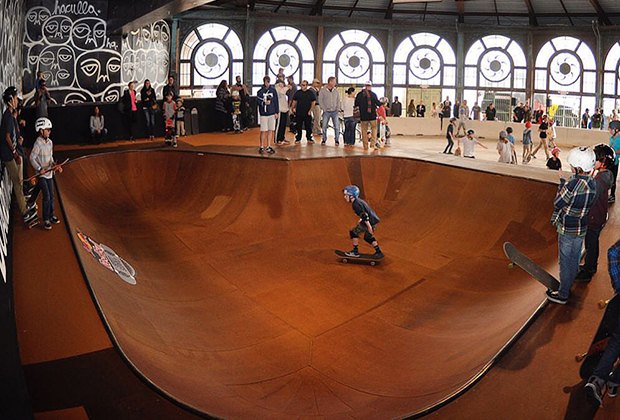 The brand-new Forth Union skate park at the old Carousel building offers kids-only skate sessions. Photo courtesy of the venue.
For another rainy-day option, head down Cookman Avenue, west from the southern end of the boardwalk, to Hot Sand, a unique glassblowing studio providing an all ages, true family experience. Kids can make a glass replica of their hand or foot, and older kids can make sun tiles out of pre-cut glass. Hot Sand is open to walk-ins, but takes reservations for their weekend afternoon sessions. Take your skater to Forth Union, an indoor skate park with an epic bowl that opened in the historic Carousel building. It offers a Saturday morning kids-only (12 and under) skate time, as well as a weekday girls-only skate; check the hours before you head out.
Great Eats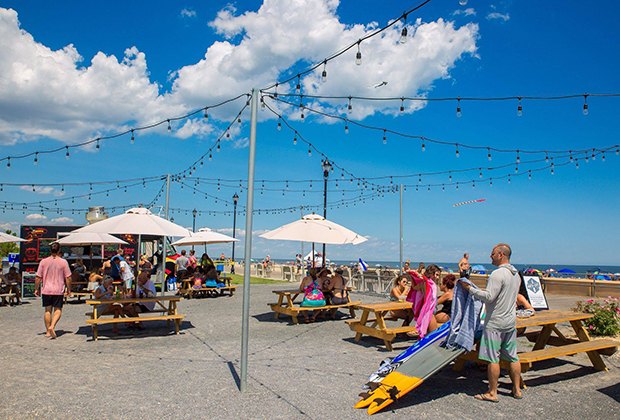 North Eats food truck court has some picnic benches and umbrellas for a sand-free lunch.
When it's time to eat, Asbury really kicks in with family-friendly options. And it's not just boardwalk mainstays like Pop's Garage, or the excellent Langosta Lounge that deliver, it's all singular Asbury Park food experiences, like Hoagitos' window-served sandwiches, or the boardwalk outpost of Mogo Korean Fusion Tacos. For dessert, get a cone at Eddie Confetti's, where the time-honored tradition of long ice cream lines at the beach is subverted by the politest teenagers you'll ever meet, taking your order well before you reach the head of the line. Brooklynites might feel most comfortable at the North Eats food trucks court found at Seventh Avenue and the beach. The newish foodie destination serves up snacks, mains, and treats all from local food entrepreneurs.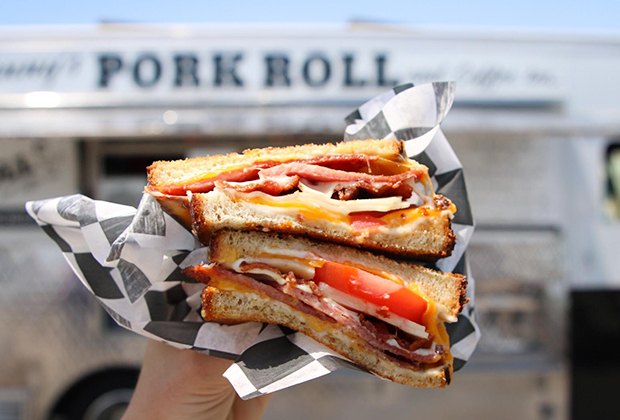 Grab a bite from one of many trucks parked near the boardwalk at Seventh Avenue.
Should you seek a breakfast or lunch away from the hoopla, here's a real insider food tip: drive west on Sunset Avenue, all the way to the Asbury Park border, and get a bite at the family-owned, 57 year-old Sunset Landing Luncheonette, open from 7am to 2pm.

Also off the boardwalk, but within shooting distance, Porta offers great pizza and Italian food in a relaxed atmosphere where kids can scream their heads off (but shouldn't). Expect a wait at peak hours. Same for Asbury Festhale and Biergarten, a short drive away on Lake View Ave, where a small kid's screams might go unheard—but on a recent visit, there was mention of kid-free hours later in the evening, so inquire ahead of visiting. If the wait for a table is long, check out the Asbury Park Pedal boats, where two adults and one kid per boat can take to the inlet for $20 per half hour.
Events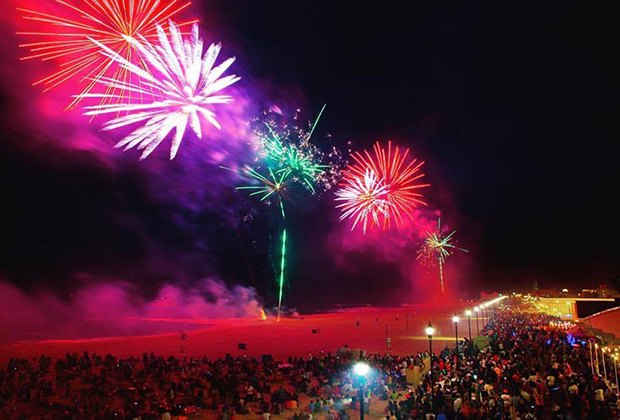 Celebrate July 4th with fireworks on the beach. Fireworks also hit Asbury over Memorial Day weekend.
As part of its revitalization, the town has ramped up family-friendly (and hipster-friendly) events all year round, many of which center around the historic Convention Hall, which recently hosted a pop-up roller skating rink and an adults-only Potter Con. There's also an ongoing bazaar with DIY and other goods for purchase, and an ongoing weekly bonfire evening fete, though the latter might be better for the grown-ups with its 8pm kickoff and boozy agenda. Families might consider the crowded but spectacular Asbury Park 4th of July fireworks celebration, and stay tuned for movies on the beach info, which we're hoping will return.
Getting There
From New York City-Penn Station, A NJ Transit train to Asbury Park takes about an hour and half, including a train change at Long Branch—and then a serious walk from station to beach. NJ Transit also offers a seasonal round-trip ticket, plus beach badge deal, which offers a small discount and can be obtained at transit ticket machines in Penn and any other Jersey Transit station. If you can, do the 45- to 60-minute (without traffic) drive from the NYC metro area, although parking after 10am on a weekend day can require a good 20 minutes driving in circles. There are some lots, but also lots of on-street parking just a few blocks from the beach. On weekends in the summer, you'll pay $2 an hour in the metered waterfront lot. But keep an eye out—rates can go up for special events.
Secret tip: any weeknight except Fridays, when parking is $1 an hour, makes for a great time to visit Asbury Park's boardwalk (if you don't plan on swimming), especially if you enjoy overhearing one of the The Stone Pony's ticketed, Summerstage concerts (some are all ages, too). Parking isn't too difficult on any evening, unless during events.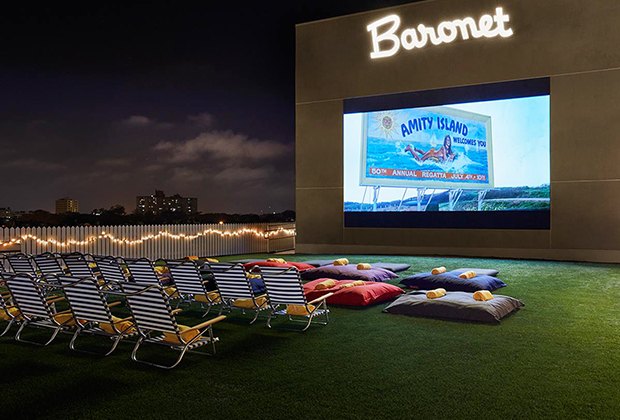 Catch a flick under the stars at the Baronet. Photo courtesy of The Asbury hotel.
For a weekend trip, consider staying at the new, boutique-y hotel The Asbury, just a stroll from the north end of the boardwalk on 5th Avenue. Check out its "Family King" room, complete with a convertible futon. With all that's outside, there's little reason for kids to hang in this, or any, hotel, but the Asbury makes it tough with the Baronet, its sixth-floor grass deck, where movies often play at sundown. On the lobby level, the Counter serves bites. In the winter, it hosted an ice skating rink. Many of the hotel's other features—while inviting and cool, like the Soundbooth, a bar with live music, seem oriented to twentysomethings. Nevertheless, this is the best hotel to hit Asbury years, and will hopefully draw like-minded competitors.
Top photo: The facades from old buildings give Asbury some of that old world charm. Unless otherwise noted, photos courtesy of Asbury Park Boardwalk.