Visiting Asbury Park Beach and Boardwalk with Kids: Top 30 Things To Do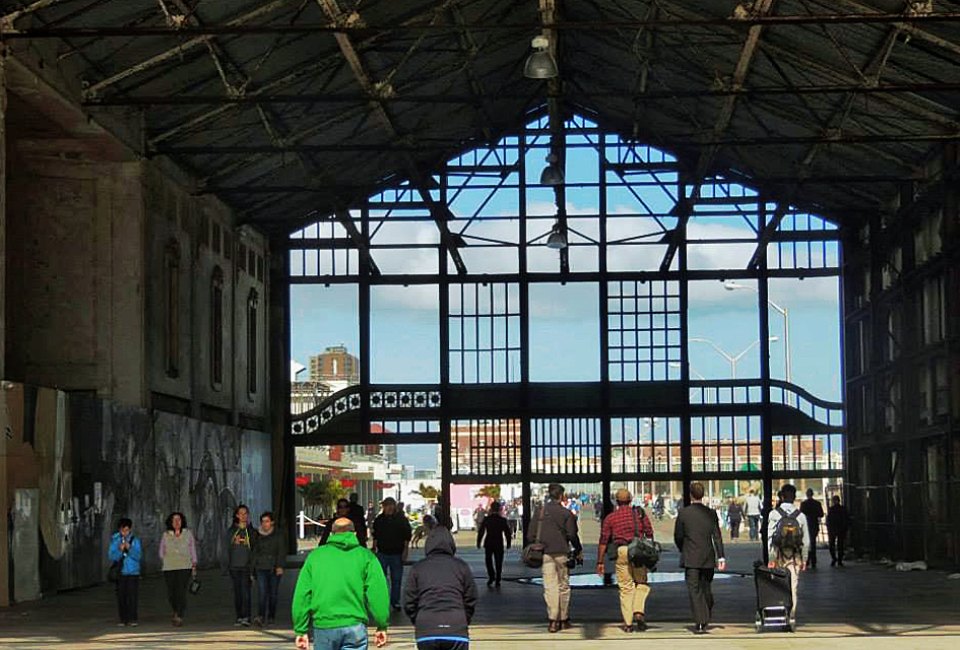 8/19/22
- By
Andy Fenwick
Asbury Park's current and continuing turnaround amazes anyone who remembers this New Jersey beach town's disrepair in the late 1980s. A stroll on today's Asbury Park beach and boardwalk reveal families, attractions, clean beaches, artwork, great food, and a free, city-supported playground, located on the beach halfway between Convention Hall and the old casino to the south. Asbury Park's shoreline now counts as one of the highlights of Monmouth County, and the Jersey Shore as a whole.
There is plenty to do in Asbury just off the beach too, from a spooky tour of a Paranormal Museum in town to glass blowing at Hot Sand. Read on for our top tips for visiting this Jersey beach with the kids, and if you're looking to rack up warm-weather memories, check out our Jersey Shore Guide for more beach and boardwalk fun.
Subscribe to our newsletters to get stories like this delivered directly to your inbox.
Best Things to Do in Asbury Park with Kids
Drawn by the intermittent screams as a giant tipping teacup drenches people, your kids 8 and under may make a beeline for the outdoor, seasonal Asbury Splash Park, which sits right on the boardwalk with beach (and street) views. There's also an oversized garden hose nozzle, and lounge chairs for parents to sit. At $9 for kids and $5 for adults, with a $20 family pass, make sure your kids want to do this, and also call ahead or check the Facebook page for updates if this is your main destination—although it's open 7 days a week beginning in mid-June (it's weekends-only before that), it can close suddenly for repairs and weather. If you are willing to wait until after 4:00pm, children's tickets are discounted to $6 and adults to $3. And if your kids love the sprinkler park, check out this list of 35 splash pads in New Jersey.
Have a young golf enthusiast? Right next to Asbury Splash Park, Asbury Eighteen Mini Golf offers one of the shore's better mini-golf courses, but we'll let you be the judge of that after playing on all the courses in our guide to NJ mini golf courses. A round of golf costs $9 for kids and $11 for adults.
RELATED: Best Jersey Shore Beaches for Families: Sandy Hook to Cape May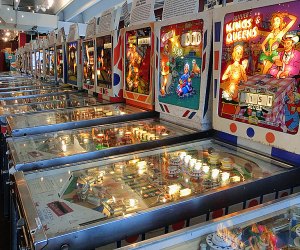 Play vintage pinball at the Silverball Arcade. Photo by Lisa Warden
Another attraction centrally located on the boardwalk, Silverball Arcade sparkles as a sudden rain go-to option, with a legit collection of throwback pinball machines, current games, and vintage video games. One hour is $15.00, but a half-day pass is $17.50. They also serve a simple menu of snacks, so you never need to leave. Just outside the arcade you'll find small, quarter-operated rides for toddlers and preschoolers, including a small train and a pair of cars.
4. Biking on the Boardwalk
Bring your own or rent a bike either at Asbury Park Cyclery, located directly on the boardwalk, or through Zagster, a public share bike program. Keep in mind that during the summer cycling is only allowed on the boardwalk in the early morning and late evening (10pm to 10am during peak season).
For another rainy-day option, head down Cookman Avenue by walking inland from the southern end of the boardwalk to Hot Sand, a unique glassblowing studio providing an all-ages, true family experience. Kids can make a glass replica of their hand or foot, and older kids can make sun tiles out of pre-cut glass. Hot Sand is open to walk-ins but takes reservations for their weekend afternoon sessions.
If you have a competitive family, why not take your kids to the landmark Asbury Lanes for a round of bowling? Bowling here costs $30 for 30 minutes and shoe rentals are $5. This nostalgia-inducing bowling alley is also a venue for concerts, has a diner that serves delicious milkshakes, and has a bar. I love this unique venue, but I personally would bring my children earlier on to bowl and avoid the nighttime crowd.
7. Kids in a Candy Store
For a special treat, take your kids to a candy store! Sugarpop Candy Bar, where kids can fill a bag with a variety of candy of their choosing, is located on the boardwalk. River Sweet Treats, with their world-famous pralines, is located on Cookman Avenue in town.
If you are walking inland to Cookman Avenue from the southern end of the beach, check out the giant swan pedal boats located on Wesley Lake between Ocean Grove and Asbury Park. These fun-looking boats always catch my kids' attention. Two adults and one kid or two kids and one adult per boat are allowed and you can take to the inlet for $20 per half hour.
From rumrunners to shipwrecks, this bookstore has a haunting collection highlighting the area's sometimes dark history. They run a Ghosts and Legends Tour on the boardwalk Friday at 8pm and Sunday at 7pm or starting downtown Thursday and Saturday at 8pm. The museum has private, guided tours as well as an After Dark Tour that allows you to use the equipment in the house to investigate paranormal activity. They can also arrange for private psychic readings.
RELATED: Family Amusement and Water Parks Guide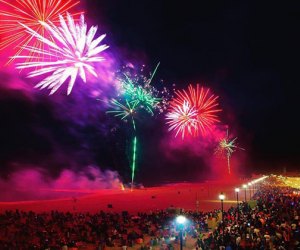 Celebrate July 4th with fireworks on the beach. Fireworks also hit Asbury over Memorial Day weekend.
Fun Free Things to Do in Asbury Park with Kids
10. 4th of July, Asbury Park
Probably the inspiration for the famous Bruce Springsteen song (a.k.a. "Sandy"), Asbury Park has its own Fourth of July celebration, complete with a brilliant firework display. There is no better place to watch fireworks with kids than from the beach.
11. Playground
As noted, there's a playground on the beach, but you don't need a badge for that—it's on the beach, but fenced in, with a tributary entrance off a stairway to the beach.
12. Window Shopping on Cookman
This might be more for you than your children, but my kids have never minded walking down Cookman Avenue as I glance in the different boutiques and maybe even step into a few. If you start out from Main Street and walk toward the beach along Cookman Avenue you can always use a cupcake from Confections of a Rock$tar Bakery as a reward for good behavior.
13. Dog Beach
Located on the north side of the Asbury Park stretch of beach is a dog-friendly area called Bradley Cove. If you have brought your dog with you for the weekend you can let them have some fun there, just be sure you clean up after them. And if your kids love dogs, they might want to watch the pups playing in the waves.
Located in the Convention Center along the boardwalk in Asbury Park, the bazaar is a pop-up marketplace where people sell artwork and handmade goods. Often they have live music playing in the convention center during the bazaar.
15. Christmas in Convention Hall
I love going to the Grand Arcade in the Convention Hall at Christmas time. It really puts me in the holiday mood with the decorations, the large, lit-up Christmas tree on display, live music playing, and lights strung from the ceiling. You can find lovely little gifts and buy a nice coffee or hot cocoa inside. This past year they did something a little different–instead of a live tree, a local artist created a tree sculpture that was displayed in the Grand Arcade.
16. Admire Street Art by Local Artists
Stroll the boardwalk and explore the old buildings to check out fantastic murals from local artists such as Porckchop and others, all part of the Wooden Walls Mural Project. You'll find them in the old Beaux Arts Casino and Carousel buildings, as well as the Grand Arcade, and just north of the 1920s-era Conventional Hall along the walls and in the abandoned Sunset Pavilion—the latter two are all toward the north end of the beach—but also in spontaneous spots or just on the sides of buildings. Some are colorful, others moody, and all add to the Asbury art-music vibe.
RELATED: Wildwood, New Jersey: A Summer Weekend Getaway with Kids

The gorgeous beach is always a hit with kids. Photo by Lisa Warden
Top Attractions in Asbury Park for Families
The main attraction for kids? The beach! Now regularly staffed by lifeguards and cleaner than it's been in years, the beach requires a badge ($9 weekends, $6 weekdays, kids under 12 are FREE) easily purchased online or on the boardwalk. The beach is loaded with families and can definitely get crowded with everyone packed in during high tide among the many umbrellas, tents, towels, and boom boxes. It's a bit of a scene! Stake out your spot depending on which attractions and eateries you'd like to try, but go for the middle, between the Convention Center and the old Casino, if you want to hit most of the kid spots (Ocean Avenue between Second and Third Avenues). Note: If you're looking to avoid the boardwalk crowds, head to the northern end of the beach, just past the Convention Center, or south to the Ocean Grove beach.
Like all beaches in the area, you can only swim in the designated lifeguard areas, and pay attention to the warning flags for rough surf. Public restrooms are plentiful along the boardwalk, though the lines increase throughout the day, and there are outdoor showers on the beach for getting the sand off before you leave the beach. Umbrella rentals are available, too.
Besides the beach, the boardwalk hosts several kid-friendly attractions. Most of the businesses on the boardwalk in Asbury Park can be found between the old arcade and carousel on the south end and Convention Hall on the north end. Many of the businesses are in kiosks that are brightly painted, large, metal storage containers, giving this boardwalk an edgy feel. Lining the Asbury Park boardwalk businesses abound such as Eddie Confetti's, where the time-honored tradition of long ice cream lines at the beach is subverted by the politest teenagers you'll ever meet, taking your order well before you reach the head of the line. Or maybe your older children would like their palm read and future told at Madam Marie's Temple of Knowledge, made immortal in a Springsteen song. There is so much to do at the boardwalk in Asbury Park. Your family can rent bikes, cool off in the splash pad, compete in a round of mini golf, grab a delicious meal, and even play a game of pinball at the arcade.
19. Convention Hall
The Convention Hall is unmistakable on the Asbury Park shoreline. This majestic building, connected to the Paramount Theatre by the Grand Arcade, is a hub of activity for Asbury Park locals. Hosting Christmas markets, bazaars, weddings, and the occasional pop-up skating rink, this is where it's at! There are also restaurants inside and bars to enjoy refreshments on the outside landing that wraps around the building allowing for great views of the beach and ocean. Convention Hall is a historic venue where musicians such as Bruce Springsteen, Bob Dylan, and Patti Smith have played, just to name a very few.
20. Old Casino and Carousel
The grand casino and carousel at the south end of Asbury Park, where Wesley Lake meets the ocean, are the crumbling remains of the beach town's glory days. These once-glorious structures were designed by the same architects that designed Grand Central Station. I love walking through the casino and seeing the murals on the wooden constructed walls, looking through the holes to see what new project is being concealed, and imagining what the building was once like while listening to the music echoing from the buskers. Be sure to walk around the building that once held the carousel and see what is going on in there. The carousel has been a site to display art, a theater, and even an indoor skate park in the past.
Where to Stay in Asbury Park with Kids
Right off the beach is the family-friendly Asbury Ocean Club Hotel. Your family will have plenty of room as this hotel offers lofts and suites. The stunning ocean views and lots of places within the hotel to hang out outside of your room make it an excellent choice for families. Enjoy the pool, the bar and grill, and then unwind in the drawing room with a reflecting pool to center yourself after a long day with the kids, or treat yourself to the spa to make it a real vacation! Currently, rooms are running about $425 a night.
Consider staying at the new, boutique hotel, The Asbury, just a stroll from the north end of the boardwalk on 5th Avenue. Check out its "Family King" room, complete with a convertible futon. With all that's outside, there's little reason for kids to hang in this, or any, hotel, but the Asbury makes it tough with the Baronet, its sixth-floor grass deck, where movies often play at sundown, a pool, and two rooftop bars. On the lobby level, the Counter serves bites. In the winter, it has hosted an ice-skating rink with an attached bar. Many of the hotel's other features—while inviting and cool, like the Soundbooth, a bar with live music, seem oriented to 20-somethings. Currently, rooms cost about $225 a night.
Asbury Park doesn't really have any budget options for hotels, but if you look at nearby Neptune you will find a Holiday Inn Express, which offers free breakfast, a pool, and a fitness center for about $175 a night.
RELATED: Jenkinson's Boardwalk and Point Pleasant Beach: Top Tips for a Family Trip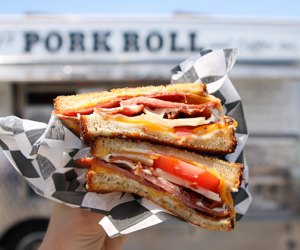 Grab a bite from one of many trucks parked near the boardwalk at Seventh Avenue. Photo courtesy of Asbury Park
Best Restaurants for Kids in Asbury Park
When it's time to eat, Asbury really kicks in with family-friendly options, like Pop's Garage, a sustainable Mexican eatery right on the boardwalk that will be sure to tickle your kid's taste buds.
This pizzeria with a bar on Cookman Avenue is very family friendly and even has vegan options.
Located on the boardwalk, people rave about these Asian-inspired Mexican dishes, and they have a very affordable kid's menu.
Brooklynites might feel most comfortable at this gathering of food trucks that is available only during the summers and located between Seventh and Eighth Avenues at the beach. The newish foodie destination serves up snacks, mains, and treats all from local food entrepreneurs.
Should you seek a breakfast or lunch away from the hoopla, here's a real insider food tip: drive west on Sunset Avenue, all the way to the Asbury Park border, and get a bite at the family-owned, 57-year-old Sunset Landing Luncheonette, open from 7am to 2pm. This establishment offers unique dining options such as Chocolate Coconut Pancakes and the Amazing Crab Omelet.
Also, off the boardwalk, but within shooting distance, Porta offers great pizza and Italian food in a relaxed atmosphere where kids can scream their heads off (but shouldn't). The outdoor area is walled-in, which will keep your kids contained.
Expect a wait at peak hours, but it's worth it if you are beer lovers: Asbury Festhalle and Biergarten is a short drive away from the beach on Lake View Ave, where your kids' screams might go unheard—but on a recent visit, there was mention of kid-free hours later in the evening, so inquire ahead of visiting. Often there is live polka music playing, a giant screen showing sports and in nice weather, there is a rooftop bar to enjoy.

Ocean Grove's Victorian-style houses are a sight to behold. Photo by Lisa Warden
While You're There, Stop in Next Door at Ocean Grove
Not part of Asbury Park, but right next door, is the family-friendly Ocean Grove. Just walk south along the boardwalk and once you pass through the old casino building you are in Ocean Grove. If you want to drive there is free parking in Ocean Grove, although during peak season it can be difficult to secure. Ocean Grove is a religious town with gorgeous Victorian-style houses painted in bold, beautiful colors. The highlights are the giant Methodist Church which is also a concert venue and can be seen from the beach and the accompanying tent city. These colorful and quirky tent rentals always pique the interest of my children. The beach here is usually less crowded than in Asbury Park, and the downtown area is truly a throwback to another era with cute shops and irresistible cafes including The Starving Artist at Days. Gorgeous Bed and Breakfasts abound here and if you want to spend the night, I suggest the family-friendly Inns of Ocean Grove, which both have family rooms, or the very accommodating B&B, The Majestic.
RELATED: Jersey Shore Boardwalks and Amusement Parks for Family Fun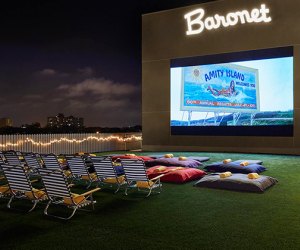 Catch a flick under the stars at the Baronet. Photo courtesy of The Asbury Hotel.
How to Get to Asbury Park
From New York City-Penn Station, A NJ Transit train to Asbury Park takes about an hour-and-a-half, including a train change at Long Branch—and then there's a serious walk from the station to the beach. NJ Transit also offers a seasonal round-trip ticket, plus a beach badge deal that offers a small discount and can be obtained at transit ticket machines in Penn and any other Jersey Transit station. If you can, do the 45- to 60-minute (without traffic) drive from the NYC metro area or 75 minutes from the Philadelphia metro area, although parking after 10 am on a weekend day can require a good 20 minutes of driving in circles. There are some lots and a parking garage on Bangs Avenue, but also lots of on-street parking just a few blocks from the beach. On weekends in the summer, you'll pay $3 an hour in the metered waterfront lot. But keep an eye out—rates can go up for special events.
Secret tip: any weeknight except Fridays, when parking is $1 an hour, makes for a great time to visit Asbury Park's boardwalk (if you don't plan on swimming), especially if you enjoy overhearing one of The Stone Pony's ticketed, Summerstage concerts (some are all ages, too). Parking isn't too difficult on any evening, unless during events.
Top photo: The facades from old buildings give Asbury some of that old-world charm. Unless otherwise noted, photos courtesy of Asbury Park Boardwalk.
Click Here to Sign Up!
i