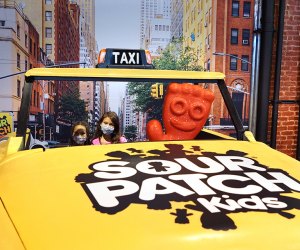 14 Best Candy Stores for New York City Kids
For many New York City kids, holidays like Halloween (and Valentine's Day, and Easter, and...) mean candy. There's no shortage of candy stores in New York City, making it a good time (and place) to be a kid with a hankering for the sweet stuff.
Many of these NYC spots are stores without seating or bathrooms; instead, they house shelves and aisles overflowing with packages of colorful, cavity-creating treasures. A few offer more modern treats and additions like chocolate-making classes for kids. Read on for our 14 favorite candy stores in all of NYC.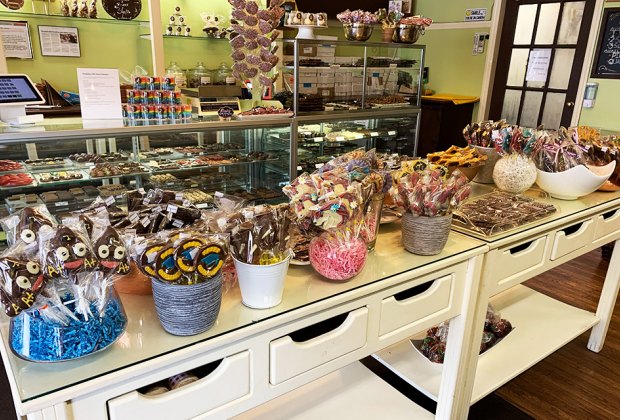 Aigner Chocolates is only for serious chocoholics! Photo courtesy of the store
103-02 Metropolitan Avenue
Making chocolate by hand since the 1930s, this family-run chocolate spot is a hit year-round, but especially for Easter treats. Fancy chocolate boxes are filled with items like Parisian Truffles and Buttercrunch, chocolate pops or rotating seasonal treats, including chocolate Easter bunnies.
839 Morris Park Avenue
This beloved local spot offers homemade truffles, plus chocolate-covered strawberries, Oreos, and pretzels, as well as DIY supplies to create your own treats. The shop also stocks party favors and cakes for special occasions. You won't find penny candy here, but kids will still love poring over the glass-case displays.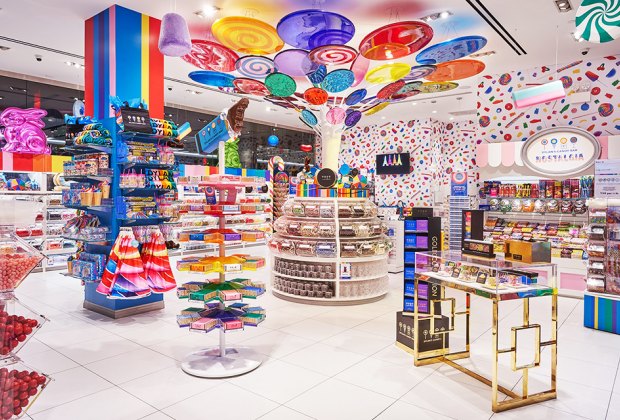 Dylan's Candy Bar's Upper East Side location doesn't disappoint. Photo courtesy of the store
Visit the website for a complete list of locations.
For the true Dylan's experience, the Upper East Side location is a must-visit, but this candy lovers' paradise has expanded to include stores at Hudson Yards, and even mini-outposts in spots like Columbus Circle's Turnstyle Market. It seemingly sells every sweet imaginable. The selection is hard to beat, and many of the treats are imaginative. The Candy Cafe at its flagship store serves a selection of sundaes and frozen sweets.
RELATED: Kid-Friendly Restaurant Guide for NYC Families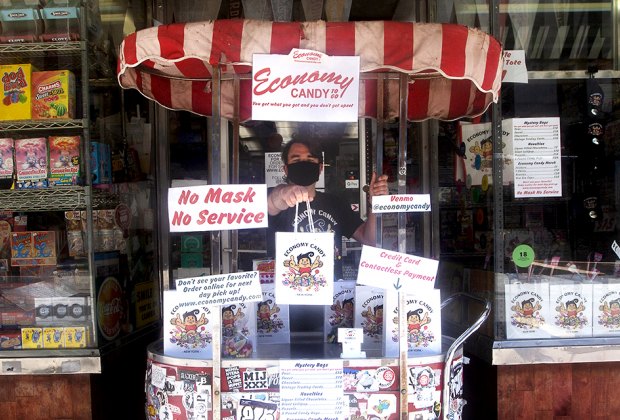 Economy Candy on the Lower East Side might be the best candy store in New York City. Photo courtesy of the store
2020 update: While you can't shop the shelves yourselves, you can place an order for pickup or visit the Economy To Go Push Cart outside the store to place an order, which will be put together for you on the spot. A special Halloween package lets you purchase a candy care package for your favorite ghoul or goblin who won't be hitting the streets in search of treats this Halloween.
108 Rivington Street
Possibly the best candy store of its kind in all five boroughs, Economy Candy on the Lower East Side has everything: homemade candy, mass-market popular picks, halvah and Turkish delights, and novelty candy from the days of my youth. Sections devoted to Asian, British, and Canadian treats are a nice touch, too. Prepare for crowded aisles on nice weekend days, which could make visiting with a toddler or a stroller tricky. Its 99-cent table might make it worth the risk.
105-29 Metropolitan Avenue
Although primarily loved for its over-the-top and decidedly old-school ice cream parlor, which opened in the 1960s, this Queens creamery also offers a long case full of and topped with both wrapped and bulk candies from which kids can choose.
Visit the website for a complete list of locations.
This is another beloved ice cream parlor that scoops up plenty of candy for the kids, too. Choose from dozens of wrapped and loose candies neatly displayed in jars, including retro favorites like Lemonheads and licorice plus gummi worms and Mary Janes. There are also plenty of chocolate treats, including truffles and bonbons, and chocolate-covered pretzels.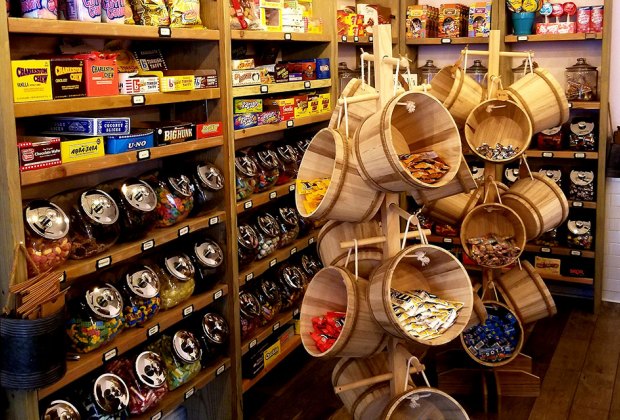 Brits will love the selection of imported candies at Fferins. Photo courtesy of the store
438 Seventh Avenue
This candy shop is a sweet addition to the ultra family-friendly Park Slope neighborhood. In addition to a year-round scoop shop, Fferins carries a wide variety of confections. Its pick-a-mix selection will take you on a walk down memory lane with plenty of nostalgia-inducing treats to choose from. Fferins is particularly proud of its selection of British imports, too.
68 35th Street
Witness old-world chocolates being handcrafted right here in NYC at the Li-Lac Chocolates Factory. Located at Industry City, the factory has windows that spectators can peek through to see how more than 140 fresh chocolate confections are crafted. Many follow the same recipes and production techniques from the company's founding 99 years ago. Once you've taken in the view, pop inside for some fresh-from-the factory samples and purchase goodies to take home. If you can't make it to the Industry City factory, consider visiting one of the other NYC stores.
8 Barrett Avenue
Founded in Coney Island in 1916, Philips Candy relocated to Staten Island in 2002 after its Brooklyn location was shuttered to make way for the Stillwell Avenue subway station. The old-school candy making techniques have won over a whole other borough, as the sweet treats at Philips continue to be sought after. Well known for its candied apples, Philips sells a wide variety of homemade confections, including caramel corn, chocolate-covered fruit, homemade fudges, and more.

Hit up Ray's Candy Store for a dose of sugar anytime. Photo courtesy of the store
113 Avenue A
If you get a craving for a sweet treat at 2am, have we got the pick for you! Ray's Candy Store is a 24-hour emporium of indulgences. Part candy shop, part bodega, part supplier of fried carnival treats, this spot is all character, and the biggest character is the namesake owner who works the overnight shift and hasn't taken a day off in decades. If you're looking for wall-to-wall candy, there are better spots on this list, but you can't beat Ray's for a trip back in time and only-in-NYC nostalgia.
665 Broadway
This brand new spot is dedicated to the sweet-and-sour namesake treat, though you'll find a few other goodies in-store too. While you might come for the SPK-branded merchandise and fun photo ops (be sure to capture a picture of the kids aboard the taxi!), there's an in-store cafe with truly over-the-top sweets. We couldn't leave without the "Pour Some Sugar On Us" cone: A waffle cone, coated in white chocolate, chopped Sour Patch Kids, filled with ice cream, and topped with a larger-than-life swirl of cotton candy sprinkled with some SPK pieces of its own. In terms of sweets, you can buy pre-packed boxes and bags of Sour Patch Kids and Swedish Fish, or fill a bin or bag from the self-serve station.
RELATED: Where to Find Some of NYC's Most Over-the-Top Desserts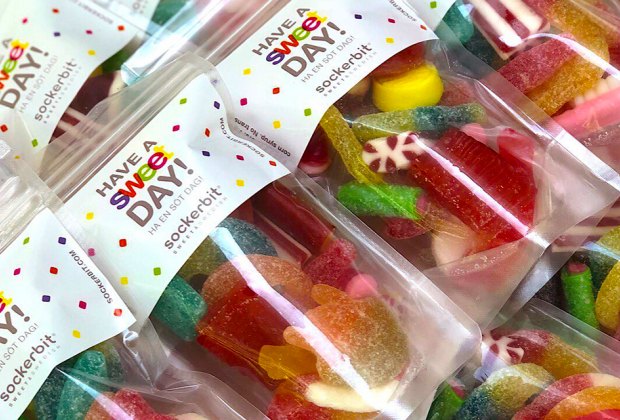 Sockerbit may be the IKEA of candy stores. Photo courtesy of the store
12. Sockerbit — West Village
2020 update: Sockerbit is currently open for pickup on Fridays and Saturdays.
89 Christopher Street, near Bleecker Street
With colorful candies displayed against a pristine white interior, this sleek Swedish candy store sports a minimalist, Ikea feel. The name means "sugar cube" in Swedish, and you'll find a smorgasbord of sugary treats such as sour gummies, hard candies, licorice chocolates, nougat, and marshmallows, all with names like fruktstång, gelehallon, and huggormar. They're all yummier than they sound, with the possible exception of the creamed smoked roe bars. The shop gets bonus points for avoiding high-fructose corn syrup, trans fats, and GMOs. Only natural colors are used, too.
404 East 73rd Street
This mom-and-pop shop on the Upper East Side has a little something for everyone. Its website reads like a game of Candy Land, with sections of the store dedicated to Licorice Lane and Gummy Town. There's a wide variety of pick-your-own containers, plus gourmet chocolates, both pre-packaged and handmade. Artisan ice cream is also offered from a variety of creators.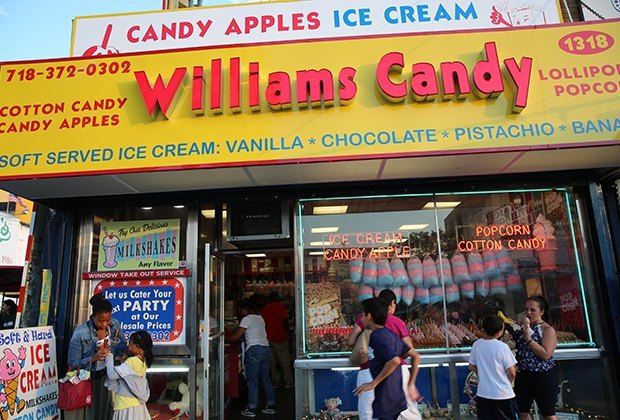 Williams Candy Shop is one of the few old-school Coney Island places left. Photo by Shira Kronzon.
14. Williams Candy — Coney Island, Brooklyn
1318 Surf Avenue
A must-try for your next Coney Island visit: Skip the boardwalk fare and visit Williams Candy. The old-school shop serves cotton candy, popcorn balls, marshmallow treats, lollipops, ice cream, and more candy items.
This article was first published in 2017. Jody Mercier contributed additional reporting.