40 Best Things to Do With Kids on the Lower East Side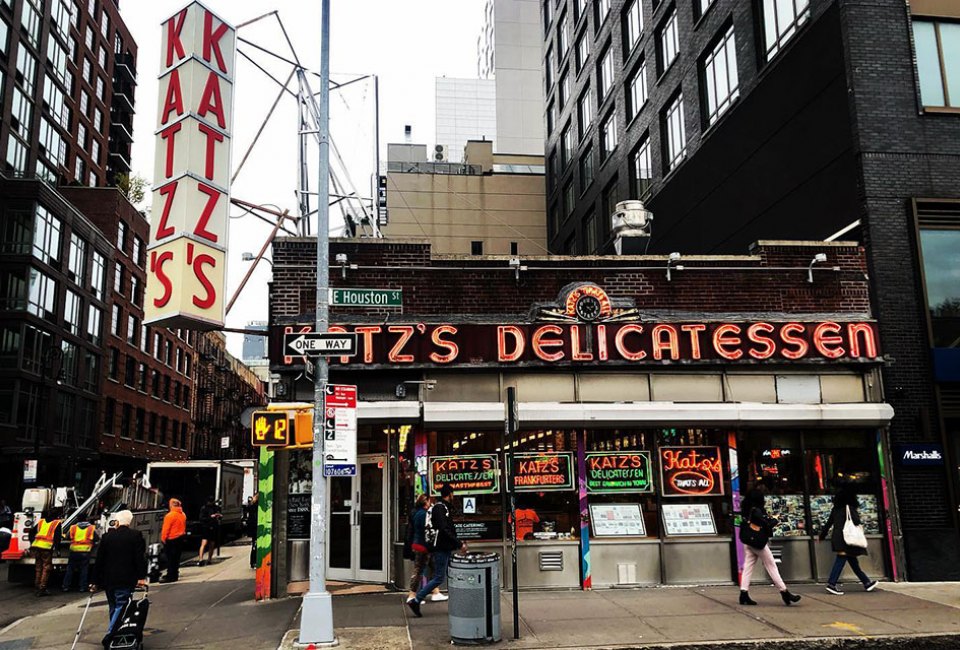 11/20/19
- By
Raven Snook
If you're looking to see America's melting pot reputation in action, take a family trip to the Lower East Side. In the late 19th and early 20th centuries, the neighborhood's tenements housed waves of immigrants from a variety of backgrounds, notably Germans, Italians, and Eastern European Jews. Although this Manhattan neighborhood has undergone a major transformation in recent years, with spots for knishes and cannoli being replaced by craft cocktail bars and boutique hotels, there are still remnants of its multicultural history that are great fun to discover with kids.
The Tenement Museum and the Museum at Eldridge Street both offer engaging peeks at the area's past, along with frequent family programming. Sara D. Roosevelt Park hosts celebrations for Asian holidays in honor of the nearby Chinatown community. The neighborhood's restaurants reflect the area's diversity with dim sum houses, delicious delis, pizzerias and the oldest candy store in NYC all vying for your appetite.
Of course there are cool, new kid-friendly attractions, too, including a pair of cat cafés, the New Museum, which offers FREE admission for children under age 19, and much more. Stretching from Houston Street to Canal Street and East Broadway between the Bowery and the East River, the Lower East Side is small enough for families to explore on foot in one day, and boasts lots of places to play, both indoors and out. Read on for 40 places to explore in this culturally rich, uniquely New York neighborhood.
3. Explore the M'Finda Kalunga Garden, located on the site of a former African-American burial ground. Maintained by locals, it's a beautiful respite from the bustling streets.
RELATED: 13 Drop-In Indoor Play Spaces in Manhattan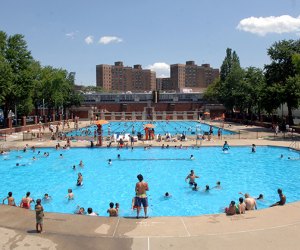 Hamilton Fish Park offers swimming, a playground, and ball courts for area kids. Photo by Daniel Avila for NYC Parks
4. Spend a day exploring Hamilton Fish Park. It's got a playground, ball court, and one of Manhattan's best public pools come summer.
5. Preserve the neighborhood's beauty by volunteering at the Lower East Side Ecology Center or attending one of their frequent programs at the Lower East Side Fire Boat House.
6. Enjoy some face time with adoptable felines at a pair of cat cafés: Meow Parlour and the Koneko Cat Café. Be aware that both require advance reservations and only allow children during designated hours.
7. Spy the magical Hua Mei Bird Garden just south of Delancey Street, in Sara D. Roosevelt Park, where Chinese retirees hang bamboo cages filled with talented songbirds that tweet tunes as the sun rises.
8. Inhale the brine-y, vinegar-y smell at The Pickle Guys and sample its namesake snack or dozens of other pickled concoctions.
RELATED: 100 Things to Do with Kids in NYC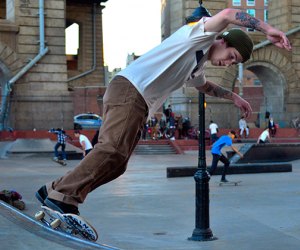 The Coleman Playground Skate Park sits under the Manhattan Bridge. Photo by Steven Pisano via Flickr
9. Catch some air at the Coleman Skate Park, located under the Manhattan Bridge.
10. Explore the neighborhood's pair of NYPL branches: Hamilton Fish Park Library and the Seward Park Library.
11. Visit one of the dozens of community gardens peppering the neighborhood.

Doughnut Plant's PB & J will leave you wanting more! Photo courtesy of the shop
12. PB&J hasn't been the same since the Doughnut Plant paired them with its trademark square pastry. Try one or indulge in another treat from its ever-changing menu.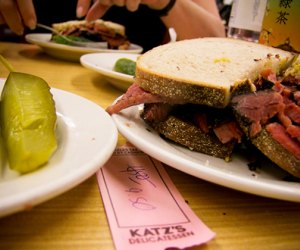 Pastrami on rye at Katz's is just one of the classic NYC eats you can find at this popular but touristy deli. Photo by Kim Jones via Flickr
13. Hit the legendary Katz's Delicatessen for pastrami on rye, bagels with lox and cream cheese, and matzoh ball soup.
14. Kids will go gaga for the custom-designed, high-end toys at My Plastic Heart.
15. Set sail on the East River Ferry, which docks in the neighborhood at Corlears Hook.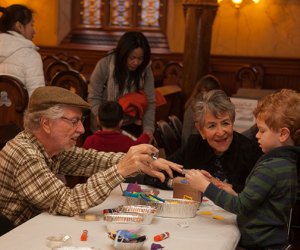 "Preservation detectives" at the Museum at Eldridge Street. Photo by Kate Milford for the musuem
16. Housed in a stunning historic synagogue, the Museum at Eldridge Street offers frequent, hands-on family programming where kids of all faiths can learn about Jewish traditions and the history of the neighborhood.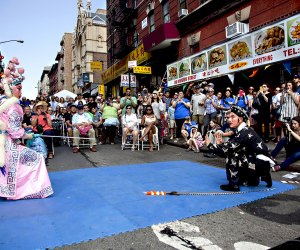 The streets close for the Egg Rolls, Egg Creams and Empanadas Festival. Photo courtesy of the festival
17. Plan a return trip for the Egg Rolls, Egg Creams, and Empanadas Festival each June.
18. Explore the newly reinvented Essex Street Market, which practically bursts at the seams with a wide variety of local vendors.
19. While you're there, take advantage of its free workshops and kids' cooking classes.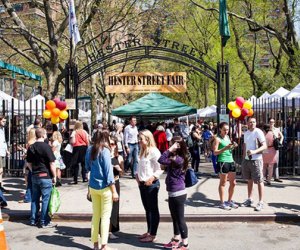 The seasonal Hester Street Fair attracts families all summer for its local eats and wares. Photo courtesy of the fair
20. Explore the funky Hester Street Fair, which is open seasonally from May to October for vendors selling vintage duds, handmade jewelry, crafts, home goods and lots of artisanal eats.
21. Visit the outpost of The Meatball Shop for its signature dish with lots of different sauces.
22. Visit the serene stretch of the East River Park that runs along the neighborhood's edge, where an on-site amphitheater offers outdoor concerts and performances in the summer.
23. The Manny Cantor Center hosts a variety of drop-in programs like family yoga, live performances for kids and FREE community celebrations for many Jewish holidays, all open to non-members.
24. Live in the area? Consider enrolling your daughter in the inventive programming at the Lower East Side Girls Club, whose state of the art clubhouse offers a range of activities for middle and high school girls in an ultra-cool, cutting edge space complete with its own planetarium.
25. The delightfully retro Sugar Sweet Sunshine Bakery has full-size and mini cupcakes in a rainbow of flavors.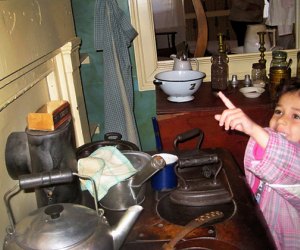 Explore the past at the Tenement Museum. Photo by Alina Adams
26. Explore the lives of the 'hood's earliest residents at the Tenement Museum, which offers a variety of interactive tours and neighborhood walks.
27. Dip into Erin McKenna's Bakery NYC, which offers treats that are gluten-free, vegan, and kosher, a real find for those with special dietary needs.
28. Explore the smaller greenspaces that dot the area including Seward Park, Luther Gulick Playground, and Baruch Playground.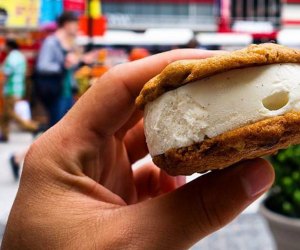 Ice cream sandwich perfection at Melt Bakery. Photo courtesy of Melt
29. Grab a custom-prepared ice-cream sandwich on fresh-baked cookies at Melt Bakery.

You can find all your old favorites and some new ones too at Economy Candy. Photo courtesy of Economy Candy
30. Opened in 1937, Economy Candy is an authentically old-fashioned sweet spot with colorful confections packed floor-to-ceiling—go ahead, name any candy, you probably can't stump the family that owns this wondrous place.
31. Want to make your own sweets? Tache Chocolate hosts candy-making workshops for kids and adults.
32. Take your big kids to PaniqIQ, one of our favorite escape rooms.
RELATED: 35 Things to Do with Kids in Soho and Little Italy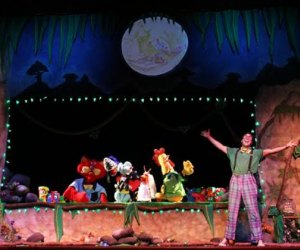 Check out NYC's only Latino children's theater as it retells folk tales like La Cucarachita Martina. Photo courtesy Teatro SEA.
33. NYC's only Latino children's theater, Teatro SEA (107 Suffolk Street) presents bilingual shows featuring actors and puppets. Some productions are adaptations of well-known folk tales, others pay tribute to Latino history and culture.
34. Enjoy breakfast all day at Clinton St. Baking Company, one of our favorite pancake spots in the city.
35. Share Chinese dishes on a lazy Susan and gaze at the fish swimming in the pond at Congee Village.
36. Pop into Vanessa's Dumpling House for a taste of Chinatown.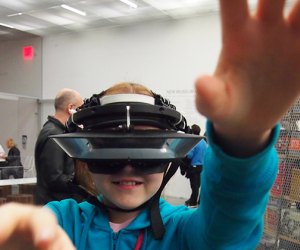 Visit the many interactive exhibits at the New Museum on FREE first Saturdays for families. Photo by Anna Fader.
37. Explore the boundary-breaking contemporary art at the New Museum, which offer FREE admission to all those under age 19 as well as family-friendly programming.
38. Pop into Russ & Daughters, where you can introduce the kids to chopped liver, smoked salmon, and potato latkes with an egg cream chaser—and of course, its perfect New York bagels.
39. Visit the Abrons Arts Center to take in a show or take a class of your own. Children's classes tackle a wide variety of performing arts and sliding-scale tuition makes it affordable to all.
40. Watch the staff at Il Laboratorio del Gelato whip up fresh batches of its signature treat through a window as you peruse its list of rotating flavors. There's no seating here, so grab your gelato to go before you head home.
This post has been updated for 2019. Jody Mercier contributed additional reporting.
Click Here to Sign Up!
i