Tenement Museum: NYC History Kids Can See, Touch and Experience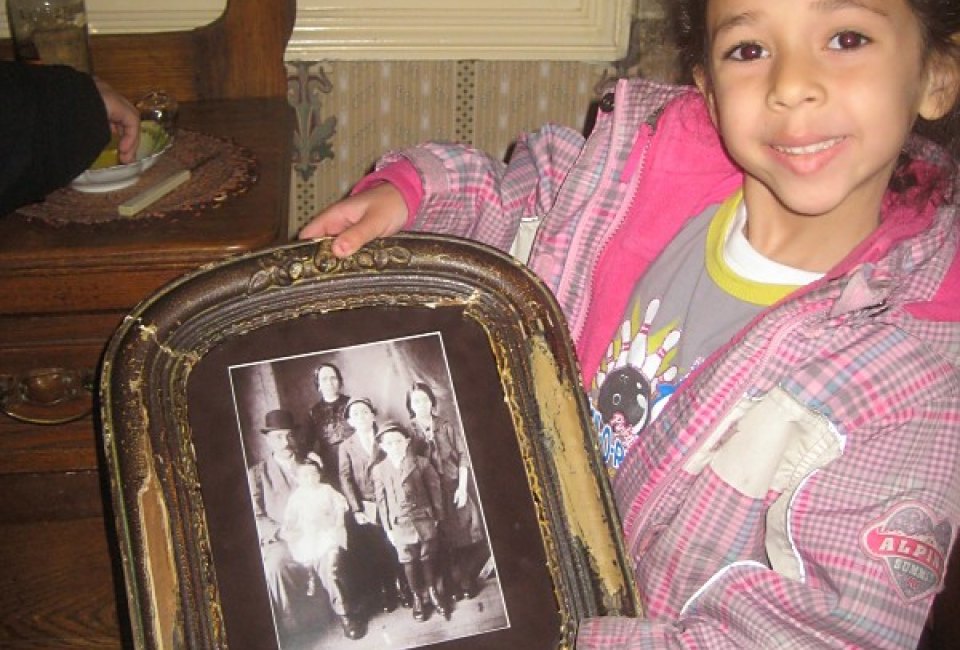 5/6/12
- By
Alina Adams
Having emigrated to the United States from Russia in 1976 rather than 1916, the closest I got to the classic Lower East Side Jewish immigrant experience was reading Sydney Taylor's All-of-a-Kind Family book series—first as a kid, then later to my own children. So my family and I were really excited to visit the Tenement Museum on the Lower East Side so we could get a chance to see how immigrants lived a century ago.

This profile of the Tenement Museum is the second in a series of posts spotlighting kid-friendly NYC historic sites vying for Partners in Preservation grants. Read on to learn how you can take a trip back in time at the museum and support some of our city's most valuable cultural destinations with the click of your mouse.
At the Tenement Museum, you don't just walk around passively gazing at artifacts behind glass; you really engage in the immigrant experience. The museum offers six different tours of the building and three historic neighborhood walks. We decided to go on the Meet the Residents: Victoria Confino tour since it's the most family-friendly. A costumed educator plays Victoria Confino, a 14-year-old Sephardic Jewish girl living on the Lower East Side in 1916. She invites families into her tenement apartment where she recounts the story of her daily life in America and answers questions. It's a wonderful interactive experience and kids are even allowed to touch many of the household objects on display.

We began our tour in a classroom, where a knowledgeable and gregarious guide talked about the history of immigrants in America. Although informative, this half-hour talk is a bit much for younger kids but soon we were escorted to Victoria's home at 97 Orchard Street for an authentic old-school time. We walked down a dimly lit hallway without electricity to Victoria's cramped three-room apartment, where she greeting us as if we were new immigrants seeking survival tips. We saw the tiny bedroom where her brother and cousin lived and the kitchen where Victoria slept on the floor wrapped in a goat-skin blanket. No bathtub here; Victoria explained how she and her family trekked once a week to a bathhouse where they payed a fee to bathe. The rest of the time, they used a wash basin to clean their faces and do the laundry, which dried on a line in the kitchen. My kids enjoyed trying to wash clothes with a churn and handling the coal used for heating and cooking. It certainly gave them a better appreciation of how good they have it these days!

Victoria answered everyone's questions like "How much is your rent?" (a steal by today's prices!), "Do you go to school?" and "Where does your father work?" After the tour, there was a final Q&A with the educator. The entire experience lasts about an hour and 15 minutes, so it's definitely best for school-age kids with decent attention spans.

Because my kids know that I, too, was an immigrant, they wondered if this was what my life was like when I was a child. I told them no, not in the U.S., although Victoria's lifestyle reminded me of my days back in the USSR! Overall, the tour inspired a lot of questions from my eight- and five-year-olds and offered insight into how people once lived in New York City, and how many still do in other parts of the world. For a taste of the tour, you can play the museum's online immigration game.

The Tenement Museum is located at 103 Orchard Street near Delancey Street. The Meet the Residents: Victoria Confino tour takes place on weekends at 1, 2 and 3pm and costs $22 for adults and $17 for students.

The Tenement Museum is one of 40 historic sites vying for Partners in Preservation grants. In conjunction with American Express and the National Trust for Historic Preservation, Partners in Preservation is handing out $3 million to various venues. Mommy Poppins is proud to be working with Partners in Preservation on this awesome project by getting the word out about how you can help decide who gets the money by voting for your favorites. When voting closes on May 21, the four venues with the most votes will receive their full grant requests, and many others will be awarded partial grants. You can vote once a day and even spread your love around. Find the complete list and vote for your favorites on the Partners in Preservation website.
Places featured in this article:
Click Here to Sign Up!
i