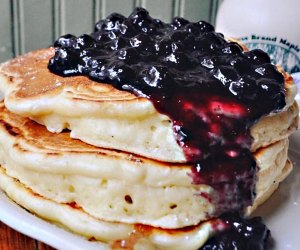 The Best Pancakes in NYC: Nine Tasty Flapjack Spots
We've sleuthed out the most scrumptious spots serving stacks of pancakes—that essential kid food—in NYC. While you might find this classic on nearly every brunch menu across the city, not every flapjack is created equal. From classic blueberry pancakes to red velvet confections, and gluten- and dairy-free varieties, these are the best pancakes in NYC.
So, before book your next family brunch reservation, read on for nine spots serving top-notch pancakes and get more kid-friendly dining recommendations in our Restaurant Guide.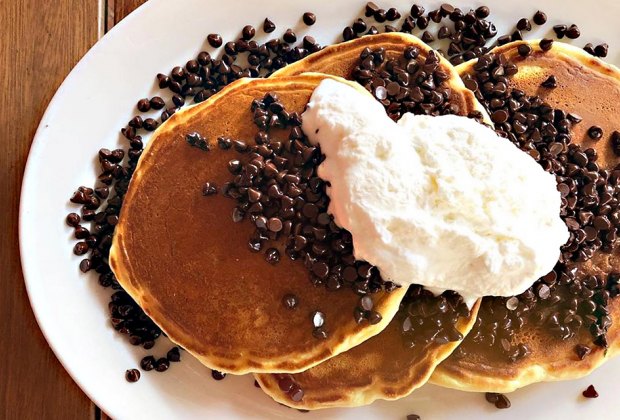 Chocolate fans will delight in the chocolate chip pancakes at Bubby's.
Fluffiest Pancakes
Bubby's — Tribeca and The Highline
Looking for those fluffy, melt-in-your-mouth pancakes you ate in your grandmother's kitchen? Look no further than Bubby's. The secret here is using sour cream instead of milk in the restaurant's James Beard-inspired recipe, which elevates (literally!) the fluffy pancakes at this Manhattan institution. Looking for something a little different? Try the sourdough version. The kids' version lets your little foodie add fruit or chocolate chips. I have a Bubby of my own, and this place makes me nostalgic with its old-school, cozy feel. The bottomless coffee is a nice touch.
RELATED: The 18 Most-Insane, Must-Try Desserts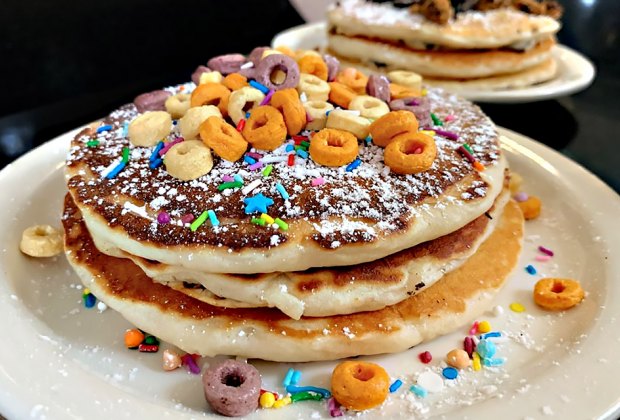 A big ol' stack of pancakes covered in vegan fruit loops and sprinkles is waiting for you at Champs Diner.
Best Vegan Pancakes
Champs Diner — Williamsburg
For vegans, the lactose-intolerant, or those looking for an inventive twist on this classic food, try Champs Diner in Brooklyn's trendy Williamsburg neighborhood. This 100% vegan restaurant offers six varieties of pancakes, including the "Sunday Morning," topped with vegan fruit loops and sprinkles. For those who prefer something a little simpler, there's a classic hand-sifted pancake with the option to add fruit, chocolate chips, or marshmallows; a cinnamon swirl variety topped with candied pecans, a "Bananarama," and two different cookie-inspired concoctions. Any of these choices tickle vegan and non-vegan taste buds alike. There's even a gluten-free Belgian waffle on the menu. Fresh-squeezed juices, tofu scrambles, and bottomless coffee keep everyone happy.
Pancakes Kids Flip For
Norma's — Midtown
Norma's, located inside Parker New York, is a bit fancy but worth it. While there's no kids' menu per se, the menu is chock-full of favorites like "irresistible banana-macadamia nut flap jacks" and pineapple-topped "Nutella-packed jacks." You'll find five French toast options and a gluten-free pancake stack, too. The prices run a little high, so this might be best for a special occasion. According to Norma's, they like kids "more than whipped cream," so the experience will not disappoint!​
Big Daddy's — Gramercy Park
What this kitschy spot lacks in ambiance, it makes up for with over-the-top flavor combinations. Take the "Berry Berry Yummy Pancakes," which are topped with not one...not two...but three different berry varieties. "Birthday Cakes" are perfect for your next milestone celebration and crafted from cake batter with sprinkle toppings. Your kids are likely to love this kid-friendly spot.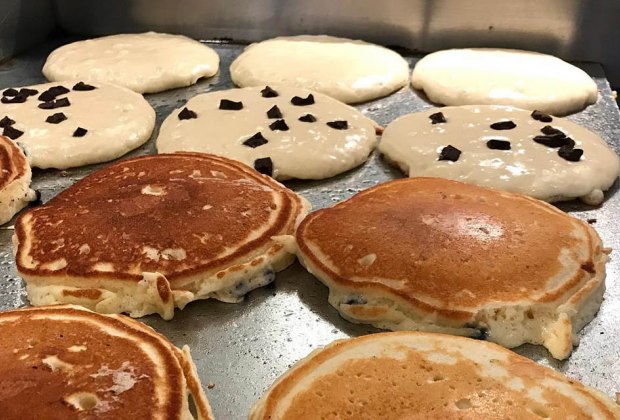 Try the Chocolate Chunk Pancakes at Clinton Street Baking Company.

Pancakes Sure to Satisfy All Taste Buds
Clinton Street Baking Company — Lower East Side
If you haven't yet discovered this narrow LES bakery and brunch spot known for its pies, biscuits, and yes, pancakes, we're here to educate you. It's known for having the best blueberry pancakes—a hard title to come by in foodie-friendly NYC. Not in the mood for wild Maine blueberries surrounded by a perfectly plump pancake? Try the banana-walnut or chocolate-chunk versions. Each stack arrives with a side of warm maple butter. Clinton Street Baking Company celebrates Pancake Month each February by adding a new flavor weekly. Just check out the Pancake Month Menu and let your mouth water with anticipation. Warning: The place is small, like everything on the LES, and popular, so the lines get really long. Put your name in and let the kids walk around while you wait it out.
Best Pancakes in Brooklyn
Café Luluc — Cobble Hill
This French bistro is known for its donut-like pancakes. The round, sweet cakes are sprinkled with powdered sugar and served with real maple syrup. Beware: This spot is cash-only and can get crowded at brunch.
Tom's — Prospect Heights
This Brooklyn gem boasts some of the best pancakes in the family-packed borough. Kids can choose from lemon ricotta, strawberry, chocolate chip, banana nut, or a plate of silver-dollar pancakes. The homemade butter alone is worth the trip. The lines get long on the weekends, so if you can manage a weekday trip, you'll get in faster and enjoy a slightly quieter meal. Kids love the colorful and cozy environment. We played "I-spy" while we waited for our food because there's tons to look at on the walls! Tip: This old-school spot is also cash-only.
Best Pancakes From a Chain
Serafina — Multiple Locations
This beloved NYC spot offers delicious lemon-ricotta stacks served with fresh raspberries and candied lemon that the entire family can enjoy. Plus, there are 10 locations across the city, so you're never too far from enjoying a scrumptious snack.
RELATED: Family Restaurants in NYC With Fun Things for Kids to See and Do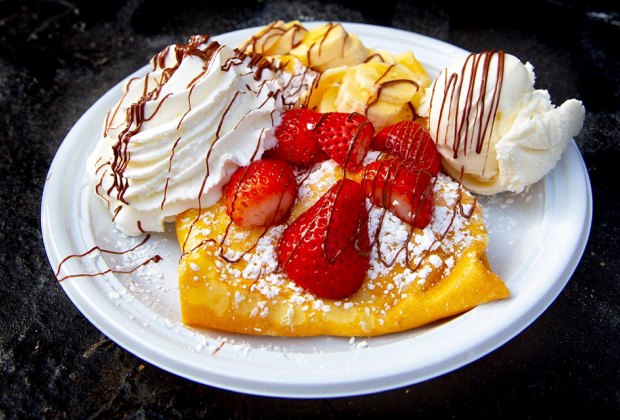 Eat a Parisian-style breakfast at Creperie NYC.
Crepes for the Win
Creperie NYC — West Village, Lower East Side
If you prefer your pancakes thin and crispy rather than thick and fluffy, crepes are just the ticket. Creperie NYC is the best in town. It offers 57 varieties of crepes, including sweet, savory, veggie, and multiple chocolate fillings. The place is small, so be prepared to take your crepe to go or opt for delivery if you're lucky enough to live nearby. You and your kids will be living it up Parisian style in no time!
If pancakes aren't your thing, consider opting for another kid-pleasing breakfast treat and taste testing these donut spots. Find more kid-friendly dining recommendations in the Mommy Poppins Restaurant Guide.
All photos courtesy of the restaurants. A previous version of this story was published in September 2015, but it has since been updated.