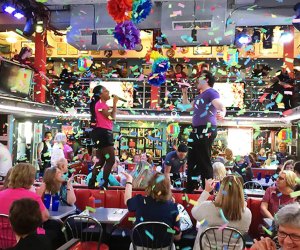 Family Restaurants in NYC with Fun Things for Kids to Do and See
Whether you're in need of a night off from cooking, or you're out and about in NYC and need a place to refuel, there's no shortage of family-friendly restaurants in NYC. Sometimes, though, it takes more than just a kid-friendly menu to get through a night out with your sanity intact. Food halls are one option, as are play cafes. But we've also rounded up 11 NYC restaurants that serve kid-friendly eats alongside extra special fun things for kids to do and see, with kid-pleasing entertainment that ranges from ninjas to video games to kittycats.
Action Burger – Williamsburg, Brooklyn
292 Graham Avenue at Powers Street
This nondescript corner joint looks like just another neighborhood burger spot, but get closer and you'll catch a glimpse of old-school arcade games guarding the entrance. Inside, posters and newspaper clippings celebrate comic characters and gaming culture. A walk-up counter lets you order "hero" (healthy) or "villain" (greasy, diner goodness) foods. While you wait for your order, your family can play their fill of classic board games or action-packed video games.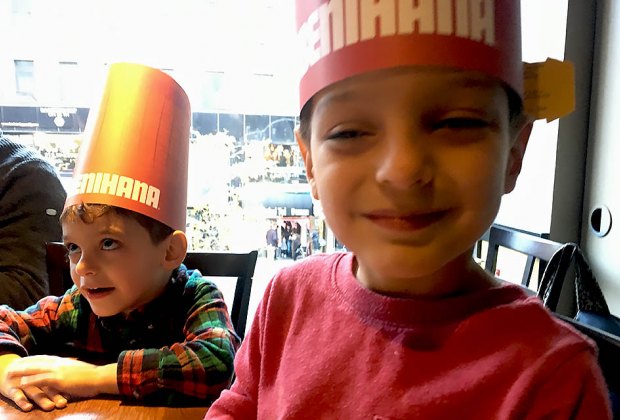 At Benihana grab your chef hat and watch your meal being prepared right at your table.
Benihana – Midtown West
47 West 56th Street between Fifth and Sixth Avenues
Yes, it's a chain, but these pioneers of American hibachi know a thing or two about cooking as live entertainment. My 5-year-old was thrilled to pieces by the flaming onion volcano and when our chef flipped a piece of zucchini at him, we thought his laughter might never stop. With a substantial kids' menu, Benihana is worth a visit if you're in Midtown and looking for a refuel stop.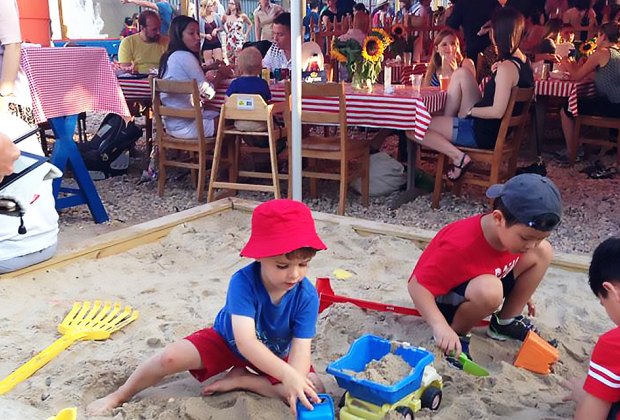 You feel like you're at the beach when dining at Brooklyn Crab.
Brooklyn Crab – Red Hook, Brooklyn
24 Reed Street
Brooklyn Crab has that Maryland crab-shack vibe, and offers delicious dishes featuring its namesake crustacean along with salads and sandwiches, plus beers and cocktails. It's always one of our top picks for places to eat with kids when the weather warms. There are massive outdoor seating areas on three levels with awesome views of New York Harbor and the Statue of Liberty, but the best part is the seasonal backyard, featuring an eight-hole miniature golf course, bean bag toss, and a sandbox.

You can't beat watching the amazing waitstaff at Ellen's Stardust Diner.
Ellen's Stardust Diner – Midtown West
1650 Broadway at 51st Street
If big, fun and noisy is your thing, you'll love Ellen's singing waitstaff. The servers, all clad in retro duds like poodle skirts and bowling shirts, leap onto the tables at this family-friendly diner to belt out Broadway show tunes, new and old. As you can imagine, this theater district diner gets pretty crowded with tourists starting around 5pm, so make it an early bird dinner. There's even a kids' menu with the usual fare like chicken nuggets, hot dogs, mac and cheese, and fries.
Good Day Play Cafe – Park Slope, Brooklyn
591 Fifth Avenue
While Good Day Play Cafe is better suited to a quick snack or an afternoon cuppa joe than a full sit-down meal, this play space tucked into a quiet corner of action-packed Park Slope manages to balance good food, an inviting ambiance, and strong coffee with a kid-friendly play area to create a place adults and children can genuinely enjoy. You'll pay a la carte for food, and be forewarned, time in the spacious (clean!) play area comes at a premium, charged by the hour.
RELATED: Brooklyn and Queens Beer Gardens Where Kids Are Welcome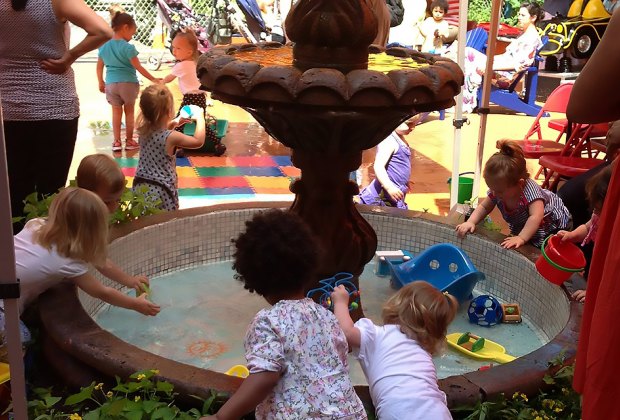 Habana Outpost frequently hosts free family events and has a spacious outdoor courtyard for kids to run around in.
Habana Outpost – Fort Greene, Brooklyn
757 Fulton Street
Open seasonally, this outdoor eco-eatery specializes in Cuban and Mexican cuisine, but also offers ubiquitous kid-friendly staples like hot dogs, burgers, and fries. There's a spacious courtyard, which frequently hosts free family-friendly events. Find the details on its blog.
Jekyll and Hyde – Greenwich Village
91 Seventh Ave South
If you're looking for a spooky good time, dine with vampires, mummies, and monsters at Jekyll and Hyde. Kids will get a kick out of wax figures that come to life and sinister desserts like Death by Chocolate cake.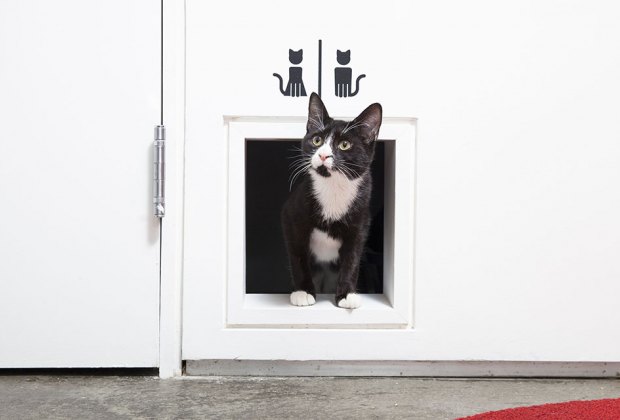 Pop into the cat cafe for a little family playtime. Photo by David Williams for Koneko
Koneko – Lower East Side
26 Clinton Street
One of the many cat cafes popping up in the city, Koneko offers entertainment that's hard to beat: cuddle time with a furry feline. You can have light nosh in the adjacent cafe, or purchase your snacks and bring them into the multilevel cattery to dine while you play. Reservations for the cattery are required and cost $20/hour. Children ages 12 and younger must be accompanied by an adult.
RELATED: Kid-Friendly Waterfront Restaurants in NYC for Dinner with a View

Dine in this ninja village at Ninja New York.
Ninja New York – Tribeca
25 Hudson Street at Duane Street
This dining spot is perhaps best saved for the bravest diners with more adventurous palates. Upon entering, you're whisked away to a feudal ninja village. Be on your guard, because you're never sure when a ninja might appear out of nowhere in an attempt to test your mettle. Tables are situated in private dining rooms and the Japanese-themed menu includes plenty of sushi options, as well as some other crowd-pleasers, like burgers, mac and cheese, and teriyaki chicken. Any item on the menu with a ninja star is accompanied by some sort of show upon delivery to your table. Speaking of shows, a ninja magician will be sure to stop by while your party dines. Check out our full review.
The Roxy Hotel – Tribeca
2 Avenue of the Americas at Walker Street
If it's a relaxing brunch the heart desires, the vibe at The Roxy Hotel's Roxy Lounge is decidedly laid-back, with comfy couches enveloping diners in an area more reminiscent of a plush living room than a sit-down establishment. Adding to the relaxed atmosphere: Kids can catch a flick in The Roxy Cinema downstairs, which screens a mix of adult-oriented and kid-friendly films (check their schedule, which updates frequently).​
Serendipity 3 — Lenox Hill
225 East 60th Street, between Second and Third Avenues
This "restaurant and general store" is wall-to-wall eye candy, with opulent light fixtures and kooky artwork occupying every inch of decorateable space. The menu is best known for its over-the-top sundaes and signature "Frrrozen" drinks, along with burgers, sandwiches, and snacks. This small spot can get crowded, so reservations are recommended.
Photos courtesy of the restaurants unless otherwise noted
A version of this article was first published in 2012; it has been updated for 2019. Katie Nave Freeman contributed additional reporting.