Family Restaurants in NYC With Fun Things for Kids to Do and See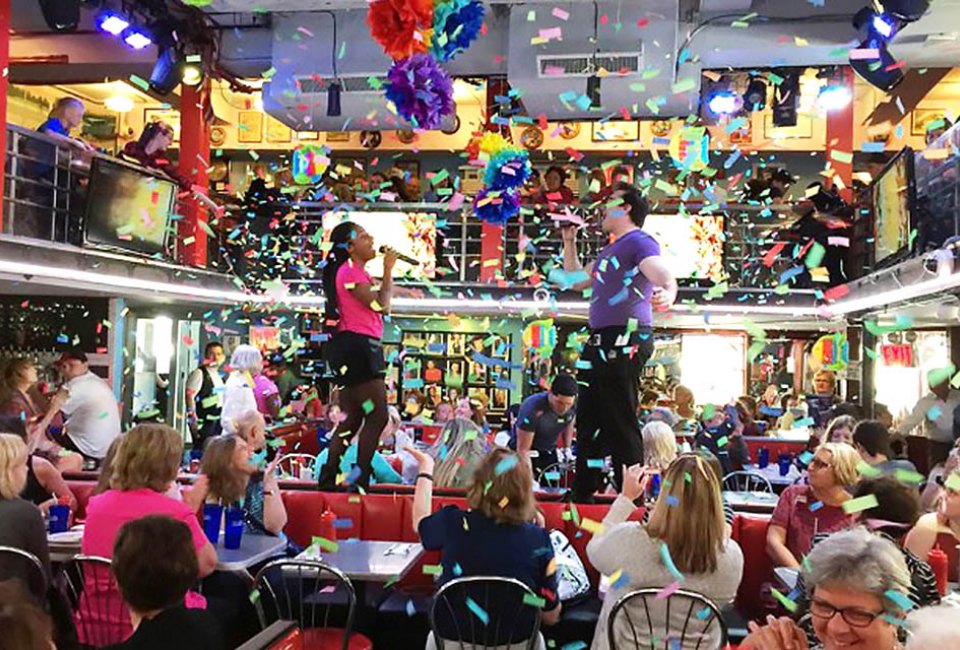 2/10/22
- By
Jody Mercier
Whether you need a night off from cooking, or you're out and about in NYC and need a place to refuel, there's no shortage of family-friendly restaurants in NYC. Sometimes, though, it takes more than just a kid-friendly menu to get through a night out with your sanity intact. Food halls are one option, as are play cafes. But we've also rounded up 11 kid-friendly restaurants with entertainment in NYC. Enjoy everything from video games to kitty cats alongside kid-friendly eats. Read on for our picks and find all our top options for dining out in our Kid-Friendly Restaurant Guide.
Subscribe to our newsletters to get stories like this delivered directly to your inbox.
Keep in mind, to dine indoors, guests ages 5-11 must show proof of at least one dose of a COVID-19 vaccine; guests ages 12 and up must show proof of two doses. In addition, guests 18 years old or older, must show proof of identification. Reservations are recommended as many spaces have limited capacity.
292 Graham Avenue at Powers Street
This nondescript corner joint looks like just another neighborhood burger spot, but get closer and you'll catch a glimpse of old-school arcade games guarding the entrance. Inside, posters and newspaper clippings celebrate comic characters and gaming culture. A walk-up counter lets you order "hero" (healthy) or "villain" (greasy, diner goodness) foods. While you wait for your order, your family can play their fill of classic board games or action-packed video games.
RELATED: NYC Restaurants Where Kids Eat for FREE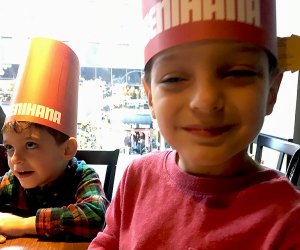 At Benihana grab your chef hat and watch your meal being prepared right at your table. Photo by Sara Marentette
47 West 56th Street between Fifth and Sixth Avenues
Yes, it's a chain, but these pioneers of American hibachi know a thing or two about cooking as live entertainment. My 5-year-old was thrilled to pieces by the flaming onion volcano and when our chef flipped a piece of zucchini at him, we thought his laughter might never stop. With a substantial kids' menu, Benihana is worth a visit if you're in Midtown and looking for a refueling stop.
RELATED: 20+ Restaurants For Family-Friendly Outdoor Dining in NYC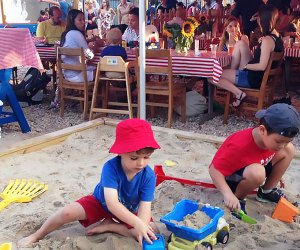 You feel like you're at the beach when dining at Brooklyn Crab.
24 Reed Street
Brooklyn Crab offers that Maryland crab-shack vibe with delicious dishes. The highlight, of course, is the namesake crustacean but you'll also find delicious salads and sandwiches, plus beers and cocktails. It's always one of our top picks for kid-friendly dining outside when the weather warms. There are massive outdoor seating areas spanning three levels with awesome views of New York Harbor and the Statue of Liberty, but the best part is the seasonal backyard, featuring an eight-hole miniature golf course, bean bag toss, and a sandbox.
1650 Broadway at 51st Street
If big, fun, and noisy is your thing, you'll love Ellen's singing waitstaff. The servers, all clad in retro duds like poodle skirts and bowling shirts, leap onto the tables at this family-friendly diner to belt out Broadway show tunes, new and old. As you can imagine, this theater district diner gets pretty crowded with tourists starting around 5pm, so make it an early bird dinner. There's a kids' menu with the usual fare like chicken nuggets, hot dogs, mac and cheese, and fries.
RELATED: Brooklyn and Queens Beer Gardens Where Kids Are Welcome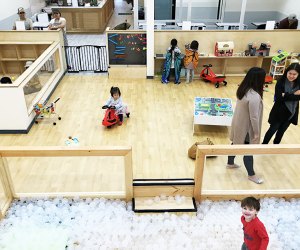 Good Day Play Cafe offers a perfect combination of snacks and a play space. Photo by Louise Trappaso
591 Fifth Avenue
While Good Day Play Cafe is better suited to a quick snack or an afternoon cuppa joe than a full sit-down meal, this play space is tucked into a quiet corner of action-packed family-friendly Park Slope and manages to balance good food, an inviting ambiance, and strong coffee with a kid-friendly play area to create a place adults and children can genuinely enjoy. You'll pay a la carte for food, and be forewarned, time in the spacious (clean!) play area comes at a premium, charged by the hour.
91 Seventh Avenue South
If you're looking for a spooky good time, dine with vampires, mummies, and monsters at Jekyll and Hyde. Kids get a kick out of wax figures that come to life and sinister desserts like a Death by Chocolate cake.
RELATED: Kid-Friendly Waterfront Restaurants in NYC for Dinner with a View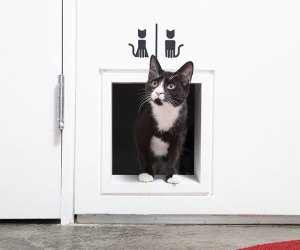 Pop into the cat cafe for a little family playtime. Photo by David Williams for Koneko
Koneko – Lower East Side
26 Clinton Street
One of the many cat cafes in the city, Koneko offers entertainment that's hard to beat: cuddle time with a furry feline. You can have light nosh in the adjacent cafe, or purchase your snacks and bring them into the multilevel cattery to dine while you play. Reservations for the cattery are required and cost $20/hour per person. Children ages 12 and younger must be accompanied by an adult.
102 West 73rd Street
156 East 64th Street
43 Hicks Street
One of our favorite spots to enjoy high tea, this cozy café is an enchanting place to bring kids. With three NYC locations, including the Brooklyn-based Alice's To Go, this magical spot serves up treats from its "Menu for the Small" featuring items like peanut butter and jelly, cookies and milk, or sliced apples with peanut butter or Nutella. The "Wee Tea" includes a pot of tea or other beverage, one scone, a choice of any children's menu item, and dark chocolate mousse. Kids will also love the butterfly wings decorating the restaurant; you can even borrow a pair during your visit or buy a set in the gift shop. Each outpost is small, so expect a bit of a wait.
RELATED: The 18 Most Insane, Must-Try NYC Desserts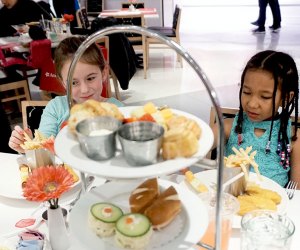 American Girl Café. Photo by Jody Mercier
75 Rockefeller Plaza
Located inside the recently-relocated American Girl store, this Rockefeller Center spot is an American Girl fan's dream come true. The 38,000-square-foot store features a popular cafe serving brunch, lunch, afternoon tea, and dinner, but the real draw here is the chance for little ones to include their dolls in the fun. The restaurant even provides a clip-on highchair and complete place setting for each accompanying doll. There are also extra dolls on hand for anyone who doesn't have one.
2 Avenue of the Americas at Walker Street
If it's a relaxing brunch the heart desires, the vibe at The Roxy Hotel's Roxy Lounge is decidedly laid-back, with comfy couches enveloping diners in an area more reminiscent of a plush living room than a sit-down establishment. Adding to the relaxed atmosphere: Kids can catch a flick in The Roxy Cinema downstairs, which screens a mix of adult-oriented and kid-friendly films (check their schedule, which updates frequently).​
RELATED: Essex Market With Kids: Specialty Shops, International Eats and Treats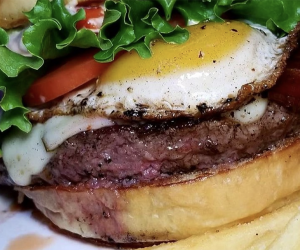 Dig into the nice, juicy Edward Burger Hands at Beetle House NYC.
306 East 6th Street
It's Halloween every day at this spooky East Village mainstay. Kids and teens who like a fright (it's recommended for ages 10 and up), will love the movie memorabilia decor inspired by films such as Edward Scissorhands and The Nightmare Before Christmas. The menu includes themed options like Edward Burger Hands, Cheshire Mac & Cheese, and Poison Berry Lemon Bars. As you dine, you'll to see Beetle Juice himself wandering around. Note: The restaurant is very small and reservations are required.
Unless noted, photos courtesy of the restaurants
A version of this article was first published in 2012.