NYC Cat Cafes: Kids Can Visit, Adopt, and Pet Furry Felines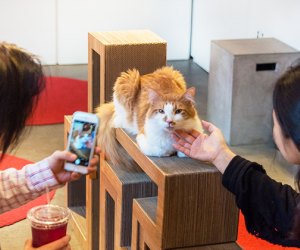 Cat cafes are big in Japan, and it only makes sense that they're catching on in New York City, as well. After all, cats are the ideal apartment pet, and in a big, sometimes anonymous city, it can be comforting to spend some time with feline companions. If your kid is cat-crazy, but you can't commit to ownership, cat cafes may be the ideal solution.
And even if you already own a feline or two, cat cafes are still a fun place to explore your inner cat lady (or cat man). It's a great option for a family winter outing, especially for mature kids, tweens, and even teens, and we've got the scoop on three cat cafes that call the Big Apple home.
Really crazy for cats? Check out the upcoming Cat Camp, an adoption and conference about all things feline happening this March in Chelsea. You might even get to meet the internet famous Lil Bub.
As a note to hopefully avoid tears, make sure your kids understand that even if you do choose to adopt a cat, you won't be walking out with one same-day. All adoptions involve forms, screenings, and home visits.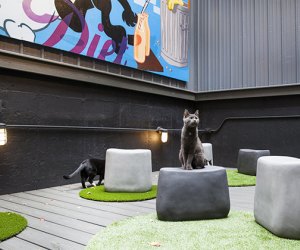 Koneko has a lovely outdoor space. Photo by David Williams/courtesy of the venue.
​Koneko — Lower East Side
26 Clinton Street
Koneko means kitten in Japanese—a fitting name for the first Japanese-style cat cafe in Manhattan. My daughter and I made reservations online, then checked in upon arrival with the friendly barista who directed us to the glass wall at the back, behind which the cats live. After a "cat host" greeted us and gave us the rules rundown, we sanitized our hands and were set free among the felines. The cats live in a two-level duplex, with an outdoor "catio" available for both cat and human lounging in nice weather. All the cats (13 total the day we visited) had been rescued from euthanasia by Anjellicle Cat Rescue, Koneko's partner organization. All felines are available for adoption and are usually snapped up quickly. If you'd like to adopt, fill out an application with references. Once approved, pay $125 for a cat who has been spayed or neutered and microchipped. Expect a home check when your new pet arrives, courtesy of the shelter.
Koneko also offers birthday party packages for 10-20 kids. Its website notes that children 12 and under will require special planning and adult supervision, but even during regular cat visits, parents must accompany children 12 and under and must make reservations for anyone 18 and under. Visits are $20 per person per hour, and online reservations are strongly suggested.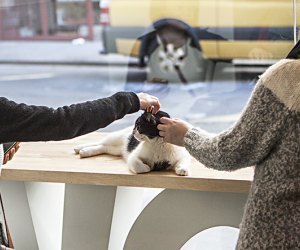 Visit the cats at Meow Parlour, and then grab a nosh at the adjacent cafe. Photo by Ethan Covey/courtesy of the venue.
Meow Parlour — Lower East Side
Meow Parlour, which we visited when it opened, is another great place to scope out cats for adoption, or just hang out with some furry friends. Purchase baked goods at cat-free sister act Meow Parlour Patisserie—located in a separate space around the corner—then make your way to Meow Parlour to enjoy your treat in the company of cats. Meow Parlour teams with KittyKind, an all-volunteer, no-kill rescue group, and also offers adoptions. Like Koneko, it's a process that involves an application, references, fee, and home visit.
Meow Parlour offers varying rates depending on age range and length of visit. Kids under 16 must be chaperoned and children 10 and under have specific and limited visiting times. Accompanied kids 12 and over can attend a Yoga & Kitties class, which includes 30 minutes of cat playtime and 60 minutes of yoga and cool down. There's also Cats and Comedy Night, although that's probably best suited for teens and up. Advance registration for any visit is required. See Meow Parlour's website for a full list of events.
Brooklyn Cat Cafe — Brooklyn Heights
This is the only cat cafe owned and operated directly by an animal shelter, the Brooklyn Bridge Animal Welfare Coalition. It grew out of a pop-up shop in Fort Greene that became permanent. Obviously, adoption is a focus, and they run a lot of fun events, like a cat-focused classic movie every third Friday. See all events here. And if you want a cat fix without a visit, there's a kitten cam! Cafe time is a flat $5 per hour, regardless of age, although all children under 13 must be accompanied by an adult, and a guardian must sign a release for every person under 18. This cafe seems to be the most flexible for children: there are no specific restrictions on kid visiting hours and there are many kid-oriented activities. Reservations are not required, but are recommended so you won't be turned away if the cafe is at capacity.
All in all, a visit to a cat cafe is an outing I'd highly recommend. Although none of these cafes have a lower age limit, children should be old enough to follow guidance and respect animals who might bite or scratch if provoked. It's also important to let kids know they can't pick up the cats (it's too stressful for them to be picked up all day) and that pulling tails is a no-no.
Top photo: Grab a cool drink and chill with cats at Koneko. Photo by Phillip van Nostrand/courtesy of the venue.