The Adventures of Tortoise & Hare The Next Generation
The Sheen Center

The Very Hungry Caterpillar Show
DR2 Theatre

NYC Easter Brunch Cruise 2023
Event Cruises NYC
Sign up for our free newsletters.
Meow Parlour, NYC's First Cat Cafe: What You Need to Know Before Visiting with Kids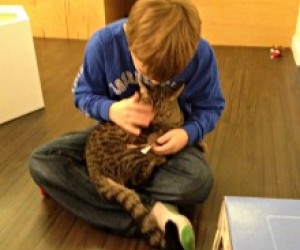 3/1/15
- By
Stephanie Ogozalek
My ten-year-old son loves animals and has been begging us to adopt a cat for about a year now. (Currently we only have a millipede and she's not exactly cuddly.) But since I'm not sure my kid is quite ready to take on the responsibilities of pet ownership, I decided we'd start with a trip to the recently opened Meow Parlour instead.

Meow Parlour is a cat cafe where you can grab a treat and play with adoptable felines in a cozy environment. These establishments have been super popular in Asia and Europe for years, and though Meow Parlour is the first permanent cat cafe in NYC, we expect more of these animal eateries to pop up around town. Little Lions is planning to open this spring and there are rumors of a dog cafe on the way, too.

While my son really enjoyed his visit to Meow Parlour, there are some important things to know before you go with kids. We've got the scoop on this cute kitty experience.
Since NYC health regulations don't allow food preparation and sales in a place with animals, this cat cafe is divided into two locations: the Meow Parlour Patisserie where you can pick up coffee, tea and pastries, and the actual Meow Parlour around the corner where the cats romp. Macaron Parlour pastry chef, Christina Ha, co-founded Meow Parlour so there are adorable, cat-shaped treats and traditional baked goods. The owners hope to add delivery service from the cafe to the parlour soon but for now you have to tote your own treats.

The cat club is a fantastic experience for kids and the kitties. The parlour is clean, bright and relaxing, with a dozen or so cats roaming, sleeping and playing throughout the space. The cats have lots of toys, places to climb, scratching posts, sunny snoozing spots and ways to escape overzealous visitors. Since children under age 11 can't visit during general hours, my son and I went during one of the special kids' sessions when friendly adult helpers share tips on how to interact with the cats, and explain all the important rules. When our hour was up, my son didn't want to leave without Liza, the cat he befriended.

All the furry felines at Meow Parlour are available for adoption through KittyKind, a nonprofit, no-kill cat rescue group based in NYC. However, as my son found out, the adoption process isn't instantaneous. KittyKind requires an application, fees, reference letters and a home visit before you can adopt one of its cats, even the ones at Meow Parlour. So before you visit, make sure your kids understand that they won't be walking out with any of the kitties.

Meow Parlour's kids' sessions for children under age 11 take place on Monday, Tuesday and Thursday 3 to 5pm, and the third Sunday of the month between 11am-noon. The cost is $12 per child-adult pair for one hour. If you're visiting with children ages 11 and up, the cost is $4 per person for 30 minutes.

Sessions must be reserved online in advance, you can't just show up. Reservations can be booked up to 60 days in advance and fill up fast, especially the kids-only sessions. Follow Meow Parlour on Facebook for updates on any of these policies.
Meow Parlour is located at 46 Hester Street between Ludlow and Essex Streets. Meow Parlour Patisserie is located at 34 Ludlow Street between Hester and Grand Streets.

Ready to adopt a cat? Check out our post about the best NYC animal shelters.