Hang with Animals at These Cozy Indoor Spots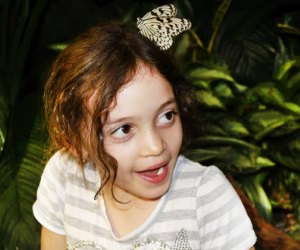 2/5/16
- By
Raven Snook
Kids are innate animal lovers—we bet all parents go through that phase when they're convinced their child is going to grow up to be a veterinarian. But in wintertime when all living things in New York City seem to be hibernating, it's tough to indulge kids' craving for creatures beyond the ever-present subway rats. And who wants to pet one of those?! That's why we rounded up the best places to get up close and personal with animals in cozy, indoor environments. Here's where you can hang with cool cats, beautiful birds and butterflies, and even "adopt" a critter without ever having to take it home.
The Art Farm in the City — Upper East Side
419 East 91st Street between First and York Avenues
We're longtime fans of this one-of-a-kind indoor farm and play space, which offers lots of ways for kids to connect with animals. There are a variety of drop-in programs featuring cuddle time with live bunnies, chinchillas, guinea pigs, lizards, turtles and birds, as well as occasional special guests like pigs, chickens and goats. Willing to make a commitment? Art Farm offers Animal Care Classes for children ages 4 to 7, or you could even opt to have a part-time pet that lives at the play space, not your apartment.
Nature Centers in NYC Parks — Citywide
Although the Parks Department's Nature Centers don't offer regular drop-in hours until spring, many host special events in winter that include face time with their residents like snakes, turtles, walking stick bugs, roaches and fish. During the February public school break (February 15-19), the Urban Park Rangers are hosting Kids Week activities every weekday throughout the five boroughs, some of which are indoors at these centers. Check the Parks Department website for a comprehensive list of locations and events. Meanwhile, two independent environmental centers offer indoor animal encounters. At Brooklyn Bridge Park's recently opened Environmental Education Center (99 Plymouth Street), families can drop in after school on select weekdays and every weekend afternoon to gaze at striped bass, a horseshoe crab, oyster toad fish, gray snappers, a channel whelk and porgis in the East River Aquarium. They can even pet some of the aquatic critters in the attached touch tank. Meanwhile, the Creature Feature area boasts Asian shore crabs, millipedes, black sea bass and a turtle. Finally, Queens' Alley Pond Environmental Center (228-06 Northern Boulevard) offers a host of weekend kids' programs like Vet Tech and Animal Care Trainee when you can tend to the spot's pets, including ferrets, rabbits and turtles.
RELATED: Animal Care Classes for Kids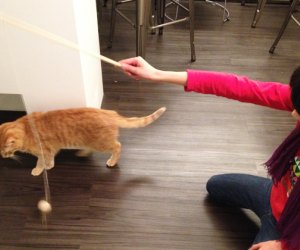 Play with the adoptable cats at Meow Parlor. Photo by Stephanie Ogozalek.
Cat Cafés — Soho & Lower East Side
Downtown has gone to the cats! The neighborhood boasts three cat cafés: Koneko (26 Clinton Street), Little Lions (40 Grand Street) and Meow Parlour (46 Hester Street). All three require advance reservations for families to come in and play with friendly shelter kitties. You can even go about adopting one! Note that Meow Parlour and Koneko have specific visiting hours for kids and their adult companions. Meanwhile, Little Lions welcomes children ages 6 and up at any time, but turns away preschoolers. All three have a slew of rules to keep both kids and kitties safe, so be sure your child is ready for this experience before you spend the money on entry. And in case you're wondering about NYC's rumored dog café, sadly, it looks like the organizers couldn't raise the money to open.
The Butterfly Conservatory at the American Museum of Natural History — Upper West Side
Central Park West at 79th Street
Open seasonally from September to May, this sensational live butterfly exhibit invites you to get up close with these delicate insects, whose spots and colors rival a peacock's. Kids are encouraged to look at specimens through magnifying glasses and, if you're lucky and wearing bright clothing, one might even perch right on you. In addition to the gorgeous butterflies, you're surrounded by stunning tropical flowers. Good luck getting your kids out of this room heated to a steamy tropical temp.
RELATED: Adopting Shelter Pets in NYC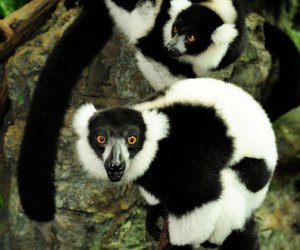 Back and white lemurs hang at the Central Park Zoo. Photo by Julie Larsen Maher/courtesy Wildlife Conservation Society.
NYC Zoos — Citywide
Don't count out the Big Apple's zoos. Except for the Queens Zoo, which is entirely outside, NYC's other five animal havens feature indoor exhibits, some of which are downright balmy. Marvel at exotic birds and lush green foliage in the Central Park Zoo's Tropic Zone: The Rainforest (64th Street and Fifth Avenue), a two-tiered, indoor jungle that's also home to sapphire-colored poisonous frogs and lemurs. Kids can connect with a variety of live critters and even play vet at the Prospect Park Zoo's preschooler-friendly Discovery Center (450 Flatbush Avenue, Brooklyn), which is open on weekend afternoons. Much of Coney Island's New York Aquarium (602 Surf Avenue, Brooklyn) is indoors, notably Glover's Reef in Conservation Hall filled with eye-popping marine life. The Bronx Zoo's JungleWorld (2300 Southern Boulevard) is a stunning Asian jungle featuring ebony langurs and white-cheeked gibbons swinging through the trees. And the majority of the Staten Island Zoo (614 Broadway) is indoors, notably the Africa Wing, the Tropical Forest Wing and the Reptile Wing.

Animal keepers like reptile keeper, Matt Lanier, are eager to share their knowledge with visitors. Photo courtesy Staten Island Zoo.
Top image: Butterflies roam free at the American Museum of Natural History's Butterfly Conservatory, and some will even land on you! Photo by the author.