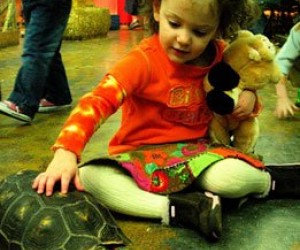 The Art Farm Drop In or Drop Off
The Art Farm is another one of the unique places for kids in New York City, an indoor farm with a wide variety of animals including bunnies, chinchillas, hamsters, guinea pigs, lizards, turtles, birds, and tropical fish. Children can touch, feed and hold the animals, as well as participate in many other activities.
I know The Art Farm best for their show-stopping birthday parties, but they also offer playgroup classes for toddlers, Mommy and Me classes and Farm Helper/Animal care classes for children up to the age of 8 years and I just found out about their drop in/drop off program, what they call their Open House program.
The Art Farm is the type of place a lot of parents might be skeptical of. In fact, I can't tell you how many times I've heard a parent return from their first visit there and say something to the effect of, "I have to admit, it was really great"??"and I have only ever heard rave reviews.

The Art Farm Open House is perfect if you don't want to make the time or financial commitment to a full semester of classes, but want to check out and enjoy some special Art Farm fun.

Drop in on Mondays, Wednesdays and Fridays for 2 hours of baking, making art, singing, and, of course, learning about, snuggling and feeding the animals. Ages recommended 1 to 5 yrs. Drop-off is available for children aged 2 and up.

All this wonderfulness isn't cheap. A one-time visit is $45. But if you consider that it's including a two-hour class, the animals and you can drop-off, it could be worth it for a unique experience. Discounts are also available for children registered in Art Farm classes and multi-visit value packs can be purchased (all passes are transferrable so you can buy a value pack with a bunch of friends for a discount). Thes programs also help to support homeless animals in NYC.

For a less expensive way to visit, start your weekend with a morning on the farm. From 8:00 - 10:00 a.m. Saturdays & Sundays drop in for a visit to the farm to feed, pet and snuggle the animals for just $15 a visit. Sounds like a pretty pleasant way to ease in to the day.

The Art Farm in the City
419 East 91st Street
info@theartfarms.org
212-410-3117

Find more great activities like this in our
.
The Art Farm
419 E. 91st St.
New York, NY 10128