The Adventures of Tortoise & Hare The Next Generation
The Sheen Center

The Very Hungry Caterpillar Show
DR2 Theatre

NYC Easter Brunch Cruise 2023
Event Cruises NYC
Sign up for our free newsletters.
The Cat's Meow: Brooklyn's First Cat Cafe Pops Up in Fort Greene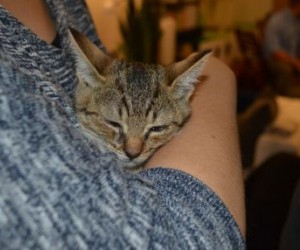 9/28/15
- By
Diana Kim
Attention feline lovers, Brooklyn now has its very own pop-up cat cafe. Earlier this year we told you all about Meow Parlour, NYC's first cat cafe. Now, Brooklynites can head to The Cat's Meow in Fort Greene to meet, play with—and possibly adopt—some very adorable cats and kittens. Naturally, a cat cafe is a huge hit for kids and families, so we decided to check it out. Read on to find out what to expect, when to visit and other useful tips.
UPDATE: This cat cafe moved into permanent digs in spring 2016 at 149 Atlantic Avenue (between Clinton and Henry Streets). It's now known as Brooklyn Cat Cafe.
The Cat's Meow is a wonderful place for anyone who loves animals, whether or not you're seriously looking to adopt a cat or kitten. The goal here is to give visitors an opportunity to interact with a dozen rescue cats looking for new homes. The Brooklyn Bridge Animal Welfare Coalition partnered with Who's Your Doggy, a local pet store, and Weruva Pet Food, to temporarily set up shop in a small storefront in Fort Greene. This intimate space is decorated with comfy chairs, rugs and tables to make the environment cozy and relaxing. Visitors are encouraged to play with the cats, hold and cuddle them, and learn about the importance of vaccinations and spaying/neutering.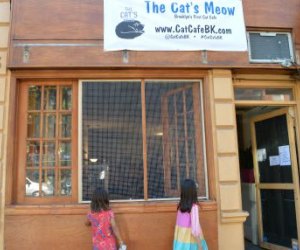 My girls couldn't wait to visit with the cats.
On my recent visit with my two kids (who've only ever had fish as pets), we befriended several different cats, including Jackie and her litter of five kittens, affectionately coined "The Jackson 5," three kitten siblings named Jack, Janet and Chrissy (named after the characters from Three's Company), and Bobbles, a kitten with a muscular disorder because its mother had not been vaccinated.
My girls absolutely fell in love with two month-old tabby kittens named Moose and Squirrel (from The Rocky and Bullwinkle Show), and I have to admit, they were the cutest things I'd seen since my girls were babies. While we opted not to adopt, we had a great time playing with the cats in such a cozy setting.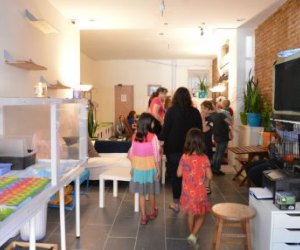 Exploring the cafe.
The cafe is offering a a slew of classes, workshops and activities during its five week-long run including author readings, yoga, gallery shows, mommy and me classes, and talks by veterinarians about vaccinations, homeopathy for pets and careers in animal welfare. Check its website for dates and times.
RELATED: Brooklyn Neighborhood Guide for Families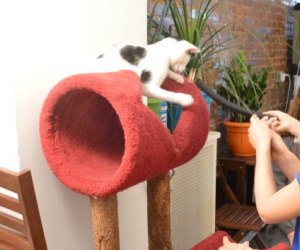 Making furry friends.
An important caveat about the cafe—similar to Meow Parlour—The Cat's Meow doesn't actually serve any drinks, pastries or food other than packaged snacks and bottled drinks due to NYC health regulations. However, visitors are welcome to bring their own drinks and snacks, or grab a treat at the cafe's nearby local partners The Brooklyn Sweet Spot and Red Lantern Bicycles.
The Cat's Meow is located at 354 Myrtle Avenue in Fort Greene through Saturday, October 24. Admission is $5 per person for a 30 minute session. It's open Wednesday-Sunday. Public hours are Wednesday, Thursday, Saturday and Sunday from 11am-5pm and on Fridays from 11am-8pm. Reservations can be made online and every visitor must complete a waiver (even children). Adoptions fees are $100 and includes vaccinations and spaying/neutering. As we mentioned above, the cafe is small, though there is a very small area for strollers.
After our visit we headed to the General Greene for lunch and ice cream. For more food options, check out Mommy Poppins' list of great family-friendly restaurants in Fort Greene.