Family-Friendly Fort Greene Clinton Hill Restaurants: Where to Eat with Kids in Brooklyn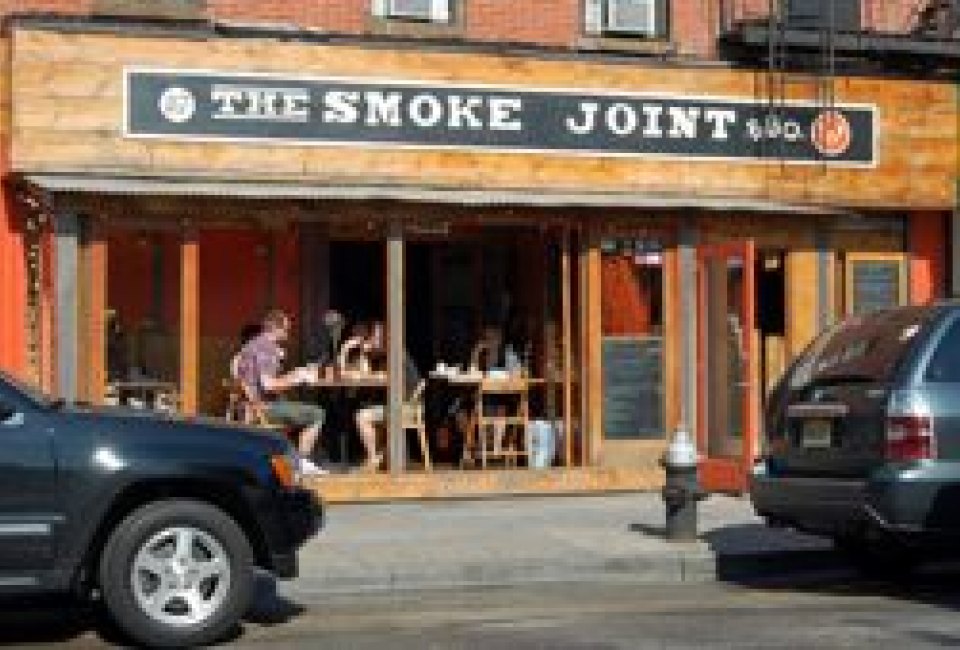 2/25/13
- By
Sarah G
Our month-long focus on Fort Greene Clinton Hill finishes up with a roundup of our favorite kid-friendly restaurants in the area. Whether you're looking to grab prepared dishes to bring to a simple picnic in Ft Greene Park, a great neighborhood joint where kids are welcome or a fancy family meal with options for picky eaters, the picturesque Brooklyn nabe has plenty of eateries to choose from, including some of my family's personal favorites. A few even host popular kids' events and activities.
Habana Outpost
757 Fulton Street between Lafayette Avenue and Hanson Place
Open in spring, summer and fall, this popular eco-eatery serves Hispanic fare and hosts cool kids' events like free annual festivals, crafts and weekly outdoor movie screenings in the backyard. Check the website for the most up-to-date info.

Mike's Coffee Shop
328 DeKalb Avenue at St. James Place
It's all about the old-school ambiance at this authentic greasy spoon, which has bills from around the world pasted on the wall behind the register. During prime weekend brunch time, this small diner can get pretty crowded so try sticking to weekdays.

Der Schwarze Kölner Biergarten
710 Fulton Street at South Oxford Street
In our playing in Fort Greene Clinton Hill post, we mentioned that this beer garden hosts a playgroup on Tuesdays and Thursdays from 2:30 to 5pm, so parents can enjoy beverages and snacks while toddlers romp on mats. Cost is $10 per kid, with a portion of the fee going toward whatever you order off the menu.

Scopello
63 Lafayette Avenue at Fulton Street
While evenings at Scopello are definitely adult-oriented, this Sicilian spot serves a nice brunch/lunch menu, including $5 kids' dishes like tot-size portions of penne with tomato or butter, or itty-bitty pancakes with bananas and whipped cream.

Chez Oskar
211 DeKalb Avenue between Adelphi Street and Clermont Avenue
In addition to grown-up specials like weeknight happy hour and Tuesday's Moules à Gogo, this cozy French bistro also offers a kids' menu with burgers and fries, grilled cheese and pasta with tomato sauce. When dining here with our kindergarten-age son, we usually stick to lunch or early dinner though since it's definitely an adult place once the sun goes down.

The Smoke Joint
87 South Elliot Place between Fulton Street and South Portland Avenue
Meat of the smoky, ultra-tender variety is the main attraction at this casual restaurant, but there are also lots of other options on the menu to tempt picky palates such as spicy fries, mac and cheese, BBQ beans and cornbread.

The General Greene
229 DeKalb Avenue at Clermont Avenue
While this Southern comfort food spot gets pretty busy during dinner hours, it's a good bet during lunch and brunch, with lots of small kid-friendly plates to pick from and yummy dessert treats like the salted caramel ice cream sundae.

Bittersweet
180 DeKalb Avenue between Carlton Avenue and Cumberland Street
This tiny coffee shop serves strong brews (coffee and tea), sandwiches and delicious pastries. When it's crowded, pick up a to-go snack and beverage before hitting Ft Greene Park. If there's room, do what my family does: Stay and sip, snack and people-watch from the tables in front of the window.

Junior's
386 Flatbush Avenue Extension at Dekalb Avenue
Yes it's true this historic restaurant has become a bit of a tourist trap thanks to its world-famous cheesecake. But after catching a family performance at BAM, it's fun to hit this nearby spot for Jewish delicacies like potato pancakes, blintzes and dill pickles.

Baguetteaboudit
270 Vanderbilt Avenue at DeKalb Avenue
Enjoy fresh breads, pastries, and a variety of soups, sandwiches and salads at this casual café/deli/bakery. During warmer months, the spot also serves frozen treats from Brooklyn Ice Cream Factory.

Black Iris
228 DeKalb Avenue at Clermont Avenue
This mellow Middle Eastern fave offers the usual falafel sandwich, hummus, kebabs and gyros but also has a selection of individual-size pitzas and fresh-baked pita bread. The assorted plate is perfect for sharing, and kids enjoy picking the five selections from the menu. Adults, you can also BYOB.

Castro's Restaurant
511 Myrtle Avenue between Ryerson Street and Grand Avenue
Chow down on big portions of simple Mexican food at low prices alongside students from Pratt. During warm months, hit the backyard patio for family-friendly alfresco dinner.

67 Burger
67 Lafayette Avenue at Fulton Street
As the name suggests, this Brooklyn mini-chain is all about yummy burgers, fries and milk shakes. The kids' menu includes selections like grilled cheese, sliders and hot dogs, and all dishes come with curly fries.

Beny's Delice
903 Fulton Street between Vanderbilt and Clinton Avenue
Pick up a coffee and a decadent European treat like crème brûlée, chocolate mousse or an eclair at this pâtisserie, or sit down and lunch from the surprisingly robust menu which includes a nice variety of soups, sandwiches and salads.

Graziella's
232 Vanderbilt Avenue between DeKalb and Willoughby Avenues
This classic Brooklyn pizza and pasta spot is large and has a friendly staff. While there's no kids' menu per se, with so many carb-heavy Italian staples, children are bound to leave Graziella's with full tummies. High chairs are available.

Pilar Cuban Eatery
393 Classon Avenue between Greene and Clifton Avenues
On top of tasty soups and sandwiches, Pilar also offers vegetarian options, rare at most Cuban restaurants. The space is tiny with just a few small tables and counter seats, so this spot is best for quick meals or take-out.

Madiba Restaurant
195 DeKalb Avenue between Carlton Avenue and Adelphi Street
This laid-back South African spot is the kind of place where, should you have a less-than-adventurous eater in your midst, you can easily make a fantastic meal out of sides like smashed potatoes, yellow rice and raisins, slap chips, roti or corn on the cob.


Read all of our posts about things to do with kids in Fort Greene Clinton Hill, Brooklyn.