Fort Greene Clinton Hill Kids' Classes and Drop-in Play Spaces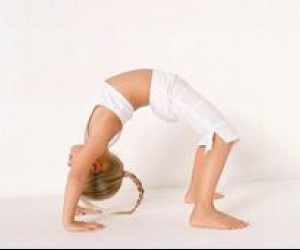 We continue our month-long focus on adjoining Brooklyn neighborhoods Fort Greene and Clinton Hill with a look at our top spots for kids' classes and indoor play. One of the busiest and biggest romping spots in the area is the beautiful Ft Greene Park, which offers playgrounds, ball courts, and lots of open lawns, hills and a huge set of stairs to explore. But there are plenty of places for kids to play and get creative indoors, too.

True to the artistic spirit of the neighborhood, many programs are focused on movement, music and art, while the drop-in tot spots are great places for the younger set to work on their budding social and motor skills. There are also spots that accommodate the whole family with Mommy & Me sessions, play groups and all-ages swim times.
Play Groups at the Co-op School
87 Irving Place between Fulton Street and Putnam Avenue
On weekday mornings, families with children ages newborn to three can mess around with toys, musical instruments and art supplies. Sessions are usually divided into pre-walkers and toddling sections. Email fgchcoopplygrp@gmail.com to see about joining the group. Semester rate varies depending on how many days a week you sign up for.

Fort Greene Park Nature Center
While the Nature Center in Ft Greene Park is modest in size, you'll still find some cool displays like rocks, shells, skeletons, pelts and even a live turtle named Charlie. The park's Revolutionary War history is also covered in the center with two cannons and other military memorabilia. The Urban Park Rangers run nature programs out of the center although often they involve going outside. Check the calendar for upcoming offerings. Everything here is free.

Greenlight Bookstore
686 Fulton Street at South Portland Avenue
This neighborhood bookshop hosts many kids' events, including free weekly storytimes for babies and toddlers on Sundays and three-to-eight-year-olds on Saturdays. Families are also welcome to curl up in a corner with a good book from the children's section.

Music Together of Fort Greene/Clinton Hill
138 South Oxford Street near Hanson Place
505 1/2 Waverly Place between Fulton Street and Atlantic Avenue
Popular program Music Together exposes preschoolers to instruments, rhythm and tone, and gets them singing and dancing. The babies and mixed-age classes are a great opportunity for tots to begin exploring social skills. A 12-week session costs $280 and two neighborhood locations are available.

Stutengarten Playgroup at Der Schwarze Kölner Biergarten
710 Fulton Street at South Oxford Street
Tuesdays and Thursdays from 2:30 to 5pm, parents can chill with drinks and snacks at this eatery while toddlers get busy playing on mats set up in the middle of the room. Cost is $10 per kid, with a portion of the fee going toward whatever you order off the menu.

Fort Greene Clinton Hill Coop Playgroup
85 South Oxford Street between Lafayette Avenue and Fulton Street
Run by parent volunteers, this weekday group offers arts and crafts, storytime, music and free play with children grouped by age. Parents and caregivers set up the rules, provide snacks and clean up after each session. Playgroup fees are determined each year based on the number of participants. Registration for the fall and spring sessions is first come, first served.

BAM
BAM Fisher, 321 Ashland Place between Lafayette Avenue and Hanson Place
Although the Brooklyn Academy of Music is usually thought of as a place to see live performances, the multi-building cultural center also has eclectic after-school programs for high-schoolers. Teens can learn about subjects like theater and film criticism, and the connection between the arts and social justice, or study dance and choreography. During spring break, BAM also hosts a special performance workshop run by renowned dance company Pilobolus. Prices vary.

Marc Morris Dance Group
3 Lafayette Avenue at Rockwell Place
This lauded dance company offers Parents and Me movement classes for the toddler set, and a whole lineup of dance classes for kids, including modern, ballet, jazz, African and tap. Try out a session for $15; after the demo, classes require a semester-long commitment and start at $235.

ConstructionKids
Building 92, Brooklyn Navy Yard, 63 Flushing Avenue between Carlton Avenue and Adelphi Street
We've raved about this spot in the past many, many times. Founded by a seasoned woodworker, the program teaches school-age kids how to design and make skateboards, figures, toy boats and more using real hammers and nails. Formerly located in Prospect Lefferts Gardens, ConstructionKids moved to its bright, state-of-the-art Brooklyn Navy Yard studio in 2012 and offers after-school classes, camps, parties and occasional one-off workshops. Prices vary.

Saturday Art School at Pratt Institute
200 Willoughby Avenue between Hall Street and Classon Avenue
The private art college also offers a wide array of top-notch classes for children ages 3 to 18 on Saturdays. Courses are taught by Pratt education students and supervised by school faculty, and cost $180 per semester.

Swim and More at LIU's Saturday Sessions
1 University Place at corner of Flatbush and DeKalb Avenues
This college also has a nice selection of kids' classes on Saturdays, including swim instruction for babies through age 12, creative movement, Mandarin and Spanish lessons, capoeira, hip-hop and karate. Most programs are $150 per semester.

City Kids Dance!
138 South Oxford Street near Hanson Place
Movement, music and storytelling are combined into fun classes like Dance & Tumble, Super Hero Adventure! and Broadway Dance at CKD, which offers programs at four NYC locations. Prices vary.

Bija Kids
900 Fulton Street between Washington and Waverly Avenues
This family yoga studio offers kids classes every day of the week for toddlers through tweens as well as art, dance, after-school, a summer camp and a preschool alternative. Drop-in sessions are $26 a pop with discounts for signing up for multiple weeks.

Brooklyn Music School
126 Saint Felix Street between Hanson Place and Lafayette Avenue
This community school for the performing arts offers group classes and one-on-one lessons in music and dance for children ages 18 months to 18 years. Prices vary.

And if you're really desperate for an indoor place for the kids to run amok, you can always hit the Chuck E. Cheese's in the Atlantic Center Mall.

Read all of our posts about things to do with kids in Fort Greene Clinton Hill, Brooklyn.