7 Cool NYC After-school Classes and Programs for Kids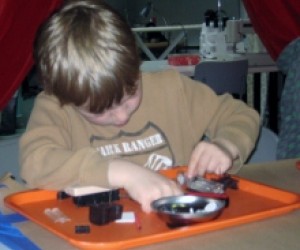 For my family, back to school means back to being scheduled. And while I've been known to gripe about my son being overscheduled, I realize he's got it pretty good when it comes to after-school classes. There are just so many awesome and enriching extracurricular programs for New York City kids these days, it's tough to choose just one (or two or three).

That's why we're highlighting seven after-school programs for NYC kids that sound exceptionally cool. We're not talking about your usual athletics and arts offerings. At these seven super-creative specialty spots, kids can build their own robots, explore genetics, design a runway collection, make their own animated flicks and enjoy more educational hands-on fun.
Storefront Science – Washington Heights
Storefront Science closed its exploratorium in October 2013 but still offers classes at a variety of other locations.
As the mom of a science-obsessed kid, Storefront Science has been on my radar since it opened in early 2012. Created by veteran science educator Dr. Leonisa Ardizzone, this exploratorium is housed in a Washington Heights storefront, where passersby can watch tarantulas and rats in the 17-foot window. Students in kindergarten through fifth grade can enroll in mixed-age after-school science clubs to learn about genetics, ecosystems, engineering, electricity, light and other scientific topics. If you don't want to commit to a weekly program, children as young as 18 months can drop into Open Exploration sessions to rotate their way through a variety of hands-on science fun, like construction and building projects, electricity stations, logic games and microscopes.

Shine at HotHead Studios – Midtown West
56 West 45th Street between Fifth and Sixth Avenues, 17th floor
Founded by Emmy nominated TV producer Karen Martin, this animation program gives kids the opportunity to learn from industry pros in a real state-of-the-art studio. Participants work on the actual equipment and software that's used in the biz and create stop-motion and hand-drawn animation projects. A pair of beginner classes, both held on Saturdays, aim to turn children ages 9 and up into independent animators. In Introduction to Animation, students find out how to make things come alive on screen and in Introduction to Sound Design for Animation voice, music and effects are added. The classes are pricey, but the classes are super small, with only two or three kids per group and the curriculum will be tailored to their abilities and interests. Read about additional animation and film classes for kids in NYC.

Fashion123 – Upper West Side
Macaulay Honors College at CUNY, 35 West 67th Street between Columbus Avenue and Central Park West
Aspiring fashionistas will love this program, which is the brainchild of seasoned designers Yoon Chang and Dorit Landau. In Fashion Illustration, students learn how to draw a human form, create mood boards and design garments. In Fashion Department, kids make their own stylish tote from start to finish, learning pattern making, garment construction and sewing skills. Finally, for Portfolio, budding designers create a cohesive four-piece collection. Read about additional fashion classes for kids in NYC.

Brooklyn Robot Foundry – Gowanus
303 Third Avenue near Carroll Street
We've been dying to tell you about Brooklyn Robot Foundry since we discovered the program at Maker Faire. Founded by mechanical engineer Jenny Young and Dave VanEsselstyn, who has a PhD in educational technology, the Brooklyn spot offers hands-on robot-building classes in its colorful storefront space. My seven-year-old took a class here and we were both really impressed with the level of instruction. The kids warmed up with a simple circuitry exercise, and then moved on to the project of the day: making brush robots that moved using cell phone vibration technology. Dave and Jenny explained high-level concepts in simple terms the kids could understand. Brooklyn Robot Foundry offers summer camp as well so check the website for the schedule. There's also a retail shop if your kids need to get their robot fix right away.

Young Artist Kollective – Hudson Square
Children's Museum of the Arts, 103 Charlton Street between Hudson and Greenwich Streets
FREE
The wonderful Children's Museum of the Arts launched this no-cost program for artsy sixth to ninth graders called YAK. Participants choose a medium, (options include screenprinting, animation, fashion design, sound recording and more) and then work with teaching artists and collaborate with their peers on projects. YAK members get exclusive access to CMA's stunning space after hours (so no little kids screaming in the Ball Pond to worry about), and participate in guest artist workshops and Art Slams. Plus all materials are provided. To apply, download an application.

Brooklyn Aerodrome – Williamsburg
181 North 11th Street between Bedford and Driggs Avenues
Unfortunately, these classes aren't being offered for 2013 Another Maker Faire find: Although Brooklyn Aerodrome has been around for a while, and last year started offering Adult-Child Flight classes in its studio and nearby McCarren Park. Children ages 10 and up and their adults learn how to build and fly a remote-control plane over two consecutive Sundays. There are only four child-adult teams per class so you get a lot of individualized attention.

SciTech Kids – Upper East Side
New York Junior League, 130 East 80th Street between Park and Lexinton Avenues
Biologist, epidemiologist and educator Kim Magloire founded this hands-on science program, which offers a variety of after-school and weekend classes for children ages 3 to 15. The goal here is to make science fun and engaging, especially for older children and girls who may have been turned off by it along the way. Instead of listening to a dry lecture, students become investigators by donning lab coats and goggles, conducting their own experiments and making their own discoveries (with a little professional guidance, of course). Activities go way beyond pouring random chemicals into test tubes. At SciTech Kids, students can study paleontology, forensics, electronics, botany and astronomy in addition to more traditional fields like biology, chemistry and physics.

Read about other awesome after-school programs for kids in our Classes Guide.