Apple Picking near NYC: Best Apple Orchards for Apple Picking with Kids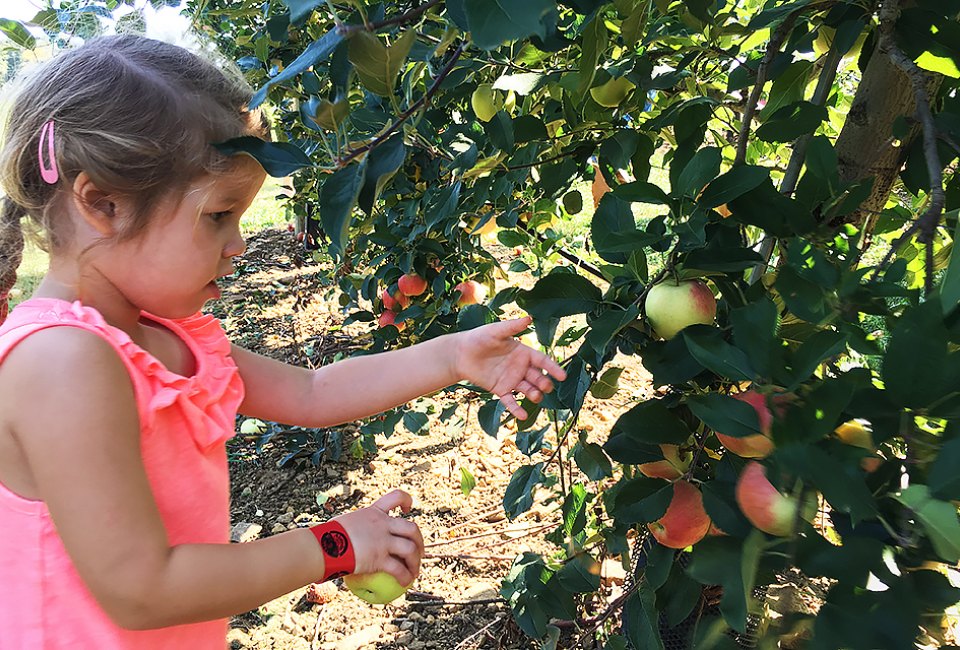 8/27/23
- By
Stephanie Ogozalek
Apple picking near NYC starts just before Labor Day weekend and continues throughout the fall, with apple orchards in the tri-state area offering families a chance to pluck a perfect fruit right from the tree. Many of these apple orchards near NYC also host cool kids' attractions, including hayrides, petting zoos with barnyard animals, bouncy houses, and corn mazes. Some even sell home-baked treats like apple cider doughnuts.
While there was a time when apple trees thrived in NYC—ever wonder how Orchard Street got its name?—city families today need to head out of town to pick their own fruit. There are plenty of wonderful apple orchards for apple picking near NYC whether you want to go apple picking in the Hudson Valley, New Jersey, on Long Island, or in Connecticut, many apple orchards require a long drive, and we know nothing derails a fun family outing like a stressful commute. So, we've rounded up 12 apple orchards for apple picking near NYC. All are an hour or less from Midtown Manhattan by car, and a few are even accessible by train.
For other fun farm outings, check out our Pick-Your-Own Guide for NYC Families.
Subscribe to our newsletters to get stories like this delivered directly to your inbox.
Best Times To Go Apple Picking near NYC
Apple picking in the Northeast typically kicks off in early September, but several farms, especially in New Jersey, have certain varieties ready for picking by mid-August. The apple-picking season lingers into early October, depending on the apple orchard. However, the popular farms closest to NYC may be picked clean before then.
Where To Go Apple Picking near NYC in New York State
About 1 hour by car from Midtown Manhattan.
The Orchards of Concklin has been a prominent fixture in Rockland County for more than 10 generations. Apple picking season begins Saturday, September 9. Each person over the age of 3 entering the orchard must purchase a 1/2-peck bag to fill. Apple picking at the Orchards of Concklin runs on weekends only.
RELATED: Apple Picking near Long Island: Best Orchards for Apple Picking with Kids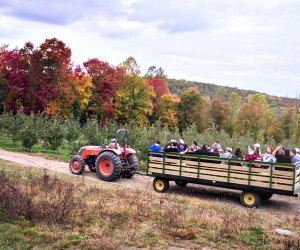 Take a tractor ride to the apple-picking orchard at Harvest Moon Farm & Orchard. Photo courtesy of the farm
About 1 hour by car from Midtown Manhattan. Also accessible via Metro-North.
Formerly part of Outhouse Orchards, this family-run farm allows visitors to pick their own apples beginning around Labor Day. The farm hosts a fall festival on weekends in September and October where families can enjoy a pumpkin patch, pony rides, face painting, bouncy houses, and other carnival-like fun in addition to picking armloads of apples. Be sure to grab some homemade doughnuts and cider from the store before you leave. This farm is a cab ride away from the Metro-North Croton Falls station.
About 1 hour by car from Midtown Manhattan.
Beginning on Labor Day weekend, this century-old, family-owned farm offers more than 20 types of apples ripe for the picking every day. Scenic hayrides are also offered on weekends. This is a cash or check-only spot.
RELATED: Alpaca Farms to Visit in the Hudson Valley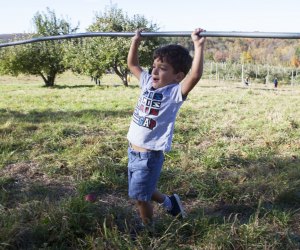 Grab an apple picker for those hard-to-reach apples at Dr. Davies Farm. Photo by Matt Nighswander
About 50 minutes by car from Midtown Manhattan
This historic 35-acre orchard is home to 4,000 trees and opens for daily apple picking on Saturday, September 2. If you attempt to go during the week, be forewarned: It's been a popular field trip site for school groups in the past. This location only accepts cash or checks, and there is an ATM on-site.
About 1 hour by car from Midtown Manhattan. Also accessible via Metro-North.
Outhouse Orchards (nope, it's not a joke; it's named for the family who owns it) dates back to the late 1800s. Its pick-your-own apple season kicks off on Saturday, September 2, and a reservation system will be utilized during the busiest weekends, so visit its website before heading out. Seasonal fun includes hayrides and a corn maze, too. No car? No problem. Take Metro-North to the Croton Falls station and catch a cab to the farm.
See our guide to more places to go apple picking in the Hudson Valley.
RELATED: Where To Go Flower Picking near NYC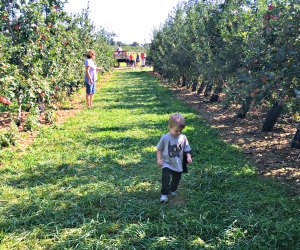 Alstede Farms offers rows upon rows of apple trees, plus kiddie entertainment like pony rides and a hay pyramid. Photo by Rose Gordon Sala
Where To Go Apple Picking near NYC in New Jersey
About 1 hour by car from Midtown Manhattan. Also accessible via New Jersey Transit.
Talk about agritainment: In addition to being open for daily apple picking, the farm offers all of its special attractions (a corn maze, pony rides, hayrides, a bouncy house, and farm animals to feed) every single day, not just on weekends. It has dozens of apple varieties, including several ready for picking in August. Check its apple picking schedule before taking the trip, and be sure to book your picking reservations before heading out. You can picnic or partake in the concessions. Even better: You don't need to rent a car to get here. Take New Jersey Transit to the Gladstone station and then a taxi or FREE courtesy shuttle to the farm on weekends and holidays.
About 40 minutes by car from Midtown Manhattan
Demarest has the distinction of being the closest apple orchard to NYC. Just across the Hudson River, this popular farm offers apple picking beginning Saturday, September 2. You'll need a reservation for each member of your party and pay an additional $15 fee for a bag to hold all the apples you can pick. The farm store offers plenty of lunch fixings, including hot food, salads, soups, doughnuts, and desserts.
About 1 hour by car from Midtown Manhattan
The pick-your-own season opened earlier in August, and a farm pass is required for everyone ages 6+. Choose from more than 30 varieties of apples, including heirlooms, at this farm, which is open daily. No bouncy castles or petting zoos here; Riamede is all about apples, with the only extra being a complimentary hayride on weekends.
About 1 hour by car from Midtown Manhattan
Beginning in September, families can visit Sun High's alpaca and donkey and take a leisurely hayride to the apple trees every day. Apples are sold by the pound, so only grab what you want to buy. Cap off the day with a trip to the farm stand for homemade ice cream or gather the kids around the picnic table for a late lunch in the shade.
RELATED: Top Farms in New Jersey for Family Entertainment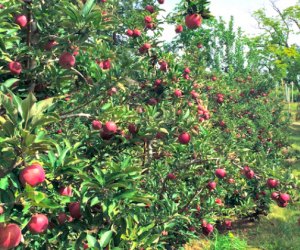 Jonathon Apples are ready for picking at Wightman's Farms. Photo courtesy of the farm.
About 1 hour by car from Midtown Manhattan
Pick your own at this scenic farm begins in early September and runs on weekends. Beyond apple picking, attractions include a pumpkin slingshot, hayrides, and a variety of mazes. It's popular with local families and can get crowded, including the parking lots. An admission fee is required.
About 50 minutes by car from Midtown Manhattan
Despite the name, there are no hills at this farm, making it a great place to pick, especially if you're pushing a stroller. It's only open on Sundays—beginning September 17—for limited hours and offers about a dozen varieties of apples. The owners are good about keeping their Facebook page updated with what's available. Keep in mind, that it's cash-only at this family-owned farm.
About 1 hour by car from Midtown Manhattan
The oldest pick-your-own apple orchard in New Jersey is best known for its Country Store offering a menu of goodies including its sought-after apple pie. Pick-your-own apple season is already underway and there are family hayrides on select weekends.
Find more pick-your-own apples in New Jersey.
Know Before You Go Apple Picking near NYC
Call ahead to confirm hours, apple availability, attractions, and prices. Many orchards are small, family-run establishments that close unexpectedly.
Approximate driving times don't include traffic. Sadly, you're probably going to run into some, especially at the entrances to popular farms.
Leave your pets at home. They aren't allowed at most farms.
If you're thinking of packing a picnic, call ahead to make sure the farm allows you to bring your own food.
By late September, trees start looking bare, so don't wait until Halloween to visit.
You picked the apples, now what? We've got some tasty and easy apple recipes for you to try.
This article, originally published in September 2012, is updated annually.
Click Here to Sign Up!
i