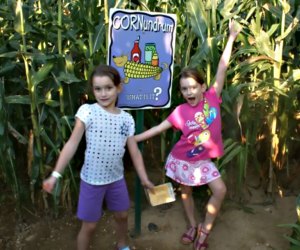 Best Corn Mazes to Visit with Kids Near NYC
Navigating the twists and turns of a giant corn maze is the perfect fall outing for adventurous NYC families. But with dozens of mazes scattered throughout the rural parts of our tristate area, the real challenge is deciding which one to visit.
My family loves our annual corn maze trip to the local Queens County Farm Museum's Amazing Maize Maze. It's just the right size for kids, includes fun clues, and doesn't take all day to get to. However, if you're looking to get out of the city for that true country feel, or you're headed to upstate New York or elsewhere for a long weekend getaway, we've compiled a list of almost two dozen of the area's best corn mazes—most within 90 minutes of NYC.
We've broken down our picks to let you know which are better for older kids vs. preschoolers, which are accessible by train—and which offers the best doughnuts! Most farms include extra seasonal things to do like apple picking, pumpkin picking, pony rides, petting zoos, and even, in one case, a 100-foot mountain slide. For more farm fun, check out our Pick-Your-Own Guide to Farms near New York City, and our guide to harvest festivals, hayrides, and pumpkin patches right in NYC.
If you haven't tried a corn maze before, don't be nervous! You're going to laugh, get a bit of family exercise, and have a lot of fun. Each farm does it a little differently, but generally you will be offered a series of clues to help you navigate the maze and find your way out. Most mazes have emergency exits and ways to signal for help, so you can't get too lost.
Tip: Many farms don't allow strollers, nor do strollers always navigate well along the rough, bumpy lanes of corn. Pack the baby onto your back and make sure your toddler or preschooler is up to the challenge, or risk carrying them part of the way. Some farms have more low-key challenges for little ones like hay bale mazes.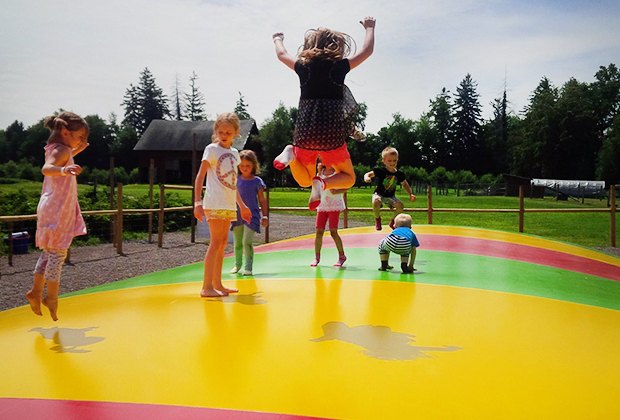 Air bounce at Hurds Family Farm.
Best Corn Maze for Toddlers and Preschoolers
Hurds Family Farm – Modena, New York
Open daily, August 31 through November 3
90 minutes by car from midtown Manhattan
At just 2 acres, the maze at Hurds Family Farm is the perfect outing for young adventurers. A slew of other seasonal amusements await toddlers and preschoolers after the maze, including a hayride, cow train, obstacle course, playgrounds, apple cider donuts and slushies, and animal feeding. Plus the pumpkin fields are open for picking. Check the website for special events.
Best Corn Maze for Fall Fun on a Budget
Fink's Country Farm — Wading River, New York
Open weekends, September 14 through October 27
80 minutes by car from midtown Manhattan
This Long Island "agritainment" destination offers $17 wristbands ($15 for adults; kids under 3 are FREE) that provide unlimited access to a 5-acre corn maze and other farm fun like hayrides, face time with the barnyard animals, pig races, bounce houses, and a combine slide. Additional activities such as pony rides, pumpkin picking, and a kiddie train are available for additional fees.
RELATED: Apple Picking Orchards Near NYC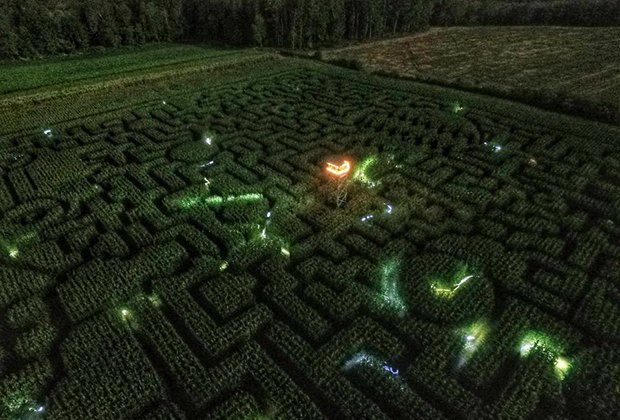 For the truly adventurous, hit Mazezilla in Pennsylvania at night.
Best Corn Mazes for a Full Day of Farm Fun
Mazezilla Corn Maze — Saylorsburg, Pennsylvania
Open Friday through Sunday, beginning September 14
90 minutes by car from midtown Manhattan
This popular corn maze at Klingel's Farm on the Pennsylvania side of the Delaware Water Gap has all the makings of a full day of fun. It can be difficult to settle on what to try first: the 11-acre corn maze, the pumpkin slingshot, or the impressive 100-foot-long "mountain slide." There are also wagon rides, farm animals to visit, a play area, duck races, and a large pumpkin patch for picking.
Stony Hill Farm Market — Chester, New Jersey
Open daily, August 31 through November 10
75 minutes by car from midtown Manhattan
Another option for an entire day of fall celebrations, Stony Hill boasts an activity-filled maze park. This year's maze theme is "BEE aMAZEd," celebrating the amazing pollinators. Once you make it through the 10-acre corn maze, you can tackle a miniature corn maze, rope maze, and tile maze. When you're all mazed out, play a life-sized, farm-themed board game, romp in the playground, and score the perfect gourd from the pumpkin patch.
Best Corn Maze for a Weekday Visit
Alstede Farms – Chester, New Jersey
Open daily beginning September 1
Approximately 60 minutes by car from midtown Manhattan. Also accessible via New Jersey Transit.
While many regional farms offer activities only on weekends, Alstede is one of the Garden State's mega farms, offering activities daily, which means an opportunity for a less-crowded midweek visit. Along with pick-your-own pumpkins, apples, and vegetables, Alstede has a small kiddie corn maze in addition to its traditional 10-acre maze. Plus, you don't need a car to get here. Take New Jersey Transit to the Gladstone Station and take the FREE shuttle.
Best Corn Maze for Classic Fall Fun
Castle Hill Farm — Newtown, Connecticut
Open weekends, beginning September 28 through November 3
Approximately 90 minutes by car from midtown Manhattan
This family-owned Connecticut farm offers a 7-acre maze, a 4-acre pick-your-own pumpkin patch, hayrides, and farm animals to pet. On Saturday, November 2 only, visitors can bring flashlights and navigate the Flashlight Corn Maze after the sun goes down.
Best Corn Maze for Car-Free Families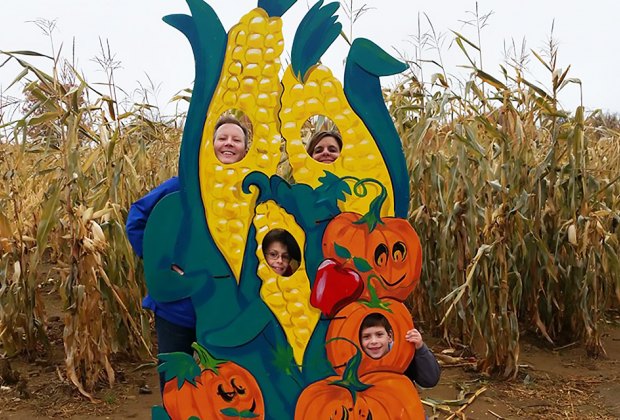 The whole family can get in on the corn maze fun at Outhouse Orchards.
Outhouse Orchards — North Salem, New York
139 Hardscrabble Road
Open weekends beginning September 1
75 minutes by car from midtown Manhattan. Also accessible via Metro-North.
No car? No problem! You can hop a ride on the Metro-North to the Croton Falls station and then catch a cab to the farm. After you conquer the corn maze, grab a pumpkin from the patch to take home. (Just be sure to take a small one as you'll be carrying it on the train!)
Best Corn Maze for a Quick Day Trip
Von Thun's Country Farm — Monmouth Junction, New Jersey
519 Ridge Road
Open daily, beginning September 21
60 minutes by car from midtown Manhattan
A mere hour from NYC, the maze at this New Jersey spot doesn't have to eat up an entire day. The farm offers a number of challenge levels for its 6-acre corn maze. There's also a junior maze for little ones. Other farm attractions include hayrides, mini golf, apple picking, and more.
RELATED: Farm Fun Guide to New Jersey's Top Spots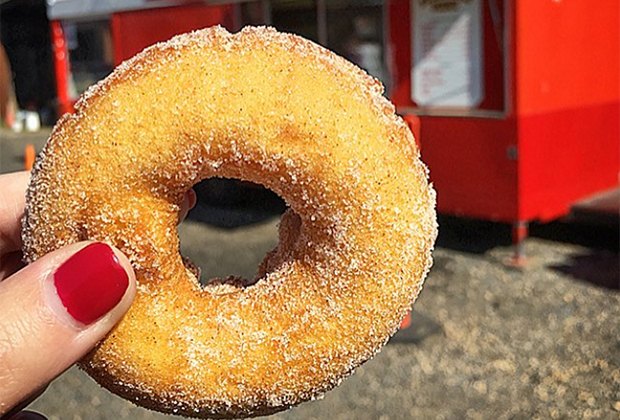 The donuts at Etsch's Bakery Barn are legendary. Photo by Taylor Gold via Instagram.
Corn Maze with the Best Apple Cider Doughnuts
Etsch Farms — Monroe Township, New Jersey
Open weekends, beginning September 21
75 minutes by car from midtown Manhattan
The 8-acre corn maze is one reason to visit this New Jersey Farm. Another is the Bakery Barn where you can indulge in seasonal specialties like warm apple cider donuts, homemade pie, and apple cider slushies. After you've eaten your fill, try the maze, pick a pumpkin, take a hayride, or hop on the corn train.
Best Corn Maze for Foodies
Argo's Farm — Forked River, New Jersey
Open weekends, September 15 through October 27
90 minutes by car from midtown Manhattan
While most farms offer something to eat, the selection at Argo's makes this a stop for families craving more than just a puzzling afternoon. The farmers here dish up delicious homemade baklava, the requisite apple cider donut, sausage and pepper sandwiches, and many more tasty eats during fall weekends. Additional weekend attractions include pig races, pony rides, and pumpkin picking.
Best Corn Maze for the Agri-Purists
Lewin Farm — Calverton, New York
Open weekends and holidays, beginning September 1
90 minutes by car from midtown Manhattan
For those who want a quieter farm experience, this is the spot. There are no bouncy castles or pony rides here. The farm does, however, have a decent 5-acre corn maze with clue stops, designed and plowed by the owners. Allow about 30 minutes to navigate. Plus you can pick pumpkins right from the vine. Call in the morning to confirm opening times: 631-929-4327.

Take a steam train to a train maze with Delaware River Railroad Excursions. Photo by Mitch Goldman/courtesy of the train
Best Corn Maze for Rail Fans
Corn Maze Train — Phillipsburg, New Jersey
Open weekends beginning September 29
90 minutes by car from midtown Manhattan
Got a train obsessed kid? Hop aboard the Delaware River Railroad Excursions' steam locomotive and chug your way to this 10-acre corn maze, where you can play maze games, enjoy the picnic grove, and (for an extra fee) pan for gem stones at the Ol' Susquehanna Mine. Before you board the train for the return trip, be sure to hit the cow-shaped bouncy house.
Best Corn Maze for Fearless Families
F&W Schmitt's Family Farm — Melville, New York
Open Saturdays and Sundays, September 28 through October 27
50 minutes by car from midtown Manhattan
This 7-acre corn maze and pumpkin picking patch in Long Island's western Suffolk County is home to the isle's scariest haunted house, and organizers have added a haunted corn maze in recent years. Not for the timid (or those under 8 years old), the dark labyrinth will have you trying to figure out which way to go with killer scarecrows and rotting corpses on your tail! The theme of this year's daytime corn maze is "Mad Scientist." The farm also offers non-haunted, daytime activities for kids, including pony rides, hayrides, and a giant straw pyramid.
Best Corn Maze for High-Tech Adventure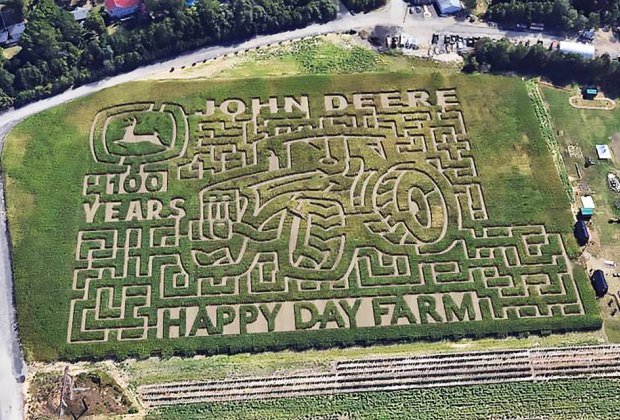 The corn maze at Happy Day Farm offers high-tech options to help your family navigate the maze.
Happy Day Farm — Manalapan, New Jersey
Open Tuesdays through Sundays, beginning September 28
75 minutes by car from midtown Manhattan
The central New Jersey farm celebrates the family game Maize-O-Poly, as you and your family navigate your way through the 10-acre maze in search of each square on your Maize-O-Poly game board. The techie extras like texting options and a GPS locator make for a modern day adventure. This popular pumpkin picking spot also offers a small sunflower maze, a life-sized game of checkers, a playground, pedal carts, and a giant box of corn kernels to romp in.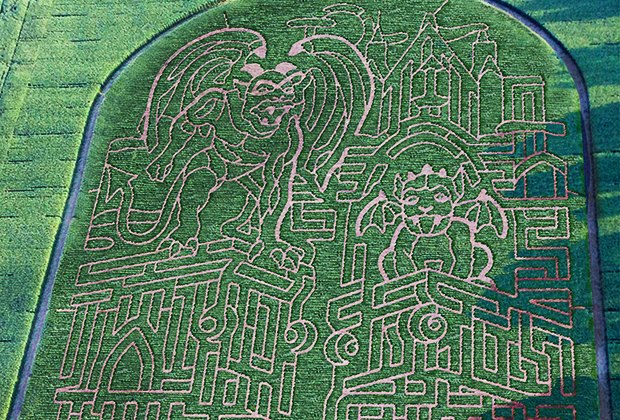 Raub's hosts a massive, 14-acre maze in Pennsylvania.
Best Corn Maze for Families Who Want to Go Really Big
Raub's Farm Market — Easton, Pennsylvania
Open daily, September 7 through November 3
90 minutes by car from midtown Manhattan
At 14 acres, Raub's has the largest corn maze on our list. It's actually three mazes in one, nearly 6 miles long if you walk the entire thing, including one where you can play F.S.I.—"Farm Scene Investigation"—and discover which animals kidnapped the farmer. If you chicken out, there's a hayride that circles the perimeter of the maze. Kids can hunt for hidden treasure or play a monster-themed mystery game. There's also a pumpkin patch, hayrides, and more.
Further Afield
While our list highlights corn mazes within 90 minutes of New York City, there are several extra special spots that require a bit more travel time that we can't resist telling you about.
Hank's Pumpkintown — Water Mill, New York
Open weekends, beginning September 7
110 minutes by car from midtown Manhattan
Hank's Pumpkintown boasts so many fun fall activities for kids that we think it's worth the trip to Long Island's East End. The 7-acre maze is comprised of three sections, designed for different ages, ranging in simplicity from a pair of 15-minute mazes for tots to more intricate, hour-long excursions for families with older kids. The corn maze is just part of the huge park that also includes hayrides, wagon rides, and tractor-drawn train rides, plus calf roping, cow milking, a 50-foot long tube slide, pedal carts, and lots of other farm fun. The pumpkin patch is open daily; the maze park is open weekends and holidays only.
RELATED: Pumpkin Patches and Fall Fun on Long Island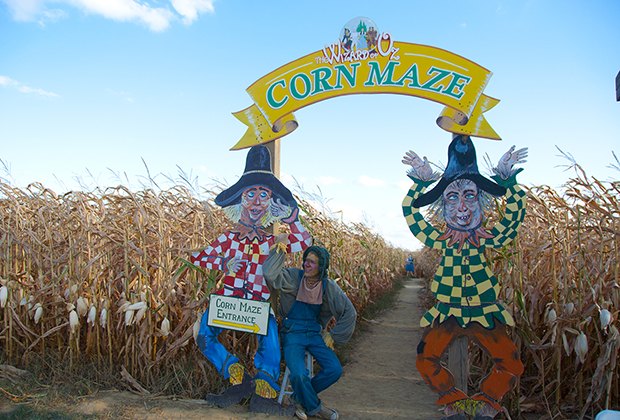 The Corn Maze at Harbes Family Farm at Mattituck is a fun adventure that's worth the trip.
Harbes Family Farm — Riverhead, Mattituck, and Jamesport, NY
Dates vary depending on location
120 minutes by car from midtown Manhattan
The granddaddy of Long Island farms, Harbes has three locations on the East End. Each farm has its own corn maze and seasonal activities:
At the Riverhead location, you can defeat the 5-acre Robin Hood-themed maze (and test your sword fighting skills, too.) There's also a spooky nighttime maze. Open weekends and holidays.
The Mattituck location is the largest of the three with two mazes, including this year's Wizard of Oz-themed maze, and a slew of farm-themed attractions in the Barnyard Adventure Park. Open daily.
Jamesport farm has the largest of the Harbes corn mazes at 6 acres, and also offers vine-ripened pumpkins for picking. Open weekends and holidays.
Cherry Crest Adventure Farm — Ronks, Pennsylvania
Open Thursday, Friday and Saturday, September 13 through November 2
Approximately 2 hours and 30 minutes by car from midtown Manhattan
This is my family's favorite destination for farm-tastic fun. Cherry Crest features more than 50 agritainment activities and one of the region's best corn mazes. It's too far for a day trip but makes for a perfect weekend spot.
Headed to the Pennsylvania area? Check out these fun fall train rides for the kids too, including Halloween-themed rides. There are plenty of fall trains that leave from New Jersey, as well.
Photos courtesy of the farms
A version of this article was first published in 2015; it is updated annually.