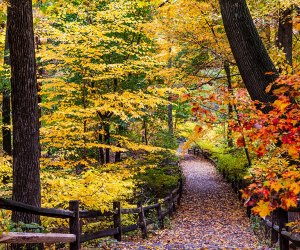 30 Things We Can't Wait to Do This Fall in NYC
With Labor Day behind us, and back to school looming on the calendar, it's official: Fall has arrived in NYC. An optimist by nature, I've decided that instead of lamenting the summer that was (or should have been), it's time to look forward to the changing of the seasons and all the fall fun that awaits.
With that in mind, here's our season-long look at the family-friendly fall fun we can't wait to enjoy. After all, we've got assorted school holidays, strange, remote learning and hybrid schedules to fill, plus a few long weekends before the weather really changes. Without further ado, here are 30 things we're looking forward to doing this fall in NYC. For more seasonal fun, be sure to bookmark our Fall Fun Guide.
Fall Fun Across NYC
1. The first day of school. It's been a loooooong time coming. Granted, it looks a wee bit different this year, but I'll be happy to add my kids' pictures to the adorable ones peppering my social media feed and to find a little more routine in our day-to-day!
2. Taking a night off from dinner duty and showing some love to one of our favorite family-friendly restaurants when indoor dining returns September 30.
3. Exploring our well-loved museums, which are reopening with admission deals and new exhibits.
RELATED: Edge Opens Highest Outdoor Observation Deck in the Western Hemisphere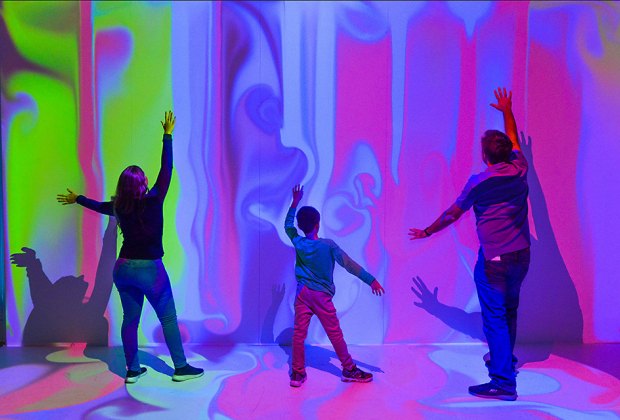 Paint the walls mess-free as you explore The Nature of Color. Photo by A. Mickens/courtesy of AMNH
4. One particularly kid-friendly exhibit we can't wait to see: The Nature of Color at AMNH.
5. Putting on a brave face and taking in the stunning view at Edge, the outdoor observation deck in Hudson Yards.
6. Getting out to see how many pieces of public art we can visit in person.
7. We'll also keep our eyes peeled for the 25 Photoville locations city-wide, which encompass more than 60 photo-centric outdoor installations all on their own.
8. Seeing what other outdoor adventures we can tackle before the weather turns.
9. Catching a drive-in flick at one of these pop-up events, many of which have showings extending into the fall.
10. One word: Halloween. Even though we're not quite sure what the night will hold, we know New Yorkers will find a way to celebrate!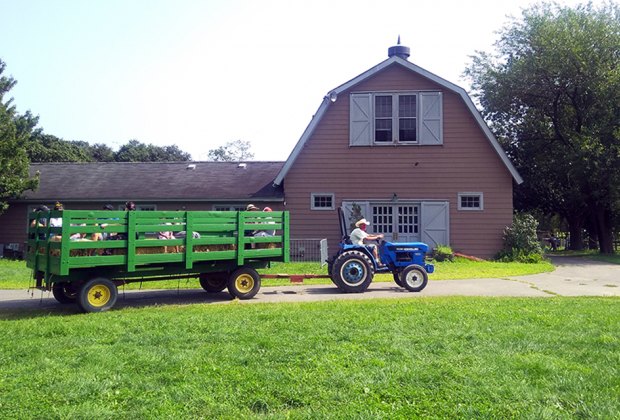 Take a trip around the Queens County Farm Museum. Photo by Sarah Meyer
Fall Fun on Local Farms
11. Enjoying some farm fun during September Sundays at the Queens County Farm Museum.
12. Getting lost in the Amazing Maize Maze, or exploring one of these other corn mazes outside city limits.
13. Loading up baskets overflowing with freshly picked apples, and noshing on apple cider donuts on the way home.
14. Nabbing the perfect pumpkin at one of these nearby patches.
15. Visiting a local petting zoo to get some facetime with the animals.
RELATED: Pick-Your-Own Guide to Farms Near NYC

Fall in love with animals at the Bronx Zoo. Photo by the author
Fall Fun at New York City's Zoos, Aquariums, and Gardens
16. Exploring the candy trail, watching pumpkin-carving demos, catching a magic show, and visiting all our favorite Bronx Zoo animals during the annual Boo at the Zoo.
17. Visiting the New York Botanical Garden to help prepare the Edible Academy for a new growing season with its Dig! Plant! Grow! Goodnight, Garden event.

It's sharks galore at the New York Aquarium. Photo by Julie Larsen Maher
18. Reserving our timed-entry tickets for the New York Aquarium to explore its brand new Spinless exhibit plus its stunning shark exhibit, and the rest of the seafaring fun.
RELATED: 30 Perfect Fall Family Day Trips from NYC

Take in the foliage at one of NYC's amazing parks. Photo of Central Park by the author
Fall Fun in New York City Parks
19. Taking a brisk fall walk while enjoying some excellent leaf-peeping at one of these city parks. Push yourselves a little harder with one of these hikes.
20. Visiting Governors Island once the crowds die down.
21. Lending a hand to the stunning Morningside Lights procession, which is doling out make-your-own lantern kits and pulling together a virtual celebration on Monday, October 26.
RELATED: Outdoor Art Day Trips Near NYC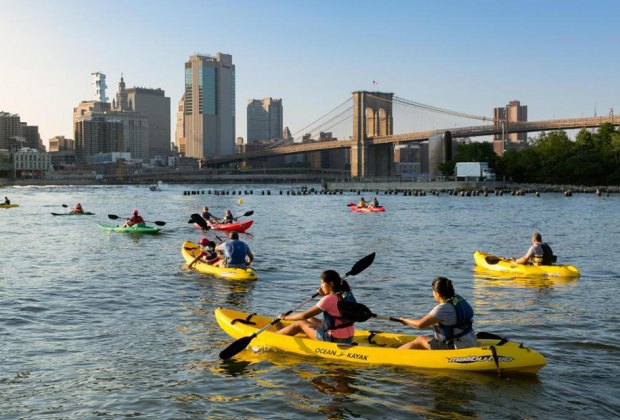 Kids can join parents in kayaks at Brooklyn Bridge Park. Photo by Etienne Frossard

22. Gliding across the water with FREE kayaking in Brooklyn Bridge Park.
23. Catching a circus arts class in Fort Green Park, Prospect Park, and Sunset Park.
24. Embarking on a birding adventure with NYC Audubon.
25. Exploring Staten Island's Freskill Park on a family nature walk.
RELATED: Day Trips and Weekend Getaways for NYC Kids

One of the most picturesque times of the year in Bucks County, Pa. - autumn brings in a bounty of colorful foliage. Photo courtesy of Visit Bucks County
Day Trips and Getaways Near NYC This Fall
26. Who says beach season is over? Popular Jersey Shore and Long Island beaches are staying open through September, so it's not too late for one last visit!
27. Sneaking away for a long weekend at these fall-friendly haunts around the Northeast.

The Great Jack O'Lantern Blaze opens its 2020 season Friday, September 18. Photo by Susan Miele
29. Taking in larger-than-life art at these outdoor art parks near the city. Bonus: You'll see some stunning fall foliage, too.
30. Hitting up Six Flags Great Adventure for its all-new Hallowfest and drive-thru safari park.