< Event Calendar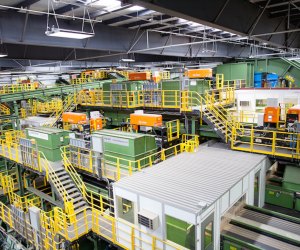 Open House New York
From private residences and historic landmarks to hard hat tours and sustainable skyscrapers, OHNY offers rare access into the extraordinary architecture of New York City, while introducing the people who make the city a vibrant and sustainable place to live, work, and play. Some tours require advance registration, others are drop in. The complete list of participating sites is available on the website. Needless to say, tickets to the most popular spots go FAST.
Coolest Stops for Kids and Families
Edgar Allan Poe Cottage
POE PARK, 2640 GRAND CONCOURSE | Sat 10am-4pm. Sun 1-5pm. Tours ongoing both days.
Poe's final home, where he wrote works such as "The Bells," "Eureka," "Annabel Lee," and "The Cask of Amontillado." The house/museum is the last remaining from the old village of Fordham.

Bartow-Pell Mansion Museum
PELHAM BAY PARK, 895 SHORE RD | Sat & Sun 12-4pm.
The last 19th-century estate in Pelham Bay Park. Experience the historic Greek Revival mansion and carriage house, and the museum's collection and landscaped gardens.

Brooklyn
Prison Ship Martyrs Monument
FORT GREENE PARK | Sat 11am-3pm.
A rare chance to step inside the memorial at the center of Fort Greene Park, which pays tribute to the 11,500 men, women, and children who died on British prison ships anchored in nearby Wallabout Bay during the Revolutionary War.

Brooklyn Navy Yard
63 FLUSHING AVE | Sat 10am-6pm.
More than fifty tenants will open their doors for OHNY Weekend at one of the nation's first naval shipyards and now a hub for manufacturing, industrial, and creative sector businesses in historic buildings.

Brooklyn Historical Society
128 PIERREPONT ST | Sun 12-4pm.
This nationally recognized urban history center dedicated to the study of Brooklyn is also home to the Othmer Library, a rare interior landmark with a stunning reading room.

Brooklyn Waterfront Museum & Showboat Barge
290 CONOVER ST | Sat 1-5pm.
The only wooden covered barge of its kind still afloat from the "Lighterage Era" (1860-1960). Made obsolete by today's containerization, she has enjoyed a thirty-three year history as a showboat and classroom.

Old Stone House & Washington Park
336 THIRD ST | Sat & Sun 12-4pm.
Robert Moses WPA-era reconstruction of the Vechte-Cortelyou Dutch Farmhouse, site of the final engagement of the Battle of Brooklyn, and the original clubhouse of the Brooklyn Dodgers. Exhibit on display.

Brooklyn Glass
142 13TH ST | Sat & Sun 10am-6pm.
Glassblowing classes on view and demos ongoing both days.
Fully equipped for glassblowing, flame working, and neon bending, Brooklyn Glass offers rental space for local artists and public and private classes for people of all skill levels.

Gowanus Dredgers Canoe Club
165 2ND ST, 1ST FL | Sat & Sun 2-6pm.
Canoe voyages every 30-45 minutes until 5pm both days.
Take a self-guided canoe ride along the Gowanus Canal to see its post-industrial and abandoned shorelines now colonized by wildlife and new developments.

The MARY A. WHALENPIER
11, ATLANTIC BASIN (NEAR 190 PIONEER ST) | Sat 1-6pm.
Last-of-her-kind coastal oil tanker and only oil tanker in the world repurposed for public cultural education. Tour the engine room, galley with wood-paneled fridge and diesel stove, wheelhouse, and cabins.

Kingsland Wildflowers at Broadway Stages
520 KINGSLAND AVE | Sat 12-4pm.
A 24,000sf green roof atop an active movie studio with sweeping views of industrial North Brooklyn and the iconic digester eggs of the Newtown Creek Wastewater Resource Recovery Facility.

Floyd Bennett Field Ryan Visitor Center
1 FLOYD BENNETT FIELD | Sun 10am-4pm.
Experience the Golden Age of Aviation at NYC's first municipal airport. Visit the restored terminal's museum exhibit and take a rare tour of underground luggage tunnels that are not generally open to the public.

Wyckoff House Museum
5816 CLARENDON RD | Sat 11am-4pm. Tours at 11am, 3pm.
Built between 1652 and 1819 and home to eight generations of one family who farmed there until 1901. Visitors can explore the attic and root cellars that are not normally open to the public.

Manhattan
Federal Hall National Memorial
26 WALL ST | Sat 9am-5pm. Tours at 12, 1, 2, 3pm.
The birthplace of American government. George Washington took the oath of office as the country's first President on this site. It also served as home to the first Congress, Supreme Court, and Executive Branch offices.

Black Gotham Experience
192 FRONT ST | Sat & Sun 10am-6pm. Tours at 12, 2, 4pm both days.
Studio and gallery for an artist-led media company working at the intersection of scholarship and aesthetics to illustrate the impact of the African Diaspora on NYC.

City Hall
BROADWAY AT MURRAY ST | Sat 12-4pm; lines may close early.
The breathtaking rotunda has marble floors, one of the country's first keystone-cantilevered staircases, and a coffered dome with central oculus. The plaza, rotunda, City Council Chamber, and Governor's Room will be open to visitors.

U.S. Coast Guard Cutter
LILACPIER 25, 229 WEST ST AT N MOORE ST | Sat & Sun 2-6pm.
The oldest and most intact lighthouse tender in America, she was the last vessel in the Coast Guard fleet to run on reciprocating steam engines, which have recently been restored.

Manhattan Borough President's Office Map Display
1 CENTRE ST, NORTH ENTRANCE | Sat 10am-4pm.
The Manhattan Borough President's Office will display the complete set of 92 Randel Farm maps of 1820, one of the most important documents in NYC history and only ever shown as a complete set during OHNY Weekend.

African Burial Ground National Monument
290 BROADWAY, 1ST FL | Sat 10am-4pm. Tour at 12pm.
The oldest and largest excavated burial ground in North America for both free and enslaved Africans. The site includes an outside memorial and visitor center with exhibits.

Lower East Side Ecology Center at East River Park Fire Boat House
EAST RIVER FIRE BOAT HOUSE, GRAND ST AND EAST RIVER PROMENADE | Sat 10am-2pm.
Housed in a 1941 Art Deco fire boat house, with spectacular views of the East River, the LES Ecology Center strives to maintain the park's and waterway's ecology. Visit with Bernie the box turtle.

Bullet Space
292 EAST 3RD ST | Sat & Sun 10am-6pm. Tours at 11am, 1, 3, 5pm both days.
One of the first legalized squats in NYC, located in a 19th-century tenement house. Learn about residents' history as squatters, tour the gallery and garden, and view an exhibition about the NYC fire hydrant.

The Center for Book Arts
28 WEST 27TH ST, 3RD FL | Sat & Sun 10am-6pm.
First organization in the US dedicated to the exploration of contemporary and traditional practices related to the book as an art object. Visitors can view book arts exhibitions in an active working studio.

Scandinavia House
58 PARK AVE | Sat & Sun 12-6pm.
Headquarters of The American-Scandinavian Foundation (ASF) and the site of ASF's cultural and educational programming, offering a wide range of programs that illuminate the creative culture and vitality of Denmark, Finland, Iceland, Norway, and Sweden.

FDR Four Freedoms State Park
1 FDR FOUR FREEDOMS PARK | Sat & Sun 12-4pm.
Roosevelt Island
Designed in the mid-1970s by Louis Kahn and finally built in 2012, the memorial honors Roosevelt's compelling vision for a safer and more just world. With a family friendly pop-up library and arts and craft activities.

Central Park's Belvedere Castle
MID-PARK AT 79TH STREET | Sat 10am-2pm.
The whimsical structure once provided New Yorkers with sweeping views of the Park and was later transformed into a working building for the US Weather Bureau. Come tour the newly completed restoration with guides on site.

Swedish Cottage Marionette Theatre
WEST 79th ST & WEST DR, ENTER AT WEST 81st & CENTRAL PARK WEST | Sat & Sun 10am-6pm. Tours at 11am, 1, 3pm both days.
Imported to the US in 1876 as Sweden's exhibit for the Centennial Exposition in Philadelphia and brought by Frederick Law Olmsted to Central Park. Explore the ground floor interior and see the puppet building process.

Little Red Lighthouse
FORT WASHINGTON PARK | Sat 12-3pm. Tours ongoing.
Manhattan's only remaining lighthouse–and inspiration for the children's classic. Visitors can climb to the top and explore the tower's lantern room, with a working lens that blinks at cargo barges and passenger ships.

Queens
The Noguchi Museum
9-01 33RD RD AT VERNON BLVD | Sat & Sun 11am-6pm. Tours at 2, 3pm both days.
Founded and designed by American artist Isamu Noguchi for displaying examples of his life's work. Built around a 1920s industrial building featuring indoor-outdoor galleries and a serene sculpture garden.

Lewis Latimer House Museum
34-41 137TH ST | Sat & Sun 12-5pm. Tours ongoing both days.
This Queen Anne-style, wood frame residence was the former home of African American inventor Lewis H. Latimer, chief draftsman for Thomas Edison and a key contributor to the development of the telephone alongside Alexander Graham Bell.

GallopNYC Sunrise Stables
80-98 LINDEN BLVD | Sat & Sun 10am-2pm. Tours every 30 minutes both days.
Explore one of NYC's last remaining horse stables and operating barns–providing equine therapy, animal interaction, and riding opportunities to New Yorkers of all ages and abilities.

Staten Island
Jacques Marchais Museum of Tibetan Art
338 LIGHTHOUSE AVE | Sat & Sun 1-4pm. Presentation at 2pm both days.
Designed to resemble a Himalayan monastery, the building's high ceilings give it the feel of a Tibetan chanting hall. With art and artifacts from Tibet, Nepal, China, and Mongolia, surrounded by a meditation garden with Tibetan and Himalayan plants.

Historic Richmond Town
441 CLARKE AVE | Sat & Sun 12-4pm. Tours at 1:30, 3pm both days.
The Main Village comes alive with sights, sounds, tastes, and smells of NYC's rural past. Visit skilled working artisans, tour restored period homes, and browse shops and functioning open hearth kitchens.

National Lighthouse Museum
200 THE PROMENADE AT LIGHTHOUSE POINT | Sat & Sun 11am-5pm. Sat tour at 2pm.
Located on the site of the United States Lighthouse Establishment General Supply Depot, visit the National Lighthouse Museum during OHNY Weekend to learn about the history and technology of the nation's lighthouses.
Citywide
various
New York, NY
** Event dates/times are subject to change. Please click through to the event website to verify.