Visiting NYSCI with Kids: Guide to the Best Things To Do and See
3/21/23
- By
Danielle Wilson
The New York Hall of Science is one of Queens' most unique, kid-friendly museums, and as a mom to a teen, tween, and toddler, it's a relief to have a space that caters to all of them. For families looking for an intentional, captivating way to introduce children to STEM-focused concepts and activities, a visit to NYSCI is a must-do. I've got tons of tips for the best things to do and see while you're at one of our favorite local science museums in NYC.
Following devastating flooding from Hurricane Ida, NYSCI underwent extensive renovations and restoration, but it's fully open and functional again leading to rejoicing from families, students, teachers, and, indeed, science-loving New Yorkers of all ages.
Find more ways to get scientific with kids in our Guide to Science Experiments and STEM Activities for Kids and our NYC Museum Guide, which includes our top picks for space museums nearby plus more cool culture spots for families to visit no matter their interests.
Subscribe to our newsletters to get stories like this delivered directly to your inbox.
Why Visiting NYSCI with Kids Is a Must-Do
Founded at the 1964-65 World's Fair, the New York Hall of Science is an engaging, educational, hands-on learning center with more than 450 interactive exhibits. Serving a half-million students, teachers, and families annually, the museum's goal has been to make STEM education exciting and inviting for everyone who visits.
Best New York Hall of Science Exhibits
Connected Worlds
Hands down, this is our family's favorite installation because it's so interactive and colorful—you'll have difficulty getting the kids to leave. Honestly, I never want to go, either! Located in the Great Hall, Connected Worlds provides an interactive introduction to how ecosystems work, as kids witness how their movements and gestures affect this animated world.
RELATED: Ultimate Guide to Visiting AMNH with Kids

Explore the world of microbes in the Small Discovery exhibit at NYSCI.
Small Discoveries
The New York Hall of Science debuted this permanent exhibit in 2021 inviting visitors to explore microbes' power. Through tactile experiences, visitors discover how microorganisms impact health and the environment. Your kids will surely be impressed by how something so tiny can do so much.
Powering the City
In partnership with the National Grid and Con Edison, this new 3,000-square-foot exhibit teaches children how energy transforms and works to power their lives and keep our city going. Guests can arrange wires on a map to connect each of NYC's boroughs to electrical energy sources.
Human Plus
Through real stories, this exhibition explores how technology supplements and enhances our abilities. As athletes, our boys were fascinated with displays on how the human body works and took their time exploring the interactive installations. Many kids were intrigued by the simulated downhill mono-ski course and the DJ station built from a wheelchair and controlled by its wheels. There are several hands-on stations where kids can discover just how powerful the human body is.
The Happiness Experiment
Created in response to COVID-19, The Happiness Experiment allows guests to explore what happiness means and how it shapes our lives. Families visiting the New York Hall of Science are immersed in a series of playful areas where they discover and analyze how environmental and social factors can affect their emotions and well-being.
RELATED: Best Children's Museums in NYC for Families to Visit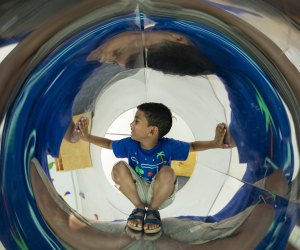 Kids ages 0-6 can explore NYSCI's Preschool Place, which features exhibits just right for little ones to enjoy.
Preschool Place
Recently redesigned, this safe, enclosed area is perfect for kiddos ages 6 and younger. The Preschool Place at the New York Hall of Science features a new shadow and light area, a train table, tinkering and building activities, and a new dedicated space for infants. Visit on weekends for memorable sing-alongs, storytimes, and art activities.
Design Lab
Children ages 2-15 can enjoy hours of entertainment in this NYSCI section with four classrooms and a large, central area. The space promotes cooperation, collaboration, and problem-solving. Build structures out of PVC pipe, connect and build with wooden dowels, or check out a rotating list of themed classes. During a fall visit, for example, the activities reflected Halloween, with spooky eyeballs, spiders, and more!
Maker Space
Kids get hands-on with real tools in this creative exhibit, which features a rotating array of thematic workshops. Currently on view is Energy Lab, which lets young scientists experiment with various energy sources, build their own circuit blocks, and engineer an energy-efficient wind turbine. A highlight is using real scientific tools to measure energy.
RELATED: 15 Best Places for Family Playtime in NYC

Explore principles of space flight alongside your round of putt-putt at the New York Hall of Science.
Fun Seasonal Exhibits at NYSCI
Rocket Park Mini Golf
Play mini golf while learning about space travel and exploring a variety of rockets and artifacts from the space age. Each hole explores a different space-related concept to learn about as you play your way through the course. This exhibit does require an additional fee on top of museum admission.
SciSkate
In winter 2022, NYSCI debuted SciSkate, a synthetic indoor ice skating rink, for families who love skate but want to skip the frostbite to enjoy a few twirls around the rink. Our kids had a blast gliding around on the eco-friendly, polymer-based material, and we're told it will return annually. Hot tip: SciSkate has been extended at least through mid-April, so you can skate and mini golf on the same day!
Science Playground
Unfortunately, the New York Hall of Science's Science Playground is temporarily closed but it's such a cool spot, we're keeping it on this list. Renovations are underway and aiming for a July 2022 re-opening. I remember visiting this seasonal, outdoor romping spot during field trips as a child and playing with the water features, so I'm hoping for a swift re-opening so my toddler and I can explore in warmer months!
Food at the New York Hall of Science
A Butter Beans Cafe inside the museum contains myriad yummy eats. The menu includes kid pleasers like chicken tenders, hot dogs, and pizza, plus sandwiches, salads, and fruit. You can order online before or during your visit. Outside food and beverages are not permitted.
Parking at NYSCI
On-site parking is available except during the US Open, held annually in late August and early September. Parking fees are charged to non-members.
Know Before You Go to NYSCI with Kids
As of publication, admission prices are as follows: adults, $16; students, children (2-17), and seniors, $13. Some attractions, like the 3D films, SciSkate, and Rocket Park Mini Golf require an additional fee. All-inclusive tickets are $35 for adults and $32 for children.
If you're coming via the train, the 7 station at 111th Street is the nearest stop.
There are plenty of handicap-accessible bathrooms with changing tables.
There are lockers to rent if you need to stow your stuff.
Strollers are welcome in the museum, and there are ramps and elevators to help you navigate. There are also a limited number of wheelchairs that are loaned out for FREE.
Visit during Friday afternoon community hours to enjoy FREE general admission. General admission does not include SciSkate, Rocket Park Mini Golf, 3D theater shows, or programs and workshops that require additional fees.
Originally published in 2018. Sydney Ng provided additional reporting. Unless noted, all photos courtesy of NYSCI
Places featured in this article:
---
New York Hall of Science (NYSCI)