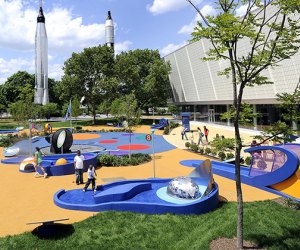 Best Places for Family Playtime in NYC
Playing together with your kids is one of the best parts of being a parent. Not only does it get everyone off the couch and moving, but you're also creating memorable family experiences.
Most city families don't have a backyard to play catch in, but there are still plenty of ways to play in NYC that are as engaging for grown-ups as for children, from mini-golf to hiking, bowling, billiards, and beyond. Read on for a few of the best ways you and your kids can disconnect from technology and enjoy a few hours of awesome bonding time.
Bowling
Bowling is one of my family's favorite ways to play together. There are a host of bowling alleys in NYC, both old-school and newfangled, including Bowlmor Chelsea Piers, featuring an aerial ropes course and laser tag.
Cooking Spots
Cooking shouldn't just be a chore for mom and dad. A few creative culinary spots turn cooking classes into hands-on fun for kids and adults, in-person or virtually. Consider taking a parent-and-me workshop at Chelsea's Taste Buds Kitchen. Older kids will like the professional-quality classes at the Institute of Culinary Education.
Escape Rooms
Nothing bonds families like the challenge of an escape room. Families can work together to solve puzzles and riddles to defuse a bomb, escape a haunted house, unlock a relic in a newly discovered cavern. NYC has a variety of escape rooms of varying levels and for a wide range of ages. Most places also offer the option of booking a private game just for your family.
Maker Spaces
Maker spaces are the city's hot new hangout spot. We recently rounded up some of our favorite spots for creative drop-in maker fun, but there are even more options if you want to register for a long-term class. Kids and adults will appreciate the all-ages classes offered at Skill Mill NYC on the Upper West Side. There you can take intro workshops in sewing, laser cutting and 3D printing, then come back another time to use its equipment to make your visions come to life. Maker's Guild in Industry City also offers a variety of experiences from master craftsmen and artisans. Along with retail spaces to peruse, the makers often offer classes (virtual and in-person) that families can take together.
Mini-Golf
This is an activity that can take either indoors or outside. Pier 25 offers an 18-hole miniature golf course in Hudson River Park. The Flushing Meadows Golf Course has a mini course for kids of all ages. In Brooklyn, Industry City offers a mini-golf course that's free for all visitors. And opening this summer, a brand new mini-golf course called Putting GREEN will open up on the Brooklyn waterfront in Williamsburg. While some mini-golf courses are only open seasonally, a few, such as the indoor courses at the Jewish Children's Museum and Shipwrecked Mini Golf, offer games year-round.
RELATED: Guide to Kids' Sports Centers and Action Centers in NYC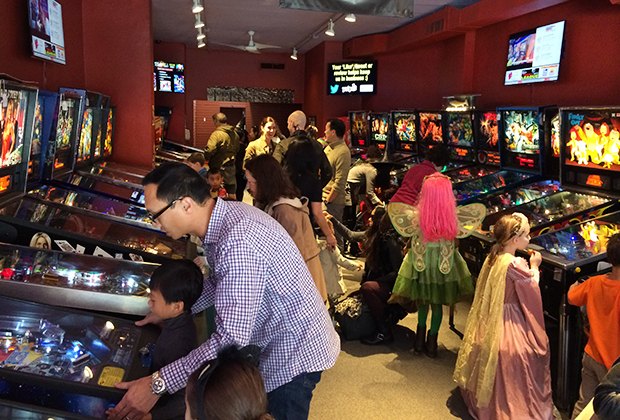 Modern Pinball offers retro fun for all ages. Photo courtesy of the venue.
Ping-Pong
If you want to play for free, hit the tables in Bryant Park, but there are also plenty of indoor ping-pong parlors that are kid-friendly or have family hours.
Pool and Billiards
Some pool halls welcome minors during daytime hours as long as they are supervised. Ocean's 8 at Brownstone Billiards in Prospect Heights is particularly popular with families. In addition to 30 pool tables, the lounge also has ping-pong, air hockey, mini-bowling, and a variety of video games.
RELATED: Indoor Play Spaces and Kiddie Gyms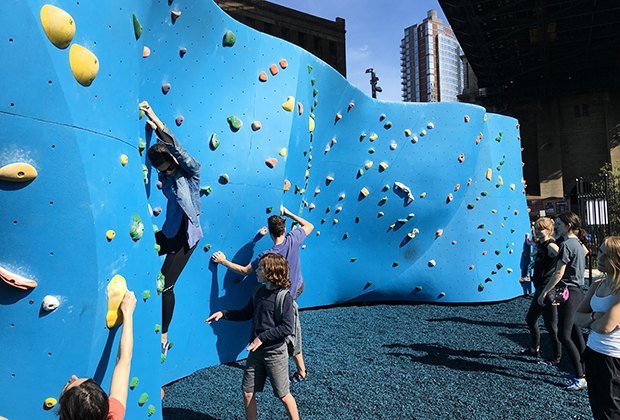 Test your rock-climbing skills under the bridge at Dumbo Boulders. Photo by Rose Gordon Sala.
Wall Climbing Gyms
Get your active kids out of the house and let them climb the walls—literally—at one of NYC's twelve rock climbing gyms. Though most are indoors, Dumbo Boulders by The Cliffs lets you climb alfresco in Brooklyn Bridge Park.
Outdoor Play
Amusement Parks
Whether you're seeking thrills or want to entertain your little one with tamer attractions, NYC has rides for all. Coney Island's Luna Park has daring coasters along with a theme park that is perfect for the pint-sized. Of course, there's Deno's Wonder Wheel Amusement Park with rides for all ages. Both Luna Park and Deno's have recently reopened for the season. Check out our family amusement guide here.
Biking
Biking with the family is a great way to enjoy the outdoors and also see the city. There are a number of great paths in NYC that's ideal for not only bikes, but also scooters, skateboards, and roller skates. If you don't own a bike, Citi Bike offers a convenient bike-sharing program with rental kiosks conveniently located in about every part of the city.
Hiking
Hiking also affords the chance to get exercise and bond with the family. Just outside the city, there are a number of short hikes perfect for toddlers. The Hudson Valley is home to many state parks where you can hike, swim, ride bikes, and enjoy spectacular views. Or you can stay local and hike the Empire State Trail which starts in Battery Park and choose how far to trek along the 750-mile trail.
Playgrounds
When all else fails, it's hard to beat NYC's spectacular playgrounds. When was the last time you climbed Umpire Rock at Heckscher Playground, or zoomed down the slides on Governors Island or at the Billy Johnson Playground? We also love the playgrounds in Brooklyn's Prospect and Brooklyn Bridge parks, plus Queens' Alley Pond Park, which even has a family-friendly ropes course to conquer together and a an orienteering course which combines hiking with gaming skills.
Roller skating
Now that the snow has thawed and the warmer temperatures are around the corner, roller skating has returned to the rinks. There are a number of outdoor rinks as well as indoors. Get your groove on while trying to stay upright!
Seeing Public Art
A version of this post was published in April 2017; it has been updated.