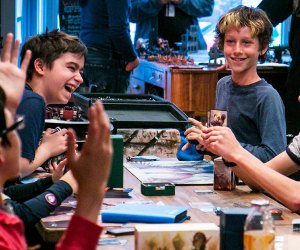 Best Gaming Spots for Kids in NYC
The growing popularity of gaming stores and cafes around NYC should come as no surprise, particularly to kids. With their active minds, kids crave more than video games and social media, especially in wintertime, when parks and playgrounds often take a back seat to indoor activities. For curious, engaged kids, gaming spots are a place to play, imagine, make new friends, and develop new skills.
Most game spots, whether they be stores or cafes, tend to lean toward 8 and 9 year olds (and up), and don't really include the space even the most game-loving younger kids might need for intermittent dancing around. But they're all friendly. Read on for a few of our favorite game cafes and stores for kids in NYC.
Brooklyn Game Lab — Park Slope, Brooklyn
Both the Center Slope and South Slope locations earn their justified reps as great environments for kids, hosting after-school and holiday camp programs, as well as open play sessions on select days. Our detailed review breaks down how game play opportunities work here, but there's even more "outside the box," so to speak. Brooklyn Game Lab also hosts gaming clubs to benefit important social causes, from Hurricane Maria relief efforts to grassroots political action. Word is, Brooklyn Game Lab plans to open a wing in Tribeca, at 119 Chambers, and if you sign up for a Tribeca Game Lab email, you can get special stuff in advance of the new location's grand opening.
RELATED: NYC Stores Where Kids Play Free

Walk-in players are welcome at Brooklyn Strategist.
Brooklyn Strategist — Cobble Hill, Brooklyn
At this award winning combined cafe/gaming center, kids can play as walk-ins ($10 for up to four hours) or join one of many tournaments, classes, and after school clubs. The current afterschool program calendar is bursting with girls-only groups, chess clubs, and role-playing clubs.
Twenty Sided Store — Williamsburg, Brooklyn
How cool can gaming get? That question can be well answered here, where a deeply-stocked store with solid role playing and gaming events is topped off by cool stuff like "Ask A Master Dungeon Master" or live music over the Black Friday weekend. You can follow their blog for gaming insides and announcements.
Action Burger — East Williamsburg, Brooklyn
Eat and play! This East Williamsburg restaurant skews toward video games and comics, but there's a huge library of card and board games to be played by reservation. And you can get a burger!
Kings Games — Sheepshead Bay, Brooklyn
A south Brooklyn institution for 16 years, this internet cafe and video gaming stalwart allows in-store video gaming from a vast library, and also has a good selection of board games for sale. And it's a Pokemon and Yu-Gi-Oh player's paradise, with regularly scheduled game meetups on weeknights and weekends.
RELATED: 50 Indoor Activities for Cold and Rainy Days

Packed with people and games, The Uncommons is a popular HQ for gamers.
The Uncommons — Greenwich Village
On a rainy Sunday in December, the Uncommons was packed with people happily gaming away and downing hot drinks and beers (at $10 per person to play, $5 for students Mon-Thurs). There's a cool hole-in-the-wall vibe, with wooden tables, games shelved to the ceiling, and a side annex through a small doorway, And it's really no exaggeration that reservations are essential at peak times (which have a 3 hour limit). The well-managed space and friendly staff are welcoming to kids, although there's not much room here for the littlest to run out their sillies.

If chess is your thing, head to Chess Forum where you can play until midnight!
Chess Forum — Greenwich Village
Across the street from The Uncommons, this old school (by comparison) gaming spot is where kids play free (adults are $5 an hour). Let me repeat: kids play free. And while Chess Forum doesn't sport hundreds of games, it's definitely not limited to chess alone: there's backgammon, checkers, and more. It can also be quieter than most gaming spots, but no less friendly, with all sorts of cool and interesting chess sets and related memorabilia. And for night owl teens, it sometimes it doesn't close until after midnight.
RELATED: Brooklyn and Queens Play Cafes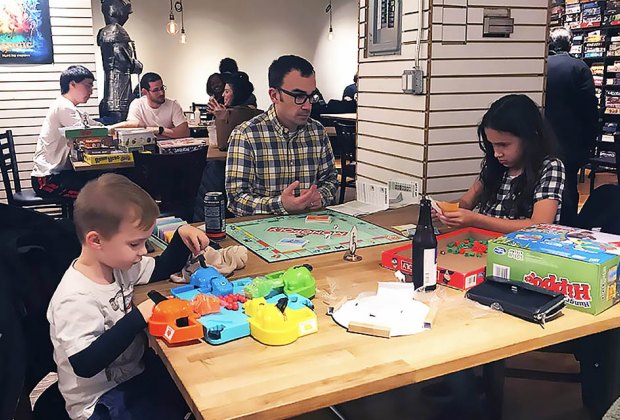 Hex & Co. is the perfect spot for a family to come together to try out new games.
Hex & Co — Morningside Heights
Launched by the combined forces of Uncommons and Brooklyn Strategist, Hex & Co ranks as a destination and a neighborhood joint. Without losing a step between rounds played from their deep collection of board and card games, obtain an adult beverage from a beer menu vaster than most found at bars without games. There's a cover to play, but hey - $10 adults, ($5 for students Mon-Thurs) They also offer extensive after school and camp programs. See our review of Hex & Co. from last year. Meanwhile, make sure to check out our Morningside Heights neighborhood guide and our 25 things to do in Morningside Heights.
Good Games NYC — Astoria, Queens
This super friendly spot dedicated to proudly flying the geek flag is loaded with items for purchase, but also hosts all sorts of events and in-store playing opportunities. Located in the same storefront as the former, dearly-departed Geekery HQ, the space is just as laid-back, fun, and inclusive as ever.
Photos courtesy of the stores