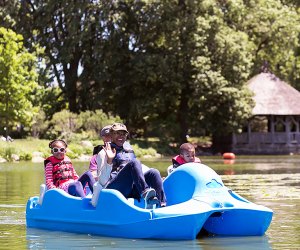 50 Best Things to Do in Park Slope with Kids
It's hard to beat Park Slope for a day of family fun. With its tree- and brownstone-lined streets, high-performing public schools, destination playgrounds, top restaurants, and a host of cultural and kids' activities—not to mention all the natural beauty and kid-friendly things to do in Prospect Park—Park Slope is one of the best family neighborhoods in NYC.
The Slope is a true community: Local shopkeepers know their regulars by name, neighbors sit and chat on their front stoops, and parents share info and swap baby items on the massive online board Park Slope Parents. For our purposes, we're defining Park Slope as stretching from Fourth Avenue to the eastern side of Prospect Park, and from Flatbush Avenue south to Prospect Avenue. Here are our top 50 things to do with kids in Park Slope, from culture to eating, shopping, and playing.
Places to Play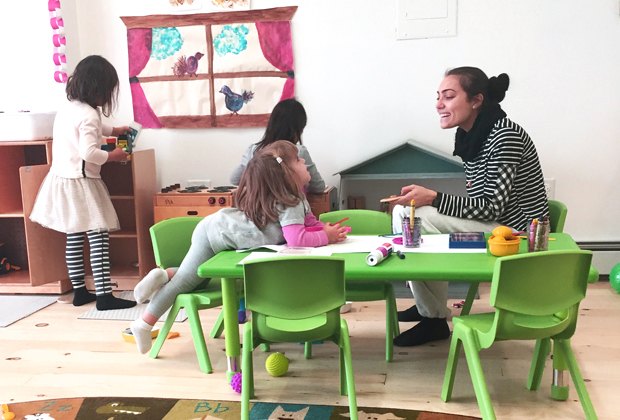 Giocare Play Spot in South Slope hosts drop-in play and various classes. Photo by Diana Kim.
1. Drop in on a rainy day for play and art-making at one of Park Slope's many baby- and toddler-friendly playspaces, including Giocare Play Spot, Good Day Play Cafe, and the drop-in playspace at Congregation Beth Elohim.
2. Hit one of the three playgrounds along Prospect Park West in Prospect Park: Run through the harp-shaped sprinkler in Harmony Playground, bring your toddler to slide and climb at the Garfield Tot Lot, or dig in the sandbox at the Third Street Playground.
3. Venture a little further into Prospect Park and set kids free to roam and play at the Zucker Natural Exploration Area in Prospect Park, a unique playground made from reclaimed natural materials.
4. Visit the wonderful (and compact) Prospect Park Zoo.
5. Ride the park's vintage carousel, and explore the Lefferts Historic House, with its calendar full of kid-friendly programs.
6. Skate, boat, and splash at the LeFrak Center in Prospect Park.
7. Swim at the Prospect Park YMCA or take a class and run the indoor track at the Park Slope Armory Y.
8. Run around in the sprinklers at JJ Byrne Playground, hit the swings, or kick a ball around in the generously-sized artificial turf areas.
Kids' Activities, Crafts, and Classes
9. Take music and art classes and enjoy kids' concerts at the Hootenanny Art House.
10. Head to Brooklyn Robot Foundry for hands-on, STEM-fueled projects and activities, including family robot-building sessions on weekends.
RELATED: Where to Find Swim Lessons in Brooklyn for Kids and Babies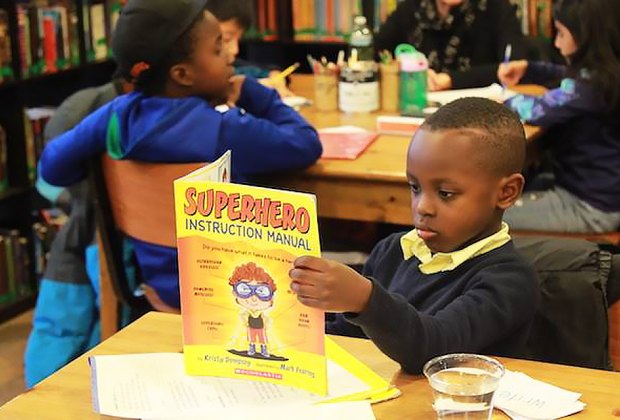 Do some superhero research at the Brooklyn Superhero Supply Co. Photo courtesy of the store
11. Hone your writing and crime-fighting abilities at Brooklyn Superhero Supply Co., where you'll find the writing program 826NYC behind a secret door.
12. Try the experiments and projects offered at The Tiny Scientist, which hosts workshops, classes, and after school programs designed to foster a love of science.
13. Dance and act at Brooklyn Arts Exchange, which has classes for every age level.
14. Hone your critical and reasoning skills at the Brooklyn Game Lab, where kids (and adults) play creative board games.
15. Take an art, music, dance, or theater class or just enjoy the play space at Kidville.
16. Spark your creativity with pottery making and painting at The Painted Pot.
17. Try your hand at the ancient art of origami at Taro's Origami Studio.
18. Sing, dance, and make believe at Spoke the Hub.
19. Get the wiggles out with your toddler at a drop-in music class or story time at Ume Ume.
Arts and Culture
RELATED: 21 Brooklyn Drop-In Play Spaces for Kids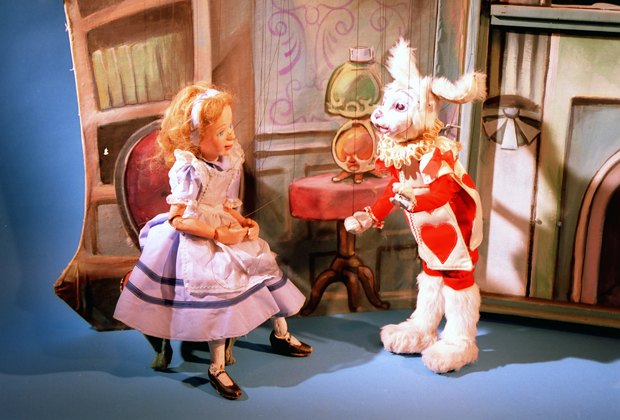 Alice and the white rabbit look for the stolen tarts at Puppetworks. Photo by TA Smith/courtesy the theater.
20. See puppet shows and hang with the custom-made marionettes at local kid-theater institution Puppetworks.
21. All summer long, catch free outdoor performances at the Prospect Park bandshell courtesy of Celebrate Brooklyn!

From the playground to outdoor festivals to theater, the Old Stone House is a community gathering spot. Photo by Bob Levine/courtesy of OSH.
22. Attend a family concert, explore the garden, or check out community art exhibits at the historic Old Stone House.
23. Catch classical and kids' music concerts at the Brooklyn Conservatory of Music, or sign up for music lessons.
24. Go for story hour in the garden or curl up with a book in the lovely children's area at the Park Slope Library.
25. Check out the giant, student-made insect sculptures clinging to the courtyard wall of P.S. 107.
26. Catch the family improv show TheatreSports! and check out the musicals and performances at The Gallery Players theater.
27. March in the annual Park Slope Civic Council Children's Halloween Parade, the oldest children's Halloween parade in NYC. (Park Slope loves a good parade: You can also catch the St. Patrick's Day Parade in March, the Brooklyn Pride Parade in June, and the adorable Little League Opening Day parade in April.)
28. Hunt for animal statues, such as bronze panthers, or historical monuments like the statue of Marquis de Lafayette in Prospect Park.
29. Attend a family concert by local mom and celebrity musician Suzi Shelton at various venues in the neighborhood.
30. Catch a weekend afternoon music performance at the one-of-a-kind Barbes—from jazz to tango, there's something new every time.
31. See a student production of Brooklyn Acting Lab, which offers theater workshops for kids year-round.
Family-Friendly Places to Eat
RELATED: Park Slope Restaurants: Where to Eat with Kids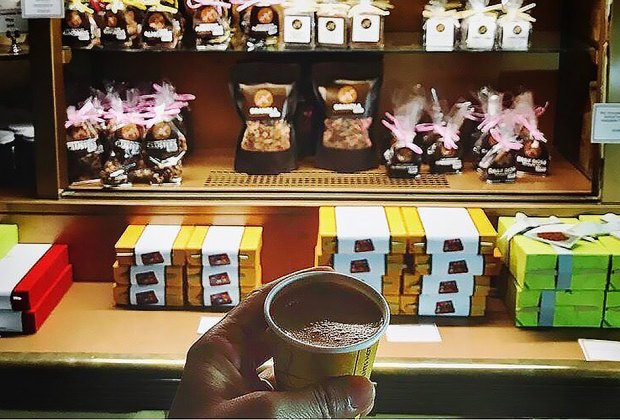 Sip a cup of hot chocolate or grab some goodies to go at The Chocolate Room. Photo courtesy of the shop
32. Indulge your sweet tooth at The Chocolate Room.
33. Down a slice or two at Pizza Plus, which also has vegan and gluten-free options.
34. Barbecue with your family at a designated spot in Prospect Park, or pack a basket and head to the tables outside Prospect Park's Picnic House.
RELATED: 25 Best Things to Do in Prospect Park with Kids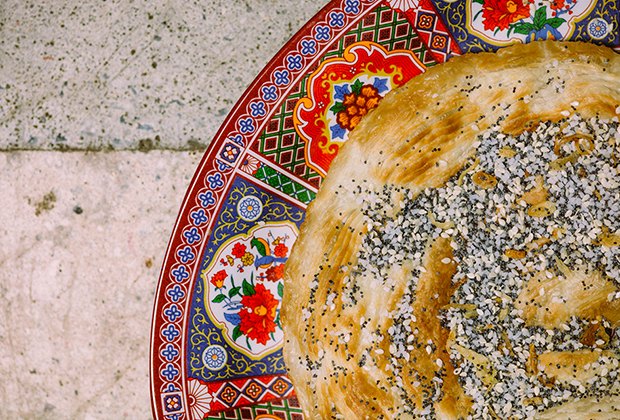 Tuck into some roti at Talde's family-friendly brunch. Photo courtesy of the restaurant.
36. Enjoy an Asian-fusion brunch at Talde.
37. Indulge in sweet cakes, cupcakes, macaroons, and cookies at Buttermilk Bake Shop, where you can also take baking classes and throw parties.
38. Cool off with fresh frozen yogurt made on site with a variety of fresh and sweet toppings at Culture, or locally-sourced housemade gelato at the nearby L'Albero dei Gelati.
39. With a location right off Prospect Park in Park Slope, Dizzy's is the quintessential Park Slope diner for a casual meal.
40. Polish off some empanadas, tacos, and arepas at lively, supremely family-friendly Latin American bistro Bogota.
Shopping
41. Check out the handcrafted toys at Norman and Jules Toy Shop and stop by the meticulously landscaped backyard for free play or a kids' concert.
42. Prowl the bookshelves or catch a reading or storytime at Stories Bookshop and Storytelling Lab, whose calendar features both published authors and young writers.
43. Play with the train set and critter playhouse outside of Little Things Toy Store.
44. Browse the kids' section and enjoy storytime at the Eighth Avenue outpost of Powerhouse Bookstore.
45. Settle into a comfy chair and read a book in the children's section at one of Park Slope's oldest independent bookstores, The Community Bookstore.
46. Get junior's hair cut at LuLu's Cuts and Toys, and leave with a balloon, lollipop, and new 'do.
47. Buy fresh, locally sourced produce at the Park Slope Farmers' Market or the Grand Army Plaza Greenmarket—or, if you're a local, join the Park Slope Food Coop.
48. Find cool crafts, unique toys, and great goodie bag trinkets at Toy Space.
49. Head downstairs to the giant children's section at the neighborhood Barnes & Noble to read and socialize.
50. Take your tween or teen to Beacon's Closet or Life Vintage and Thrift for stylish and trendy thrift shopping.
This article was first published in January 2012 but has since been updated.