Destination Playgrounds in Park Slope: Best Outdoor Places to Play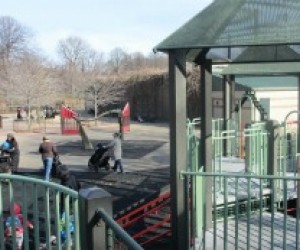 Prospect Park Playgrounds

There are seven playgrounds in Prospect Park, although one of the best ones, the recently renovated Vanderbilt Street Playground, isn't on the Park Slope side.
Garfield Tot Lot
Located just inside the Garfield Place-Prospect Park West entrance, this playground caters exclusively to toddlers. There's a mini-jungle gym and slide situated in a half-moon shape, and the lot is lined with trees and benches, which come in handy for diaper changes and snack breaks. If your kids are under two, this is your best bet in the Slope.
Harmony Playground
My family and I love this music-themed playground located near the Bandshell. Giant metal musical notes hold vertical pipes so kids can play them like xylophones, and a large iron harp and massive trumpet spurt water in the summer. For little ones, there are also baby swings, a pair of toddler jungle gyms and a large sandbox. Older children will enjoy the huge state-of-the-art ramped jungle gym with alcoves where they'll find wheels to turn, musical notes to play, twisty slides, tunnels, a wobbly curved bridge and a shaky plank bridge.
Imagination Playground
Long before the unrelated playground of the same name opened at South Street Seaport, Brooklyn families were frequenting this Imagination Playground at Ocean Avenue and Lincoln Road. Although technically located in Prospect Lefferts Gardens on the park's east side, this playground is worth the walk. Inspired by children's literature, it features a climbable statue of Peter and and his dog Willie (two of author-illustrator Ezra Jack Keats' beloved characters); a water-spouting bronze dragon; a multilevel stage and animal masks to hide behind that encourages kids to use their imagination. In the summer, families flock to the playground for its free Ezra Jack Keats Story Hour, which takes place on Saturdays in July and August at 2pm.
Prospect Park's other play spots, Lincoln Road Playground, Stewart Playground and my local spot, Third Street Playground, are pretty basic, but good to know about if you spent a day wandering through Prospect Park.
Other Park Slope Playgrounds

My family and I spend a lot of time in Park Slope Playground, also known as Lincoln Berkeley Playground since it's located between Lincoln and Berkeley Places. You'll find the usual equipment here: baby swings, water features and a number of climbing frames. Not spectacular but very popular with locals.

J.J. Byrne Playground is now open! Here's what we said before it debuted: We have high hopes for the revamped J.J. Byrne Playground, which was completed razed last May and is set to reopen this spring. Located in the 3.5 acre Washington Park, the brand-new $4 million playground will have a colonial-era theme to complement the adjacent Old Stone House. We took a look at the plans, and once finished, J.J. Byrne will feature distinct play areas for different ages, and a seating area with stone chess tables for grown-ups. I dropped by the construction site recently and I can already get a sense of how the play spaces will look. The jungle gym has beautiful, intricate forest and aquatic artwork, and there will be a farmyard area with various life-size picture board animals. We'll do a dedicated post on this playground when it opens.

Read more of our posts about Park Slope.