Park Slope Summer Day Camps for Brooklyn Kids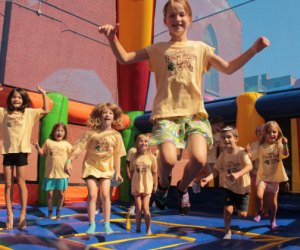 1/4/18
- By
Kay
As one of the most kid-friendly neighborhoods in New York City, Park Slope has no shortage of summer day camps. Whether your kids are into art or theater, nature or sports, crafts or music—or a little bit of everything—there's sure to be a program to keep them busy and happy all summer long.
But don't wait till spring is here to start looking. Winter is the time to start planning your kids' summer, as programs often fill up quickly. For more summer camp options outside of Park Slope, be sure to consult our Summer Camp Guide for NYC Kids and complete listings. If you're looking for affordable (and even FREE) ways to keep your kids busy, peruse our roundups of Free and Cheap Summer Camps.
Note that summer camp information for the 2020 season is changing daily. Please click the links to the individual camps below to see which ones are offering programs this year.
General-Interest Camps
Beansprouts Summer Camp
453 Sixth Avenue (between Ninth and Tenth Streets)
Ages 2–fifth grade
Though it's an offshoot of the popular nursery school, this camp is for older kids as well. In the preschool camp, tots skip through sprinklers, enjoy excursions to nearby Prospect Park, take part in science experiments, and do yoga and arts and crafts, among other activities. School-age campers take weekly field trips, have instructional and free swimming, and participate in crafts, Olympics, and talent shows.
Berkeley Carroll Classic Day Camp
701 and 712 Carroll Street (between Sixth and Seventh Avenues)
Ages 3–9
This Park Slope private school offers a variety of programs, everything from the usual summer fun (sports, arts, indoor swimming) to one-week mini-camps specializing in Spanish language, outdoor science, performing arts, sports, and visual arts.
Congregation Beth Elohim
​274 Garfield Place (between 8th Avenue and Prospect Park West)
Ages 3-14
Beth Elohim's summer offerings run the gamut from a traditional day camp for elementary school kids to the Movin' On Travel Camp for slightly older kids. In between, there's the Ha'Geemnasia Hebrew Camp, Summer Swim Intensive, and a day camp for preschoolers (open only to members and those enrolled in CBE's early childhood center).
RELATED: Popular Preschool Summer Camps in NYC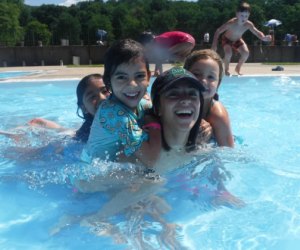 Kim's Kids camp focuses on outdoor adventures, including swimming and other field trips. Photo courtesy the camp.
Kim's Kids Summer Camp
378 3rd Street (between Fifth and Sixth Avenues)
Ages 4.5–12
Focused on the outdoors and physical activity, this nature-oriented day camp offers daily adventures throughout New York City and the surrounding area, including hiking and running through the woods, swimming in lakes, rock climbing (on real rocks!), and even summer ice skating! Frequent field trips, both within the city (Jacob Riis Park Beach, the Bronx Zoo, Chinatown) and outside (Sesame Place) round out the exploratory fun.
Park Slope Day Camp
339 Eighth Street (between Fifth and Sixth Avenues)
752 President Street (between Sixth and Seventh Avenues)
Ages 4-13
This local bastion of Park Slope summer fun has been running day camps around Brooklyn for over 25 years. In addition to traditional camp programs, Park Slope Day Camp features On Wheels, a field trip–centered camp for older kids (theme parks, swimming pools, movies, bowling, even overnight trips), the Cirque d'Été circus camp, a Leadership Experience for ninth and tenth graders, a Sports Academy soccer-skills camp, and a Mini Camp. Park Slope Day Camp also has programs in Bay Ridge, Windsor Terrace, and Carroll Gardens.
Prospect Park and Park Slope Armory YMCA
361 15th Street (between Seventh and Eighth Avenues)
511 Seventh Avenue (between Prospect Avenue and 17th Street)
Ages 4.5–14
The Y serves as many local families' go-to spot not only for fitness but for classes, sports, and entertainment. The Park Slope location offers many summer programs, including a swim camp, sports camp, adventure camp, express camp, teen camp, and the Lisa Beth Gerstman Camp for children with physical disabilities.
Visual and Performing Arts Camps
Brooklyn Arts Exchange Summer Arts Program
421 Fifth Avenue (between Seventh and Eighth Streets)
Ages kindergarten–sixth grade
BAX's summer camp gives kids the chance to explore a variety of art forms, from visual arts, circus, dance and creative movement, and theater to tumbling, storytelling, and music. All campers work toward an informal group performance or gallery showcase at the end of each week. Guest artists teach workshops and campers do projects based on weekly themes, and kids get lots of free indoor and outdoor playtime.
Camp Gowanee Multi-Arts Summer Program
Gowanus Arts, 295 Douglass Street (between Third and Fourth Avenues)
748 Union Street (between Fifth and Sixth Avenues)
Ages 3-12
Spoke the Hub, a great neighborhood spot for performing arts classes, also offers a variety of summer programs. While dancing is certainly on tap, kids can explore a variety of other art forms as well, including creative writing, arts and crafts, nature, and cooking. Campers go outside each day; field trips are offered as well.
Brooklyn Players Summer Program
Location TBD
Ages 8–13
In this camp focused on cooperation and ensemble work, campers learn about everything it takes to put on a show: not just acting, singing, and dancing, but also set design, stage management, and tech. Kids work together to mount a full-scale production at the end of each session, and every student has a named part, lines, costume, and the chance to participate in at least three musical numbers. In addition to the production, the camp includes separate art, theater arts, dance, and vocal technique classes and outdoor time each day.
Piper Theatre Summer Youth Program
Old Stone House, 336 Third Street (between Fourth and Fifth Avenues)
Ages 7–16
Campers spend their time with Piper Theatre Productions preparing for and performing in a full-scale show. The youngest stars put on a show inside the historic Old Stone House, while older campers perform on a professional outdoor stage.
Textile Arts Center's Summer Day Camp
505 Carroll Street (between Third and Fourth Avenues)
Ages 5–13
Inspired by weekly field trips, campers at TAC create an in-depth project in weaving or textile surface design while also working on daily craft projects using fiber and textile processes. Each day incorporates plenty of outdoor and free-play time as well as community-building activities. Fridays are open studio days, when campers showcase their creations.
RELATED: Great Tech Camps in NYC for Tots through Teens
Science and Sports Camps
Super Soccer Stars
Prospect Park: 13th Street and Prospect Park West
Ages 3-10
This popular and ubiquitous program offers outdoor soccer in Prospect Park throughout the summer. The two Park Slope options are the four-hour Kick It! Day Camp and the two-hour Fun in the Sun Camp. Both focus on skill-building games and activities. Super Soccer Stars also offers programs in other Brooklyn neighborhoods.
Curious Jane
Berkeley Carroll Middle School, 181 Lincoln Place
Ages 8-11
This established all-girls science and arts program, founded by a NYC mom with a background in industrial and graphic design, keeps kids busy making things all summer. The camp focuses on hands-on projects. Each week features multiple themes, including spy science, kitchen chemistry, spa science, DIY dollhouse, soft toy sewing, magic and mystery, story arts, and wild animals. The camp has other locations in Brooklyn and Manhattan, many of which offer camp options for younger girls as well.
Brooklyn Robot Foundry Summer Sessions
303 3rd Avenue (between First Street and Carroll Street)
586 5th Avenue (between 16th and 17th Street)
Ages 5-12
In the regular Robot Explorers program, kids build eight robots a week. For kids who have attended the foundry's workshops before, there's a Robot Inventor track as well as a Robot Programmer track, and also an all-girls week.
This article first published in February 2012, but was updated in 2018.
Top photo: Park Slope Day Camp operates several general interest, all-ages camps throughout Brooklyn. Photo courtesy the camp.