Indoor Play in Park Slope: 15 Fun Inside Spots for NYC Kids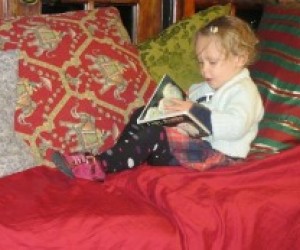 We continue our focus on Park Slope this month with a roundup of our favorite indoor places to play in the nabe.

A Park Slope resident by way of Scotland, I am a pretty hardy soul when it comes to braving the elements. You'll often find me and my daughter romping through Prospect Park in the cold. But even I have my limits, and New York City winters have certainly challenged mine in recent years! Fortunately, Park Slope has plenty of places where kids can play inside. We've rounded up 15 cozy indoor spots, many of which are free.
Free Indoor Play
Barnes & Noble
267 Seventh Avenue near 6th Street
This is my go-to spot when it's damp or cold. Its toy section downstairs is more extensive than most B&N branches. The kid-sized plush stools and tables invite you to linger, and there's even stroller parking. The workers are so accustomed to families using the store as a play space, they've established a special reading area where you can just leave the books you don't buy. (I usually feel inclined to buy something though.) The store also occasionally hosts events and workshops for children and teens.

The Community Bookstore
143 Seventh Avenue between Garfield Place and Carroll Street
A beloved local spot, this bookshop is a draw for kids and adults alike. In addition to a large kids' area with comfy seats, it's home to a friendly dog, cat and bearded dragon. Terracotta floors, Persian carpets and French doors that open onto a garden complete the cozy feel. Every Sunday at 11am, there's an intimate storytime. Sometimes local children's authors read their work, otherwise the staff steps up and shares their favorite kids' tales.

Little Things Toy Store
145 Seventh Avenue between Garfield Place and Carroll Street
Right next door you'll find one of the most kid-friendly toy emporiums in the Slope. The staff lets kids run wild—be warned, it's a veritable madhouse on weekends! The store has playthings for every age, including plush, wooden and novelty toys, hair accessories and jewelry, dolls, books, stickers, trains, the lot. Its biggest attractions: The giant Thomas the Tank Engine and Calico Critters play tables set up outside the store for fun, free play on milder days.

Brooklyn Superhero Supply Co.
372 Fifth Avenue between 5th and 6th Streets
There's nothing as fun or original in the Slope as this spot, known for selling "high-quality crime fighting merchandise." They're not kidding. A dizzying array of secret identity kits, costumes, and containers of mock concoctions like "mind control" and "truth serum" line the walls. The whole place is decked out like a superhero lair, with stainless steel platforms and a control booth, and your kids can don capes and pose for pictures in front of a strategically placed fan. Proceeds from the store go to 826 National, a charity co-founded by author Dave Eggers to fund free children's creative writing workshops across the country. The NYC chapter is located behind a hidden door in this store.

Unleashed by Petco
81 Seventh Avenue between Berkeley Place and Union Street
Pet stores make great hangout spots. There are no animals for sale at this sizable store. However, on weekends local shelters offers cats and sometimes dogs for adoption if you need a petting fix (or a new addition to your family).

Petland Discounts
510 Fifth Avenue between 12th and 13th Streets
If watching fish is what you're after, this store is a better bet. There are lots of cool aquatic creatures and reptiles in fish tanks and terrariums in the back.

Central Branch of the Brooklyn Public Library
10 Grand Army Plaza
Okay, we admit we're cheating a bit here, since this library doesn't quite fall within the geographical boundaries we set for our Park Slope coverage. However, since the Park Slope library is currently closed, we'd be remiss if we didn't mention this branch as a nearby place for kids to play and learn. There's a decent-sized kids' section with a seating area, and a few computers loaded with educational games. The real attraction though is the free programs. From toddler and preschool storytimes to craft classes and tween book clubs to chess for teens and after-school homework help, this library's got it all. Plus there are wonderful performances for families on weekends. All of these events are first-come, first-served, so it's important to show up early.

Drop-in Play Spots
Drop-In Center at Congregation Beth Elohim
274 Garfield Place near Eighth Avenue
This popular tot spot for children under 2 has tumbling, arts and crafts, and play areas stocked with mini-kitchens and push toys. It's only open during specific hours: Tuesday-Friday 9:15am-12:15pm from October through April. $10 for non-members.

Indoor Play Area at Powerplay
432 Third Avenue between 7th and 8th Streets
Again, this play spot is slightly beyond our official Park Slope boundaries, but still a great nearby spot for local families with young children. The brightly colored indoor space features slides, a sandbox, a tree house and a playhouse. My daughter especially loves "driving" around in the plastic, kid-powered cars. In general, it's open Monday-Friday 9am-5:30pm, Saturday 9am-4pm and Sunday 10am-3pm but it's best to call ahead, especially on weekends as the play space may close for a private party. $10 for a two-hour play session.

Brooklyn Arts Exchange
421 Fifth Avenue between 7th and 8th Streets
BAX's Playspace program is another well-liked drop-in option for preschoolers. On Mondays and Fridays from 9:30 to 11:30am, children ages 4 and under can navigate hoops and tunnels, color, play with balls and read books. $10 per family per session or $80 for a ten-pack.

Juguemos a Cantar Drop-In Play Space
438 Sixth Avenue at 9th Street
47 Sterling Place at Sixth Avenue
With two Park Slope locations on opposite ends of the neighborhood, this Spanish immersion program opens up its play spaces to the public at designated hours on weekdays. Children ages newborn to four can play with instruments, trains, blocks, doll houses, a pretend kitchen, puppets, soft toys, a ball pit and more. The schedule varies depending on location and season so visit the website for more info. Cost is $10 for the first child, $2 for siblings and memberships are also available.

Members-Only Play Spots
YMCA Armory, 361 15th Street between Seventh and Eighth Avenues
YMCA Prospect Park, 357 9th Street between Fifth and Sixth Avenues
Members at both branches can enjoy a plethora of classes and indoor play for kids of all ages. The Prospect Park branch is jam-packed with classes for kids, including art, theater, ballet and the ever-popular Baby Boogie and Story, Song, Shimmy. The Armory also has storytimes, tumbling and family walk time round its massive indoor track. Family memberships vary, so visit the websites for info.

Kidville
808 Union Street at Seventh Avenue
There are a variety of membership packages, all pricey, but amenities include tons of classes, dance and art studios, a theater, a boutique and a gym featuring swings, trampolines, slides, tunnels and a climbing wall.


For other cool and offbeat places to play, check out our Indoor Activity Guide. Or see all of our posts about Park Slope.