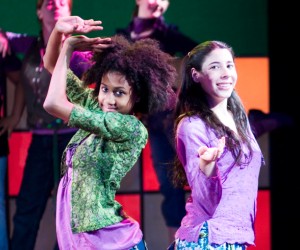 Musical Theater Classes Where NYC Kids Sing, Dance, and Act
We love musical theater in our family and feel lucky we live just a few subway stops from the Great White Way. But in New York City, kids can do more than just watch a show—they can become budding Broadway babies.

New York City offers a slew of musical theater classes for children than run practically from birth through high school. We could never cover every one of these programs in one post, but we have rounded up our favorites, with options in all five boroughs.
Find more NYC classes in our Classes Guide and Directory Listings.
TADA! Youth Theater – Chelsea
15 West 28th Street
We've written a lot about this musical theater program for kids over the years. Musical theater skills like dancing, acting, and singing are offered for preschoolers through eighth graders, with each group putting on a semester-end performance for family. But what truly makes TADA! stand out is its Resident Youth Ensemble, a free, by-audition-only, pre-professional training program for local children ages 8 to 18. The over 80 kids a year who are accepted get to perform at schools, fairs, and theaters throughout the city, as well as in TADA!'s original main stage productions. No experience is necessary, and from what we've observed, TADA! is as much concerned with diversity and enthusiasm as talent.
Applause: Performing Arts for All Ages – Upper East Side
St. Jean's Community Center, 184 East 76th Street
This program offers classes for adults and kids of all ages. Its parent-and-me program for babies starting at 4 months is really more of a musical theater appreciation class. Drop-off sessions are offered for preschoolers (3-5), elementary schoolers, and teens. While the classes for tots are more general, school-age kids can focus on a particular specialty, like singing, acting, dance, or even hip-hop and pop singing. Serious high schoolers get professional training.

Broadway Workshop – Midtown West
Ripley-Grier Studios, 520 Eighth Avenue
Aspiring Tony winners in second to seventh grades can learn from Broadway pros in a variety of classes and camps. Each session features a working performer and a seasoned musical director who teach students singing, dancing, and acting. In addition to developing their raw talent, kids will get audition prep and perform for family and friends.
A Class Act NY – Midtown West
Ripley-Grier Studios, 520 Eighth Avenue
When this program mounts an end-of-class showcase, it's for parents, friends, and agents; in other words, the musical theater classes for children starting at age 5 aren't for kidding around. Students learn song-and-dance combinations from Broadway hits from working musical theater performers, as well as improvisation and audition tricks.
Wingspan Arts – Midtown West
630 Ninth Avenue
This arts conservatory offers pre-professional training for teens and fun musical theater classes for younger children. Scholarships are available for kids who qualify, and during the summer, Wingspan offers a no-cost camp program for teens by audition.

Brooklyn Arts Exchange – Park Slope
421 Fifth Avenue
You don't need to live in Manhattan to get your Broadway on. Best known for its dance classes and drop-in toddler play space, Park Slope's BAX also offers musical theater classes for children ages 7 to 13 where students dance, act, and sing. The atmosphere is relaxed and the focus is more on having fun than going pro as kids perform scenes and songs from family-friendly shows like Cinderella, Annie, and Peter Pan.
Bronx House – East Bronx
990 Pelham Parkway South
The boogie down borough offers musical theater classes at this local nonprofit. Kids aged 6 to 9 can enroll in the Musical Theater Workshop for an introduction to the genre. Third to eighth graders can audition for the annual musical theater production.
The Garden Players – Forest Hills, Queens
The Music Room at the Church-in-the-Gardens, 50 Ascan Avenue
Since the '70s, this program has been encouraging kids in first through 10th grades to sing, act, and dance, as well as schooling them in improvisation techniques, ear training, and classic and contemporary musical theater material. At the end of each academic year, the class culminates in a fully staged original production accompanied by a live band.
Staten Island Children's Theatre Association – West Brighton, Staten Island
Snug Harbor Cultural Center, G Building, 1000 Richmond Terrace
Children aged 5 to 8 can learn to sing, act, and dance in classes offered at this program's North Shore and South Shore locations, while older kids and teens can audition to star in the theater's annual youth show. Visit the website for more information on auditions and schedules.

And a bonus note about Summer Stars program. Every August, the Astoria Performing Arts Center presents this free, two-week intensive musical theater training program for Queens residents ages 8 to 13. No prior experience is required; only enthusiasm and an audition.
Top photo courtesy of TADA.
A version of this article first published in August 2012, but it has since been updated.